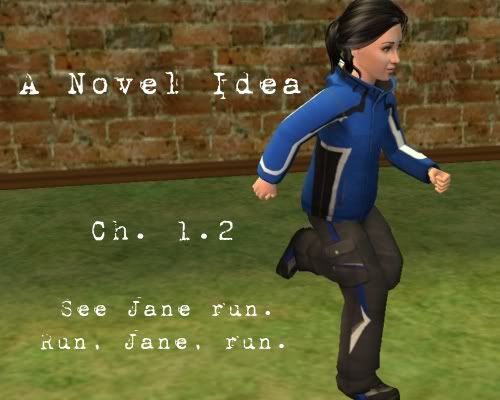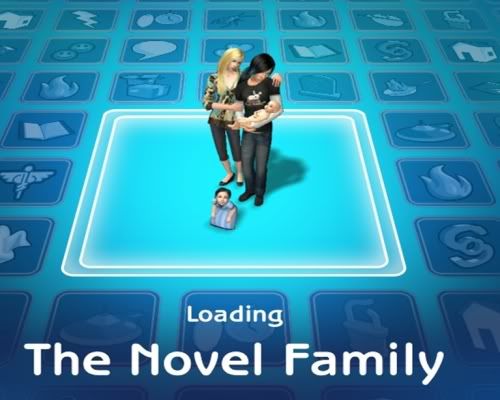 To start things off, a shot of the family. You know, for a non-family sim, Author sure acts like he's one.




Author: Sooooo, babies?
Trista: Okay, as long as you get to have them this time.

With his medical background, Author thought about the body mechanics required for him to deliver offspring for a few seconds, shrugged, and said "Okay!" Much woo hoo was had before baby chimes were heard.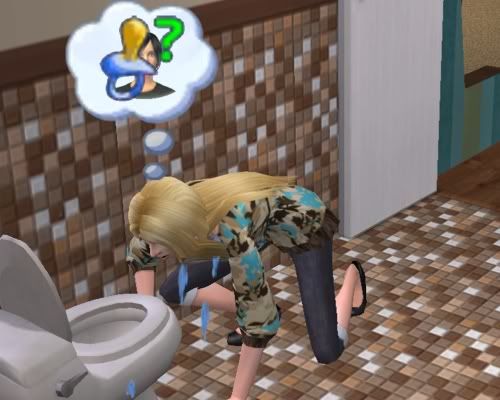 Trista: That bastard lied to me!
Me: And you believed him? Hon, I hate to break it to you, but all he really wanted was woo hoo. If it makes you feel better, I stocked your fridge with pickles and ice cream.
Trista: Screw the pickles and ice cream!

Yeah. Trista didn't have a really good pregnancy this go around. Between trying to take care of a toddler and an infant, she spent a good deal passed out on the nursery floor. She did manage to finish the parenting book though.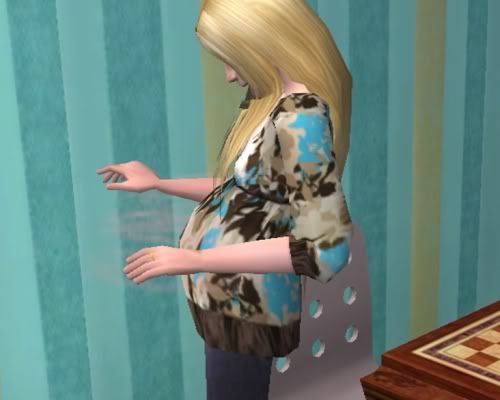 Pop #2. I missed the first one.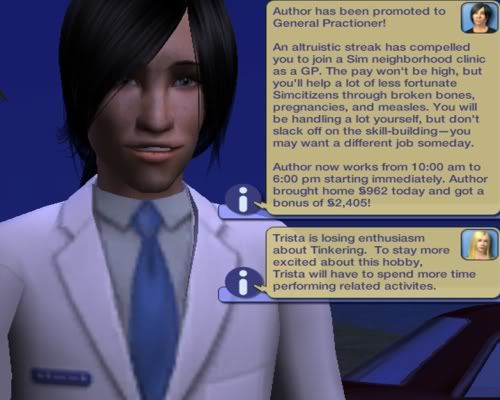 Because of this! Author, you continue to be made of win. Just another step towards that LTW. Apparently, Trista is also losing enthusiasm for tinkering. Between stuffing her face and passing out, she hasn't had much time to take apart household appliances.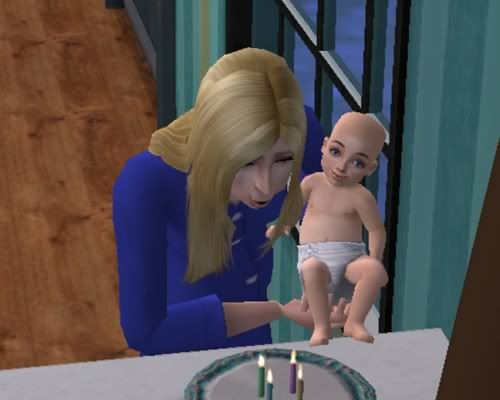 Lizzie's birthday! I really need to get some different PJs for Trista.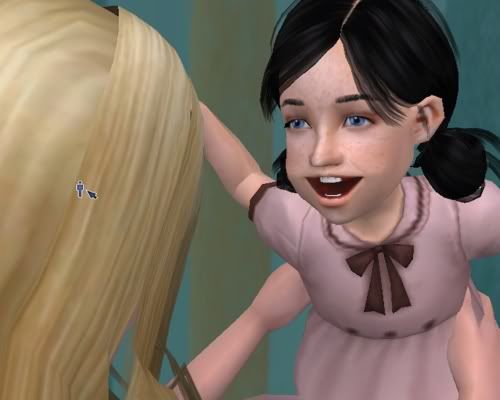 Here's Lizzy! She's a cutie!

Lizzie: Yay, I'm a toddler!

She's also easily amused and aged up in the same outfit that Jane has on, but in a different color.

Jane: Rassin' frassin' copycat. *sulks in corner*
Me: Aww, come on sweetie. You and your sister are going to get along just fine.




Me: I'm glad to see the two of you getting along, just like I thought you would.
Lizzie: Can't...breathe...
Jane: Curse my weak and skinny arms! *huggles harder* I'm meant to be an only child!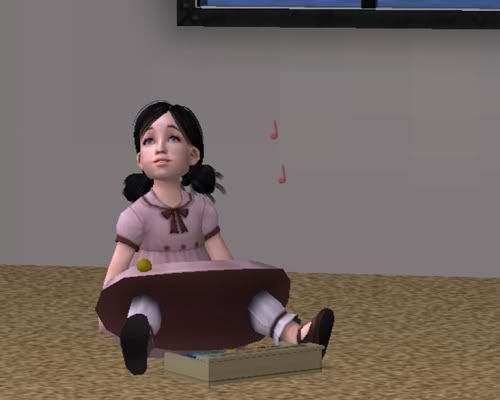 Lizzie did manage to break free from the kiss of death stop huggling, much to Jane's dismay. Jane spent the rest of her time at the logic puzzle while Lizzie went straight to the xylophone. For the rest of Jane's toddlerhood, the two never interacted on their own again.

Lizzie: SimGod?
Me: Yes, dear?
Lizzie: I don't think my sister likes me.
Me: Of course she does! *nervous look towards Jane, who is obliviously playing with her puzzle*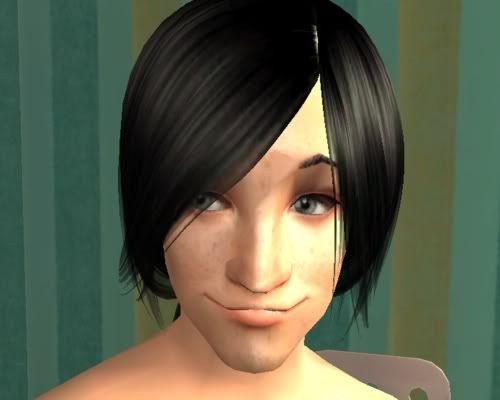 Potty training faces! Oh Author, you so cute. *pinches cheeks* Author also took charge of the rest of Lizzie's learning, seeing that Trista was spending 40% of her time in the bathroom, 40% sleeping, 20% eating, and 10% of her time complaining about how hungry or tired she was. That Trista. Always giving 110%.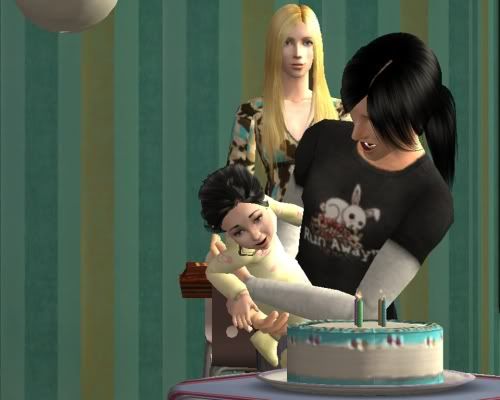 Jane's birthday!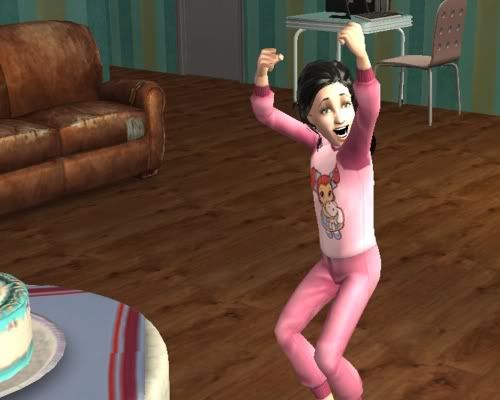 Jane: Yay! I can see over countertops now! *jumps for joy*

Now that she's older, she and Author spend a lot of time together playing chess. For someone that has only one nice point, she never, ever cheats. I think that's because she's Daddy's little princess and she knows she already has Author wrapped around her little finger.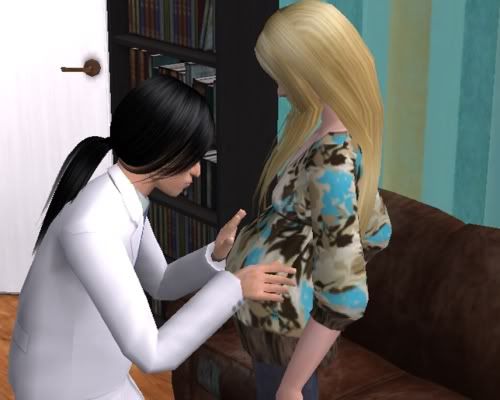 But she'd better watch out. This is the first time Author's ever done this.

Author: *rubs belly*
Trista: *is awake, fed, and doesn't have to pee for once*
Author: Hey, you up there?
Me: Uh huh?
Author: Is this going to be the last time the two of us go through this?
Me: *pulls out Magic 8 Ball* It is decidedly so.
Jane: Who cares about stinky babies? LOOK AT ME!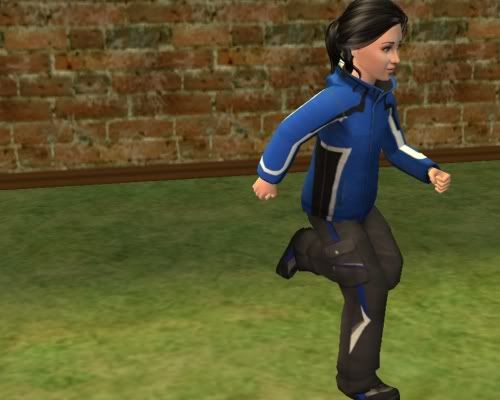 The girl runs everywhere, even if it's just to the next room. I once asked her to go from one corner of the lot to the other, just to see her run the whole way.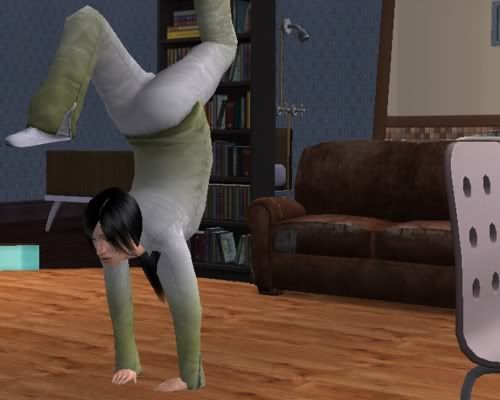 We take a break in our Jane action to bring you Author's zen time. No workouts + living off birthday cake = more of Author to love.

Author: I am one with my ponytail.
Me: Yeah, it impaled itself through your back.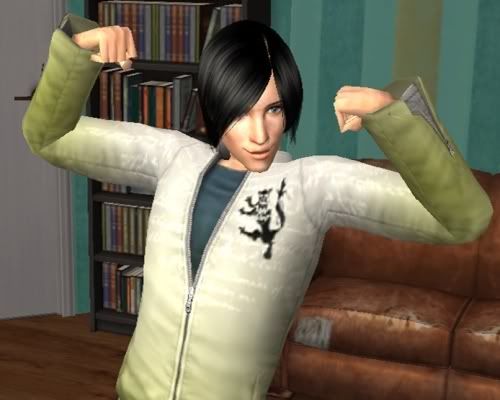 All the time spent in Thirsty Llama pose paid off.

Author: Yeah! Am I hot or what? Check out these guns!
Trista: *heartfarts off screen*
Me: And now back to your regular scheduled Jane time.




Jane: Building towns is fun! Here's the bakery, the pet shop, and a school!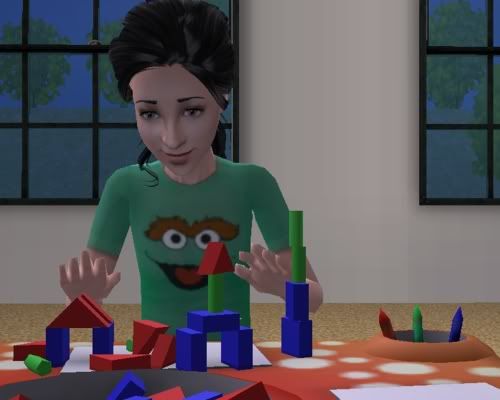 Jane: It's a good town. Everyone gets along and everyone is peaceful.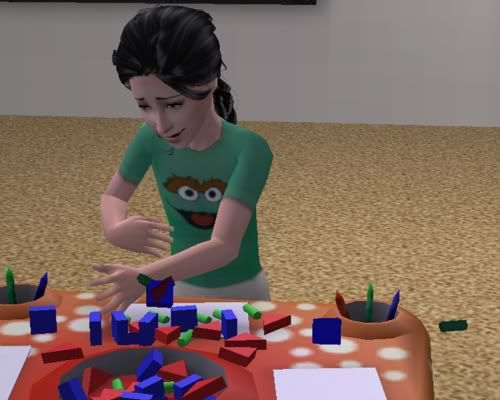 Jane: Until I CRUSH THEM! DIE! DIE! MUAHAHAHAHAHA! *smashes blocks*
Me: For some reason, I think Author and Trista really need to keep an eye on that kid.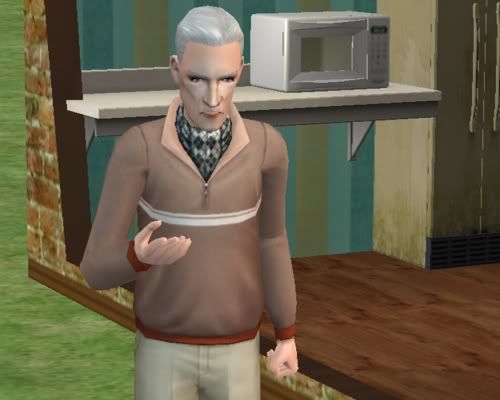 Mr. Capp: Yeah, she's scary. *steals invisible newspaper*

Why do you do that? We've never even spoken to you before!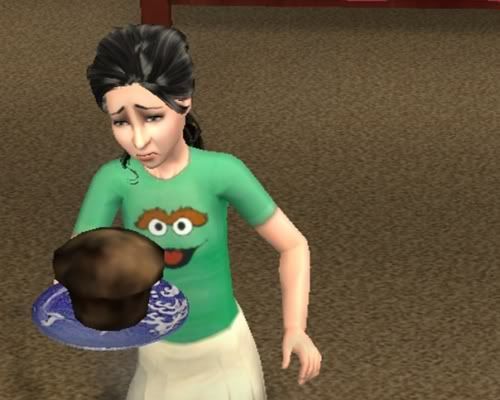 Jane: MY LIFE IS MADE OF FAIL!

Family resemblance, much? Hold that fail!muffin up high! It's the first of the legacy!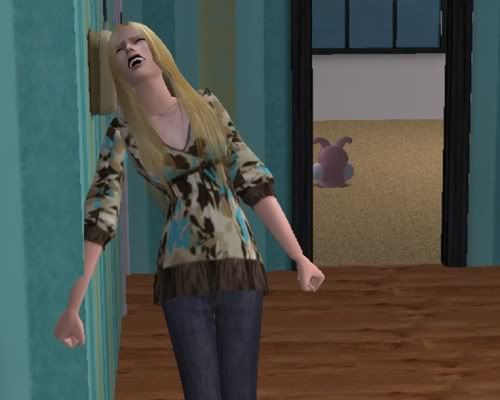 Trista: *screams bloody murder*
Author: *isn't reading for once*
Trista: It's ok! I finished the parenting book! It said to take my mind off the pain, I should put my fist through the wall! *punches the drywall*
Author: I finished the parenting book too! The chapter titled "What to Expect When Your Spouse is Giving Birth: How To Avoid Sudden Death" said I should act like a cheerleader to boost morale!
Trista: This isn't helping!
Author: *cheers* Push 'em out, shove 'em out, waaaay out!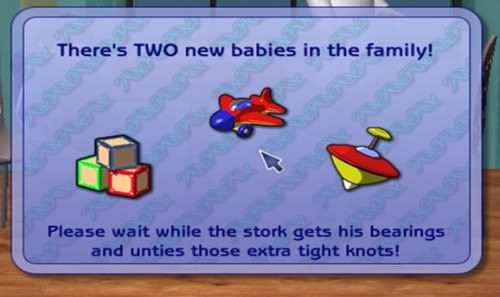 Me: Just twins? *pulls out Magic 8 Ball*
Magic 8 Ball: Reply hazy, try again.
Me: *worries*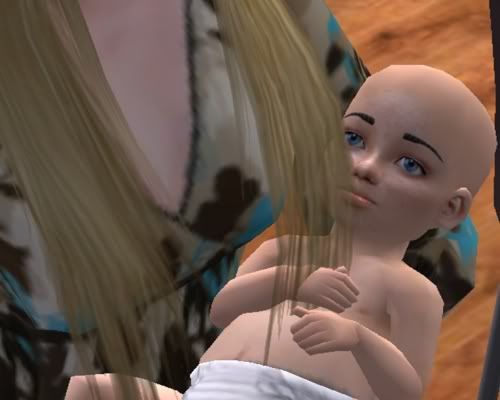 And we give you baby Georgiana!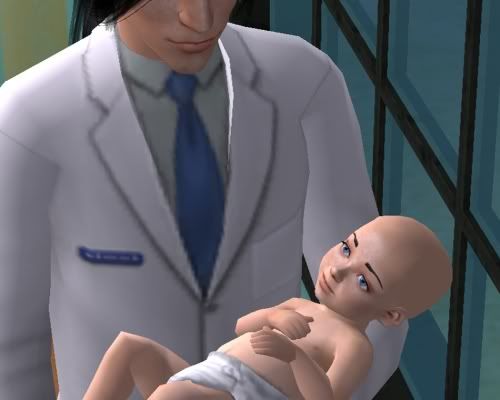 And her big brother Darcy! (Typing Fitzwilliam all the time would have been too long with more chances for typos later on.) They both inherited Author's hair and freckles, and Trista's eyes.

Next post: The Novel Home gets renovated, there are several birthdays, and Jane comes to the harsh realization that there are more children in the house for her parents to pay attention to, even though she still thinks that they should only be paying attention to her.

1.0| 1.1