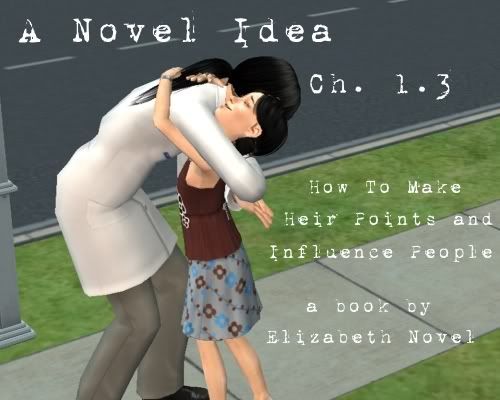 Previously, Jane turned into a not-so-nice child, Elizabeth turned into a toddler, and the twins Darcy and Georgiana were born. Trista spent the majority of their pregnancy passed out on the nursery floor, and Author continued to be made of win on the promotion front.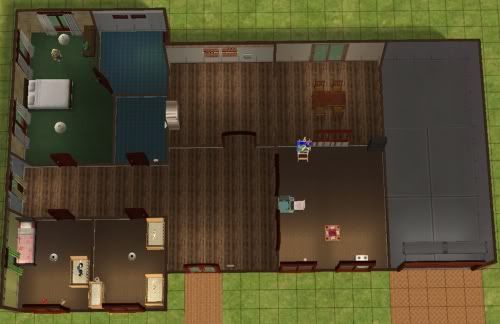 With the extra money that Author was making with his promotions, I put everything into his inventory and tore their first house down. Renovation time!




The girls' room.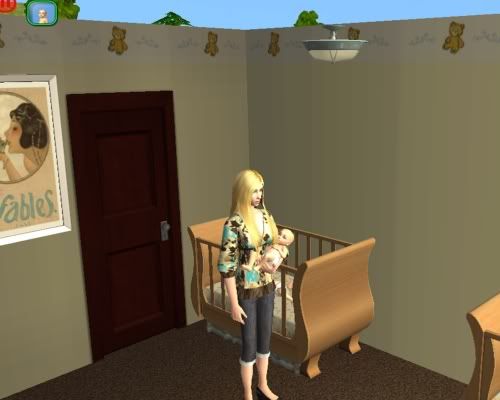 The nursery.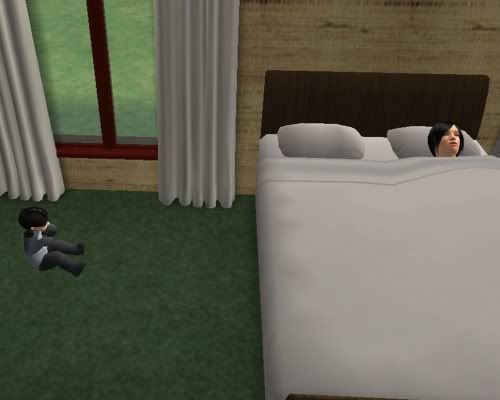 Author and Trista's bedroom. Since they had grass for flooring for the longest time in their first house, I gave them green carpeting. They seem to like it. Lizzie tends to stalk her daddy, hoping that he'll pay some attention to her. Foreshadowing: Will all the "pay attention to me" Jane was doing early on backfire on the firstborn?




While the house was being built, I sent everyone outside. Jane talked her mom into playing catch with her.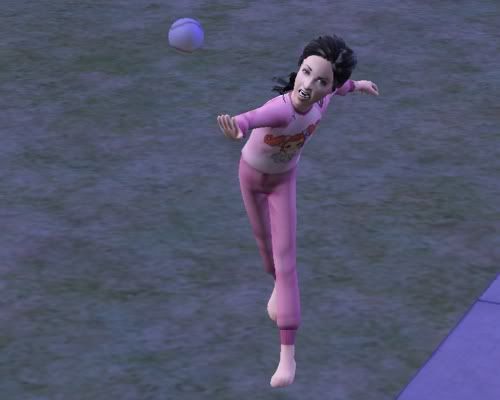 Jane's one nice point rears it's ugly head yet again.

Jane: Catch this, Mom! *hurls ball at head*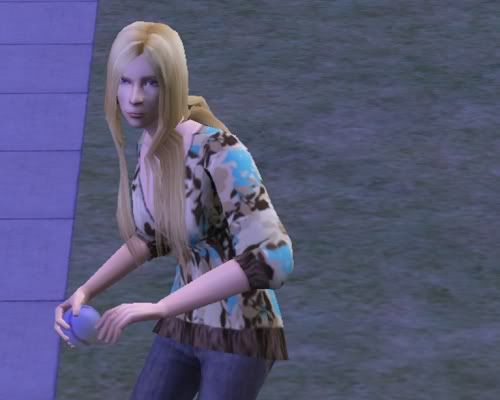 Trista: I saw what you did there, young lady.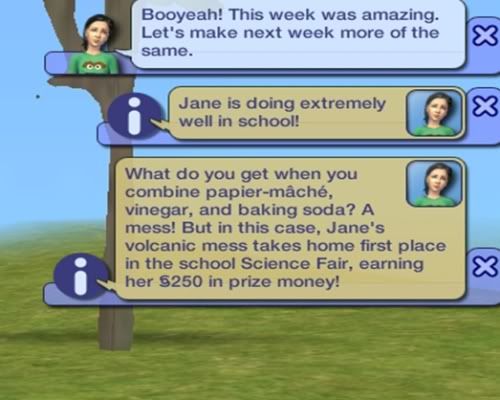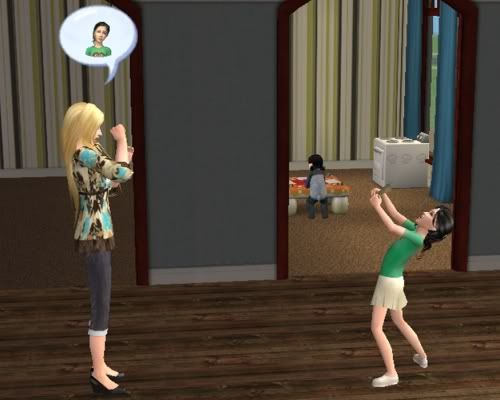 All was forgiven after Jane kicked scholastic butt at school.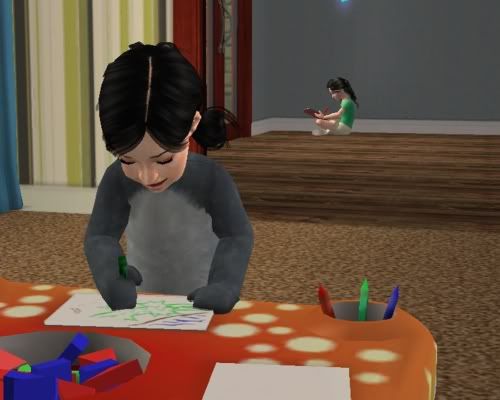 Me: Whatcha doin', Sweetie?
Lizzie: Colorin'. *scribbles*
*Jane does homework in the background*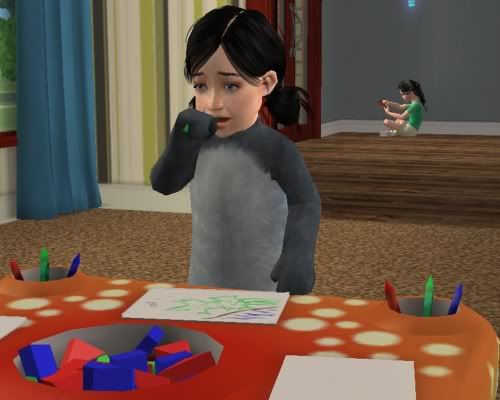 Lizzie: I wike da blue ones better. *chews*
*Jane continues to do homework in the background*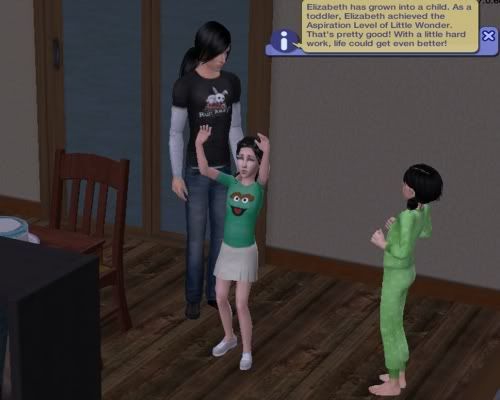 *sniff* They grow up so fast. This was supposed to be Lizzie's birthday transistion shot, but Jane ran in the middle of it and wanted to show off. Granted, her headstand was perfect, but there is a time and place for everything.

Jane: Who cares about stupid birthdays? LOOK AT ME!!
Lizzie: Yay! Go sis!

Lizzie, you're way too nice. Not to be outdone, it was the twins' turn to age up.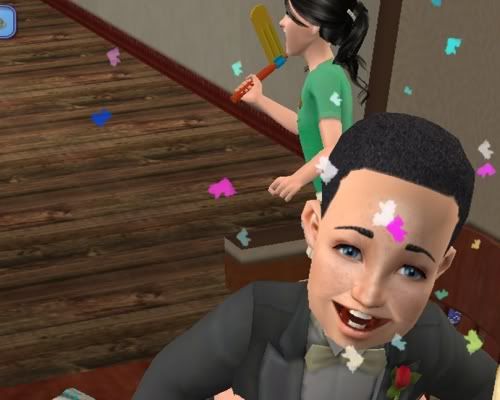 First Darcy.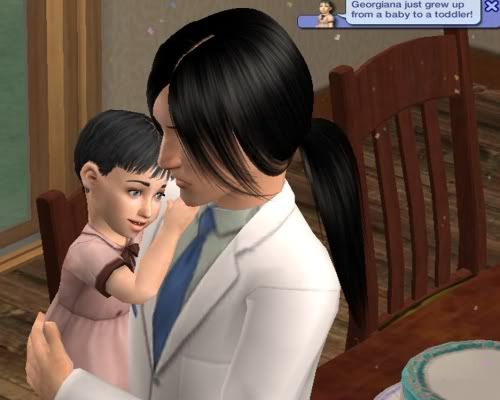 Then Georgiana. Author doesn't look too thrilled with their haircuts.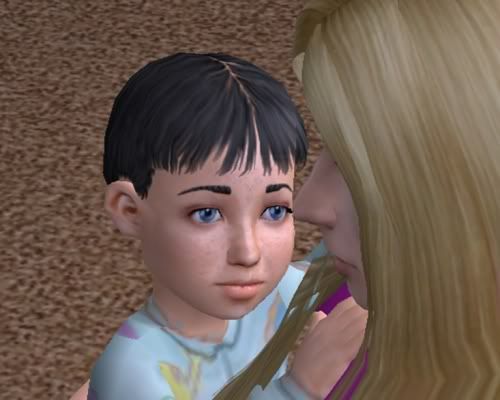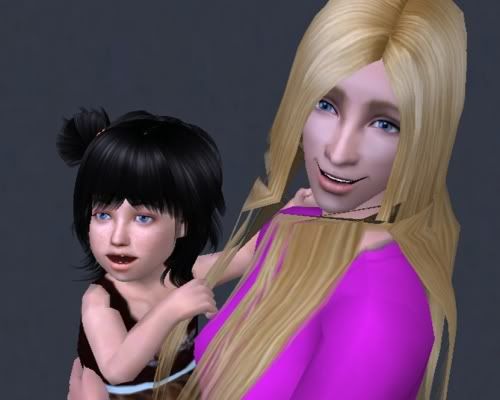 So I Trista gave them makeovers.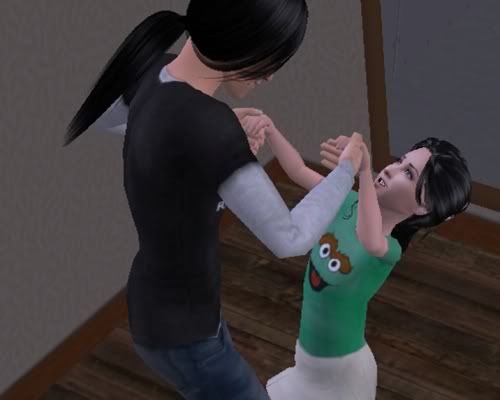 Jane: Daddy? With all these kids around now, I'm still your little princess, right? Right? *worries*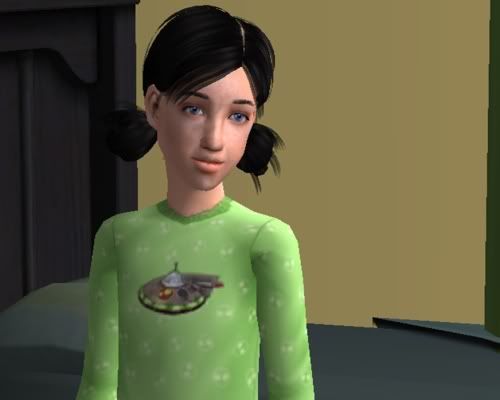 Shot of the Challenger of the Status Quo! Lizzie turned out cute.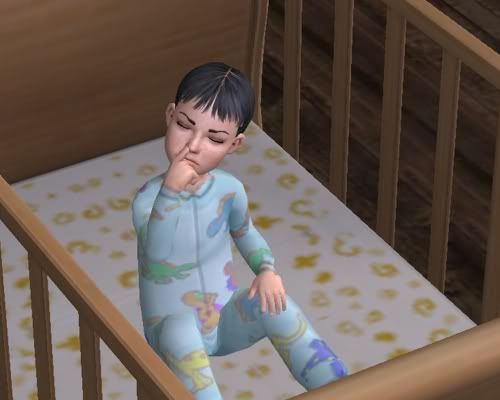 And Darcy turned out classy. And now for something completely different: a toddler with a tape recorder up his nose. [/John Cleese voice]




Fail!Muffin: 1
Gen. Two: 1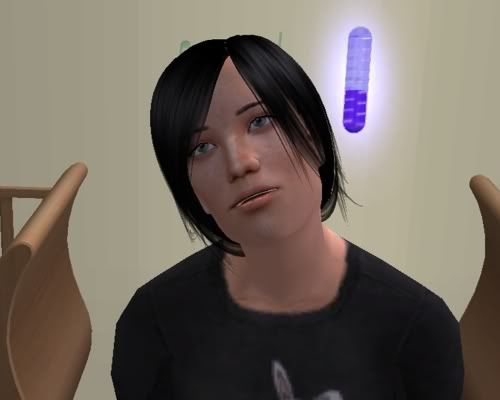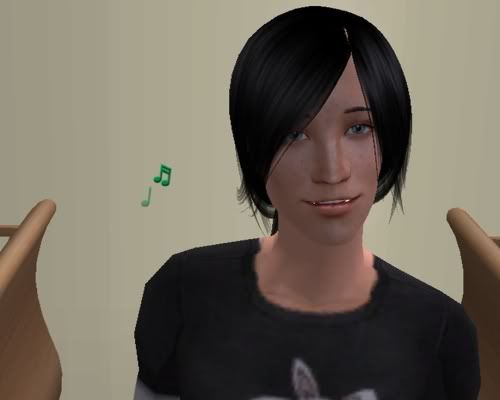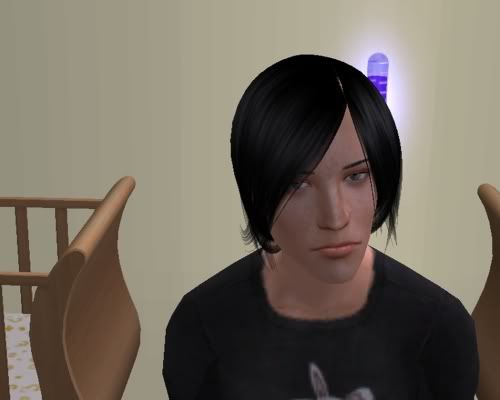 Potty Training the toddlers = practicing Zombie faces?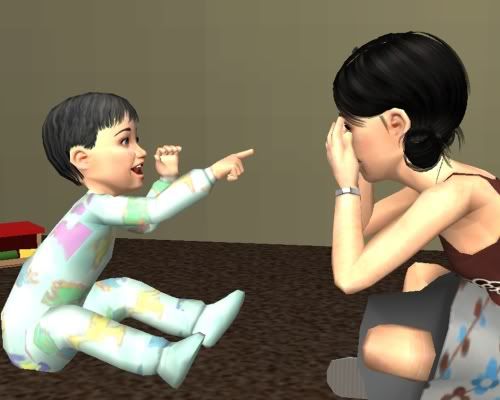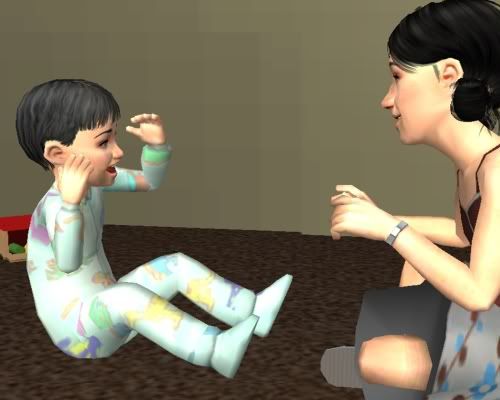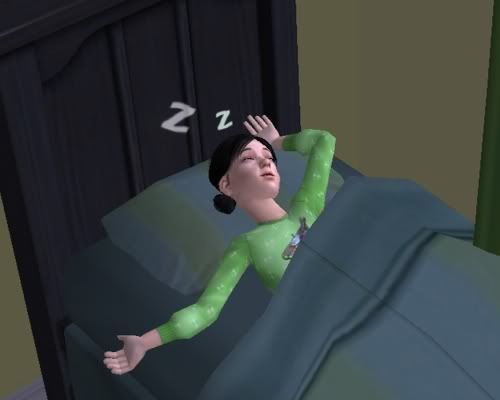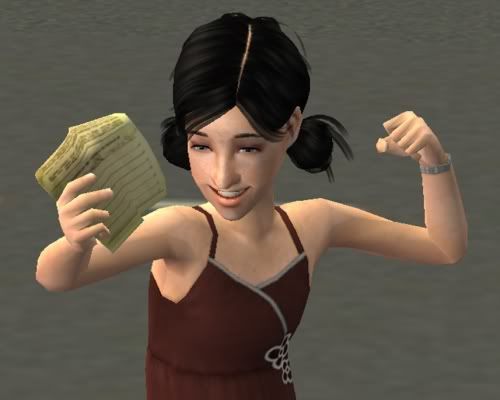 [/Lizzie spam] Guess who got an A+ her first day of school?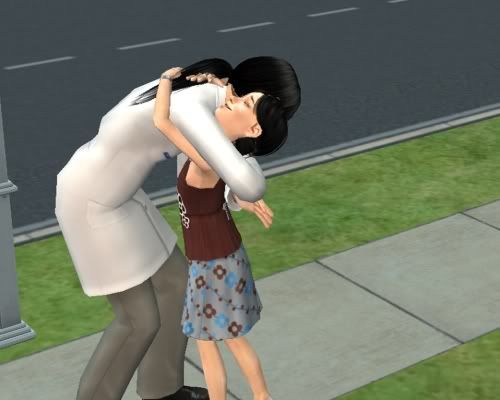 If you guessed the same child that drops everything to welcome her dad home after work, then you get a cookie.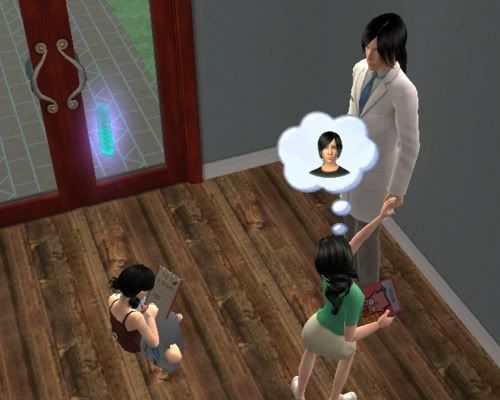 Jane: I know you're helping Lizardbreath with her homework, but stop! Help me instead!
Author: Why don't I help you after I help your sister? And stop calling her Lizardbreath.
Lizzie: *sticks tongue out when Author's not looking*




Jane: Daddy? *worries some more*

Jane, I'd feel bad for you, but you've spent most of the afternoon being mean to your little sister.




See? Even the nanny knows it. I forget her name, but we'll call her Good Nanny #1. She feeds the kids, cleans the house, and recycles the paper after she's finished reading it. Where were you when Jane was a baby?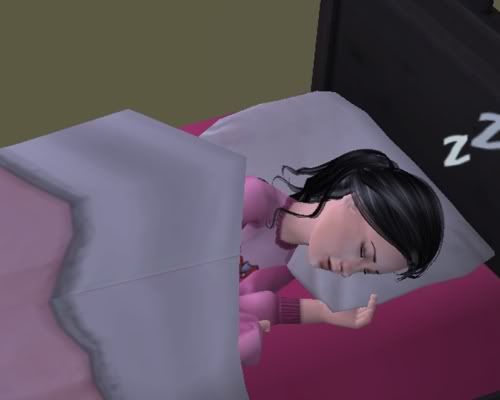 All the stress is giving Jane nightmares.

Jane: Zzzz...must..kill...competition...zzzzzz....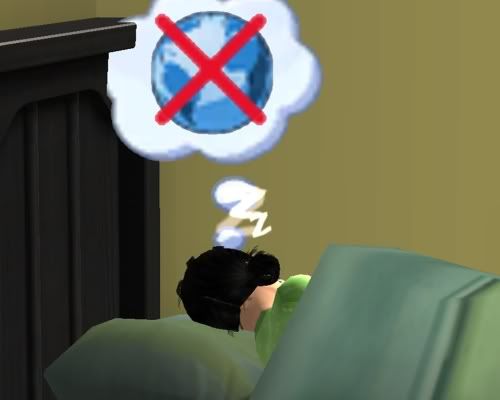 Lizzie has her share of bad dreams too.

Lizzie: No, Jane....don't blow up the world...zzzzz....

It seems that world domination is a no go, if Lizzie has anything to say about it.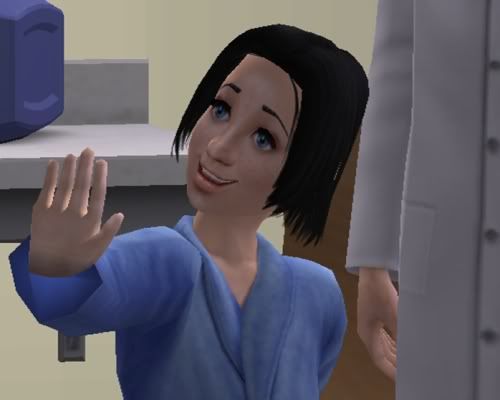 Time for the twins to grow up!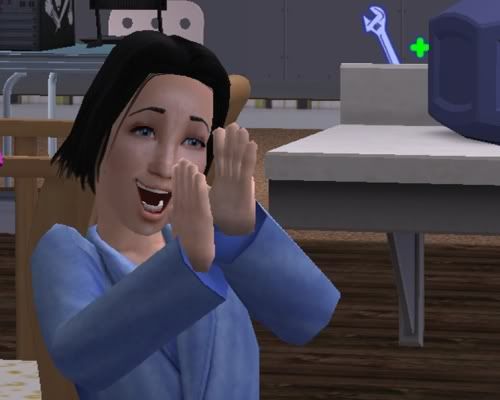 Darcy: Yay, I'm a real boy!
Georgiana: *skills in the den*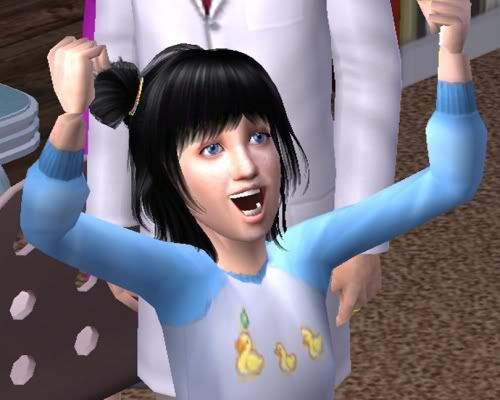 Georgiana: Woo! I can reach the computer now!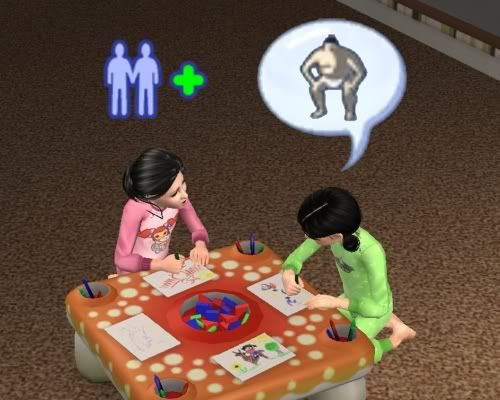 In an attempt to get along better with her sister, Jane decides to give group art therapy a try.

Jane: Whatcha drawing?
Lizzie: Sumo wrestlers.
Jane: *looks at her drawing, then at Lizzie's*
Lizzie: What are you drawing? It looks like a duck. I like ducks.
Jane: Ninja assassin ducks who kill sumo wrestlers.
Lizzie: ... I don't think I like ducks any more.
Jane: *relationship plus*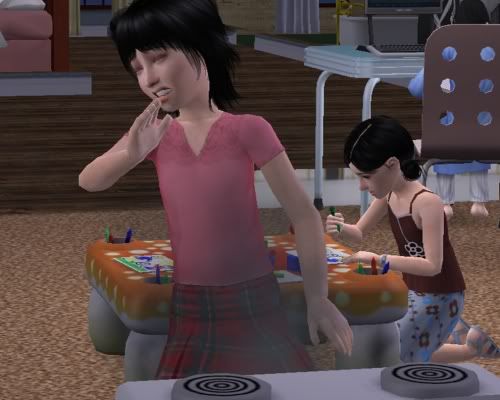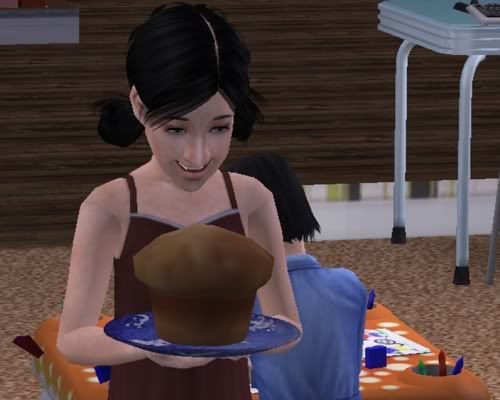 Final score:

Fail!Muffin: 3
Gen. Two: 2

After the culinary defeat, none of the kids touched the Easy Bake Oven again.




I've never seen a sim do this before. Is this a knowledge sim only sort of interaction?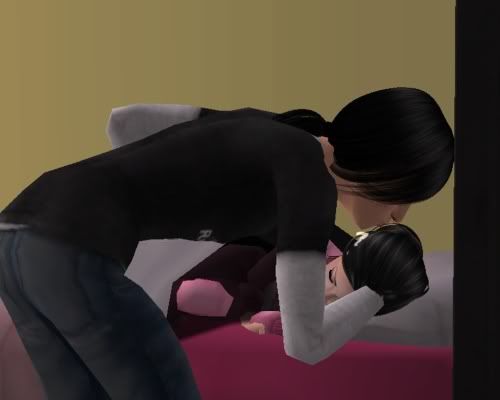 Best. Daddy. EVER. Seriously, he wins the Dad of the Year award, IMO.

Author: Don't worry, you'll always be my little princess.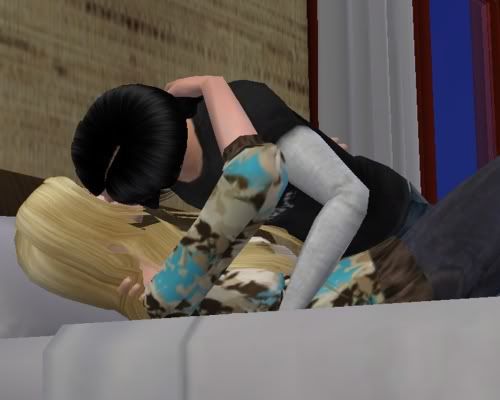 Author: Honey, the kids are all asleep. You wanna...
Trista: *grabs*

Woman of few words, that Trista is.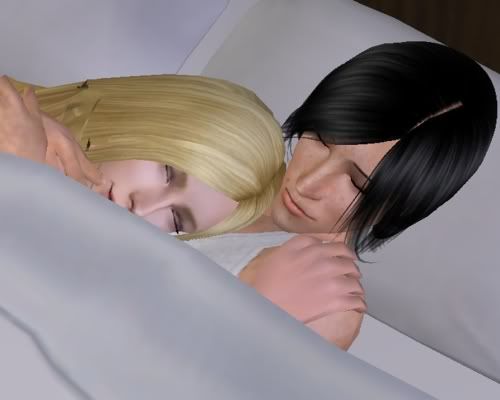 Awww. They haven't had this much alone time since before Jane.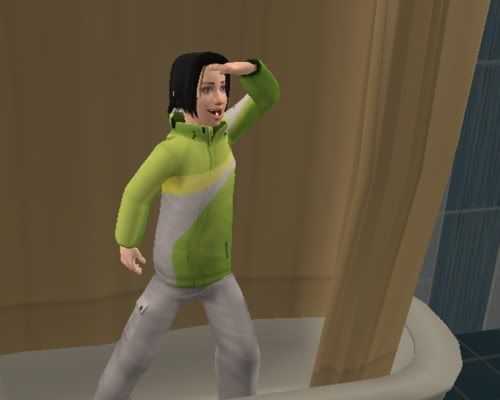 My first tub pirate! He made a beeline to the bathroom as soon as he hopped off the bus.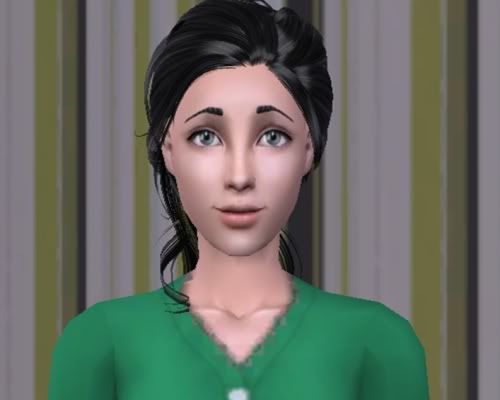 Jane: Woah, everything suddenly got a lot taller!
Me: That's because you turned into a teen, dearest.
Jane: I have boobs! Yes!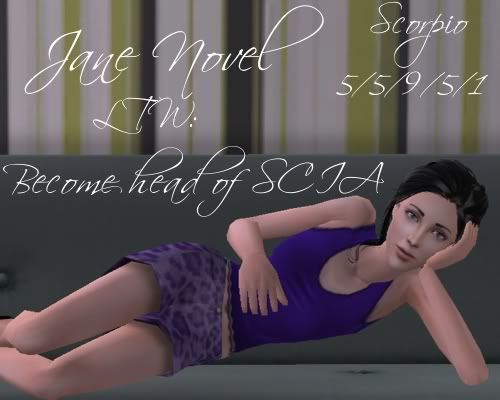 Jane likes hard working creative people, but doesn't particularly care for redheads. Her lifetime want is to be the head of the SCIA.

Me: What, no evil overlord?
Jane: I'm using the SCIA as a coverup. You know, take the establishment down from the inside, that way when I am an evil overlord, I'll have all the info that I'll ever need and I'll also have a pre-built HQ.
Me: That's my girl.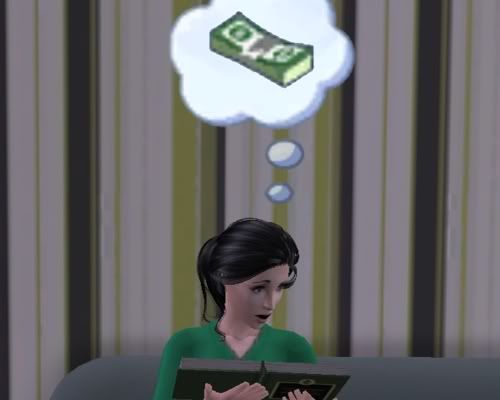 Jane: What do you mean, I'm going to need money if I want to take over the world?
Me: Well, I guess that means you'd better get cracking on finding a job.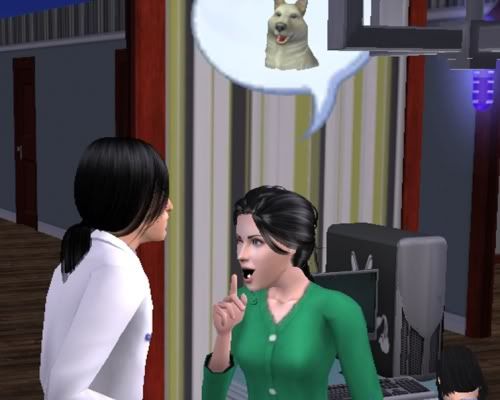 Job hunting does not mean gossiping with your dad about the stray dog that always pees on the mailbox, hon.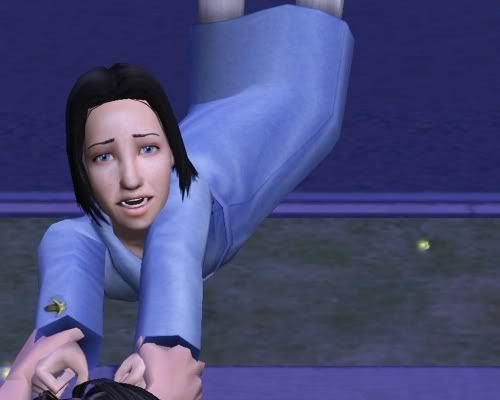 Darcy: Maybe this wasn't such a good idea. You wouldn't let go, would you?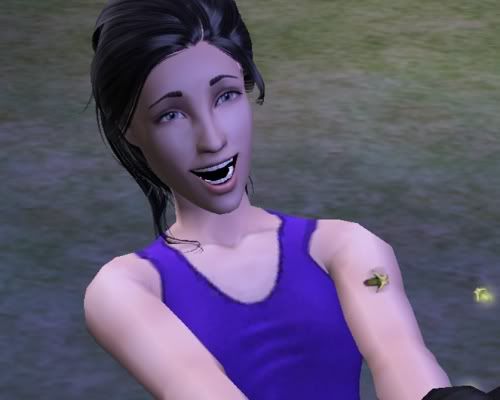 Jane: You never know. I just might.
Darcy: What?!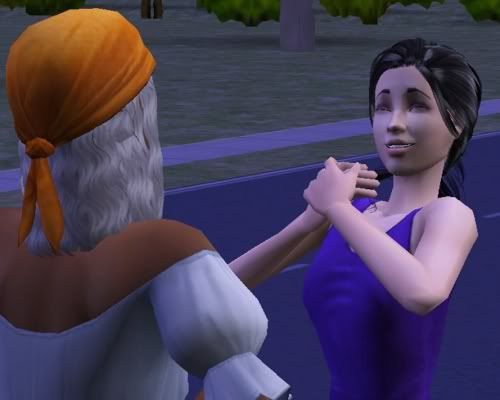 Jane: Matchmaker, will you find me someone to rule the world at my side and have evil little babies with?
Matchmaker: Only if you're not as cheap as your father was.
Jane: What will $1,000 get me?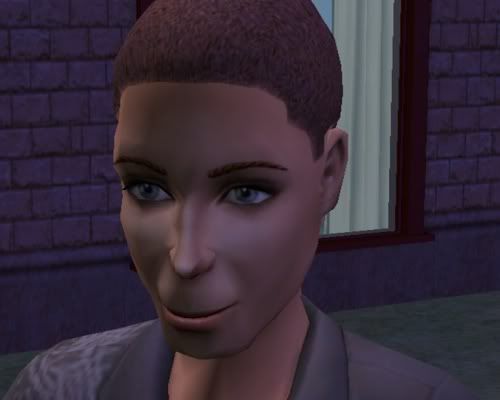 Seems like it will get you someone missing a top lip. They spent the date hanging out on the front lawn. Jane didn't try anything, mostly because he was way too nice for her tastes.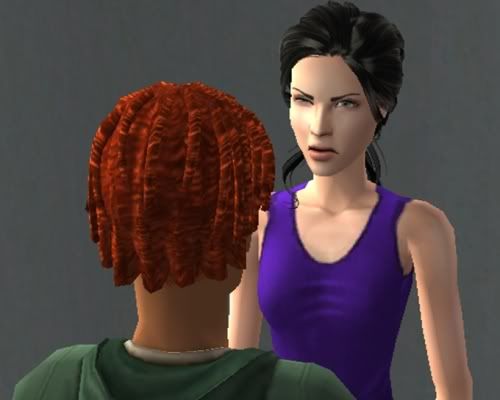 She didn't like the guy she brought home from school either.

Jane: You want me to what? *gives stink eye*
Boy from school: *quickly goes home*




Maybe there'll be more boys in a different school. Hopefully private schools are co-ed.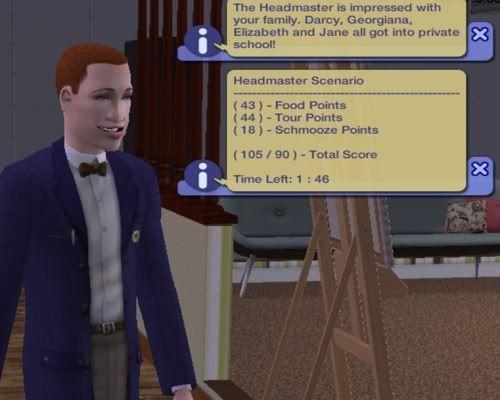 Success! Trista burnt the lobster, but seeing how she used to be a celebrity chef, maybe the Headmaster thought that it was a new up-and-coming cooking technique Trista had just invented. Either way, they wouldn't have gotten in if it hadn't been for Author's smooth schmoozing skills, proving once again that Author is a kickass founder.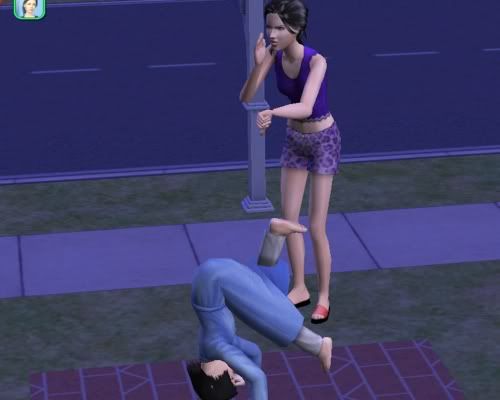 And Jane proves that she's still a meanie.

Jane: Booo! You suck, little brother!
Darcy: *falls flat on face*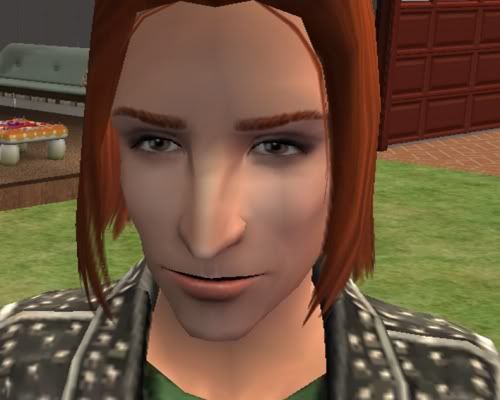 Ever since Jane became a teen, this guy has been stalking their house. We may let him into this legacy somewhere down the line.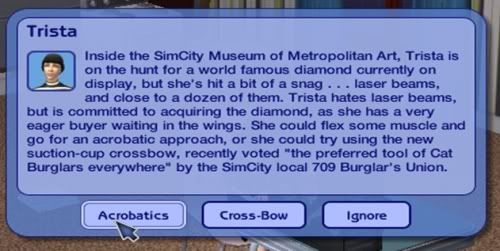 Go old school, Trista!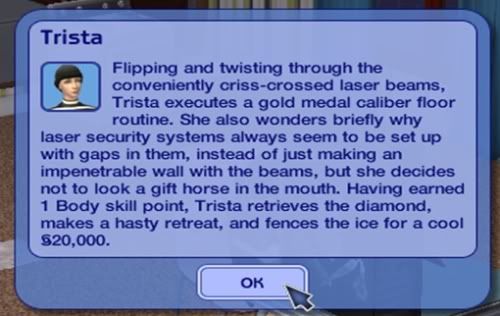 Yes!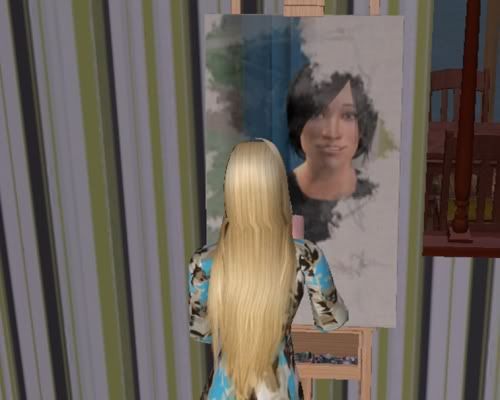 Working on Author's founder portrait.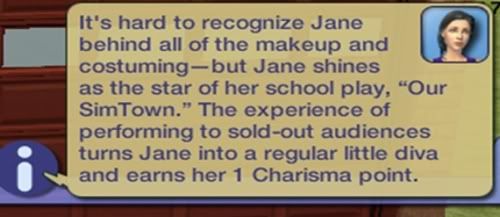 Like we didn't already know that Jane was a drama queen.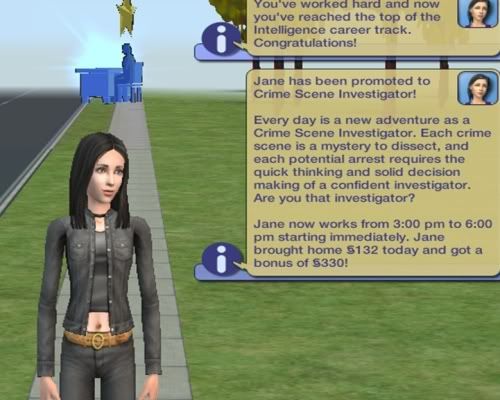 Or an overachiever. At least we have one more scholarship to use in college!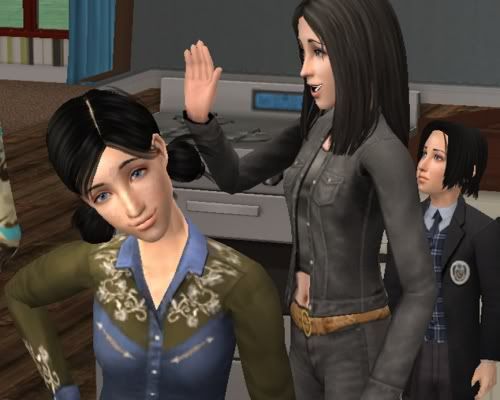 Lizzie's birthday! Note Jane in the back waving for everyone to pay attention to her.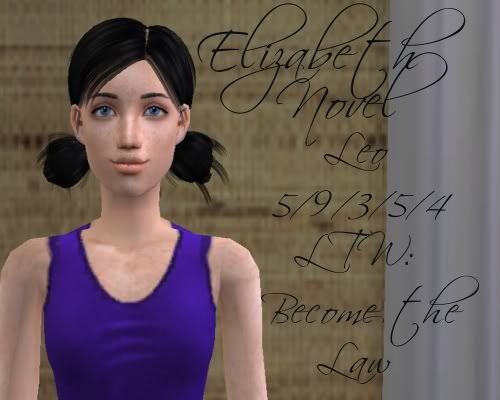 Elizabeth likes fit men with lots of facial hair, but she doesn't like the ones that happen to be lazy bums. She dreams of becoming the law that'll drop the hammer of justice onto her sister's evil plans.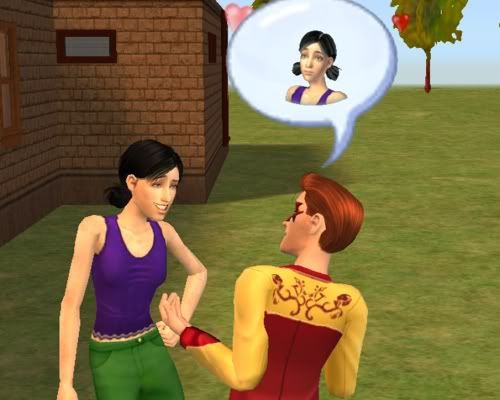 The matchmaker gave her Tybalt Capp, who thinks she's dreamy.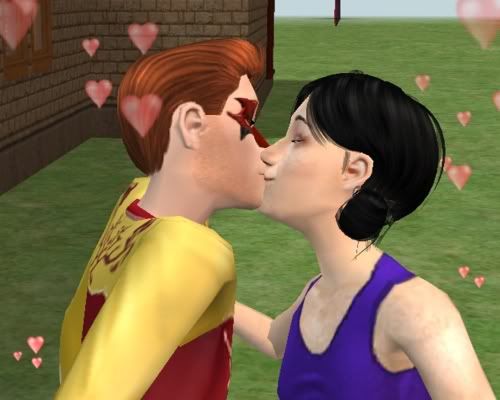 So dreamy, that he gives Lizzie her first kiss.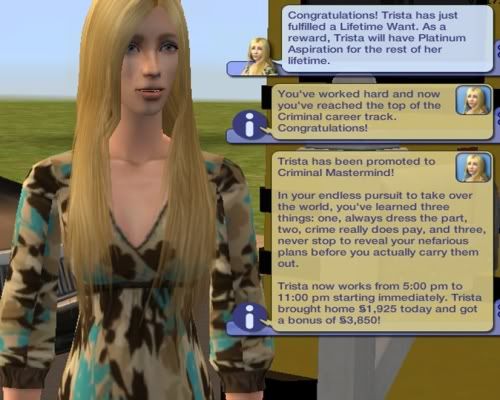 Lifetime Want = Permaplatinum? Check. And this is the only time that Trista doesn't do her "Yay, I'm home" dance.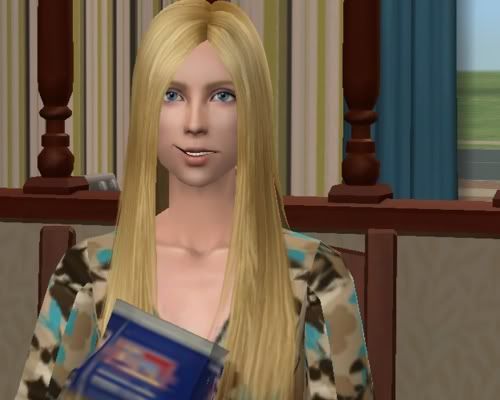 She does celebrate with a bag of chips though.




Me: A limo? Isn't that a little showy for a criminal mastermind?
Trista: No way! This is my secret identity. I've been telling the police that I'm a movie star dressed as a supervillian in order to get into character for a series franchise.
Me: And it works?
Trista: As long as the movie buisness keeps on making comic book movies, I'm golden.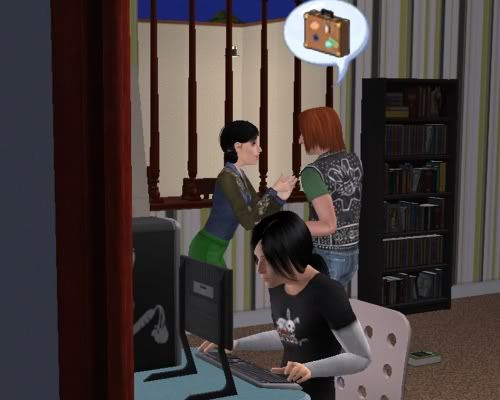 Hey! I said you'd get into this legacy somewhere down the road, not with Lizzie!

Author: Ho hum. Don't mind me, older man trying to talk my perfect daughter into running away to Vegas with you. I'll just sit here. You won't even know I'm around!
Lizzie: Daaaad!
Author: Who was that nice boy you're dating? You know, the one that likes to wear face masks?
Lizzie: Ohmigawd, you're so embarrassing! *runs off*
Stalker!Dude: So, I'll be, um, going now.
Author: Yeah. Thought so.

Oh Author, you're such a protective woobie.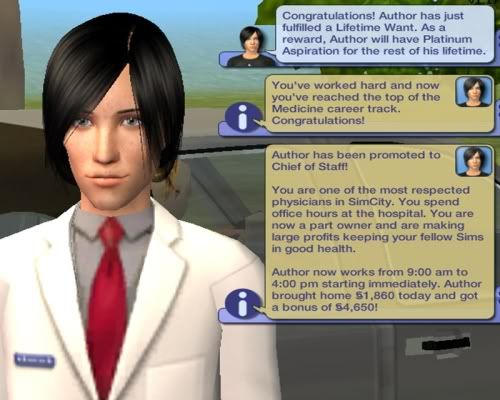 Like his wife, Author celebrates big milestones on the inside. Lifetime Want accomplished!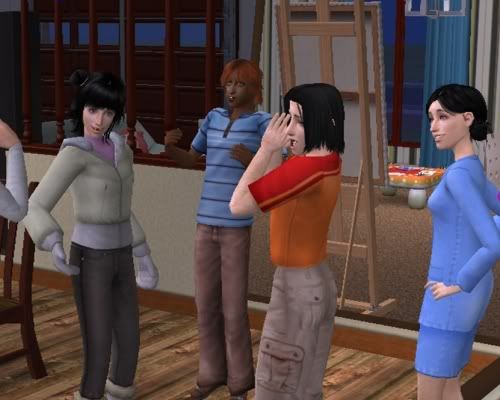 Just in time for the twins' birthday! That's Lizzie in the suit. Like her sister, she became an overachiever as well.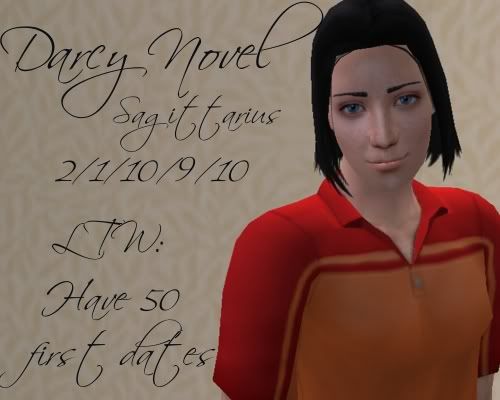 Darcy loves charismatic, athletic ladies, but is freaked the hell out by zombies. He loves the ladies so much that all he wants to do in life is to get to know a whole bunch. He figures fifty first dates should be enough to make him happy.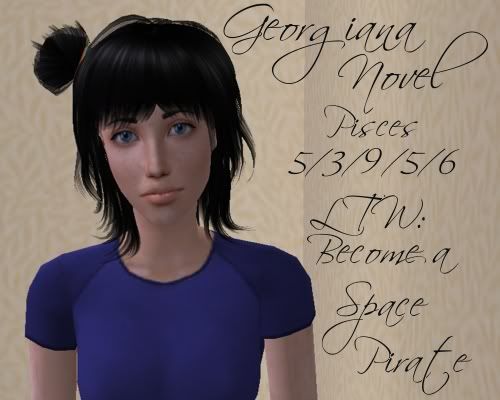 Georgiana loves blondes and redheads, but like her brother, is somewhat scared of the supernatural. While zombies do nothing for Darcy, vampires make Georgiana run for the hills. She didn't get much screen time during her childhood, but she wants to prove that she's an adventurer at heart by becoming a space pirate.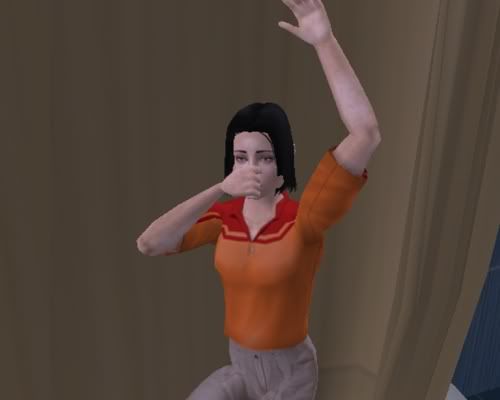 Hee. Tub pirates can be any age. Unfortunately, neither twin got to have much of a teenage experience, because I sent the four of them off to college as soon as they finished aging up. Author is going to be an elder in two more days, so I figured I'd give him grandbabies before he kicks the bucket.

Next Update: Generation Two, the College Edition.

Previous Chapters: 1.0 | 1.1 | 1.2