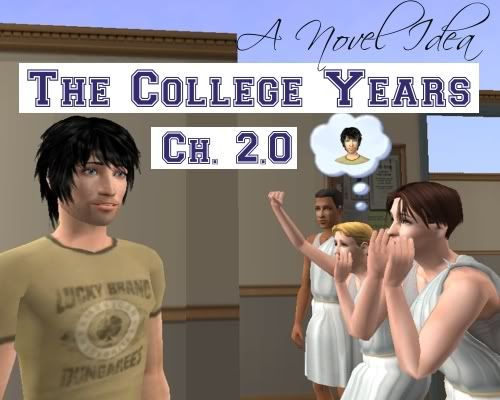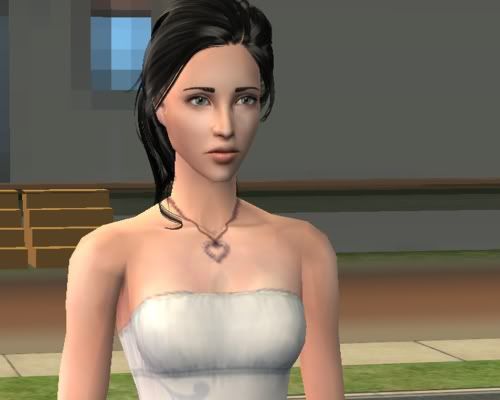 Jane Novel: Fortune/Romance sim majoring in Political Science. Starting to brush up on the politics of world domination, I see.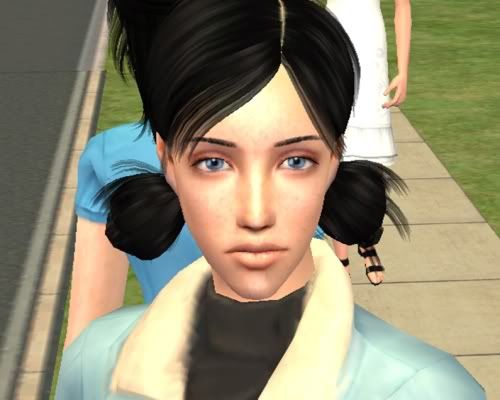 Elizabeth Novel: Popularity/Grilled Cheese majoring in Psychology. I have a feeling that she'll be using her older sister as her senior project.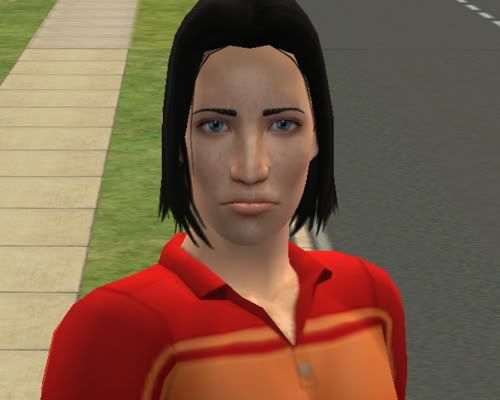 Darcy Novel: Pleasure/Popularity sim majoring in Art. He figures that he'll date the models in his class. I mean, how awkward can first dates be when he's already seen them naked, right?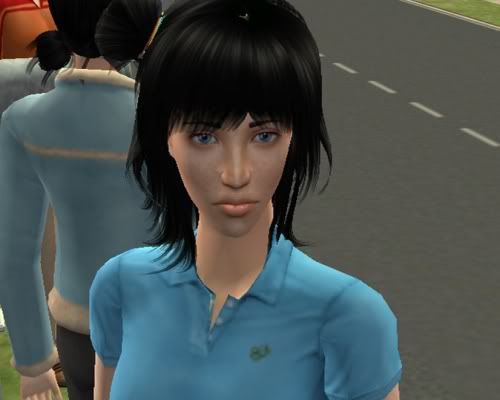 Georgiana Novel: Family/Knowledge sim majoring in Literature. She's hoping to find love in the library, or at least have a fling with a moody Heathcliff-type, whichever works.

The kids grow up! They're all very cute, but except for Jane's dress, I don't like what they aged up in. So I sent them off to the campus clothes store to fix it. Everyone went, but Lizzie backed out at the last minute in favor of hogging a computer to play Sims.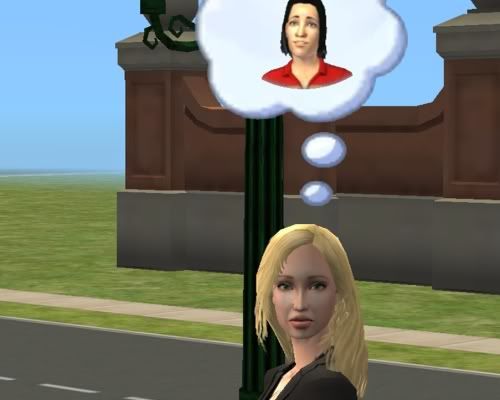 Darcy's first victim! Quick "okay" date while his sisters picked out clothes = 1/50 first dates.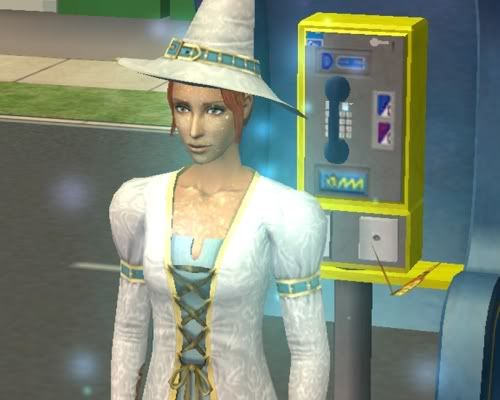 My first witch!

Jane: Yeah, but she's a stupid Good Witch.
Me:I don't care; I want a witch in the family. Somewhere between Generation Two and Ten, someone in this legacy is going to be magical.
Jane: As long as there are no houses falling from the sky involved.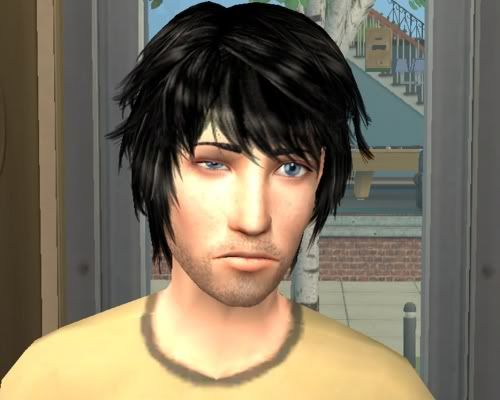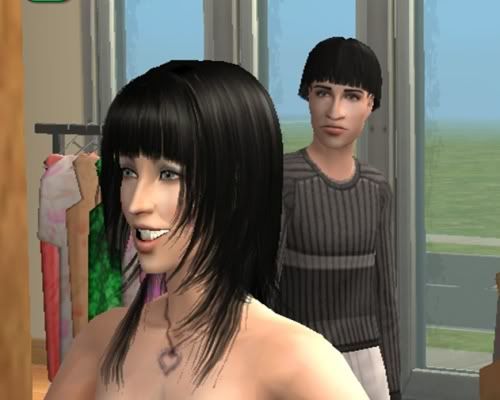 And makeovers. Georgiana was "Meh, it'll do," Darcy went "Buh?" (either that or he was working on his hangover face) and Jane likes hers. In the background, the dude in the gray sweater gives his seal of approval on Jane's makeover as well. I didn't get any pictures of it, but he was all stealthy-stalking her the whole time the three of them were on the lot, then while they were leaving to go back to their dorm, he ran after her.

Dude in Gray: Hey, I finally got up the nerve to talk to you! Wait!

Jane ignored him and walked back to the dorm with her siblings.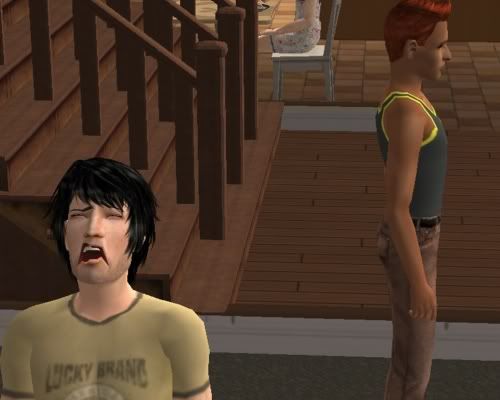 Me: I leave you people alone to go get something to eat and look what happens. Darcy baby, what's wrong?
Darcy: That jerk just came up and poked me in the chest! I didn't even talk to him yet!
Me: *Glares and puts finger on "death by flies" option*

Fortunately, I didn't have to kill Dormie the Jerk. Darcy picked himself up and shoved him right back. Then he had to go to class, or else there probably would have been a fist fight. And where were his sisters while this was going on?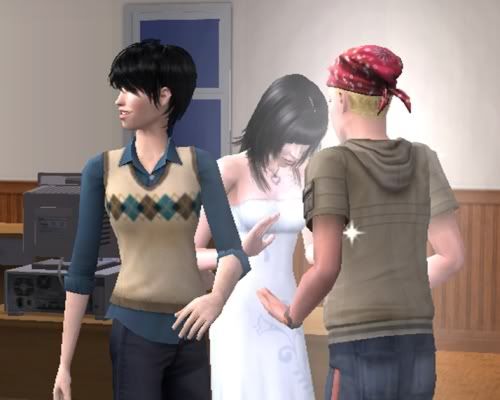 Jane: I kick so much ass at red hands. Take that! *slaps harder than necessary*
Griff: Oww.
Georgiana: *scopes out room* Hot guys, hot guys. Anybody see any hot guys to flirt with around here?
Lizzie: *writes term paper*

It was getting too hard to keep track of them in the 14 dorm House, so I moved them to a smaller 8 dorm House. Darcy quickly moves to date another one of his dormies for 2/50.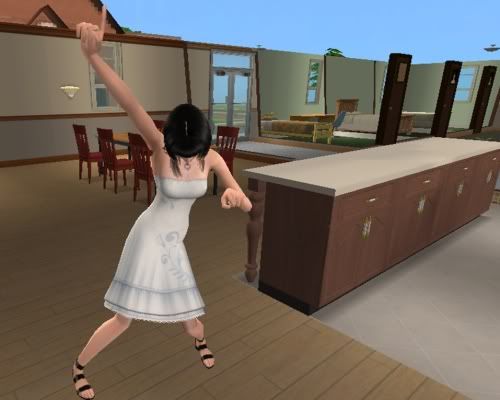 Jane gets her groove on, but blocks the way to the stove in the process.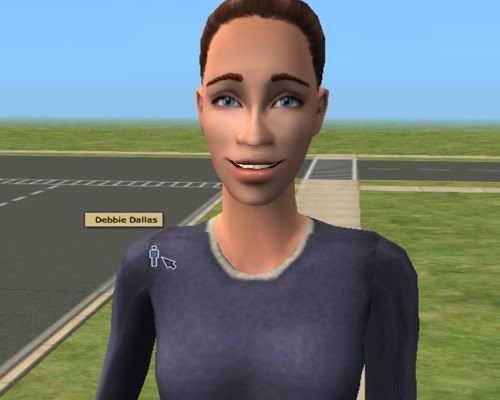 Taken because I went *snerk* at dormie's name. Debbie Dallas, do you have a career in the adult film industry waiting post-graduation?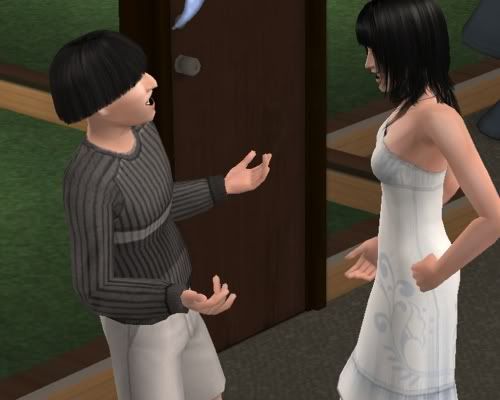 Well, well, well. Stalker McStalkypants is in their dorm.

Dude in Gray: Hey baby. I lost my phone number, can I have yours?
Jane: You have a really big nose.

Seriously, the thing is epic.

Jane: Your nose reminds me of Professor Snape, so I guess I can spare the time to talk to you for now.
Dude in Gray, now just The Nose: *melts in a swoony puddle*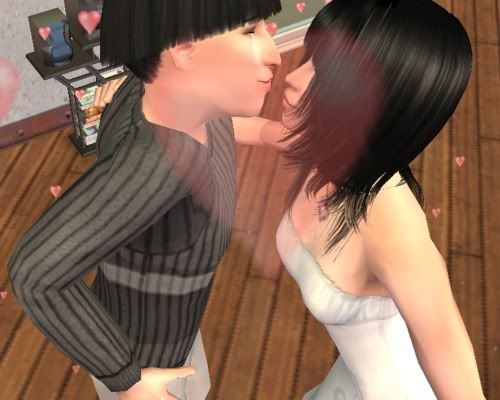 That's a little more than just talking there, Jane.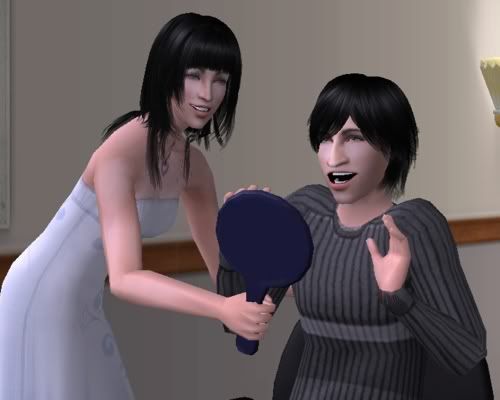 Jane: Okay, so he can kiss. But the "I put a bowl over my head before cutting my hair" looks has got to go.

I'm not sure the new look is working for him, but we'll keep it for now.

The Nose: She touched me!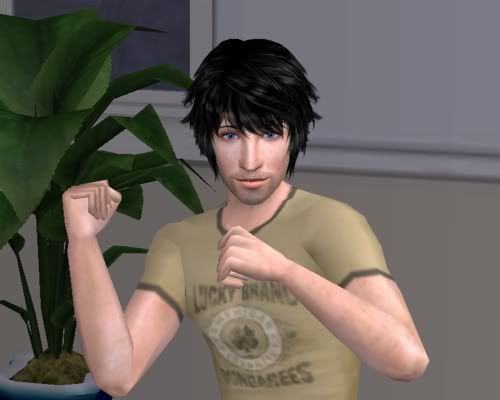 Groove on Dars. Groove on.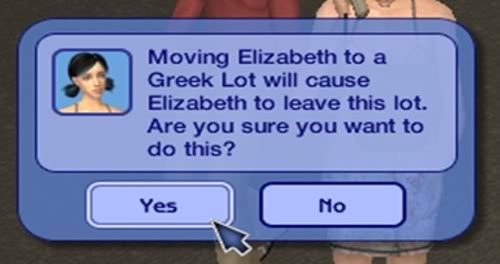 We went from one extreme to the other. First I couldn't keep track of them in a big dorm, now they were practically stepping on one another in a small one. Lizzie had the want to join a Greek house, so I let her.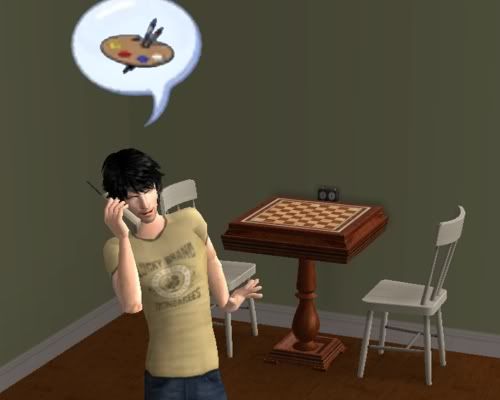 Darcy: Oh hey, Dad. Yeah, things are going great. Classes? Don't get me started on that! All the models in my figure drawing class are wrinkly old men! Where are all the hot naked chicks SimGod promised me? ... Yeah? She promised you hot, blonde chicks when you signed up to this Legacy gig too? And she never delivered?
Me: Hey, he got Trista! And I never promised you naked women, Darcy.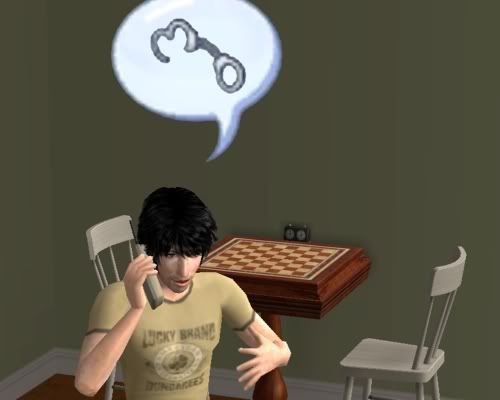 Darcy: I dunno, Dad. I'm interested in getting as many first dates as I can get. Isn't pulling out the kinky stuff third or fourth date material? ... Oh. My. GOD. I so did not want to hear about how your first date with Mom went. I'm gonna hang up now and pretend that my brain isn't horribly scarred for life.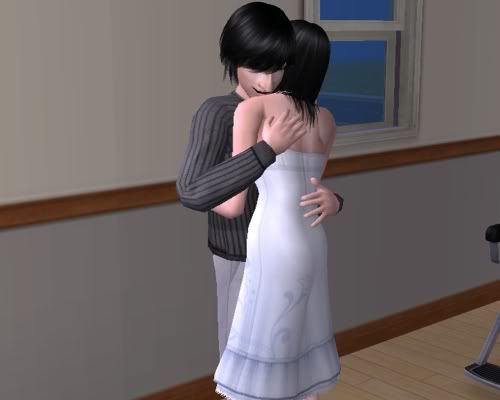 Meanwhile, The Nose and Jane get cozy with the slow dancing.

The Nose: *covertly checks out Jane's butt*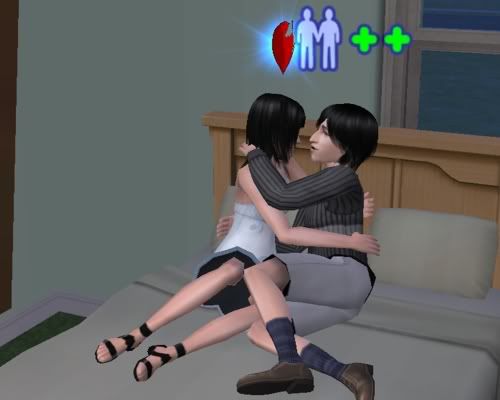 Well, at least you fell in love with him before you slept with him.

Jane: Against my better judgement, I find myself incredibly attracted to you.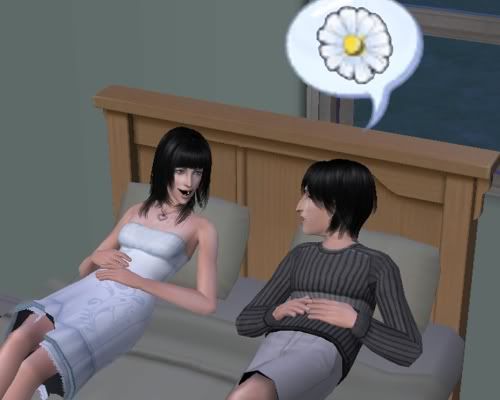 The Nose: So, since I was your first kiss, can I, you know...

Innuendo, we has it. Jane doesn't seem like she's against the idea either.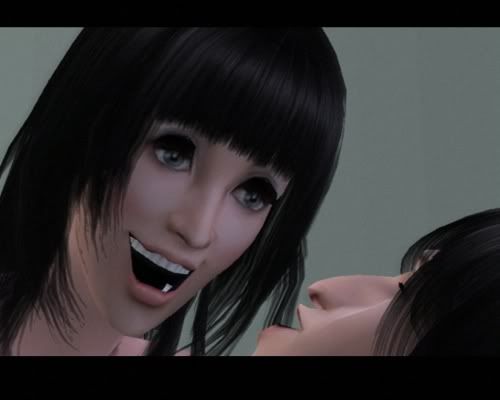 Jane: Did you know that female praying mantises bite the head off the males after mating?
The Nose: *is suddenly afraid*

Jane, honey? Probably not a good time to pass along trivia tidbits.

Jane: A little privacy, please?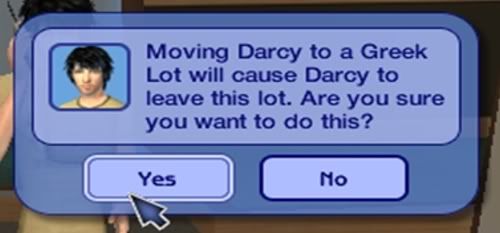 Darcy: My sister is having sex in the room right next to mine! Get me out of here! *grabs the brain bleach*
Me: Oh, grow up and live with it.
Darcy: This is Jane we're talking about here. Remember her? The girl that spent her entire life yelling really loud at the rest of us?
Me: Yes, I know who you're talking about.
Darcy: So, take her screaming and the fact that the walls are really thin and...
Me: I get your point. Is a Frat House okay?
Darcy: I've got my bag already packed.

Meanwhile, much thumping can be heard in the next room, followed by "Yes, oh yes! Right there!" I'm surprised that Georgiana didn't want to move out as well, but her room is on the other end of the dorm.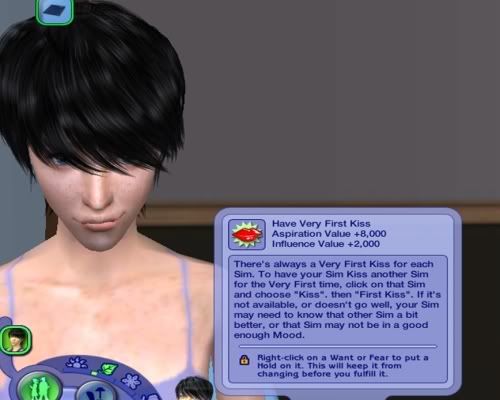 She can't hear, mostly because she's preoccupied with other things, namely kissing for the first time. Well, that's something we can help you out with.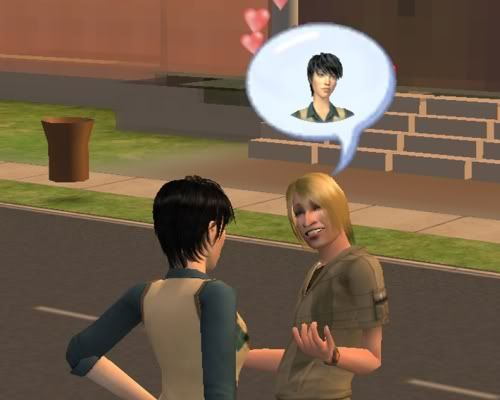 Hey, if it isn't a made-over Griff! Since Georgiana thought he was pretty, I sent her outside to ask him what he thought of her.

Griff: Baby, you is fine!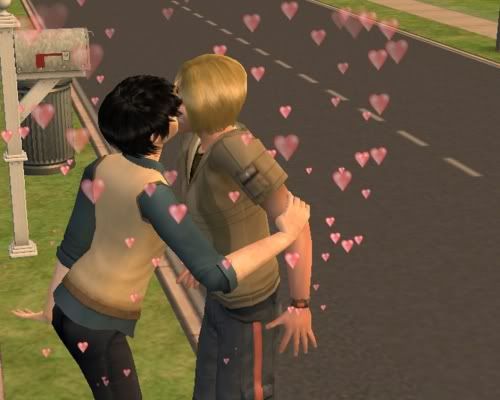 And then they share their first kiss while another doormie waits patiently to see if Georgiana wants to play kicky bag with him. Um, she's a little busy at the moment.

Dormie: That's okay, I'll wait.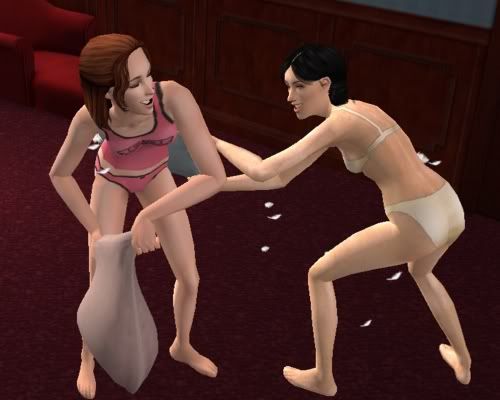 And this is pretty much all Lizzie does with her time now.

Lizzie: Don't blame me. It's in our House's rules that we must have pillow fights in our undies at least five times a day. I'd rather be studying.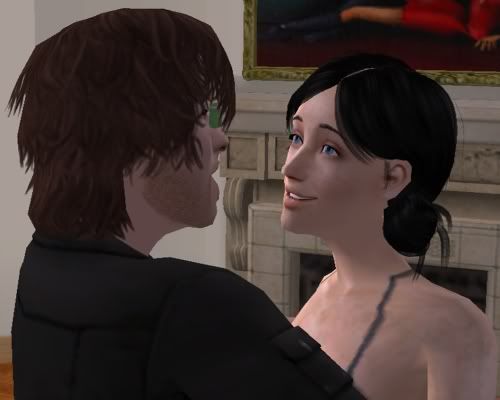 You mean studying like that? Hate to break it to you, but Castor's nailed every single one of your Sisters. Ask any of them, it's like a rite of passage in the sorority.

Lizzie: Huh, well that explains all the dirty looks I got when we woo hoo'ed in the new hammock I bought, and why Heather put rocks in the pillow she uses to hit me with.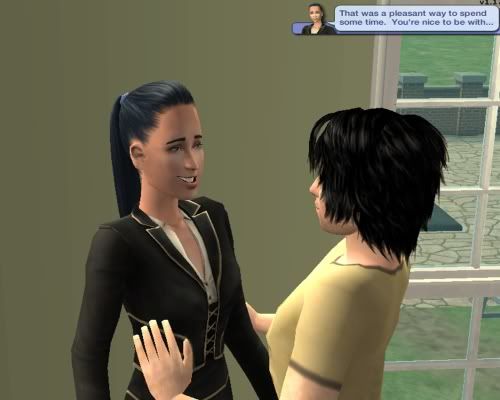 10/50.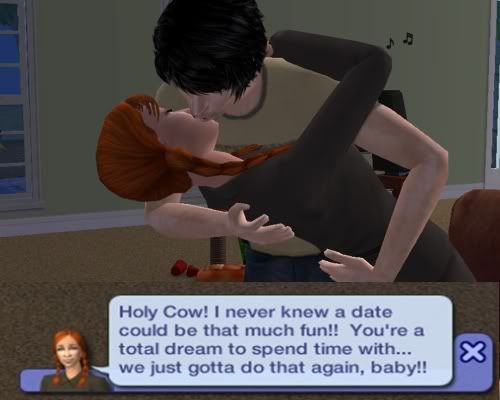 11/50.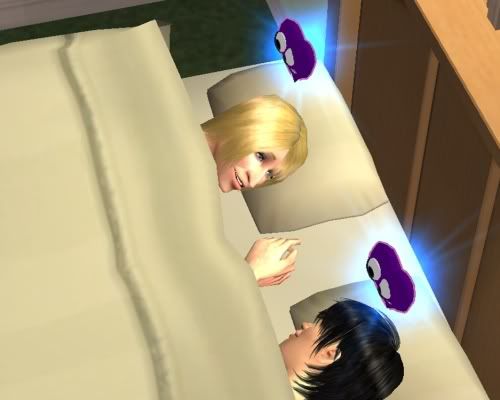 The Novels believe in moving relationships along quickly. We take a break from the woo hoo to bring you Dancing: Serious Style.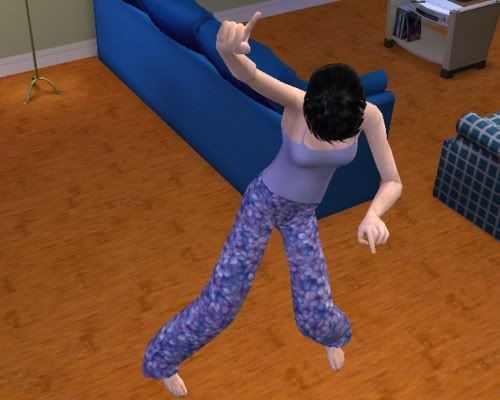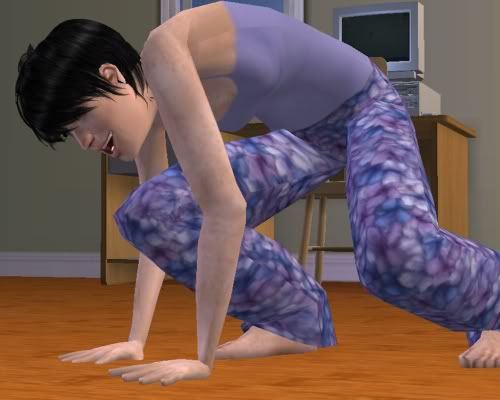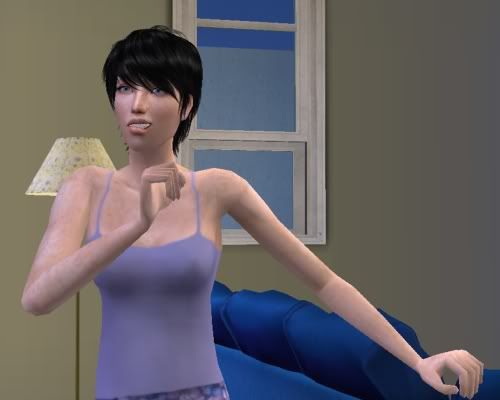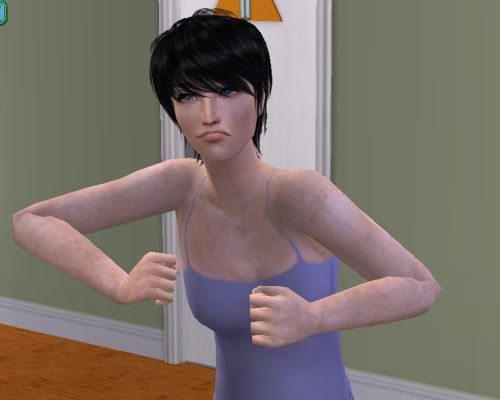 And now back to your regularly scheduled Georgiana/Griff woo hoo.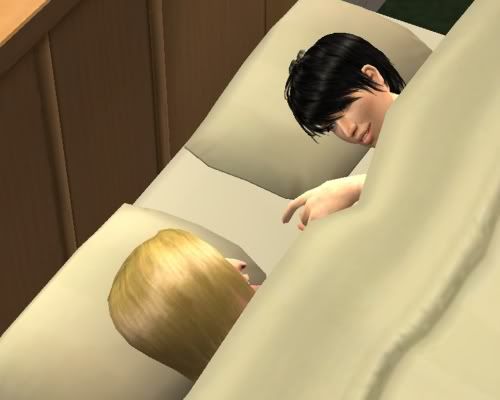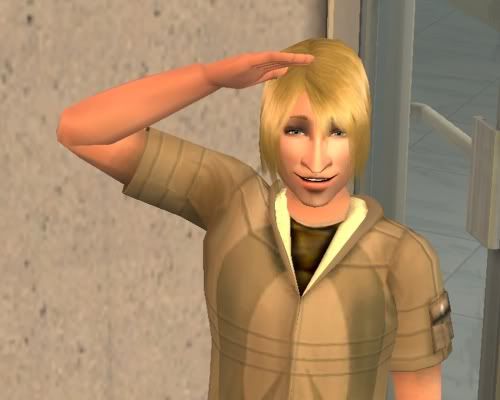 You're one of those guys that waits until a girl falls asleep and then rolls out of bed and out of her life, aren't you?

Griff: Yep!

*eyes "kill by flies" option again* I only spare you because I don't want to hurt Georgiana's feelings.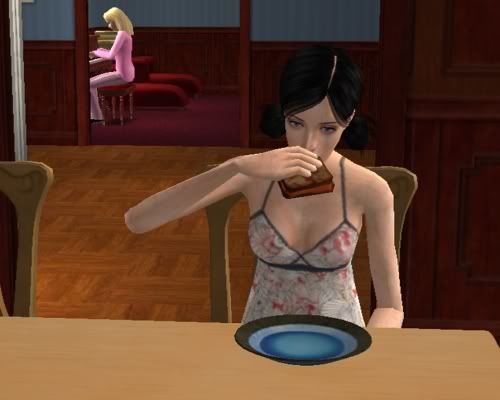 Lizzie: Om nom nom.

She has yet to convince any of her Sisters about the brilliance that is Grilled Cheese.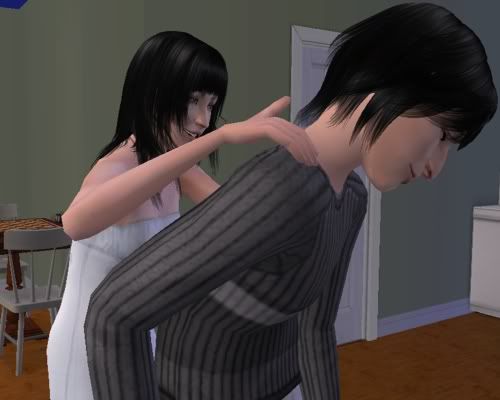 Jane: Must...not...strangle...
Me: Backrubs are not meant to be a struggle against good and evil impulses.
Jane: But it's so tempting to squeeze his adorable little neck until bones pop!
The Nose: Wow, sweetheart, you're really good at this!

The Nose is actually Juan Fong, but it's too late for me to not call him by his new nickname.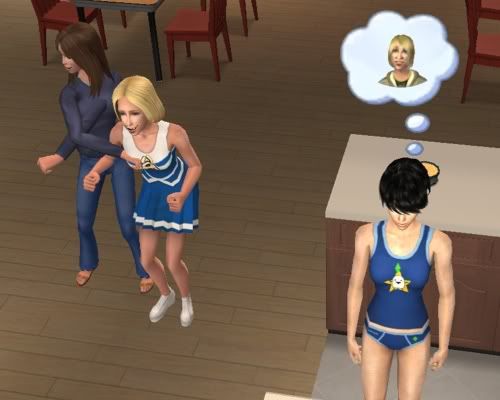 Several days later, and Georgiana hasn't heard from Griff.

Georgiana: Maybe he's just busy with midterms.

You keep thinking that if it makes you feel better. But I'd worry more about Debbie's arms. Dancing with dislocated shoulders probably doesn't feel pretty.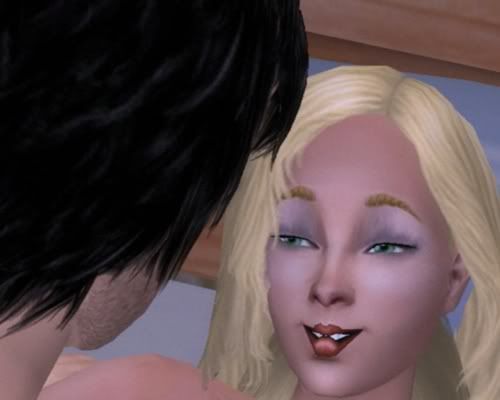 20/50. So, you put out on the first date now, Darcy?

Darcy: Well, I figured that if I was going to do first dates, I might as well make them Dream Dates. Sex really boosts the date rating up.
Me: And how many women have you tried this tactic on now?
Darcy: About eight. They all love me too.
Me: *facepalm* You do know that's Lizzie's sorority sister, right?
Darcy: Yeah, Castor hooked me up. He said that the whole house is pretty easy.
Me: Might want to think about what you just said, my love.
Darcy: What was that?
Me: Nothing, nothing.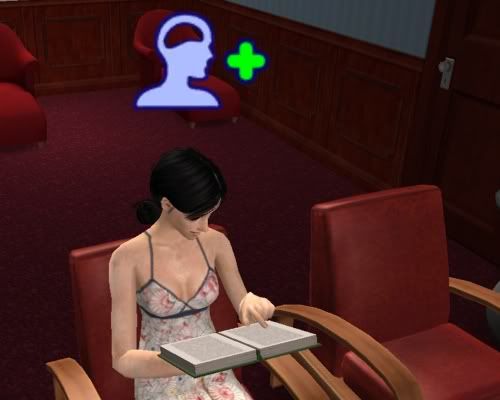 Lizzie: It says right here that sociopaths tend to crave adulation and attention. They also have a lack of remorse, shame, or guilt and aren't concerned with wrecking other people's lives or dreams. Such symptoms come out in early childhood. I wonder... *makes notes*
Me: Lizzie, I know where you're going with this and I'm not going to let you do it.
Lizzie: But I'd be guaranteed an A+ in this class if I write a paper on her!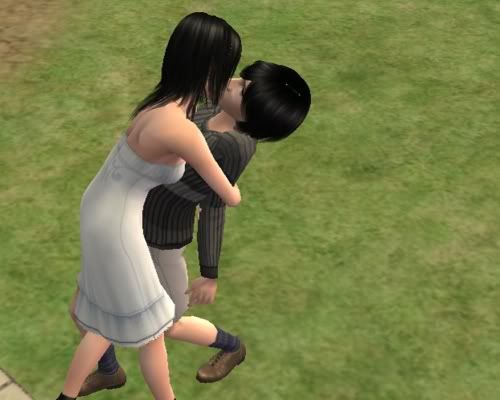 All the other Dormies complained about Jane and The Nose's nightly activities, so Jane moved out and into a little off-campus home. The first thing she did was call the Nose over and ask him to move in with her.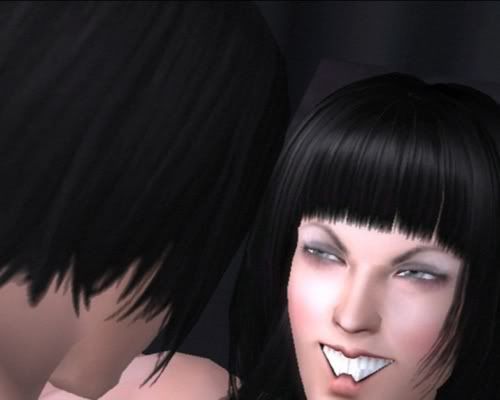 And then this was the second thing that she did.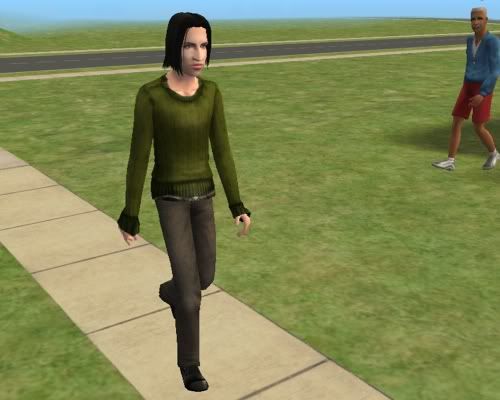 We sent him to get some Slytherinesque new clothes.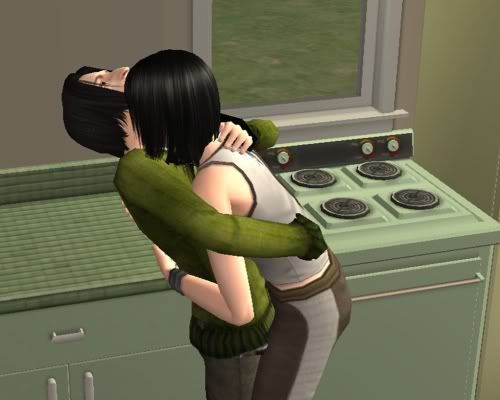 Jane approves.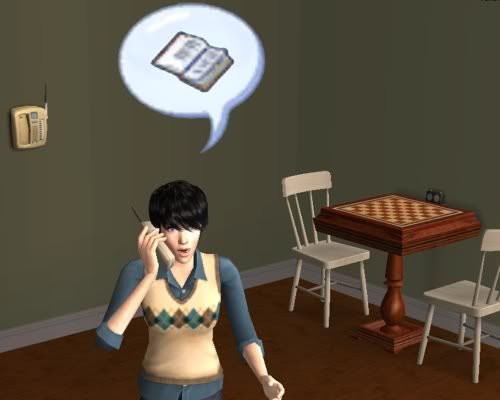 Georgiana: I don't know why he hasn't called me, Darcy. I even did that trick in that book, you know, the one where you put your leg over his shoulder and then... hello?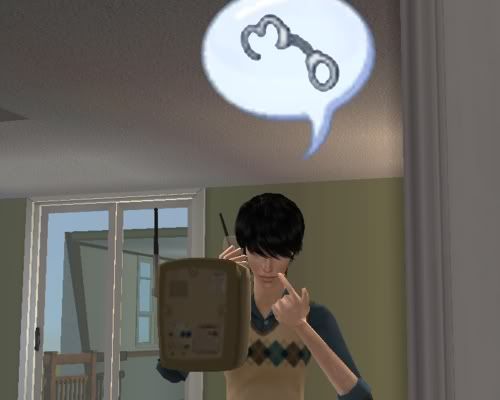 Georgiana: I'm glad I got you back. Like I was saying, I was thinking I probably should have broken out the handcuffs on Griff. Mom said that when she did that, it was what made Daddy ask her to marry him. Darcy? You still there? Hello?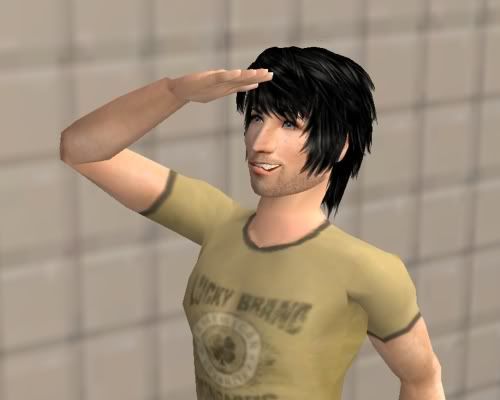 Darcy: Tub pirating will erase all the bad thoughts! My sisters do not have sex! Nope! No way! *goes to happy place*




Georgiana: Hey SimGod?
Me: What's up?
Georgiana: I just found this book about legacies in the library the other day and after reading it, I really don't think I'm cut out to be heir.
Me: But you're a family sim! Of course you are!
Georgiana: Honestly, I really don't want to be in the middle of all the craziness. Is there any way I can take myself out of the running?
Me: You really want out?
Georgiana: Yes. Besides, I hardly got any screen time growing up. I kinda liked being in the background.
Me: And what about college?
Georgiana: I heard there's a Fast Track set of courses, via the College Adjuster. You start a class and your final is two hours later. I'll be out of here with a diploma before today's out.
Me: Is this because Griff dumped you?
Georgiana: No. I spread a rumor around campus that he's an awful lay and really ill-equipped, if ya know what I mean. So far, he hasn't gotten into anyone else's pants yet.
Me: That's the spirit. So, you're sure about this?
Georgiana: I'm sure. Let's get this show on the road.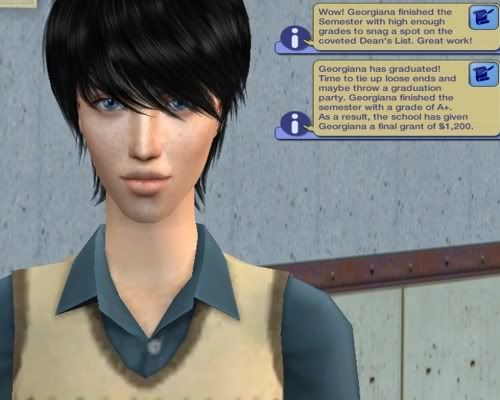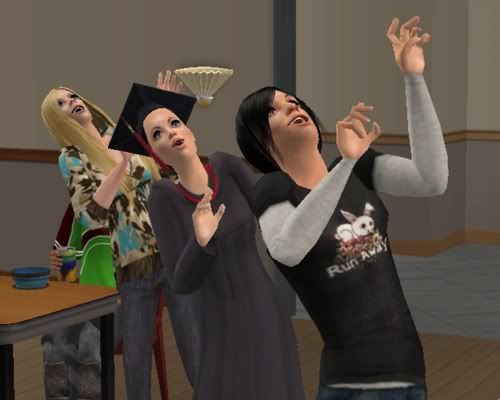 The family that smustles together, stays together. Georgiana's graduation party was a Good Time.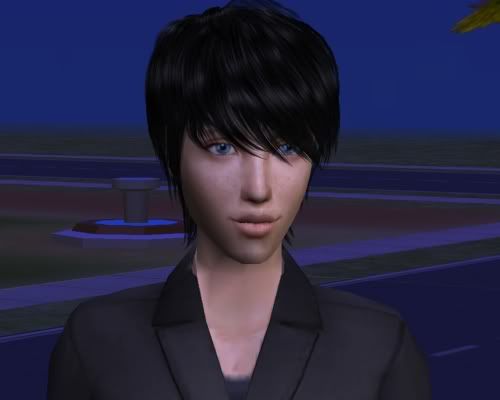 And she grows up!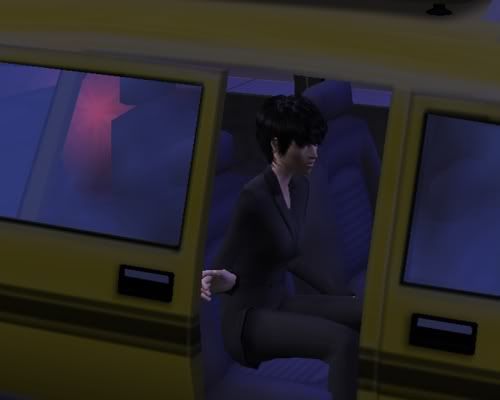 Bye! See ya on the Spares Lot!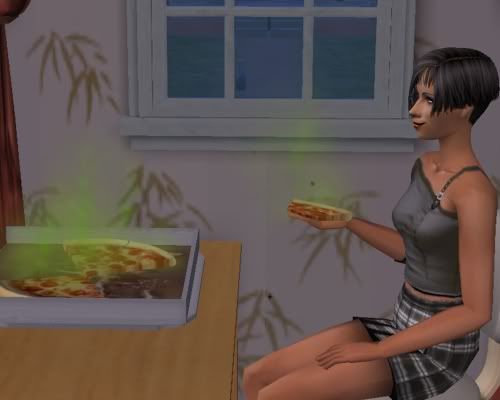 Meanwhile...

Sorority Sister: I can't believe Castor is sleeping with Lizzie! That whore!

Yeah, because you're quite a catch with the eau d'rotten pizza breath.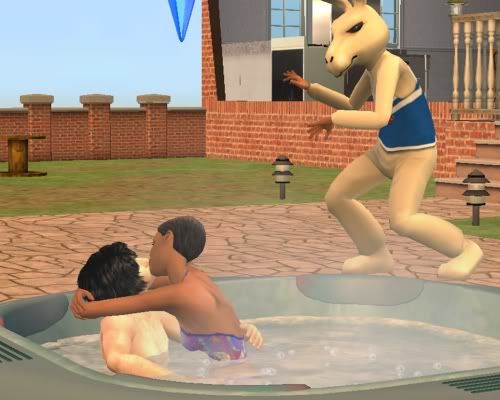 25/50.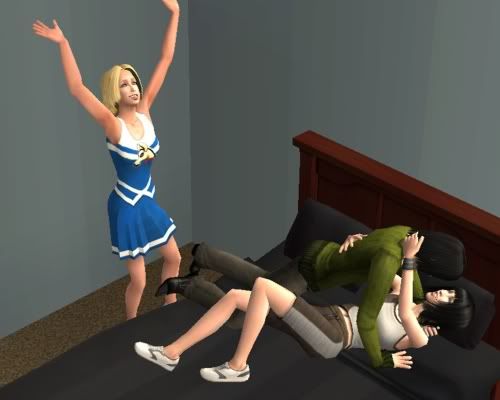 Mascots, cheerleaders? I really don't think they need cheering on.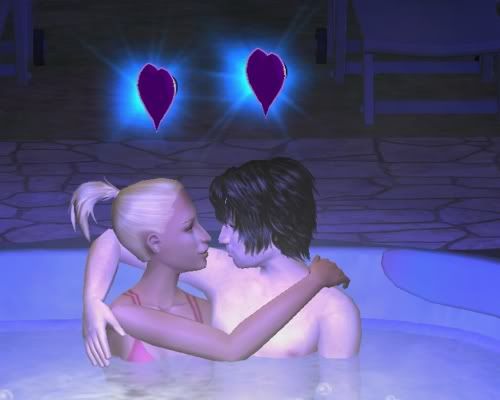 26/50. Liar, liar pants on fire.

Darcy: I'm not wearing any pants!

With all the woo hoo you're doing, you're going to kill a couple of brain cells.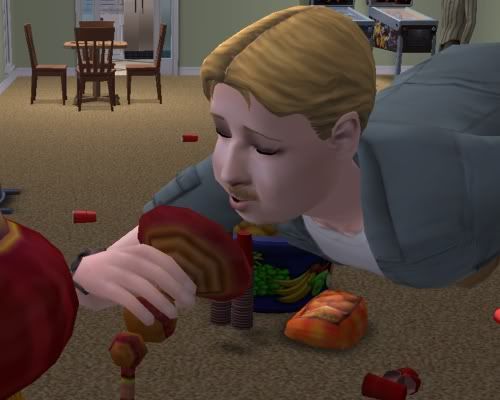 You know, just like your Brother there.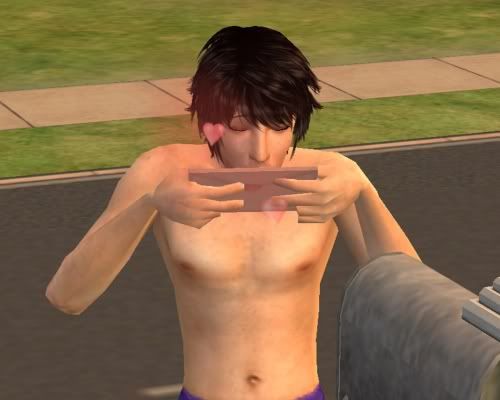 Are you sure you're not a romance sim?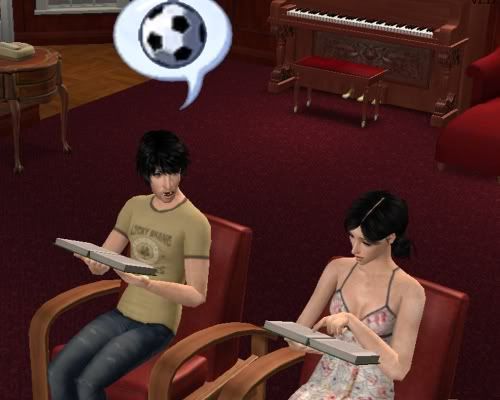 Darcy: So you're saying that Jane's antisocial behavior is why she kept throwing balls at our heads when she was little?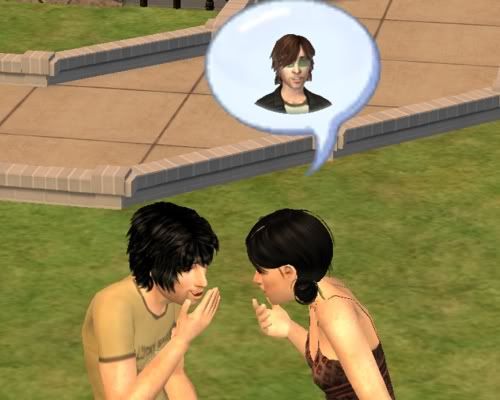 Lizzie: You know Castor? I'm totally woo hooing his brains out!
Darcy: *Laughs or else he'd run away screaming*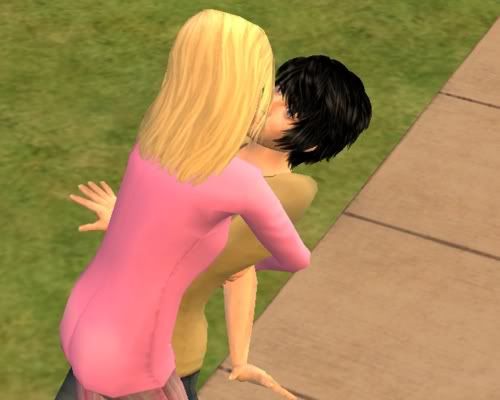 While he was out on the sorority front lawn, Date #20 came out and tackled him.

Date #20: There you are! I've been calling your House for days! How come you haven't called me back?
Darcy: *has commitment issues*

See? I told you your behavior was going to come back and bite you in the butt.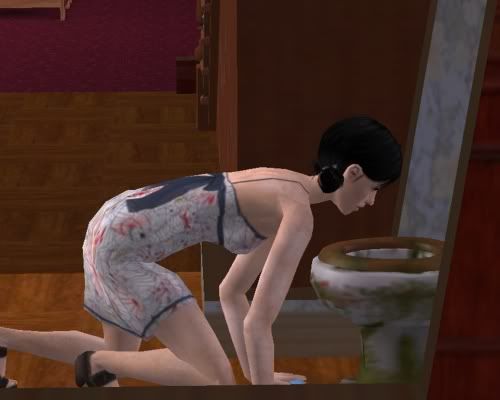 Not what you think! She just came down with a really severe case of food poisoning. I'm thinking the Rotten Pizza Sister tampered with Lizzie's supply of grilled cheese.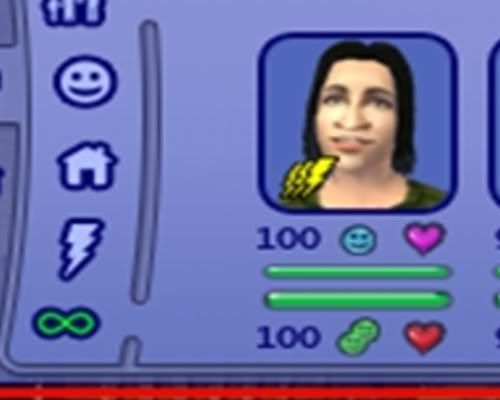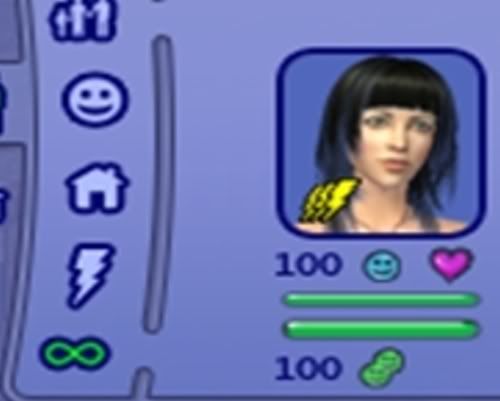 Just so you know why they act the way they do.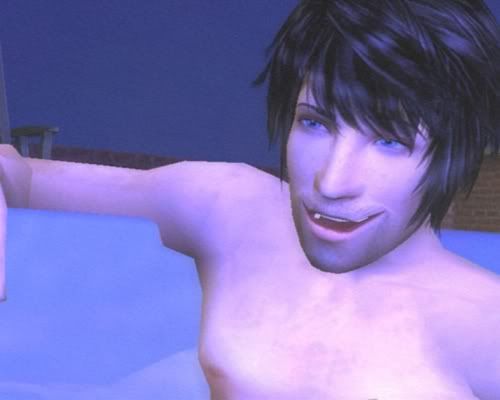 Debbie does Darcy, in stores this summer. 27/50. Really, who can say no to that face?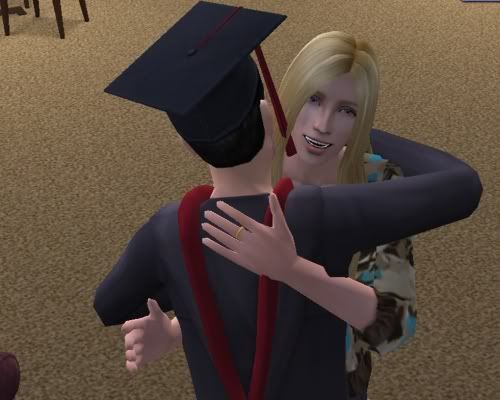 As much fun as Darcy was having being popular, I just couldn't see him as heir. So we sent Trista to his grad party. Author was invited, but for some reason, he didn't show up.

Darcy: Yay! That means I can still date around now that I've graduated!
Me: You may not be heir, but you're not going to be Veronaville's bicycle either.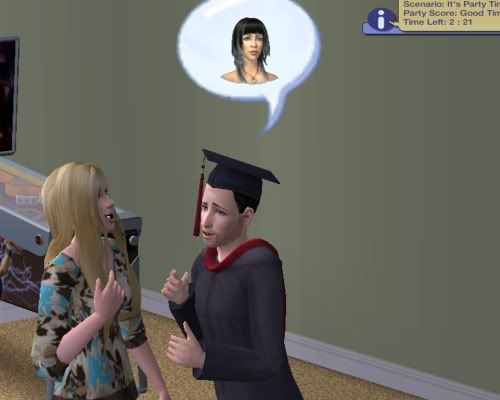 Darcy: You know Jane?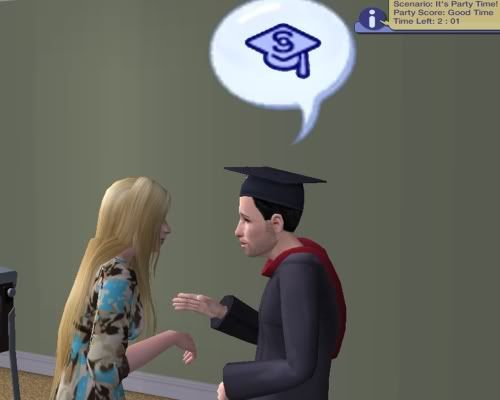 Darcy: She's totally going to college!
Trista: *snicker*
Woo, Darcy. That's some serious gossip you've got there. [/sarcasm]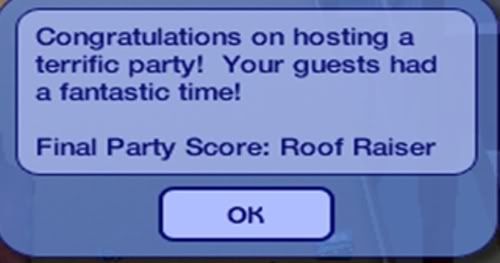 Seems like talking about your older sister, playing video games, and smustling with your mother equals a roof raising party.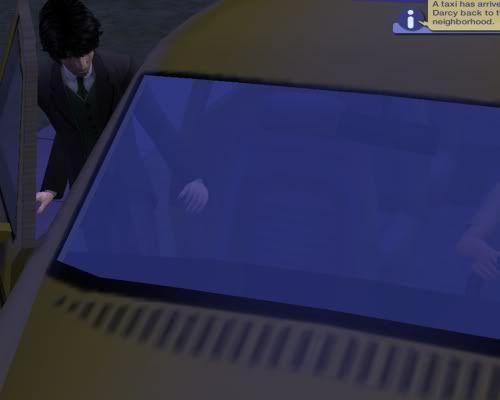 Bye bye, baby! I'll miss you!

Darcy: (to taxi driver lady) How you doin'? What say we have ourselves a date between here and Veronaville?
Driver: *giggles*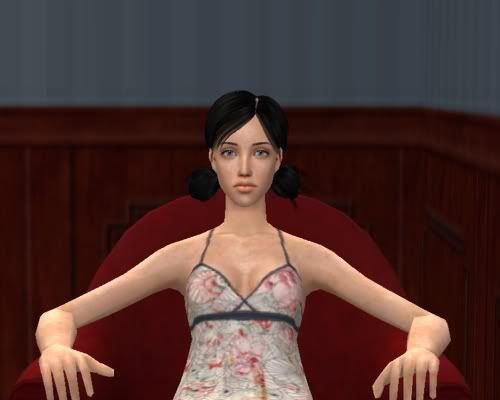 Lizzie: Okay, give it to me straight. I'm not going to make it as heir, am I?
Me: No, I'm afraid not.
Lizzie: *sighs* Even though I was perfect when I was a kid?
Me: Because you were perfect as a kid. The freckles gave you an edge when you were a baby, but then everyone else had them.
Lizzie: So you're going to let them become a recessive gene and have the Novel line grow up with ridiculously large noses instead?
Me: You sound a little bitter.
Lizzy: I am, but that's mostly the food poisoning talking. Well, if I can't change your mind, then let's get college over with. I want the same fast track courses Georgiana and Darcy took.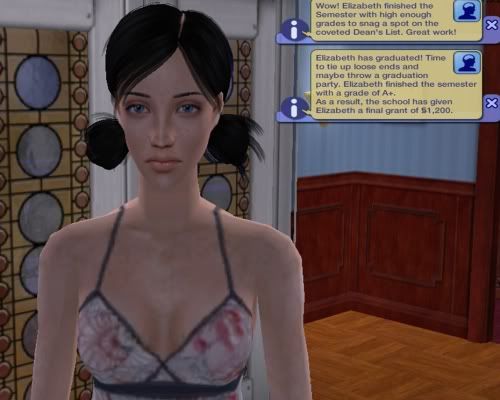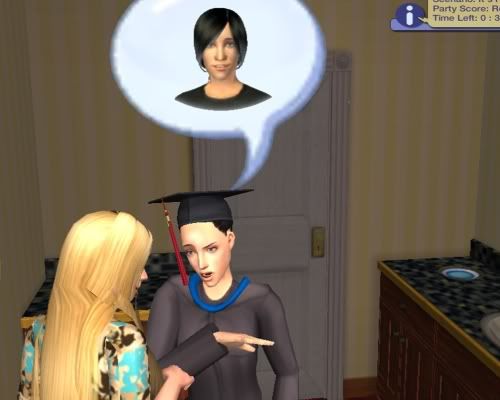 Lizzie: You know Dad? He passed out once!
Trista: *tee hee*
Me: *gasps* Elizabeth Novel! You do not gossip about my favorite your father like that! And I have three words to say to you Trista: Pot. Kettle. Black.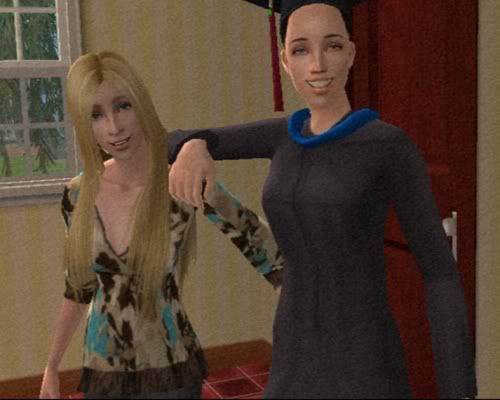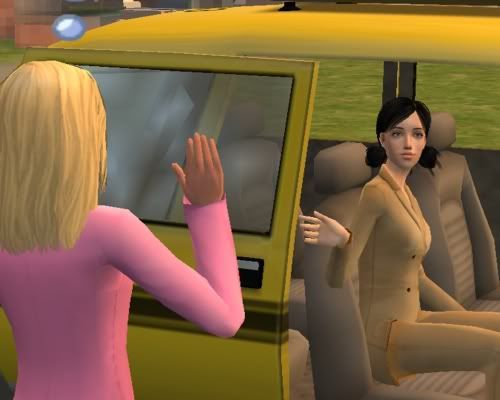 Date #20: Bye Lizzie! Hey, if you see your brother, let him know that I love him! And tell him to call! He still hasn't called me back!
Lizzie: Yeah, I'll do that. *goes to Spares Lot*

And that does it! Jane is heir! It was always a tie between the three kids, but then Lizzie turned out boring and as much as I love him, I didn't really like Darcy's LTW. Besides, Jane's awesome. We likes us the crazy ones.

Previous Chapters: 1.0 | 1.1 | 1.2 | 1.3