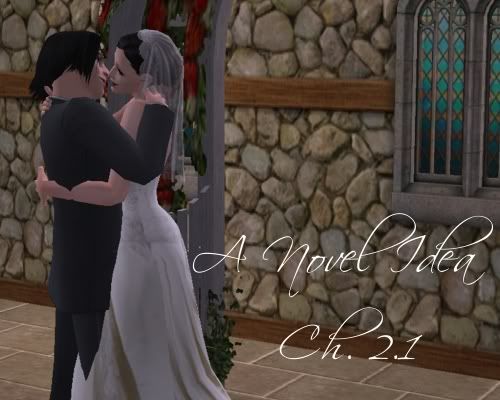 Last update, Georgiana fell in love with a guy that never called her back, Darcy became the campus bicycle, Jane met her large nosed boyfriend, and Lizzie became another notch Castor Nova's bedpost and managed to get food poisoning at the same time. Three of the kids graduated and Jane was named heir, much to Lizzie's disapproval.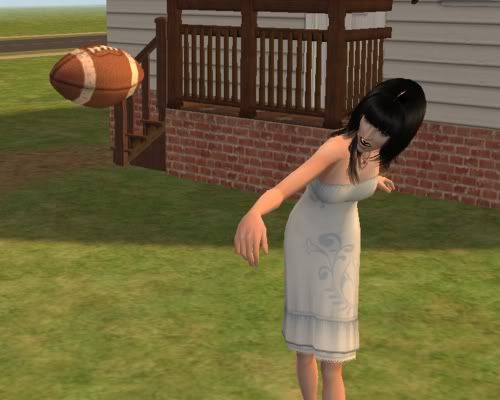 Jane: Did you hear that, babe? I'm the heir! *throws football*

You know, some things just never change, do they?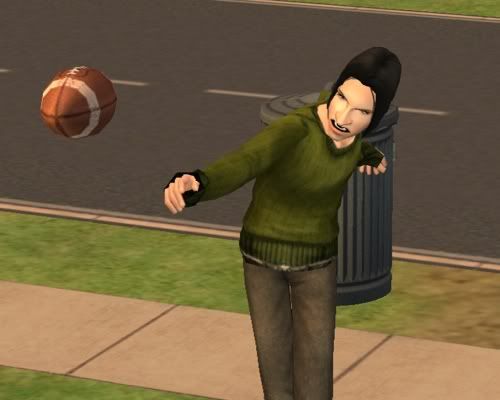 Juan (AKA, the Nose): Yeah, that's great! *throws football back*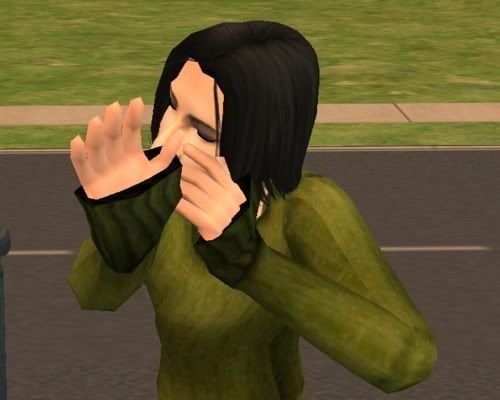 Juan: Not the nose!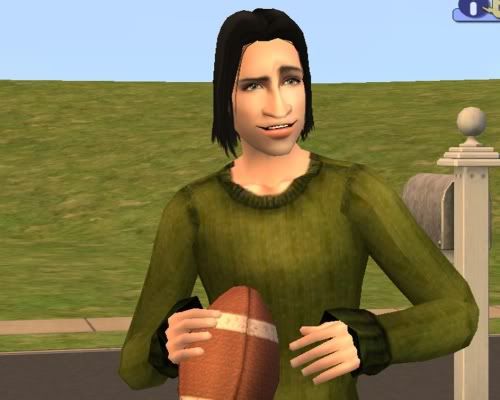 Juan: Man, she's so hot when she throws blunt objects at my head. *swoons*

Three bolters, remember?




To celebrate Jane's recent heir status, they head off campus for a date.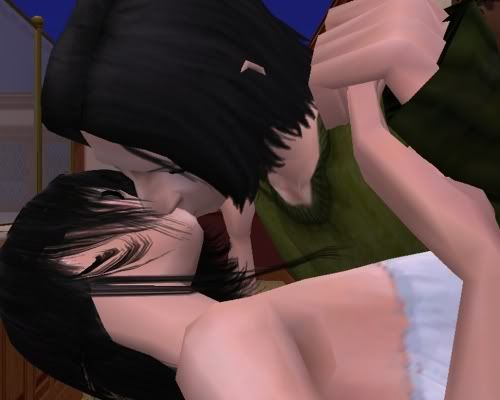 The Nose really knows how to woo the ladies.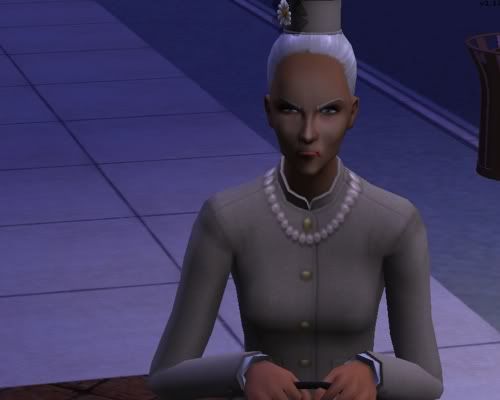 Crumplebottom does not approve of such shenannigans.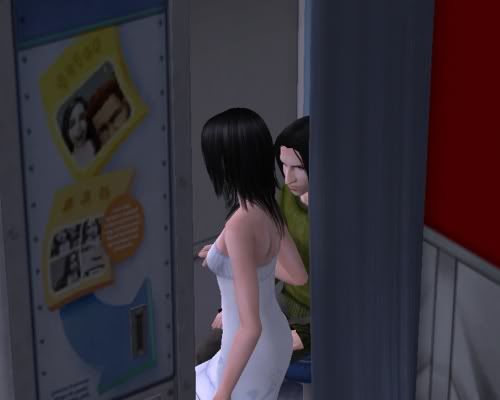 So before they get a faceful of purse, I have them hop on over to another lot. I see you in the photo booth, Jane.

Jane: Totally innocent, I swear.
Me: Yeah, pull the other one.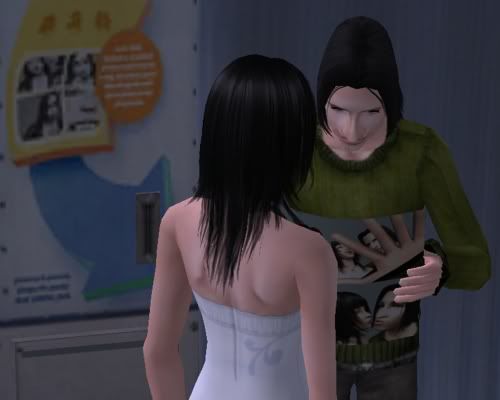 Jane: See? Told you.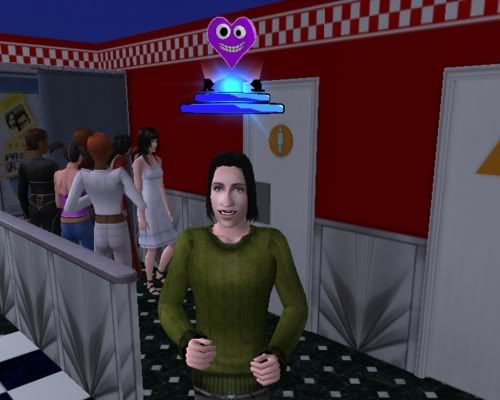 The initial pictures were just to throw everyone off, right?

Juan: I just woo hoo'd my hot girlfriend! Yeah!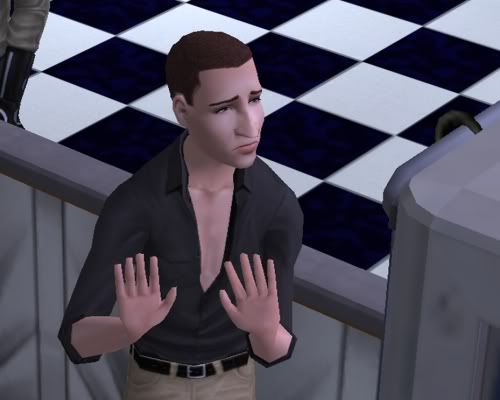 Random Downtownie: *does not approve*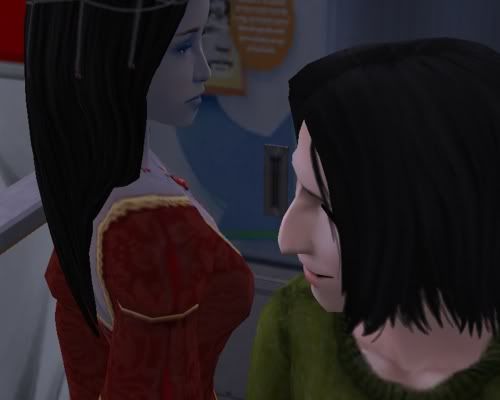 Contessa: *does not approve*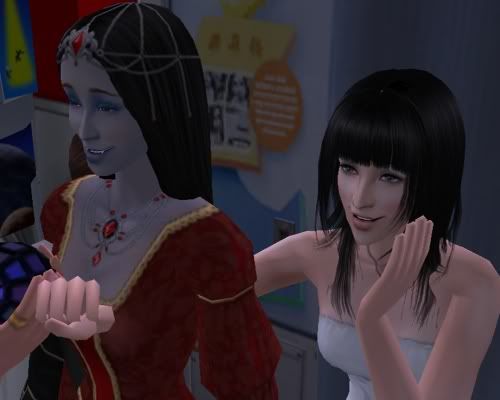 Jane: Woo! I just woo hoo'd with my awesome boyfriend, and everything they say about guys having big noses is totally true! *punches hand through Contessa's chest*

Contessa: Ow.

So, would that count as a stake through the heart or anything?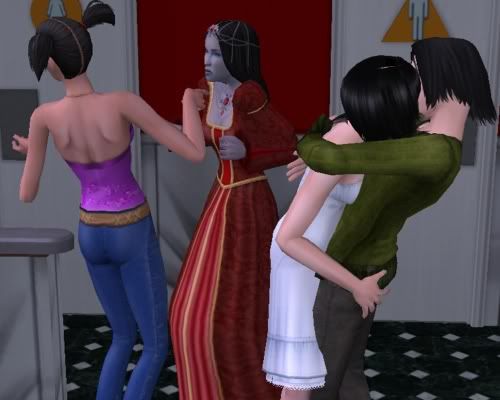 Jane and Juan continued with the PDAs, much to virtually everyone's disapproval. Even the waiters, who usually cheer on such actions, didn't like it. Mrs. Crumplebottom decided to stalk them for the evening, so I made them head on back home.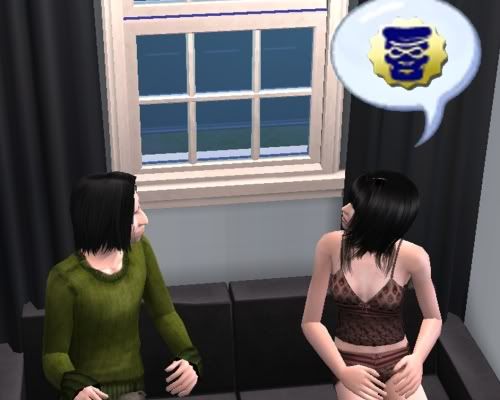 Jane: I'm planning on becoming an evil overlord and taking over the world one of these days. I really like you, so I hope you don't mind being one of my minions. You'd be the highest ranking minion, of course.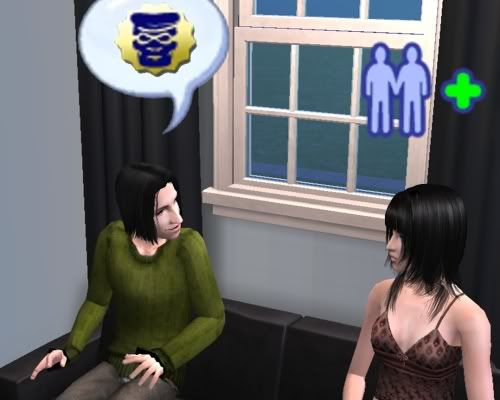 Juan: OMG, I'd love to be your Number One Minion!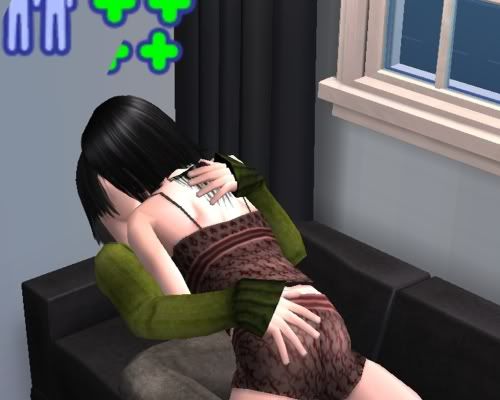 Jane: *pounces*

Apparently, number one minions get treated very well. And we also find out that Juan is indeed an ass man.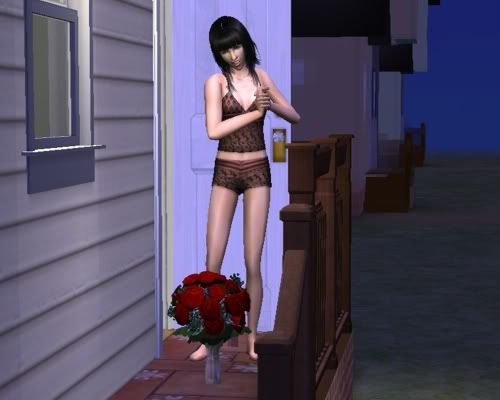 So, watching other people try to hit on your girlfriend, almost getting smacked in the face by Mrs. Crumplebottom's Purse of Doom (TM) and the general disapproval of an entire lot at your public woo hoo equals a dream date nowadays?

Me: Jane, sweetheart, he lives there with you. You can give the roses to him in person, you know.
Jane: Yes, but it's just so much more romantic this way!
Me: Fine, but don't come crying to me when the paperboy knocks the vase over with the morning edition.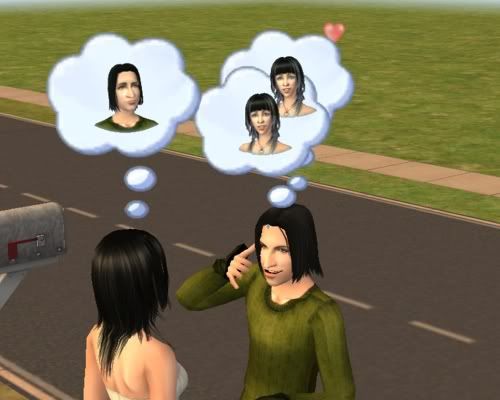 Juan: Babe, you're so hot, they should clone you!

Two Janes in the same universe? I think not.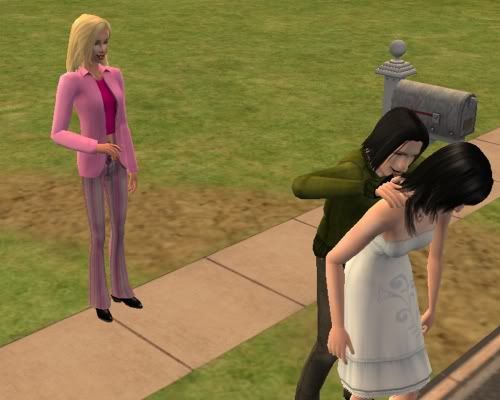 Date #20: Hey Jane! Have you seen your brother lately? I've tried the Frat House and he's never around! And he still hasn't returned my phone calls!
Jane: Do I know you? (to Juan) Oooh, lower.
Juan: I just realized how easy it would be to squeeze until her adorable bones snap.

I haven't looked at his traits yet, but I'm betting he has a low nice score.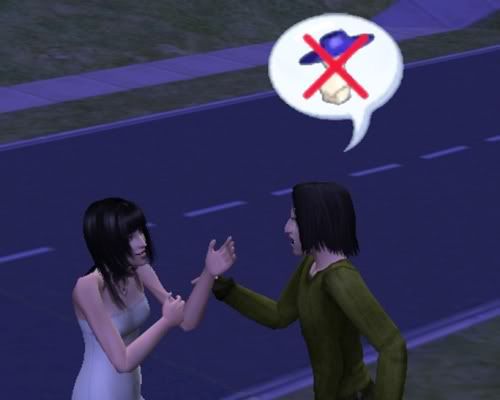 Juan: Hats suck! They're awful and stupid!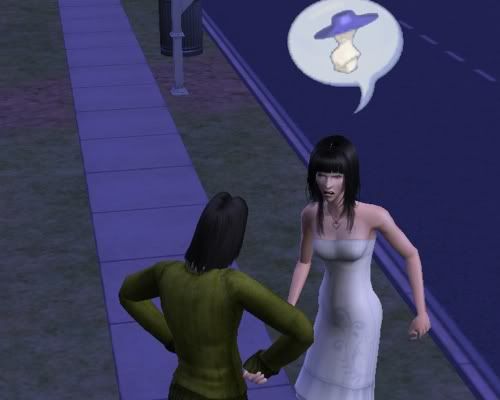 Jane: Nuh uh! Hats are great! You're awful and stupid!
Juan: *glares*
Jane: *glares*
Juan: ...
Jane: ...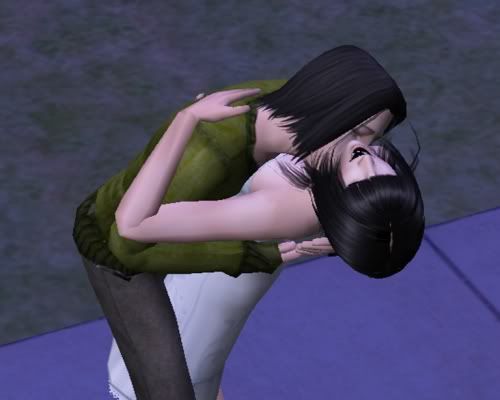 Juan: You're so damn sexy when we fight! Come here! *grabs*

Seriously, between the makeout sessions and grabby hugs, this is what they do with their free time.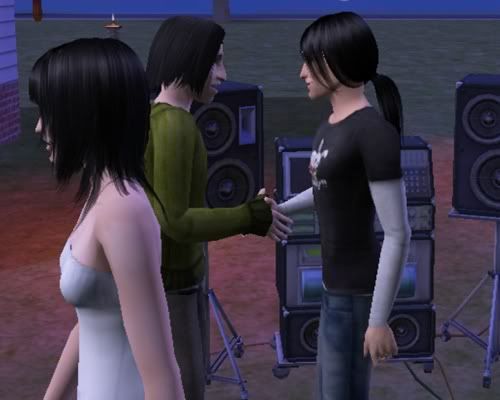 It came time for both of them to graduate, so Jane invited Trista and Author for a private party. I'd forgotten to actually put her siblings onto a vacant lot with a phone, so they weren't able to attend.

Jane: No, I just didn't invite them.
Juan: I'm the guy that's been sleeping with your daughter. How do you do?
Author: So you're the nose, I mean, boy, that Jane's been talking about. *thinks Juan's greeting over* Hey, wait a minute...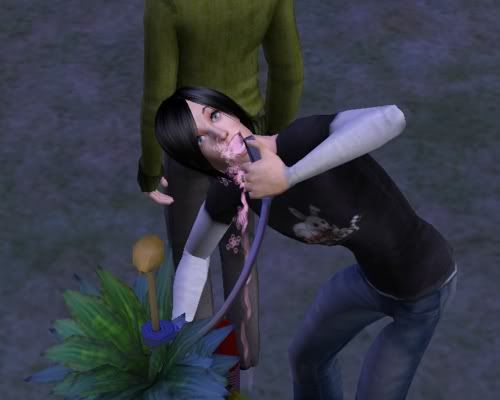 The Novel men have their ways of scrubbing unwanted images out of their brains. Darcy plays tub pirate, Author heads straight for the booze.

Author: My little princess does not have sex! Nope, no way! *goes to happy place*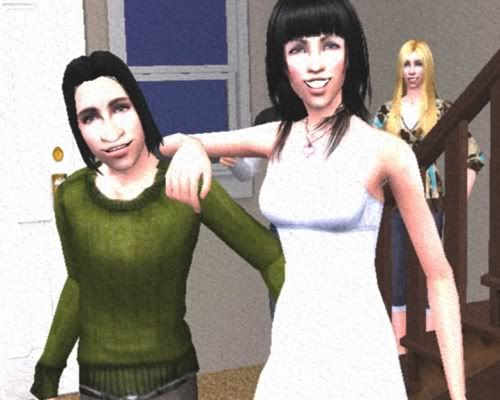 Overexposed Graduation picture. Question: is there any other way to take event shots? I'm still playing around with screencapping these and they're giving me fits.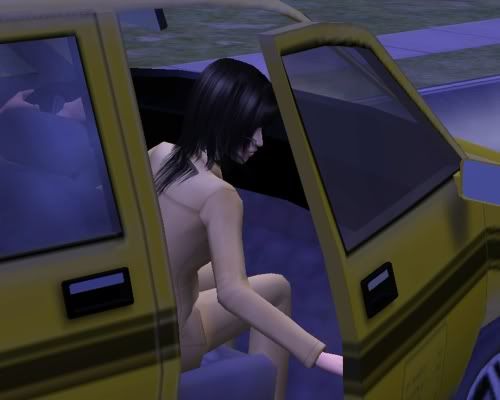 Graduation party was a roof raiser! Now the real fun can begin!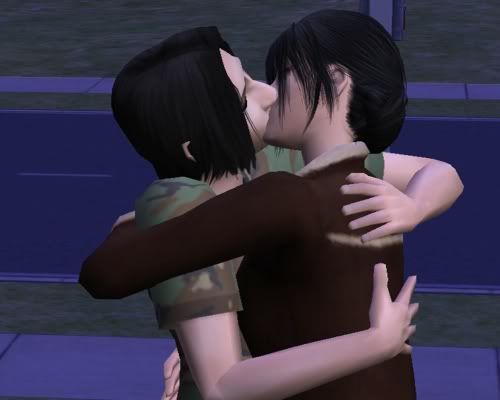 First things first. We move in Juan. Secondly, we ship him off into town for new clothes.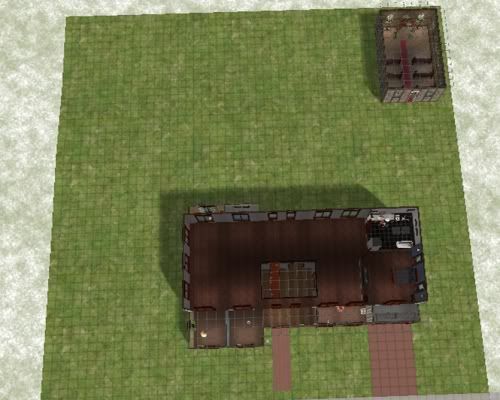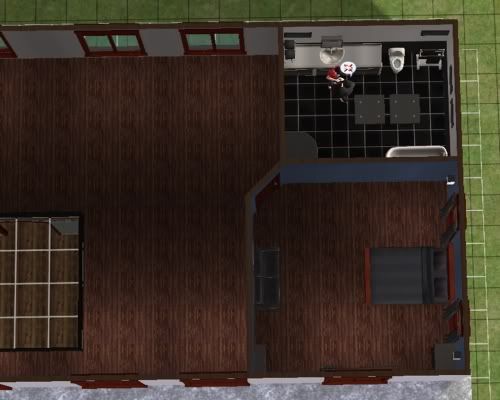 Next, Jane uses her parents' money to add a second floor to the Legacy House. There isn't much to it yet, just her and Juan's bedroom suite. The building at the back of the lot is the chapel all future Novels will be getting married in.

Jane: No more living room weddings for this family!
Trista: But it was so romantic...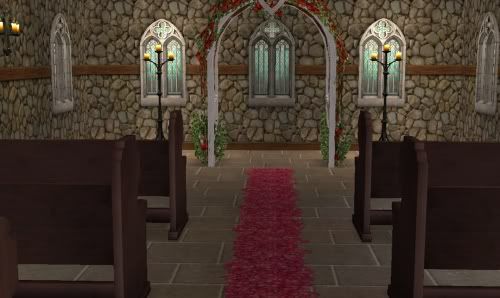 View of the chapel from the doorway.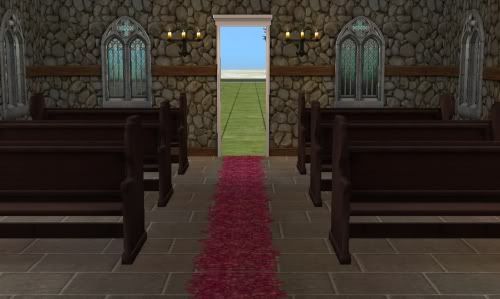 View from the wedding arch/altar.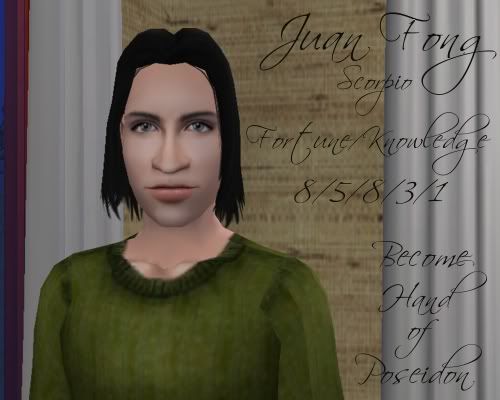 The Nose's stats. He has one nice point! No wonder they're perfect for each other!

Jane: I like the evil ones. But not as evil as me, because I'm awesome that way.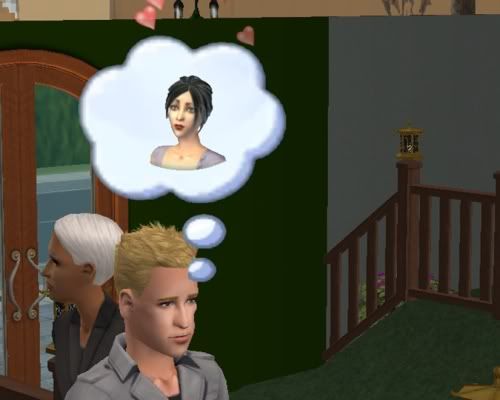 Renovations and makeovers out of the way, Juan has a want to go on a date with Jane. While they eat out at a fancy restaurant, this dude stands by their table and stalks Jane.

Random Dude: OMG, she's the most beautiful Sim I've ever seen! *heartfarts*
Jane: You're paying for the meal, right Sweetie? If so, I'll have the filet mignon.

The meal goes on so well (both Jane and Juan ignoring Random Dude who is still stalking Jane) that Jane decides to put all her cards on the table.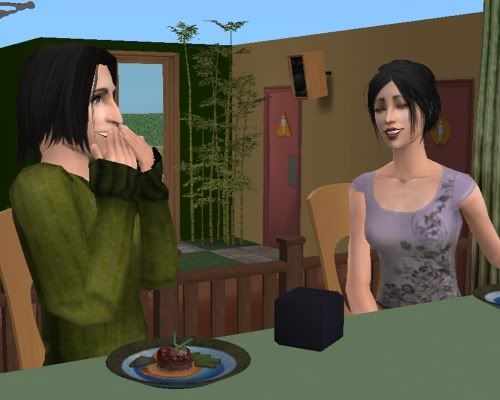 Jane: For you. (OMG, I can't look! What if he says no? *wibbles*)
Juan: *gasp* A box! Oh, I hope it has a shrunken head in it!
Jane: ... Er, no. But it has the next best thing!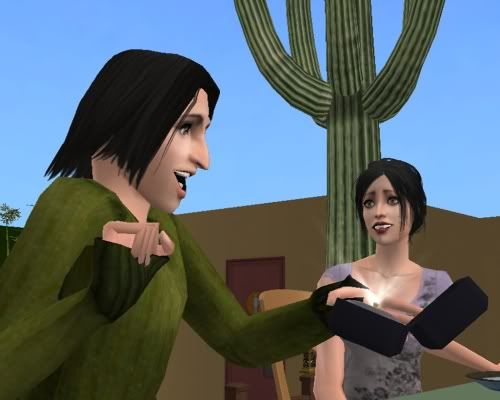 Jane: Well? Be my favorite minion, rule the world beside me, etc., etc.?
Juan: *jumps up and down in chair while making little squeally noises* I thought you'd never ask!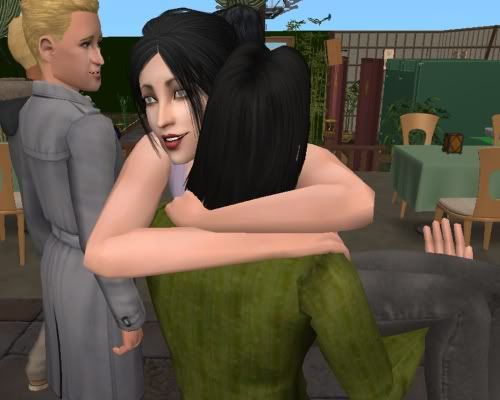 Jane: He's mine, all mine! Muahahaha! *creepy eyes*
Random Dude: *sighs* She has the lovliest creepy/crazy expression. *loves*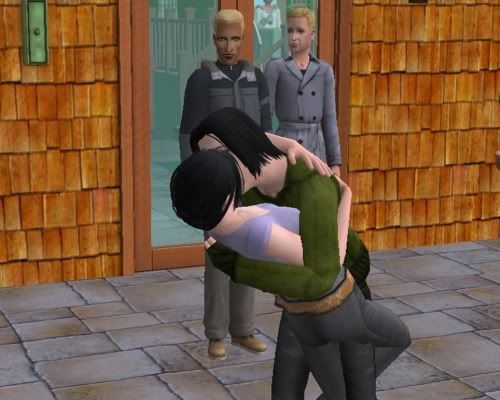 While waiting for a taxi to take them back home, neither of them could keep their hands off the other. Really, Random Dude, what part of "she's taken" do you not understand?

Random Dude: I'll never love anyone else ever again.

Now with the hard part over, Jane calls up her siblings for the wedding party of the century that both she and Juan want to throw. Feeling magnanimous, Jane also invites Griff, the guy that Georgiana fell in love with but who never called her back after spending a lust-filled day of lovin' with her back in college.

Jane: And if it doesn't work out between them, then at least we'll get to see a fight when Georgiana gives him a piece of her mind.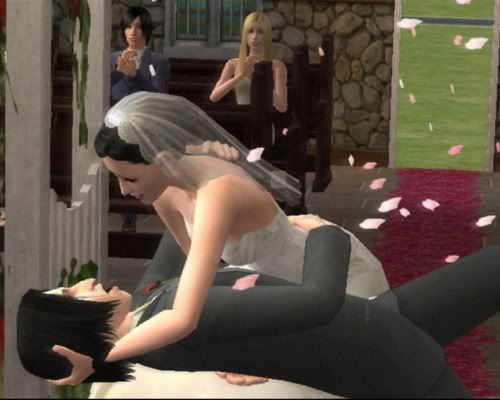 Jane gets her man.

Jane: And forget about 'till death do us part' buddy. I'm haunting your ass if I die before you. *kisses*
Juan: I wouldn't have it any other way. And I hope that you decide to bring me back from the dead if I go before you. Even if I become a zombie and wind up eating your brains, it's better than spending one second of my afterlife without you. *kisses*

Awww, aren't they romantical?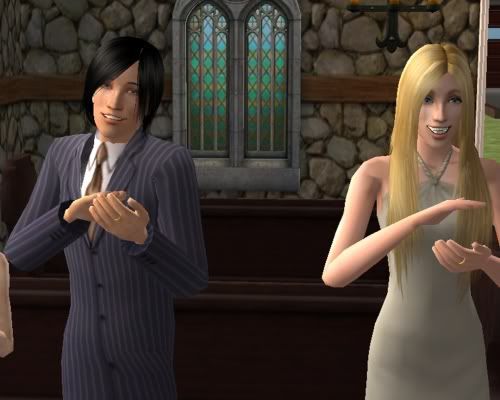 Oh, Author, I love your "look at my baby getting married!" expression! *snuggles*

Lizzie: (sitting next to Author) I only clap because I have to keep up appearances. That should have been me up there.
Me: You want to marry The Nose?
Lizzie: No, but I should have been heir. I would have picked someone else to make babies with.
Me: Sour grapes, much?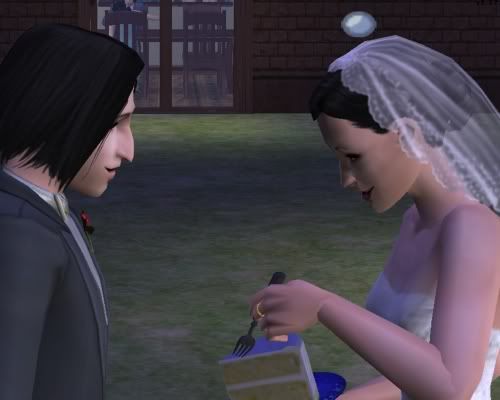 Will she be nice, or will she shove the entire cake in Juan's face?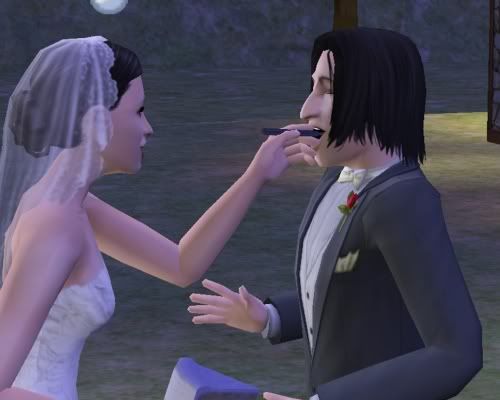 She's nice!

Jane: I need him to make the babies with, of course I'm going to be nice. *rams fork down Juan's throat*
Me: Kinda need him alive to have the babies with.
Jane: Don't worry, I'll only puncture his tonsils. You don't need tonsils.
Juan: Mmmm! Pina Colada flavored filling!

The wedding party was a smashing success, on several levels. One, everyone had a good time, even Lizzie, who hit the booze early. Two, Griff had an excuse as to why he never called Georgiana! His dormmates were always on the phone and he couldn't call! The two of them spent the entire party together and Griff wound up falling in love with Georgiana all over again. I may move him onto the Gen. Two spares lot just for fun. And three...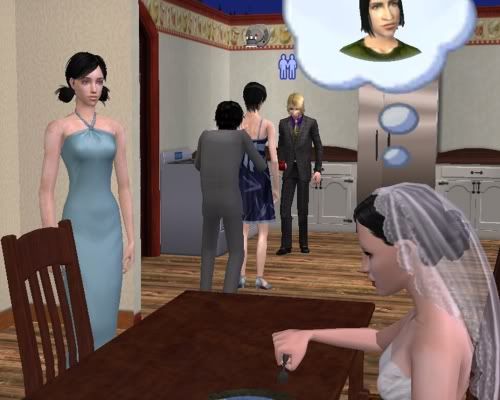 Lizzie: I spent so much time out in the cold that I caught the flu! I hope you're happy. *stalks Jane*
Jane: What was that? And where's my gorgeous husband? We need to eat cake together!
Lizzie: *Infects Jane with the flu* There. My wedding gift to you. Enjoy your honeymoon.

Oh Lizzie, why weren't you this mean and ruthless back when I was deciding heirs? Too little, way too late, my dear.

The pina colada flavored filling to their wedding cake was a hint that the newlyweds were going to spend their honeymoon at Twikkii Island. They decided on the cheapest hotel there, seeing that they were going to be spending the majority of their time out and about anyway. Juan checked them in while Jane held onto their luggage. She was feeling funny and her head hurt, but she figured that it was jet lag talking.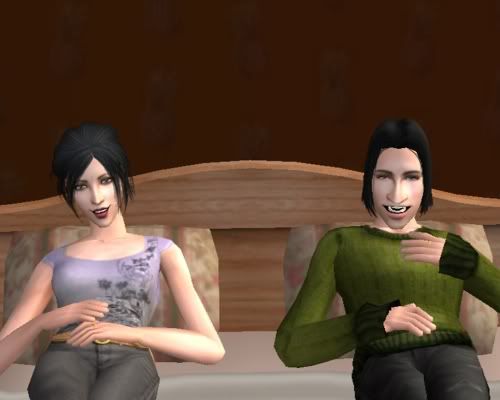 By the time that they had gotten settled in, not only was Jane sick with the flu, but she had spread it to Juan. They spent their first night resting in bed watching TV. And why are they so amused?




Because there's nothing more entertaining than watching seasoned chefs burn down a set in front of a live studio audience. By midnight, they were both feeling pretty run down and hacking up their lungs.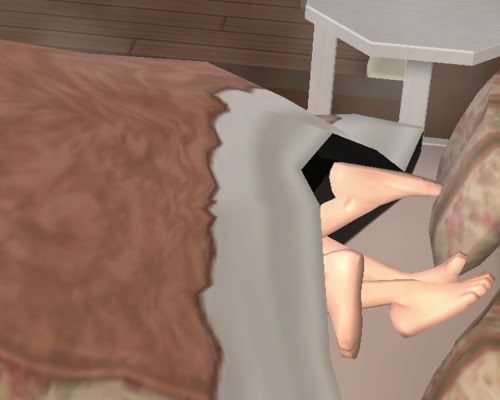 But they weren't so sick that they weren't going to consummate their marriage.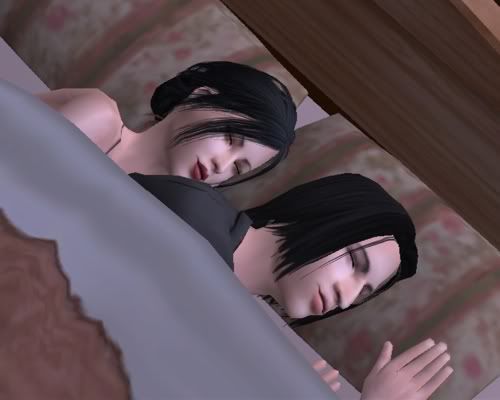 And we have baby chimes! Looks like they're bringing home a little souvenir!

I had them rest up the entire next day until both of them were healthy. Then I set them out sightseeing.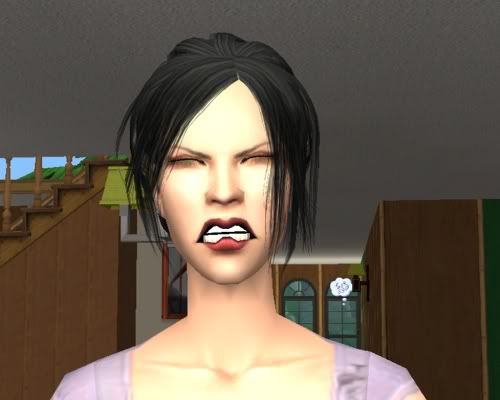 Jane: What do you mean, I have to go out in public with my handsome husband? I thought we were going to woo hoo the entire honeymoon! *seethes*
Me: There's always public woo hoo.
Jane: Oh. I forgot about that. Nevermind, sightseeing we go!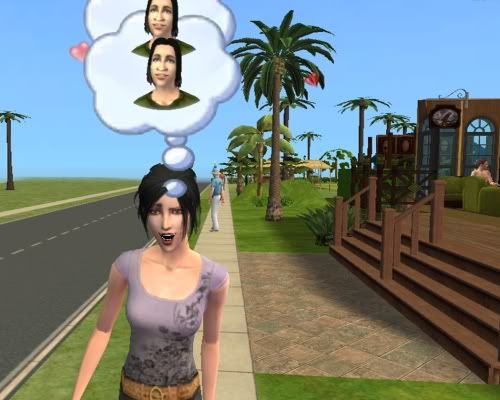 Jane: Whooeee! What I wouldn't give to be part of a Juan and Juan sandwich!

The two of them think on the same wavelengths, don't they?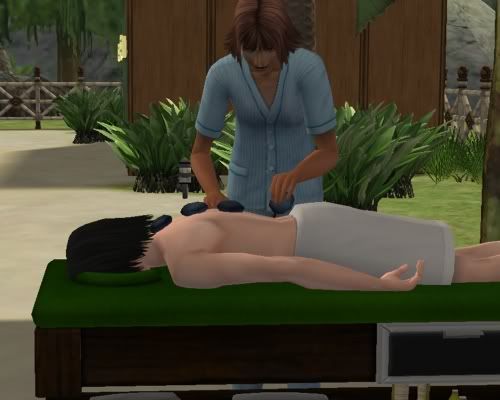 While Juan gets a lesson in volcanic stone massage, Jane samples the local fare, learns how to hula dance, and perfects the 'hang loose' gesture. Hang Loose gets old really fast, especially when she teaches it to Juan and that's all they do for sim hours on end.

After all the touristy stuff, she and Juan get down to the business of scarring the natives and their fellow tourists alike public woo hoo by way of the hammocks and the sauna. Then after an unfortunate glass bottom boat excursion, they head on back to the hotel.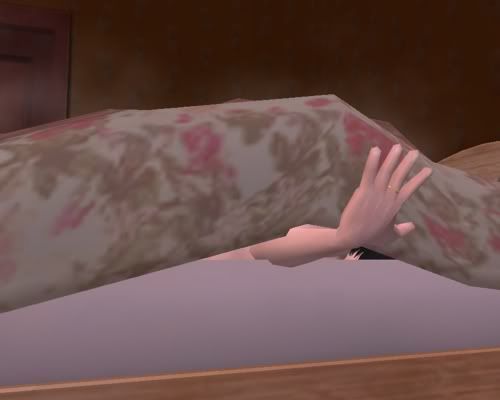 Where Jane excercises her marital rights. Juan doesn't seem to mind.

The next day, they go to the beach, where the locals say the ghost of a sea captain haunts the ruins. Seeing that it's daylight, they spend the day combing for seashells, swimming in the ocean, sunbathing (though neither of them tan or burn) and building sandcastles.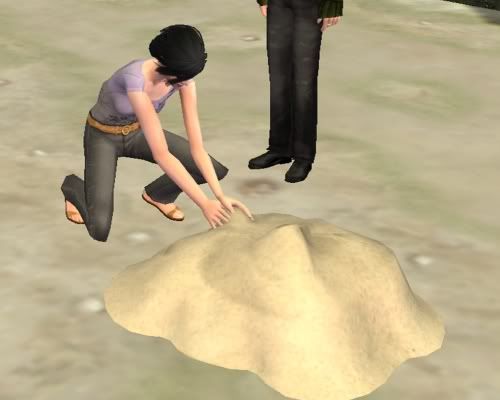 Jane: Building castles is fun.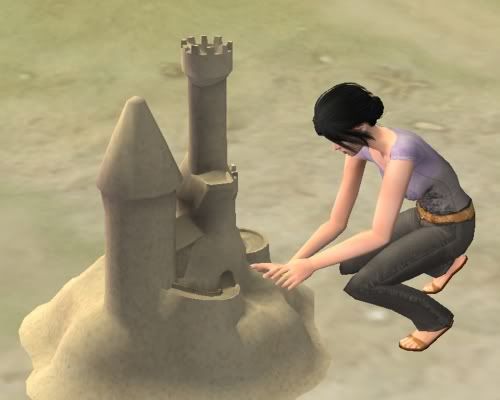 Jane: A princess and her prince live here. They just got married.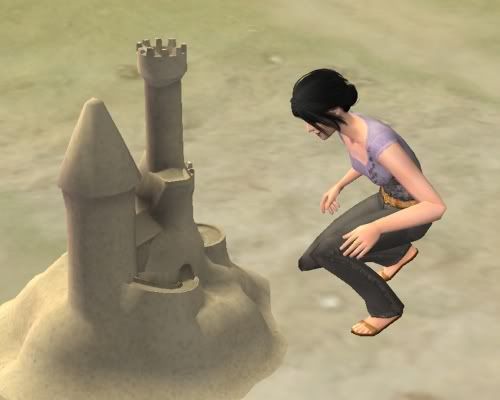 Jane: The entire kingdom came to celebrate! Everything was peaceful and everyone was happy.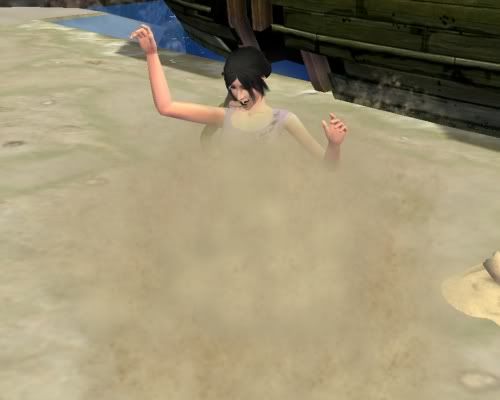 Jane: Until it was destroyed! Die! Die! Muahahahahaha! *smashes*

It's good to see that some things will never change, no matter how old she gets.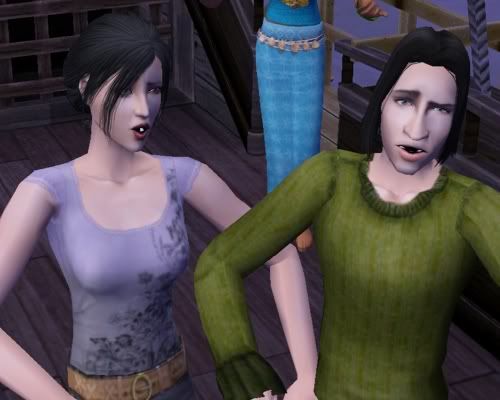 Learning sea chanteys from dead pirates is serious business.




Nothing new to see here.

Pirate Captain: Arr, he be gettin' his share of wench booty!

Yes, we've already proved that Juan is an ass man. Like I said, nothing new to see here. Even the presence of ghostly pirates isn't enough to make them behave.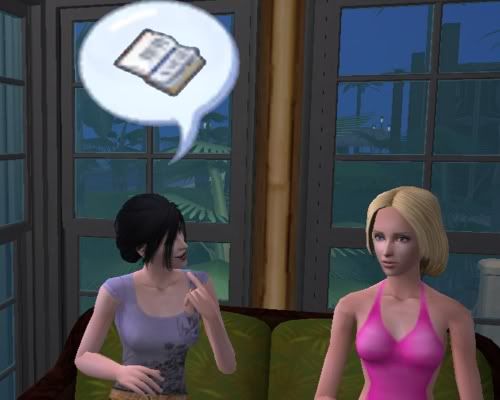 While Juan checks them out and calls a cab to go home, Jane chats up a fellow tourist.

Jane: And then we did all of the positions in the book my sister Georgiana gave to us as a wedding present. Do you know what they say about men with big noses?
Fellow Tourist: That it means they have big...
Jane: Yep! And it's true! And then after we got to the end of the book, we flipped it upside down and did all of the positions that way!
Fellow Tourist: *quietly envies Jane*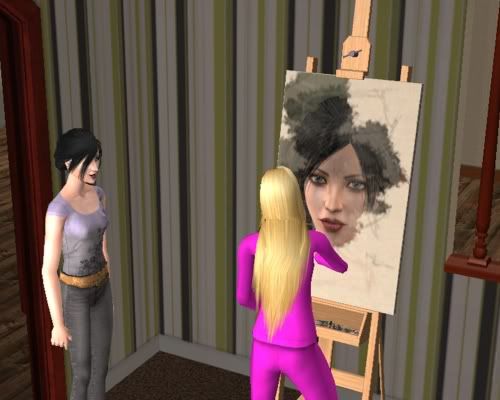 Back home, Trista starts in on Jane's heir portrait.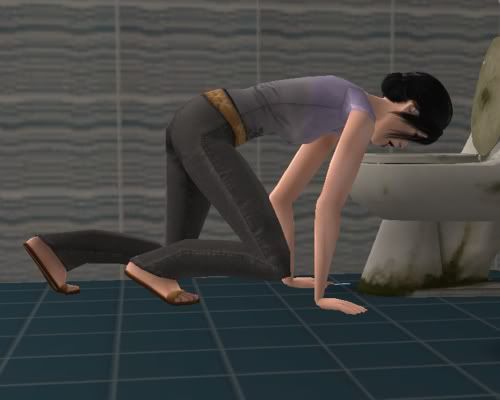 Gen. 3 is a go!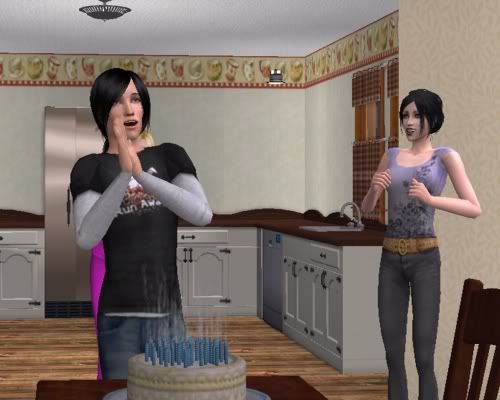 No amount of barfing could make Jane miss her daddy's birthday though.

Author: Mmmm! Cake!
Me: You know what birthday cake means, my love.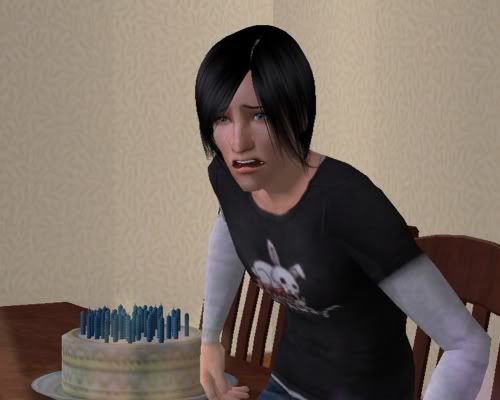 Author: Wait! I don't wanna get old! I don't want the cake any more!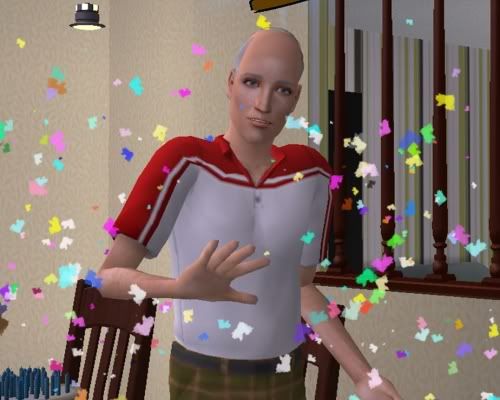 Author: WTF happened to my hair?! *angsts*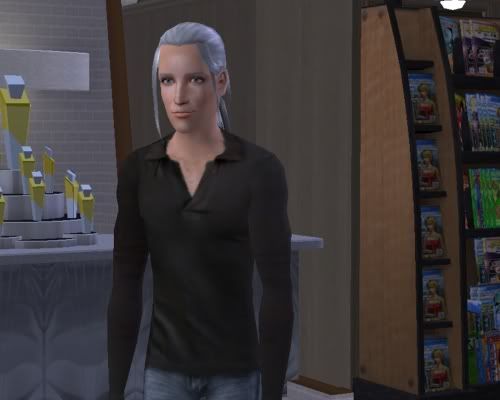 Much better. Rar.




Trista agrees. Oh Author, you smexy silver fox, you.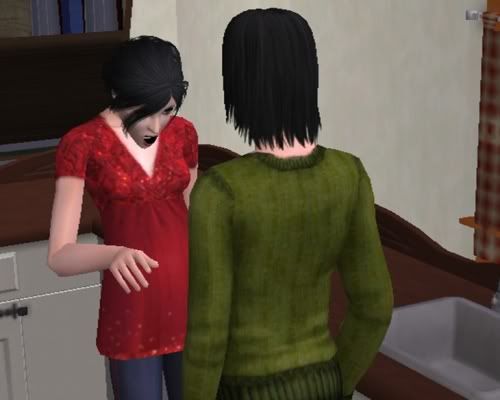 Pop #1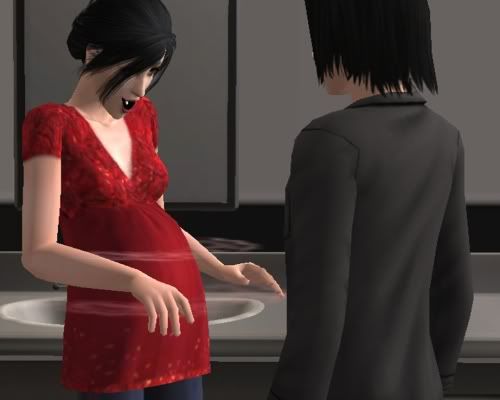 Several days later, Pop #2. Juan is in both shots because he tends to stalk his wife a lot.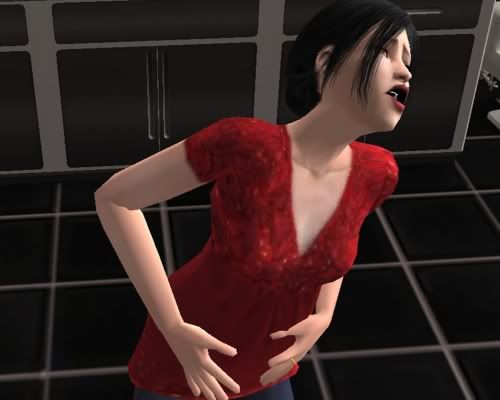 Jane: Pain! Owwww!
Me: But I thought you liked pain.
Jane: Inflicting it on others, not experiencing it firsthand! *screams*

And where is Juan during all this? Will he follow Author's footsteps and read during his wife's labor?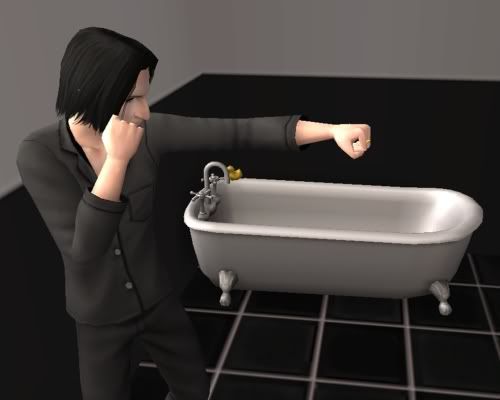 Juan: Yeah, you punch that baby out.
Me: Juan, I know you went to birthing class and everything, but this is so not a drill.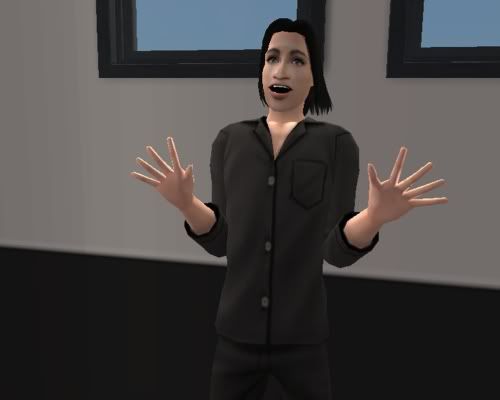 Juan: What?! This is for real?! Ohmigawdshesgonnahaveababy! *freaks out*
Me: Much better response. *pats*
Trista: *runs in* Punch your fist through the wall, honey! It helps with the pain!
Author: *reads in the downstairs living room*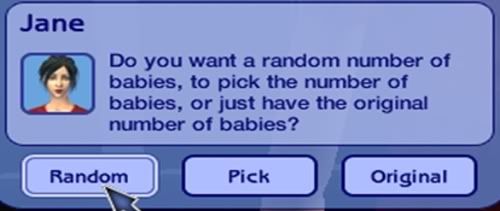 Hitting 'random' for all generations.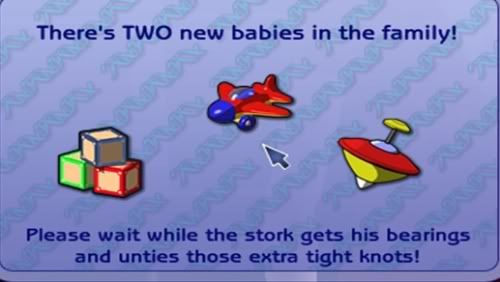 Just twins?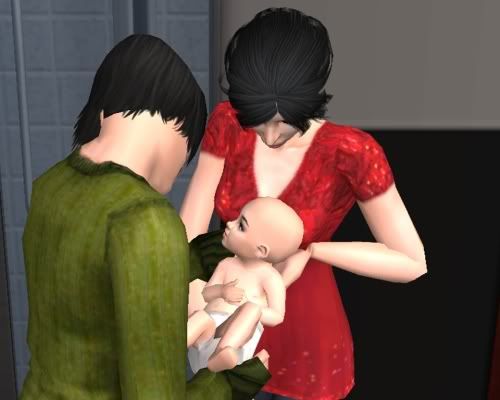 THEY LIE! Introducing Generation 3, Spawn #1: Beruthiel Novel (Unfinished Tales)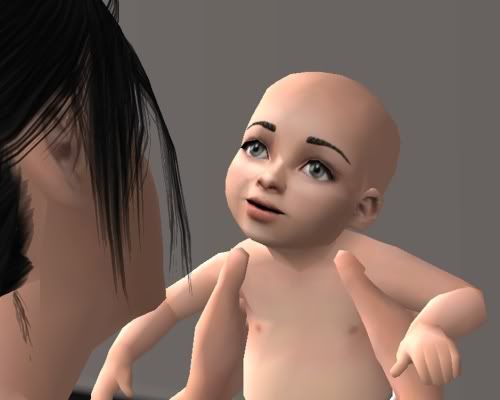 Spawn #2: Smaug Novel (The Hobbit)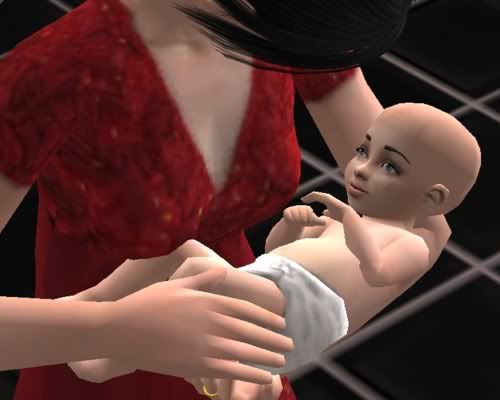 Spawn #3 (already rubbing hands maniacally): Tindomul Novel (LotR)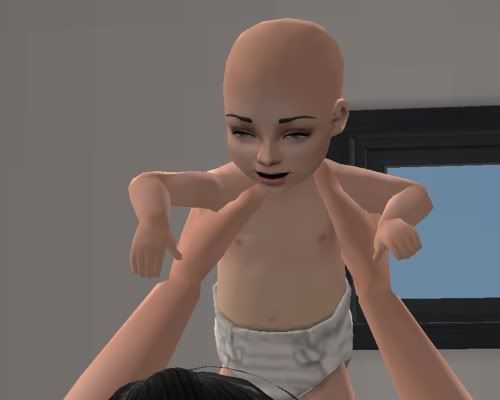 And Spawn #4: Ungoliant Novel (The Silmarillion)

Did I go for naming all the kids in this generation after a Gondorian queen sent into exile, a treasure hoarding dragon, the Witch King of Angmar, and a giant spider who helped an Ainur destroy the Two Trees of Valinor? Why yes, yes I did. With parents like Jane and Juan, how could I not?

Previous Chapters: 1.0 | 1.1 | 1.2 | 1.3
2.0