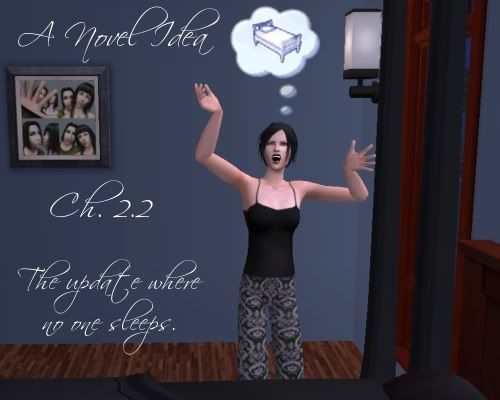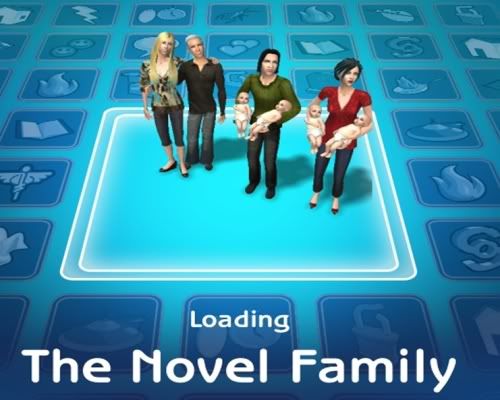 I like how Author and Trista are off in the back looking all happy-like while Jane and Juan are going "OMG, so many babies!" in the foreground.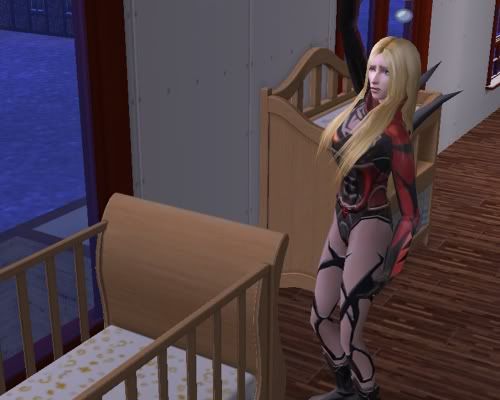 Trista: Um, hello? Where's Smaug?

She had the action "cuddle Smaug" in her queue as soon as she got home from work, got it cancelled out because of the traffic jam in front of the staircase, got it back after everyone cleared the way, only to find that his crib was empty. And where was he?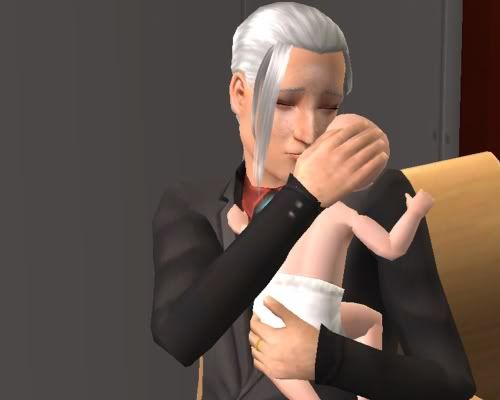 Author: Who's Grandpa's favorite little boy? Yes you are!
Tindomul: I'm here too! Hello? Anyone?

Smaug took the title of family favorite early on; between Jane and Juan fighting over who was going to feed/bathe/change his diaper and Author and Trista taking turns playing with him, needless to say, the other three kids weren't paid as much attention.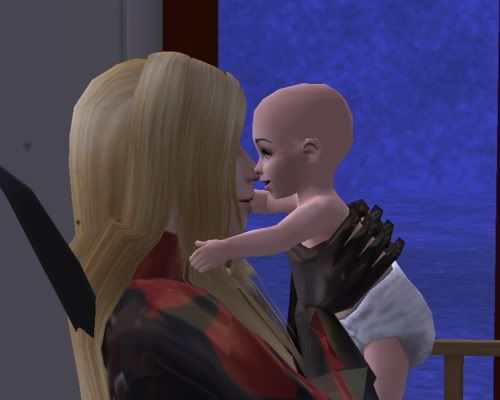 Which doesn't mean that they were completely ignored.

Trista: Someone else has Smaug, so I guess I'll play with you instead.
Tindomul: I feel so loved!

I set up a nursery area upstairs so that Jane and Juan could take care of the quads during the night, but the jams involved at the staircase forced me to put the two girls in Jane and Lizzie's old room and the two boys in Darcy and Georgiana's old nursery.

Going back to the title page, I thought I had taken pictures of all four adults passed out on the floor at various times, but it looks like I hadn't. Author and Trista would play and snuggle any of the babies (Smaug was still their favorite) until either Author's bladder would be close to bursting or Trista was so tired that she was about to fall asleep on her feet. Those two take grandparenting very seriously. For a fortune/romance sim, Jane spent every waking moment of the quads' infancy making sure that they were fed, bathed, and had dry bottoms, mostly without me telling her to do any of it. When he was home from his oceanography job, Juan was pretty much the same. They did manage to stumble upstairs to bed, but Jane was especially bad about getting up a second or two after going to sleep, waving her arms around, and complaining about how much in the red her energy level was. She'd do that for a while before passing out on the floor next to her bed.

Juan wasn't any better; he'd get up, complain about how tired he was, go downstairs, take one of the babies into the kitchen to feed them, put the bottle on the floor followed closely by the baby itself, and then pass out right next to them. At least Author got a couple of hours of sleep during this time. He started an early morning ritual of waking up, going to the kitchen, picking up the baby that was left on the floor, putting them back in their crib, and then picking them back up to take back into the kitchen to feed. *facepalm*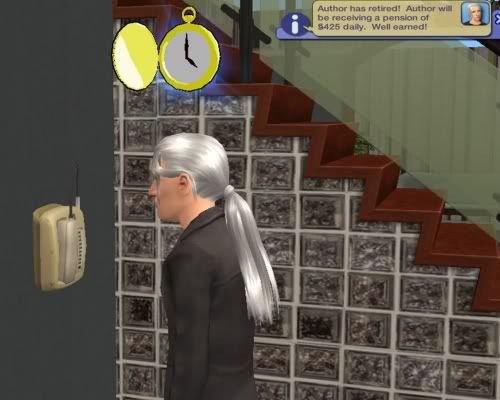 Me: You didn't want a party or anything?
Author: Nah. Besides, somebody has to stay at home all the time. Jane needs to start working on her promotions so that she can get her LTW over with and take over her mom's job.
Me: So Trista's going to give up being a criminal mastermind that easily? I thought she said Jane would have to kill her before she quit her job.
Author: That was before the grandbabies. Now she just wants to hurry up and reach elderhood so she can retire and spoil them all rotten.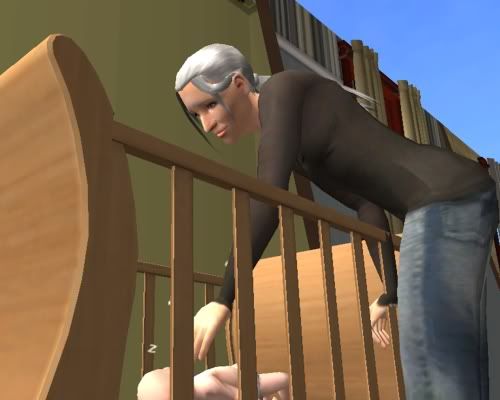 Just to prove that it wasn't the Smaug Show 24/7 over at the Novel household, Ungoliant did manage to get some love. Author never really played with her, but he did tuck her in autonomously several times.

Beruthiel proved to be camera shy, thus no baby pictures of her.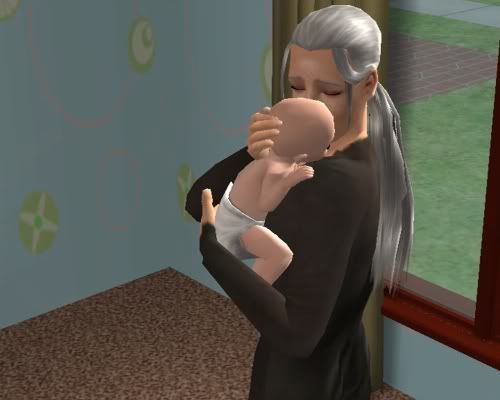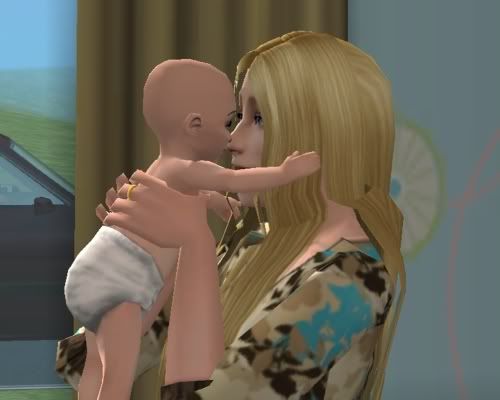 Tindomul got in a few last minute Grandparent Points as a baby, but I think that was because his crib was in the same room as Smaug's.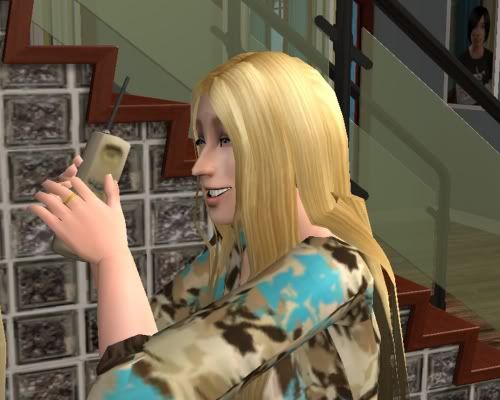 So, why were Tin's last minute points actually last minute? And why is Trista calling in sick? (Who does she have to answer to anyway, her henchmen? I mean, she's one of the ruling evil superpowers of the Simverse, it's not like she has a boss or anything over her.)

Trista: Will you be quiet? They'll never believe that I'm sick if you keep on blabbering like that up there! And FYI, I can't go in because I'd miss my grandbabies' birthdays!
Me: Right. Carry on then.
Trista: *hacks into receiver*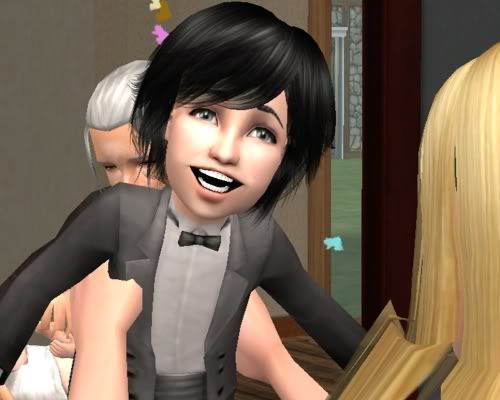 First up, Tindomul!




Next, Beruthiel! I think she might inherit Juan's nose.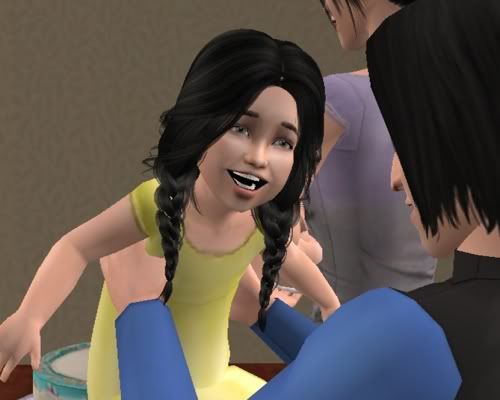 Then, Ungoliant! She turned out to be a cutie.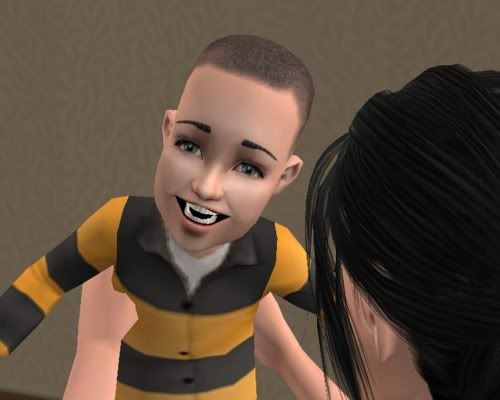 And last but not least, Smaug! He has an unfortunate haircut, but I didn't bother with toddler makeovers. His jammies make him look like an overgrown bumblebee.

Jane: Overgrown killer bee, you mean.

Ah, yep. That's what I mean. Since Jane likes his outfit, there will be no makeovers for this generation.

Juan: You're just making excuses because you didn't download any custom clothes for toddlers or children yet.
Me: ... At least they'll have some cute clothes once they hit their teens, okay?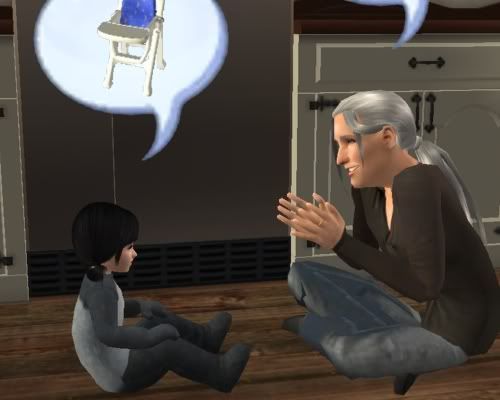 Just a reminder that Author is in the running for the Grandpa of the Year award. ♥ Take this shot and just switch out the kids and you'll have an idea on how he spent their toddlerhood. Now that he's retired, Author had nothing but teaching the quads how to walk, talk, sing and go to the bathroom in his wants.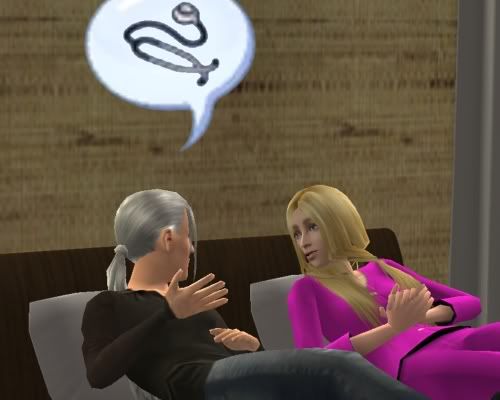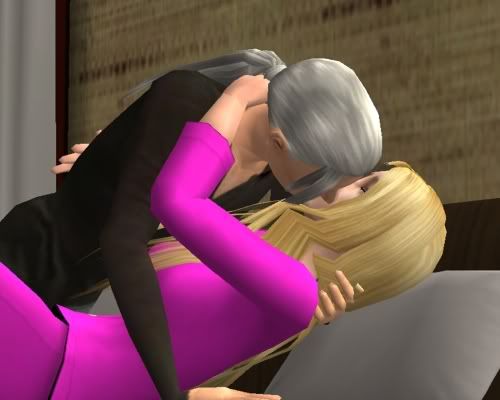 But just because he's spending all his time with the kids while Mom and Dad are at work doesn't mean that he still doesn't have any adult-type interests. Oh Author, I'm going to miss you when you're gone, I already know it.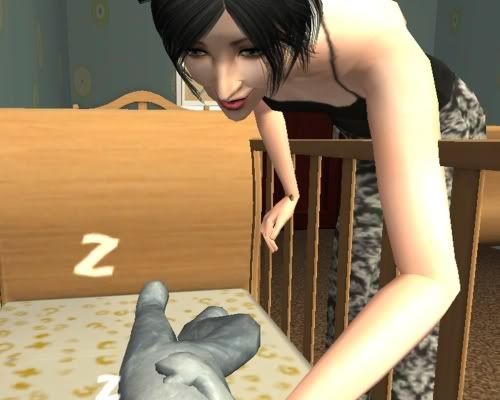 Jane still likes Smaug best, even if everyone else is all ga-ga over Tindomul now.

Beruthiel is still camera shy, and Ungoliant spent the majority of her toddlerhood asleep, so no pre-childhood shots of them.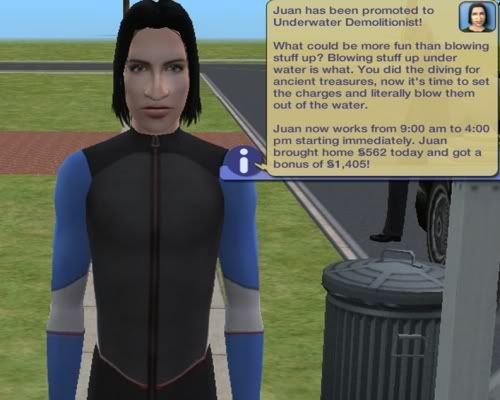 Moving up the company ladder, one explosion at a time. No celebratory "Yay I'm home" dance from him, though.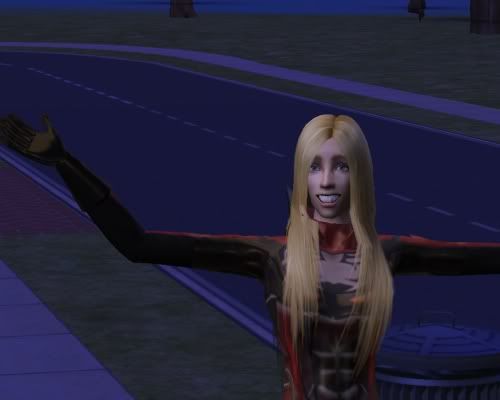 That's because his mother-in-law does more than enough dancing for everyone.

Trista: Guess which evil overlord is home from work today? Huh, huh?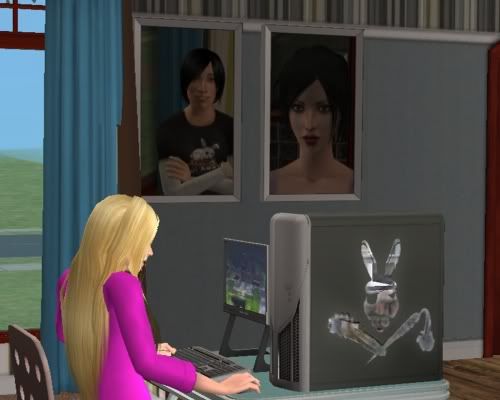 This is what Trista does in her off time when not dealing with the toddlers. Note the founder and heir portraits in the background.

Me: Hey Trista, how come you're not playing with the kidlets?
Trista: They're all sleeping. Besides, I haven't worked on my legacy in ages! My little Sim loves to play Bustin' Out on the computer!
Me: So let me get this straight, you're a sim in a legacy, playing a legacy sim, who likes to play sims in their spare time?
Trista: Pretty much, yeah.
Me: Huh. I guess it's art imitating life, or whatever.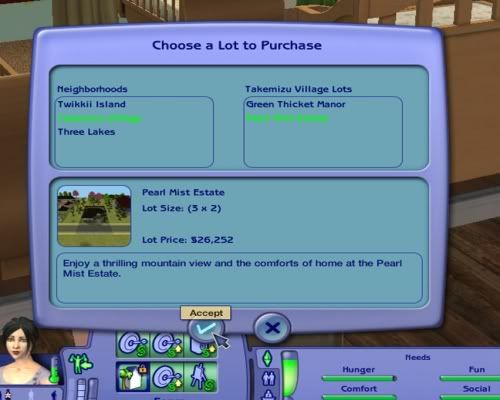 Jane had a want to buy a vacation home. I picked Takemizu Village, seeing that they've already gone to Twikki Island. Guess where the heir of Generation Three is going to be spending their honeymoon?

On a plus note, Jane's needs are all in the green for the first time since before getting pregnant with the quads! Things are looking up!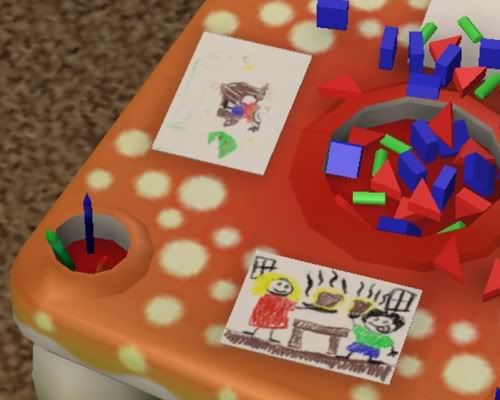 I was wondering why only two of the kiddos would play with the toddler table. It looks like Darcy's childhood pictures were in the way! Did Jane give them to her parents, knowing that they would have cherished a momento of their child's artwork?

Jane: This is me we're talking about. Who cares about the stupid pictures my baby brother drew forever ago? I threw them in the trash so my babies could play. They're much more important, you know.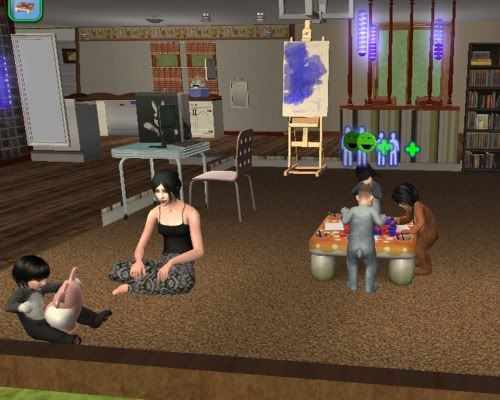 The family that skills together, stays together. All three at the toddler table became best friends in a short amount of time, while Jane played with Tindomul. Unlike the previous generation, this one has had zero sibling rivalry to speak of. Is it bad that I'm finding them somewhat boring as kids? I am amused that they all have matching PJs, though.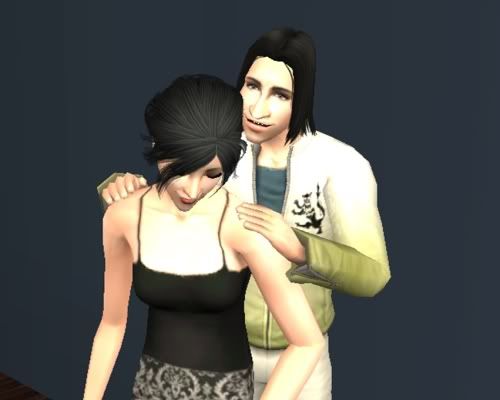 Juan and Jane still find time for their relationship outside of trying for promotions and raising four kids.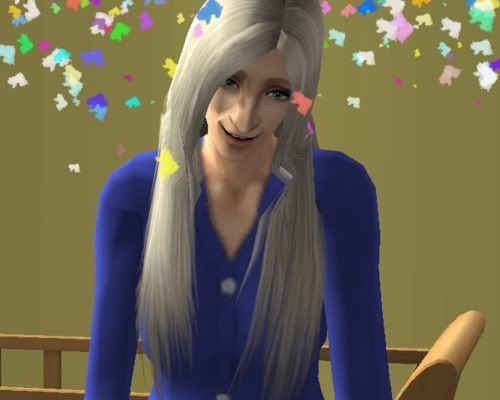 Look who got old without me knowing it!

Trista: That's okay. I didn't want any cake anyway. My age, it all goes straight to the hips and backside.
Me: You're still not retiring yet. Jane hasn't gotten her LTW.
Trista: Damn! I would like to spend more time with these kids before they head out to college, you know.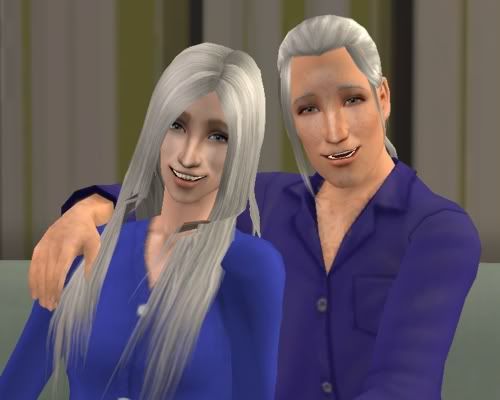 They have semi-matching PJs! Cutest elder couple, y/y?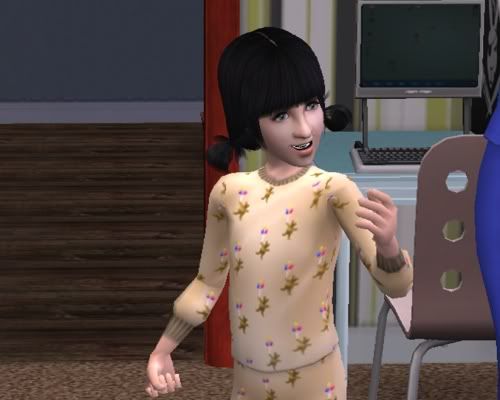 Time flies when toddlers aren't doing anything noteworthy. Beruthiel decides to break the boredom and grow up first.

Beru: I have fingers!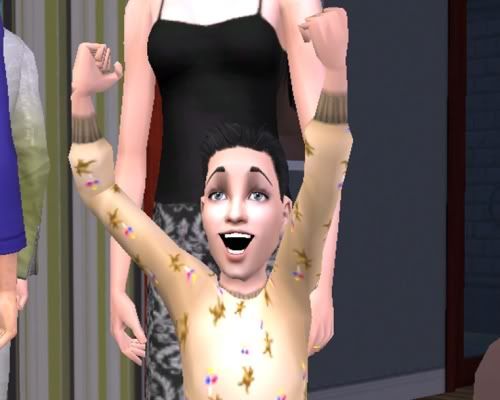 Then Smaug. No one really paid much attention to his birthday except for Jane, which proves that even if you were the first family favorite, it doesn't mean that you'll always stay the family favorite.

Jane: I thought Lizzie proved that theory during college.
Me: Leave your sister alone.
Smaug: Yay, I'm taller! *geeks out*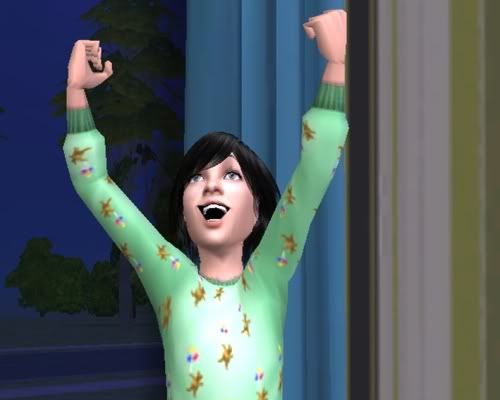 Next was Tindomul, who was just as excited as his brother to grow up.

Tin: I can reach things that I couldn't before! It's like a whole new world has opened up in front of me!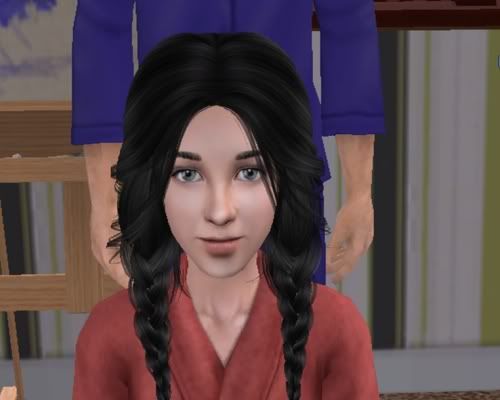 And lastly, Ungoliant, who decided to break the mold of identical pajamas and look completely lovely while doing so.

Liant (because Ung just doesn't quite sound ladylike enough): I'm an individual. I don't need to look just like my brothers and sister.
Me: And you want more screen time, right?
Liant: That too. *practices her cute look*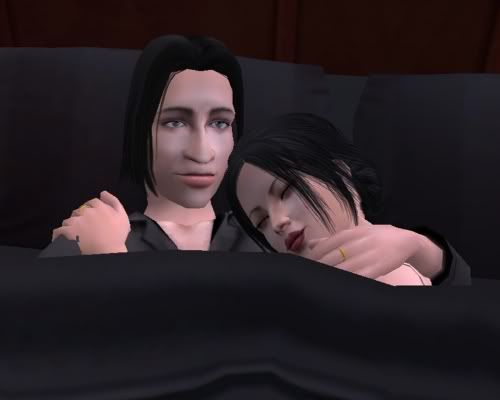 *gasp* What's this? These two never snuggle! What does this mean?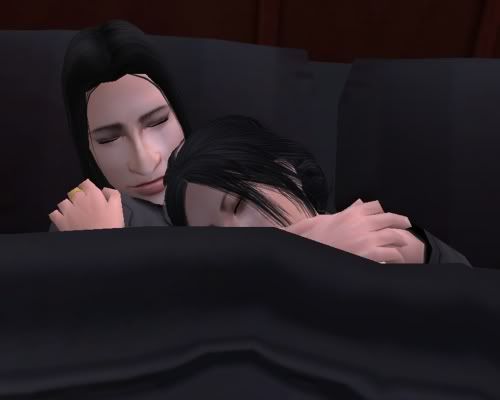 Juan: It means that now that the four of them can fend for themselves better, we can actually get some sleep!
Jane: *snores*

Next update: Will the kids be more interesting? Will Beruthiel get over her fear of cameras to be on the screen more than a handful of times? Will Author and Trista live long enough to see the grandkids grow into teenagers? Most importantly, will everyone finally get some sleep?

Juan: We might, if you quit with the narration already!

Previous Chapters:1.0 | 1.1 | 1.2 | 1.3
2.0 | 2.1