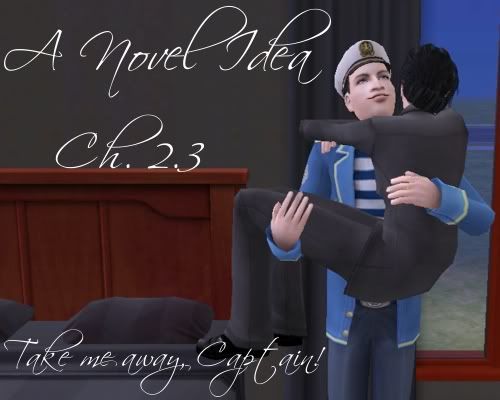 Warning: 63 images under cut.



When we left off, the Tolkien inspired kids grew up into matching PJs (except Ungoliant, who wants to be original), Jane and Juan were still glued to the hip, the Founding Generation got old, and Author won his way into Grandparent Hall of Fame.

Between the last update and this one, it seems like the kids had a group meeting.

Smaug: I think the narrator lady thinks we're boring.
Tindomul: Then we'd better do something about it and quick.
Beruthiel: Or else what?
Ungoliant: I dunno, or else she'll drop us in the Bog of Eternal Stench?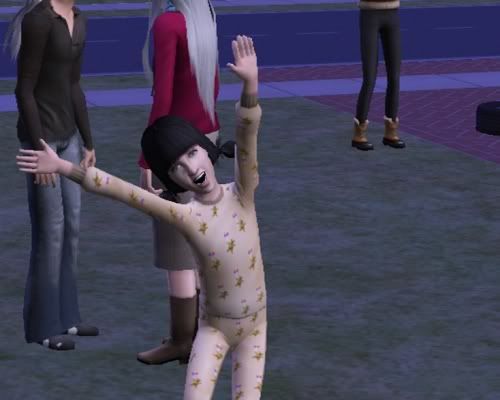 Beru: Eeek! I don't want to be bogged! LOOK AT ME! LOOK AT ME! *cartwheels*
Me: Nice threat. You got her over her camera fear.
Liant: Thanks, I try. Now where's the five simoleans you promised me?
Smaug & Tin: Us too!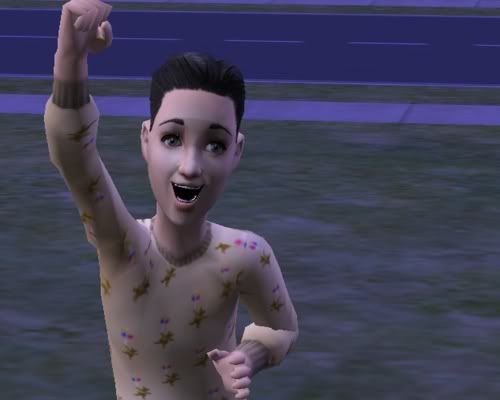 Smaug: Yay! My sister's the best ever!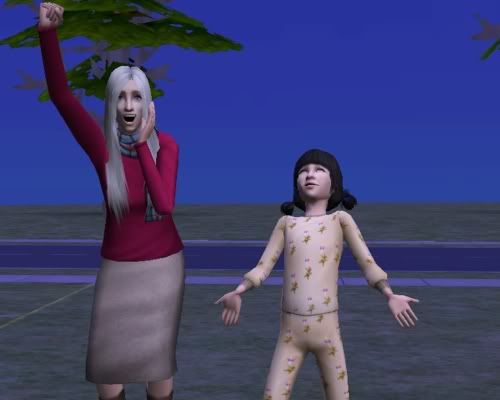 Beru: Ta Daaaah!
Trista: Woo! You are the best ever! *cheers*

Oh Trista. You're so cute. Let's look at that face closer.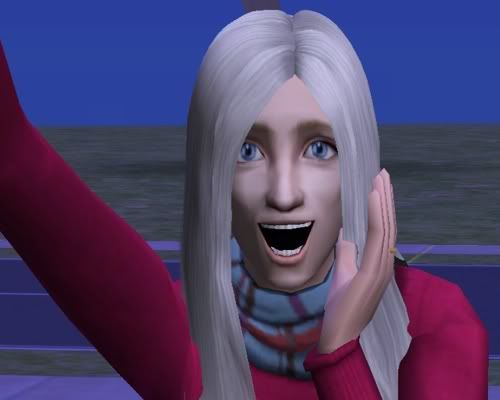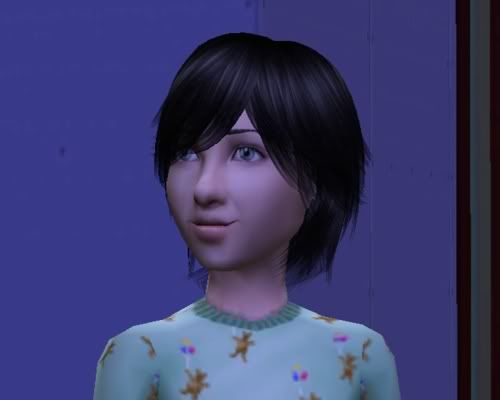 Tin: Please, tell me I'm adopted. These people are nuts.

And where was Liant while all this was taking place?




Dead asleep on Daddy's side of the bed. Please Liant, no Electra complexes this early in the legacy.

I had a good reason for sending everyone outside in the middle of the night. I was tired of the second floor, so I put everything in Author and Jane's inventory and tore down 90% of the house to remodel. Since it was too dark and everything, I switched it to daytime using my godlike powers the build option.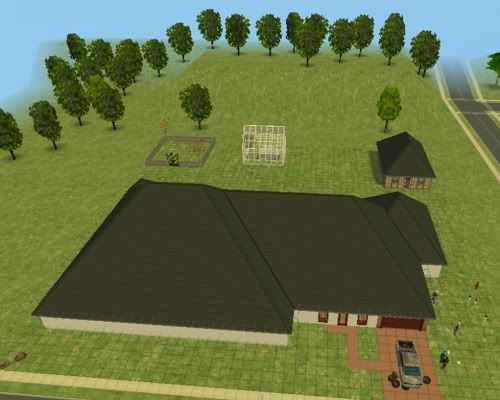 Everything with a roof.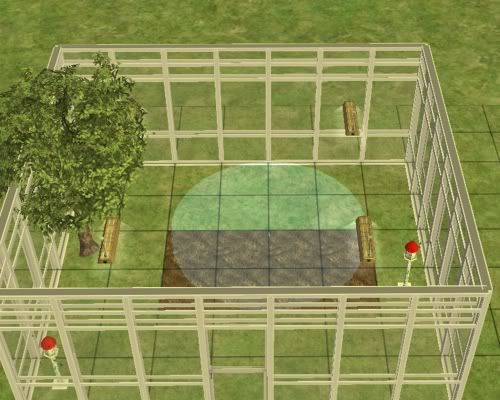 New greenhouse for Author to putter around in (does the apple tree still count as a legacy tree if Gen 1 is still alive?)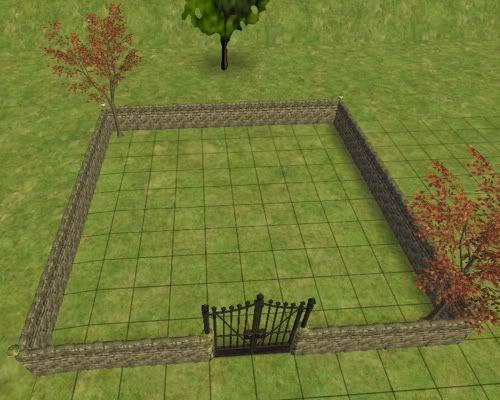 The family plot. I'm dreading my first permanent (because I don't know if Author can cheat Death twice) Sim!Death.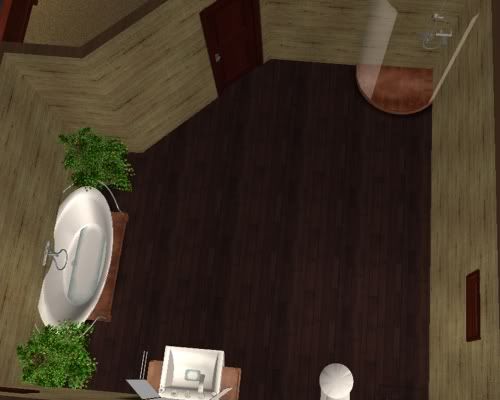 Juan and Jane's bathroom.




The Heir Suite.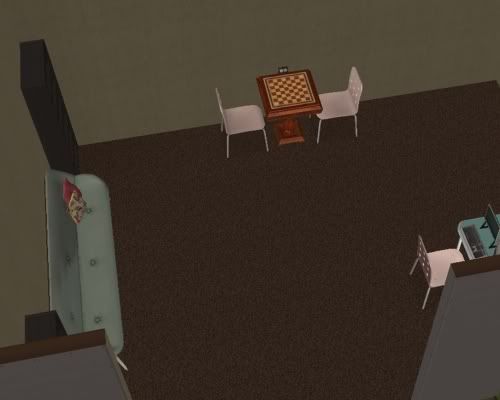 The study.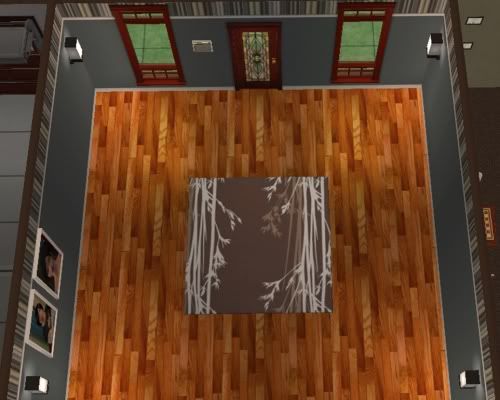 The entranceway/family gallery.

And after that, they ran low on money, so they'll have to deal with grass and drywall for the rest of the house for a little while. The kids were exhausted after taking a grand tour, so I sent them to their room.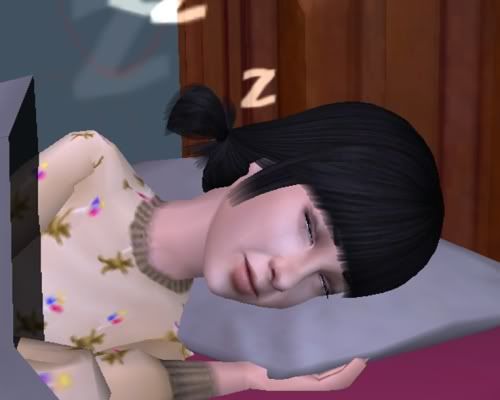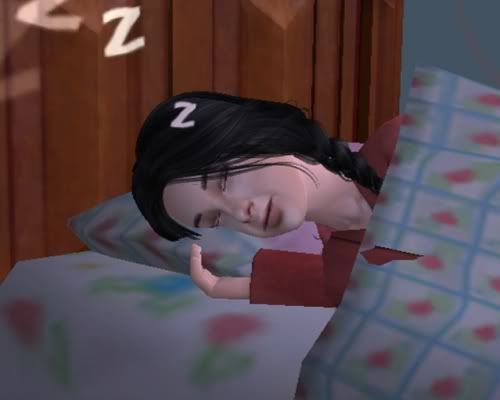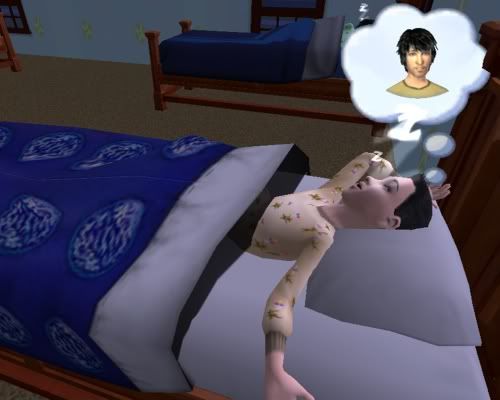 Three things were learned from these shots. One, all four kids sleep with their eyes partially open. It's sort of creepy when viewed at a certain angle. Two, Smaug is the only one that sprawls everywhere when he sleeps. Everyone else curls up. And three, Smaug is dreaming about his Uncle Darcy, who he technically hasn't even met yet.

Smaug: I don't know who this guy is, but he's awesome.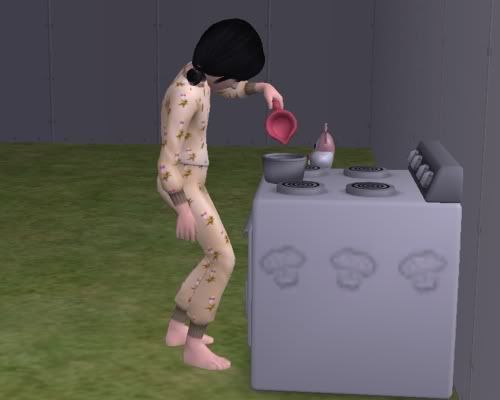 Easybake Oven: A NEW CHALLENGER DRAWS NEAR.

Generation Three muffin battle begins!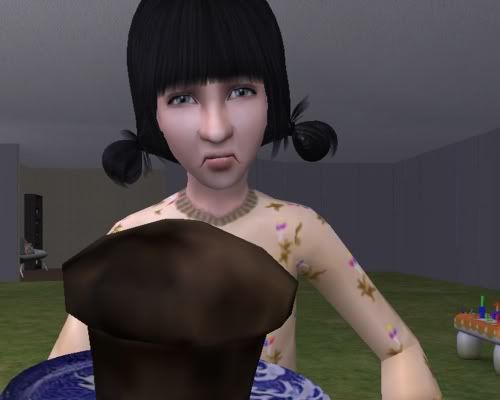 Fail!Muffin: 1
Gen. 3: 0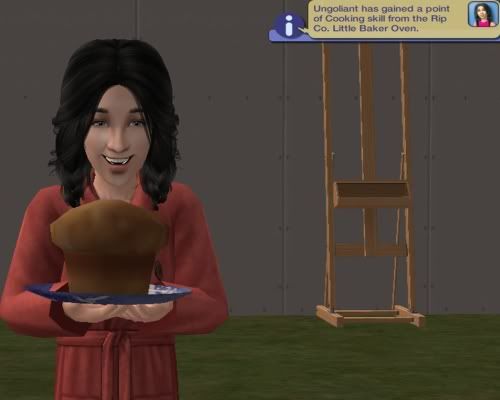 Liant: Let me show you how it's done. *plus cooking point*

Fail!Muffin: 1
Gen. 3: 1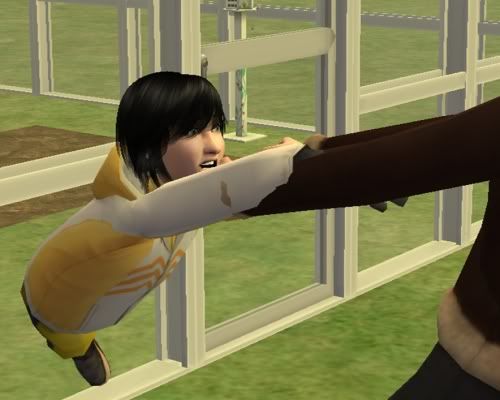 Tin: Mom? Playing by the greenhouse might not have been such a good idea.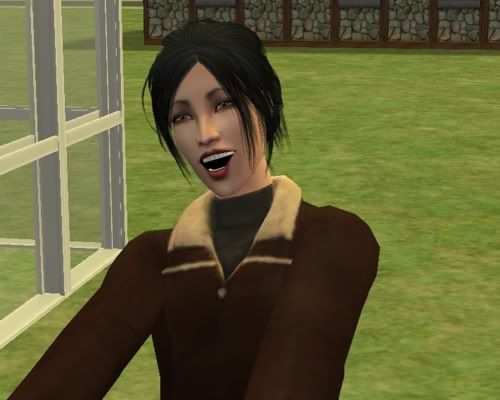 Jane: Nonsense, your grandpa was a doctor. I'm sure he can stitch you up if you spin into the glass panes. You'll be as good as new!
Tin: What?!

I can't tell who has the cuter "eep, will she really let go" face, Tin or Darcy.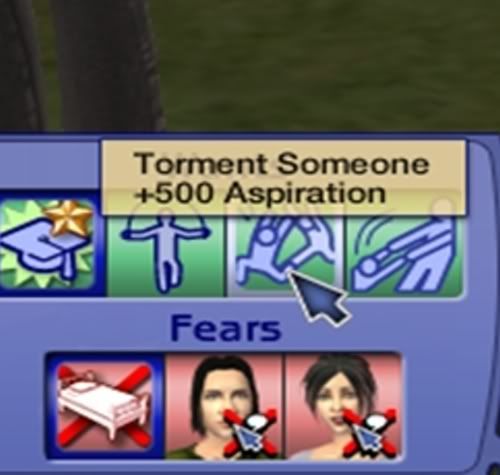 Ah, the acorn doesn't fall far from the tree. Tin had this want for the longest time, even after he spent the afternoon tormenting his sisters. Jane Jr. much?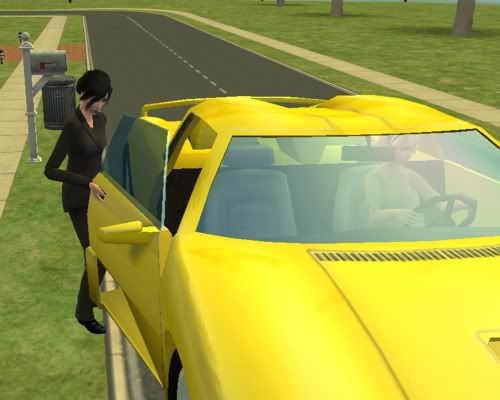 For an elite operative that's working for a government that's supposed to not exist, we sure do carpool in style. Beats the old clunker you're trying to fix up, huh?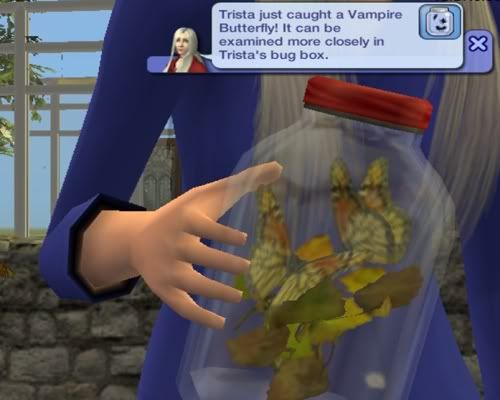 Vampire butterflies? But it's the middle of the day!

Trista: Butterflies wear sunscreen?

You got me there. *shrugs*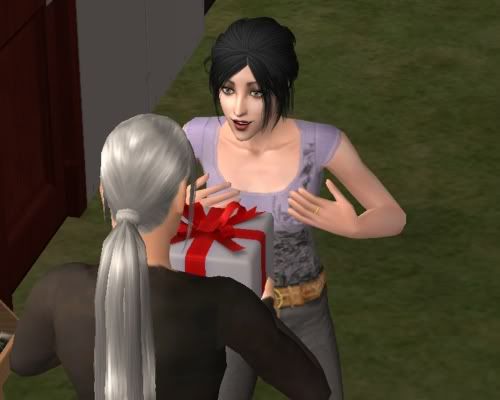 Author: Here's my entire inventory. Pass it along from generation to generation, why don't you.
Jane: For me?

And there was when I did a little "awww" because it looked like that was the only time that anyone had ever given Jane a present in her entire life. Come to think of it, it is the only time in her life that anyone's ever given her a present.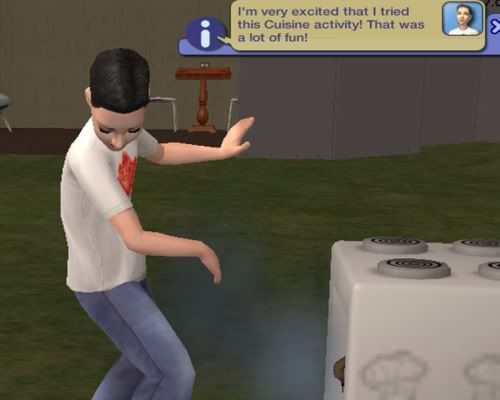 Fail!Muffin: 2
Gen. 3: 1

Smaug: Boy, I really love to cook! *waves smoke away*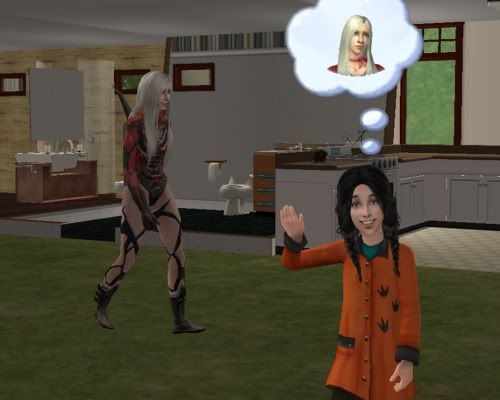 Liant: Bye Grandma! Have fun stormin' the castle taking over the world! I put Smaug's fail!muffin in your lunchbox, in case one of your henchmen gets hungry.
Trista: That's sweet of you to do. I'm sure they'll appreciate the taste of failure.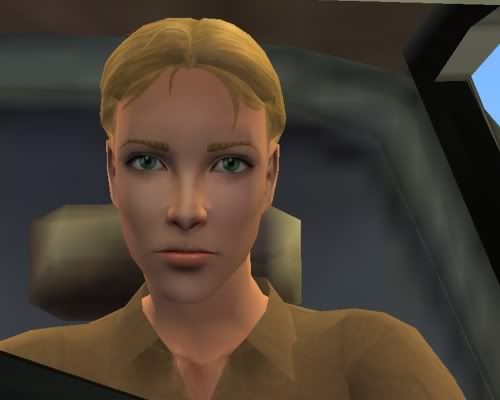 Woah. I wish we could call henchmen (re:drivers), because I want his eye color and cheekbones in my legacy sobad.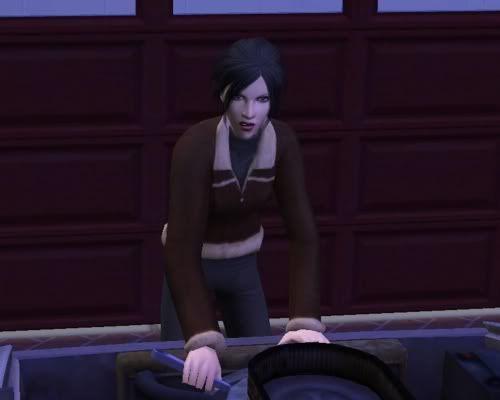 Jane: Remind me again why I'm fixing up an old jalopy in the dark?
Me: Because you get off of work late and you really want a car.
Jane: Why can't we just buy a car?
Me: It's either a car or your children don't eat. Which one do you really want?
Jane: *grumbles* Fine, have it your way. *continues to tinker with car*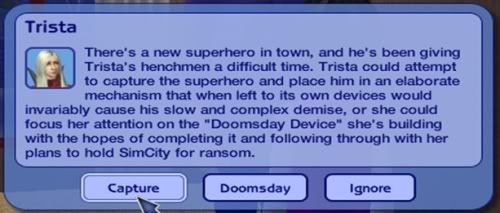 Capture him! Feed him the Fail!Muffin!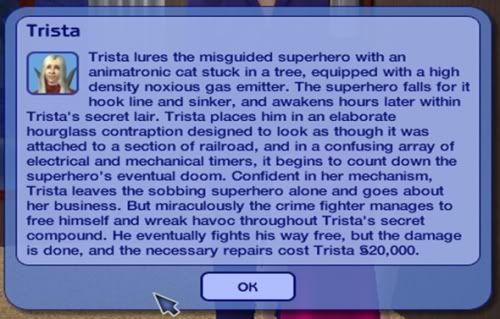 Damnit! The only positive note is that Trista had him crying like a little baby.

Trista: Damn it all to hell, he even broke the espresso machine in the break room!

What's more important was that the repairs cost 20,000. The Novels only had 7,000 in the bank. Argh.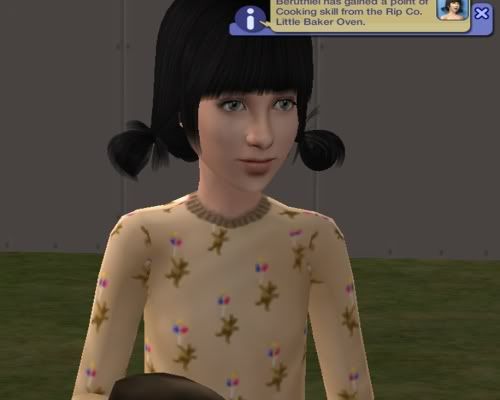 Fail!Muffin: 3
Gen. 2: 1

Beru: MY LIFE IS MADE OF FAIL!

But you look so cute in your faildom. And look, you gained a skill point!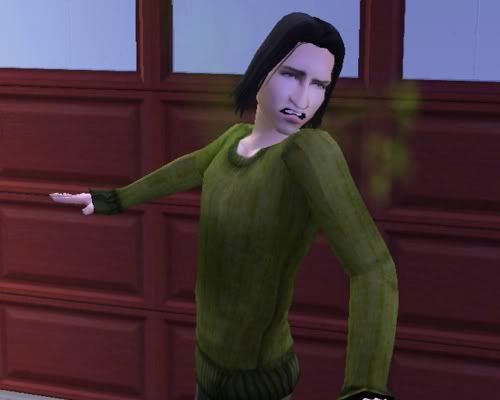 Juan: I'm trying to fix my wife's car, but this thing won't leave me alone!
Ball of Stink: Hey there, handsome. *clings*

After a much needed bath, Smaug corners his dad and asks Juan to read him a story.




Juan: "My armour is like tenfold shields, my teeth are swords, my claws spears, the shock of my tail a thunderbolt, my wings a hurricane, and my breath death!"
Smaug: This is my favorite part in the story! *listens raptly*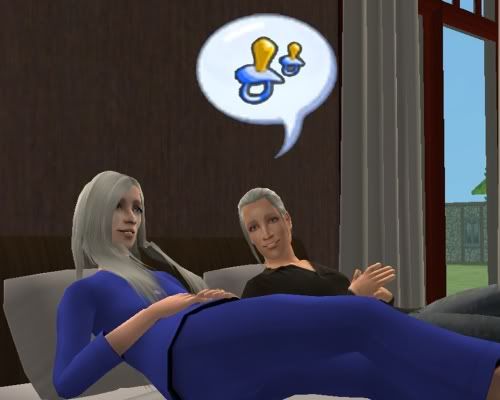 Author: It's great to have four grandkids, but wouldn't you like some more to spoil?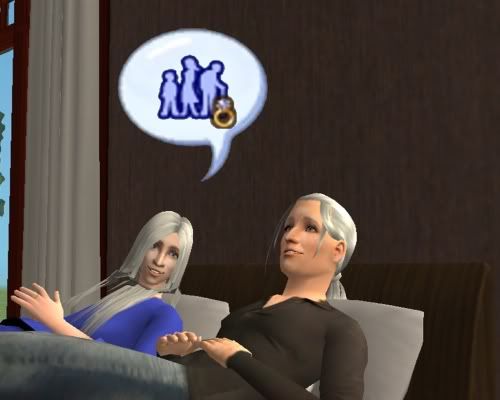 Trista: Well, Jane said that she wasn't going to have any more, but it would be nice to see her brother and sisters get engaged at least. Maybe we should do some well intentioned prodding?
Author: That sounds like a great idea! We're not getting any younger here, you know.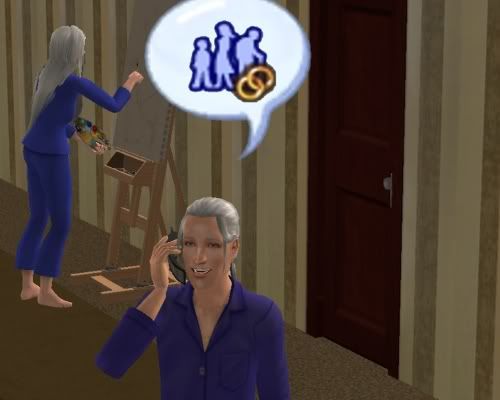 Author: Lizzie! How's my girl doing? ... Why am I calling? Oh, I just wanted to check up on all of you, see how things were over at your place. Say, you remember that fine fellow that used to come around here, the one that tried to get you to run off to Vegas with him when you were a teenager? Yes? Have you talked to him recently?
Trista: *eavesdropping* I'm never going to get more grandbabies if you don't get to the point.
Author: Oh. Well, how's your sister doing with Griff? I really liked him when we met at your sister's wedding. Are he and Georgiana serious? And what about your brother? Has he settled down with anyone? ... Elizabeth! I didn't raise you to call your brother a manwhore, even if he does date around too much for his own good!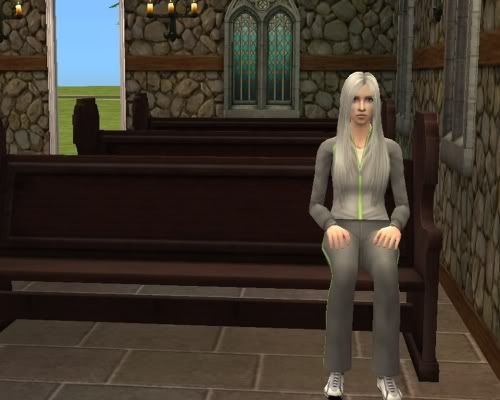 Trista: Maybe if I wait here, one of my kids will randomly drop by and decide to get married on the spur of the moment.

We'll see in the Spare update sometime in the near future (or at least an update or two from now)!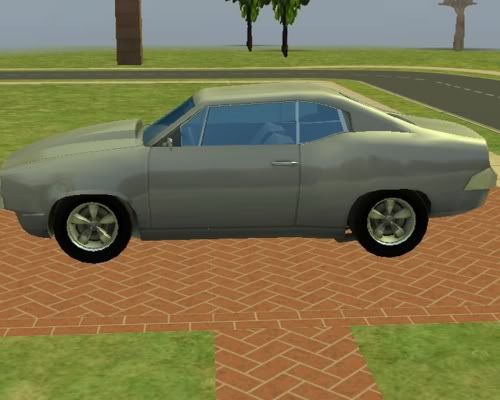 Car #1 was sold so that they could pay their bills. Then Car #2 was purchased to fix up for personal use.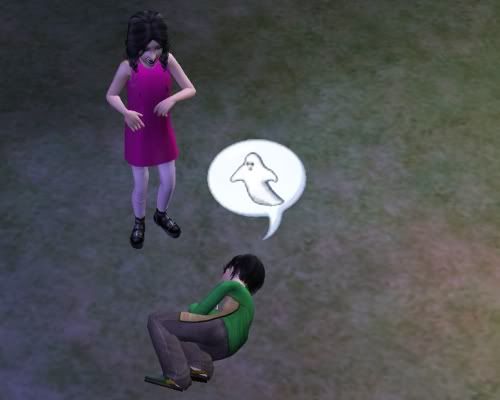 Tin: No living man may hinder me!
Liant: But no living man am I!
Tin: *dies*

These two love to play cops and robbers at all hours, even when it's past their bedtime.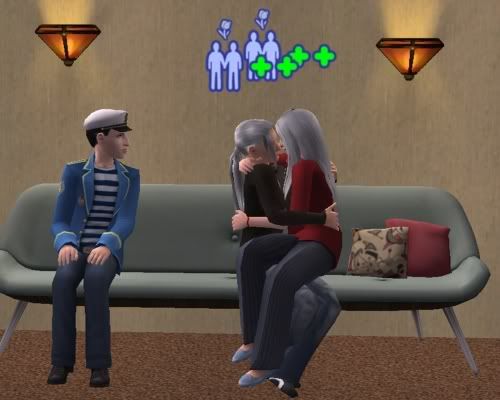 Not awkward. At all.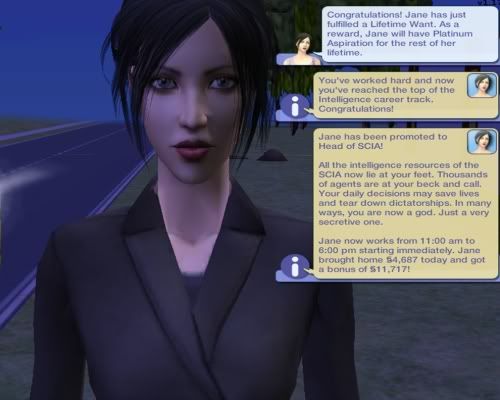 LTW reached, Permaplat accomplished!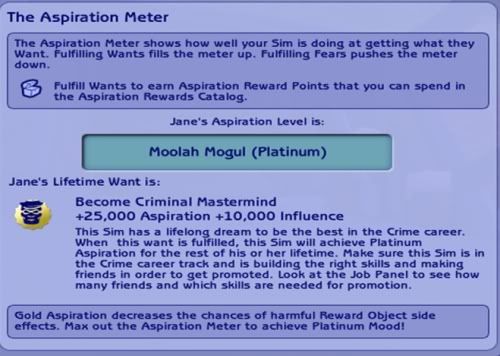 Usually I just ignore the second LTW, but come on, this is fate. *loves Jane*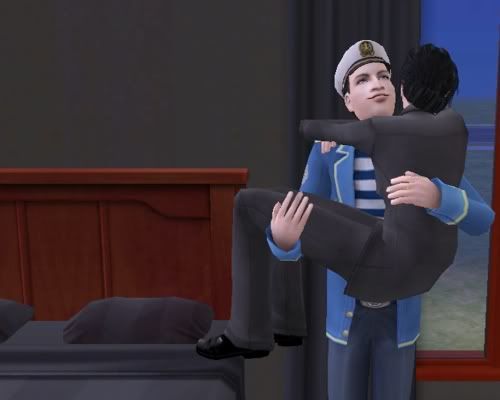 Jane: Oooh Honey! Let's do that scene, you know, from that movie?
Juan: *still trying to erase image of his in-laws making out from his retinas*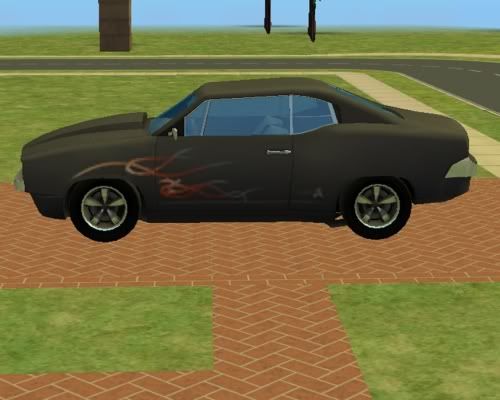 I dub thee Evilmobile. Jane owns it, naturally.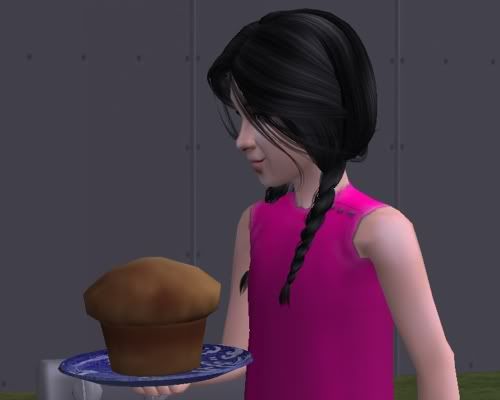 Fail!Muffin: 3
Gen. 3: 2

A quick Win!Muffin before getting on the bus.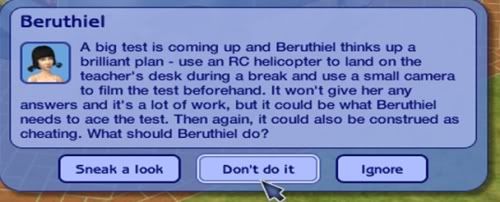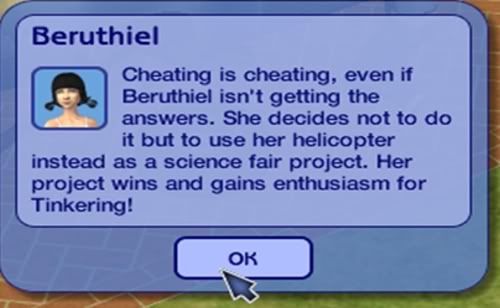 Cheaters never win and winners never cheat.

Jane: Yeah, whatever.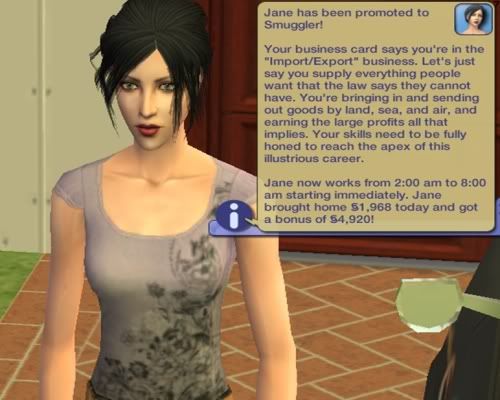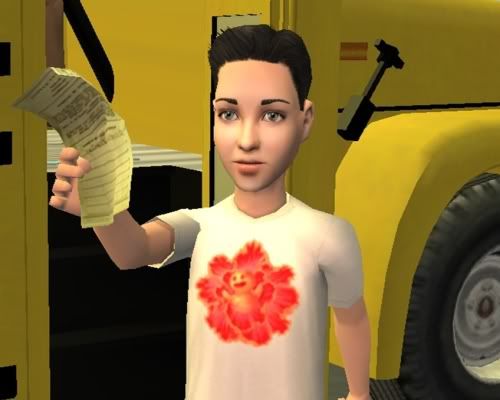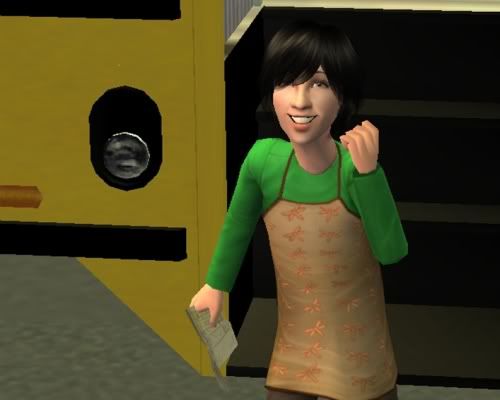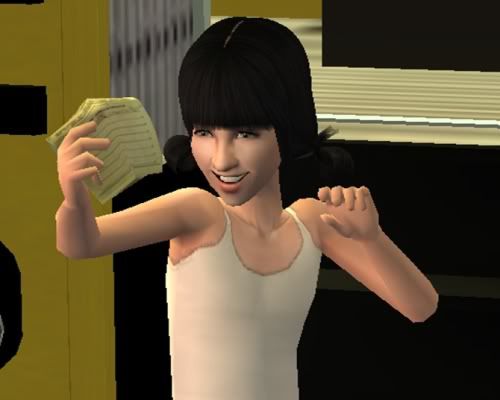 Who all came home at the same time? Winners, that's who! Liant's grades were improving, but no A+, but still, raising grades are something to celebrate.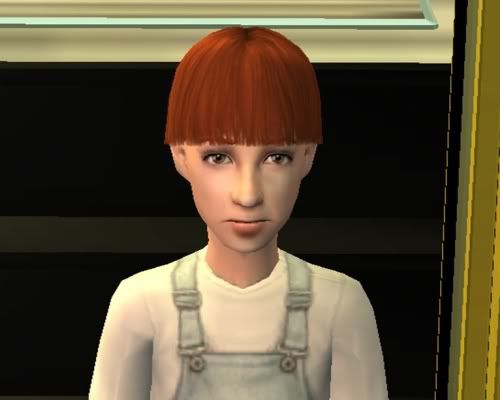 Cute kid that came home with Beru. I might age him up into a teen with them to see if he's date-worthy material.




Yep, things haven't changed when it comes to their relationship.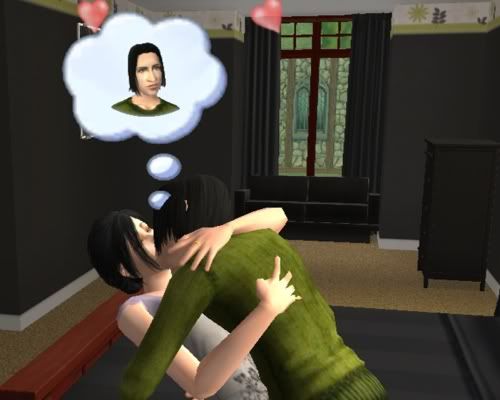 Not one bit.

Now that they have a car, I sent them all out on a family outing. Trista was at work and Author wanted to paint, so it was just Jane, Juan and the kids.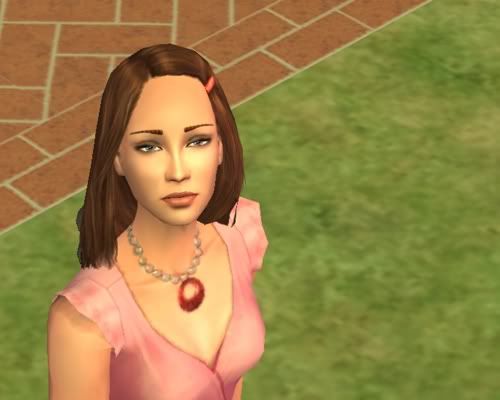 Random person: Hey, you up there. FYI, I'm not interested in legacies.
Me: You sure? I mean, you keep on knocking down their trash can and you're awfully pretty...
Random person: No.

She just happened to walk by while everyone was piling into the Evilmobile. Maybe she saw what Generation 3 looked like and wasn't interested? (I dunno, Tin looks like he's going to grow up to be adorable)

Speaking of the Evilmobile, how does one stuff six people into a two-seater car? Does it have special powers?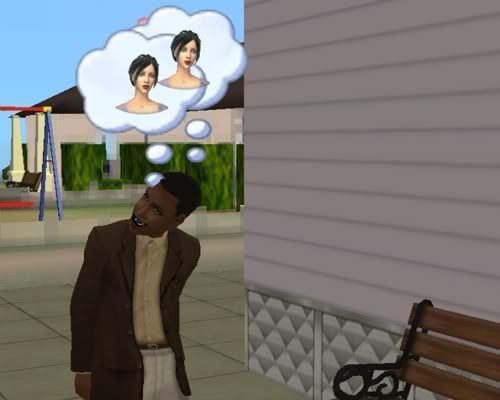 I sent them bowling. When they pulled up, this guy was all over Jane.

Dude: Woooeee! She's one smexy sim!
Me: She's also taken. See the brood of children and adoring husband?
Dude: Maybe she has a twin I could talk to?

No pictures of the family bowling, but Jane and Juan heard the jukebox calling their name.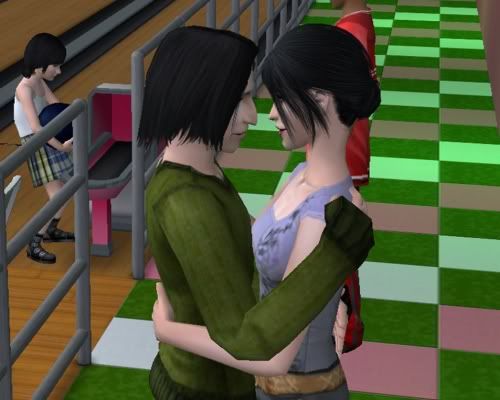 Jane: This is our song from college!

And then they slow danced until it was time to go home, leaving the kids unsupervised to do their own thing. And who should arrive and not approve of their parenting skills?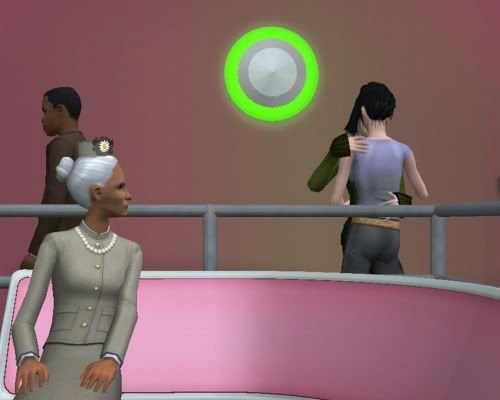 CRUMPLEBOTTOM, that's who!

[Mrs. Crumplebottom spam]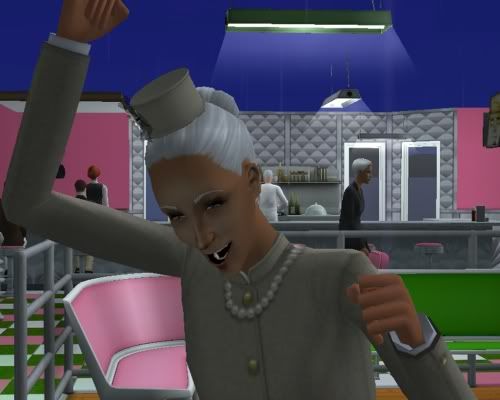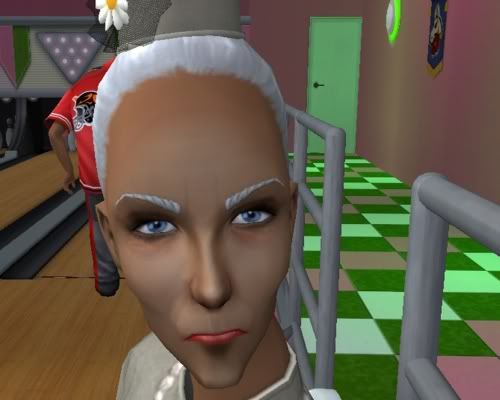 [/Mrs. Crumplebottom spam]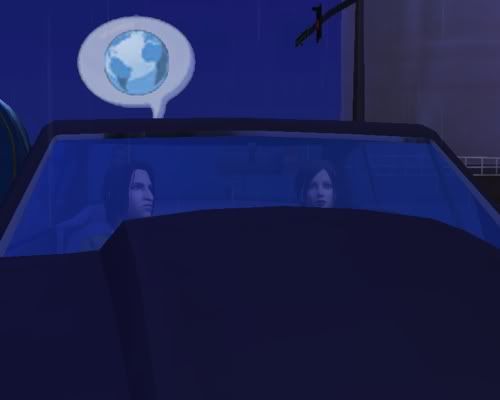 Juan: So, you're still planning on taking over the world, right?
Jane: Absolutely.
Juan: Ok, just checking. Sex now?

And they did woo and hoo not once, but twice, even though there was a guy staring inside through the back window the entire time.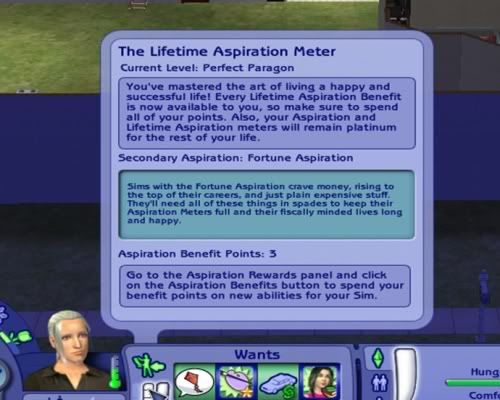 Author's just reminding us how awesome he is.




Back home, the first thing Smaug did was ask his mom to read to him.

Jane: "The dragon swooped much lower than ever, and as he turned and dived down his belly glittered white with sparkling fires of gems in the moon - but not in one place. The great bow twanged. The black arrow sped straight from the string, straight for the hollow of the left breast where the foreleg was flung wide..."
Smaug: Why did you stop reading, Mom?
Jane: Um, because that's where the book stopped! *fake smile*
Smaug: So what happened to the dragon?
Jane: Er, he ate Bard the Bowman, set fire to the town, circled around the Lonely Mountain, and recaptured all his gold. The End!
Smaug: But there's a lot more book left over.
Jane: Oh, that's just indexes and appendixes and such. The End!

Oh Jane, you didn't like it when Smaug the Dragon died either, and now you're trying to shelter his namesake from his fate, aren't you?

Jane: The end, I mean it!

And on that note, it's the end of the update. Everyone proved me wrong and got all interesting, so the childhood/teenager all-in-one update I had planned is going to get split in two before we shuffle Generation Three off to college instead.

Next: Teens! Acne! First kisses!

Smaug: Will you read me the end of the story, narrator lady?
Me: That was the end; listen to your mother!

Previous Chapters:
1.0 | 1.1 | 1.2 | 1.3
2.0 | 2.1 | 2.2