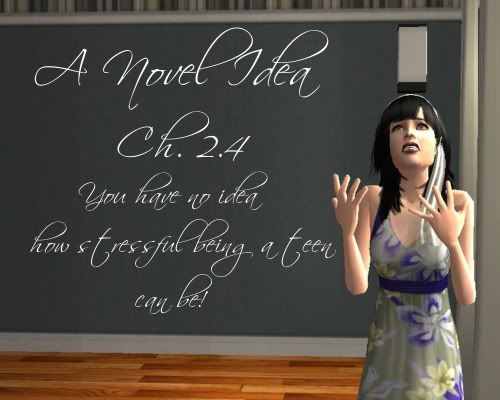 Warning: 56 images under cut.



Last update: The kids got all interesting and started a bake-off with their Easy Bake Oven. Jane reached her LTW and then had "take over the world" as her newest one, so of course I can't deny her wishes. Juan continues to climb the undersea ladder of success, and Trista took over gardening duties from Author.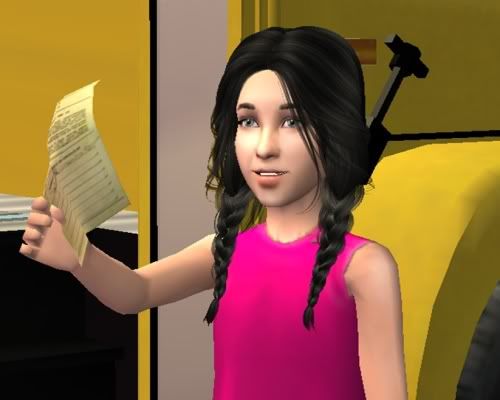 Liant comes home with straight A's now. She would have sooner, but playing tag with Grandma a few nights in a row was much more important than doing homework.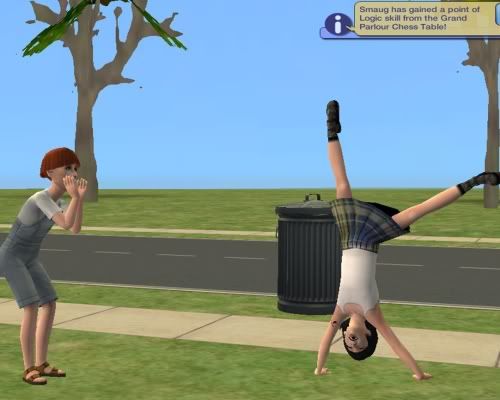 Beru: Look at me! My skirt defies gravity!
Cute Kid Beru Brought Home: *cheers*

It's good to see that Beru has come out of her shell when it comes to picture taking.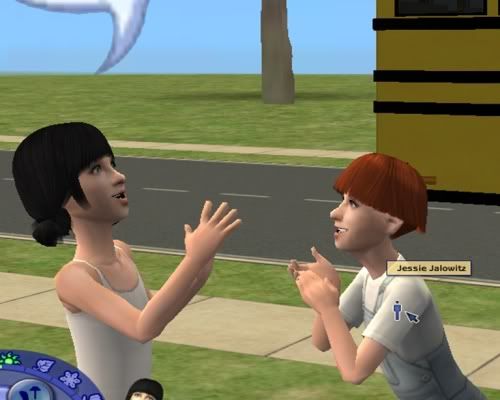 And his name is Jessie, not Cute Kid Beru Brought Home. I've decided to age him up with the quads, just to see what he'll look like as a teen.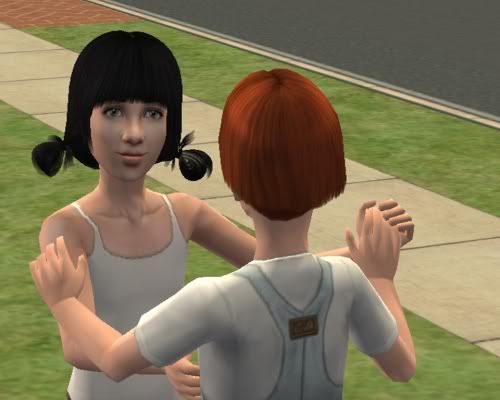 Both of them classic danced in the front yard for a couple of sim hours.

Beru: I like him. Can I keep him?
Me: We'll see.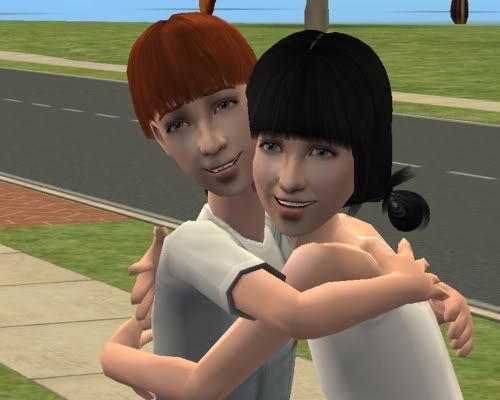 He likes to give hugs. Cute future couple?

Beru: I'm really serious about keeping him. He can live in our greenhouse.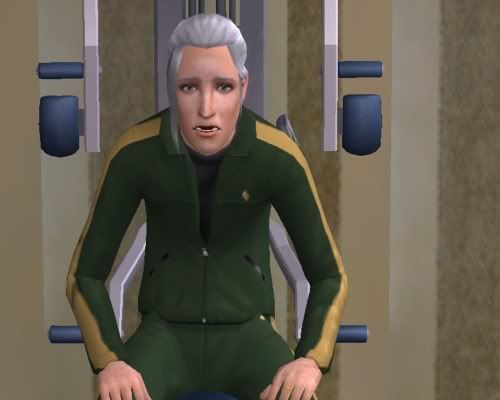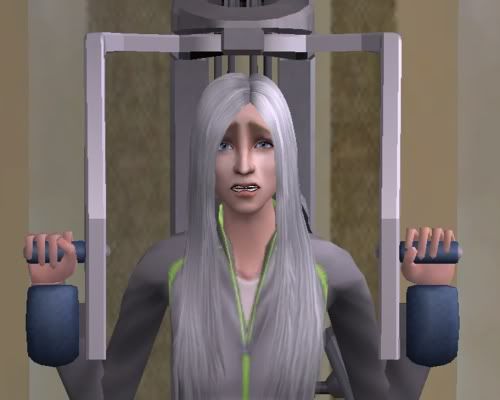 Me: Guys? You two okay?
Author: Weight training builds bone density.
Trista: I've got one more day on the job. I want to hang up the supervillain costume looking my best.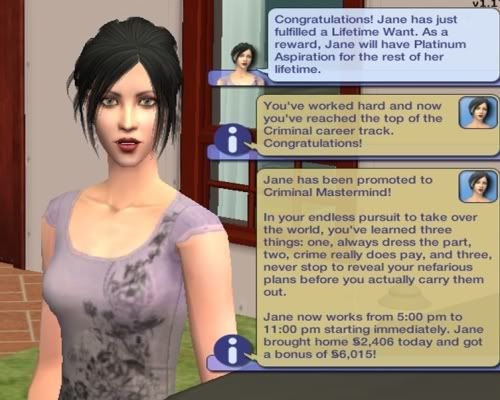 Jane: I got a promotion!
Me: You know what that means.
Jane: MUAHAHAHAHA! *rubs hands together*

Actually I was talking more on the lines of getting another LTW crossed off the list, but world domination works as well. You start tomorrow, babe.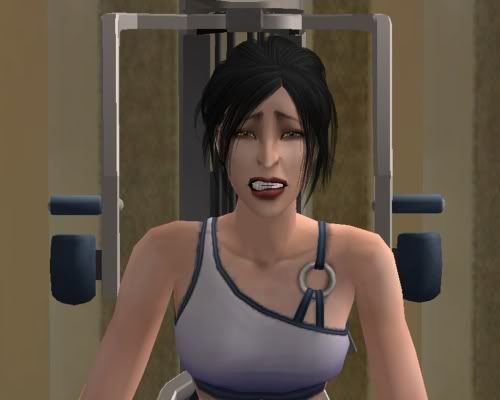 Spandex is unforgiving, Jane. Remember: pain is weakness leaving the body.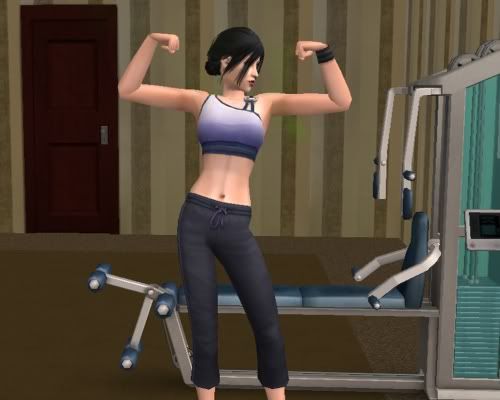 Jane: *hulks out*
Ball of Stink: *hovers in the background*

After a quick shower, Jane was ready to go to work.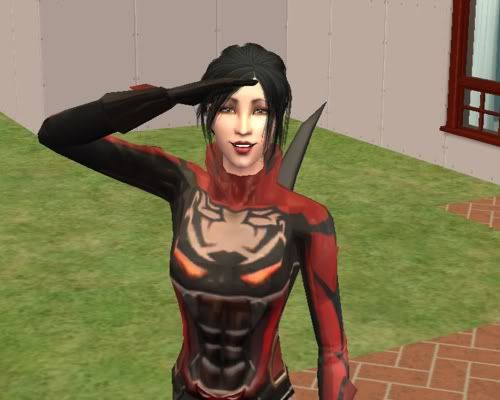 Jane: This is the best day of my life!
Me: Even better than your wedding day or the birth of your kids?
Jane: Better than those, plus Christmas and my own birthdays!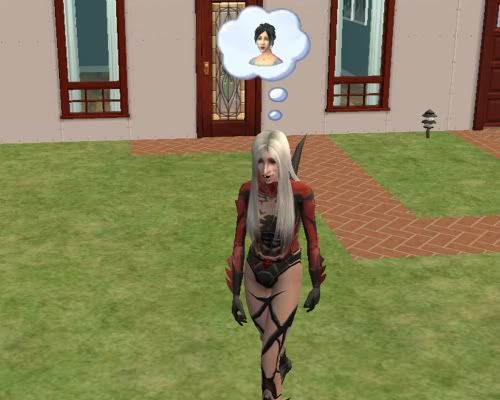 Me: Any thoughts on your last day of work, Trista?
Trista: No, not really. Actually, I'm just going in to show Jane around the secret lair, introduce her to all the other supervillains of the Simverse, that sort of thing. I'm really looking forward to retiring.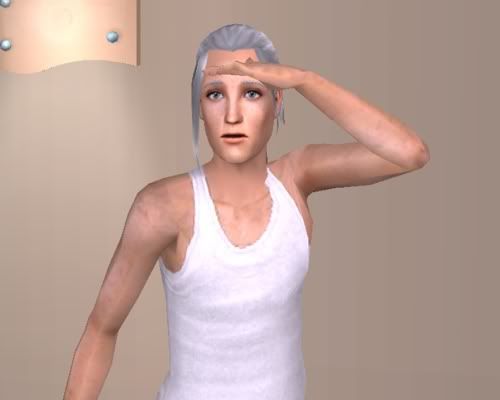 What's that you spy, Author honey?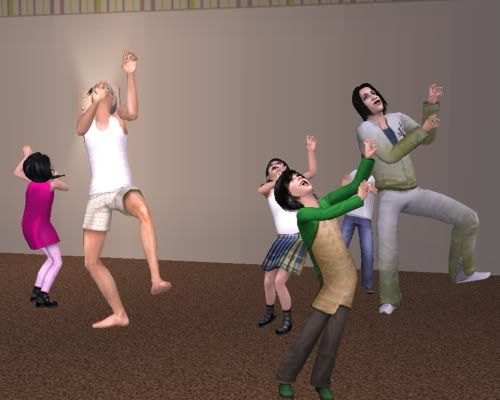 A three generation smustle party, you say?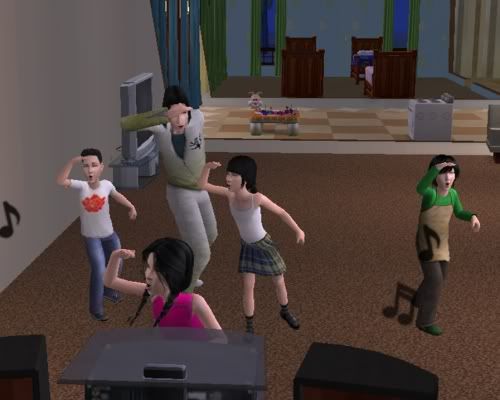 Without Author to lead them, the kids get a little uncoordinated.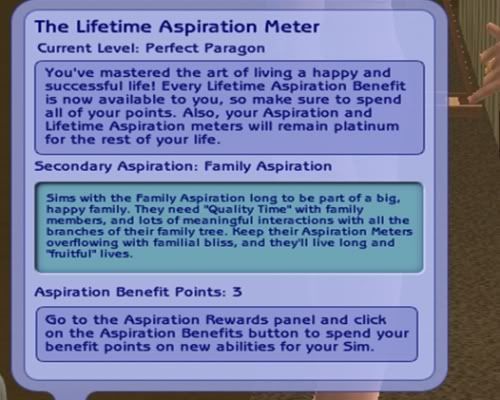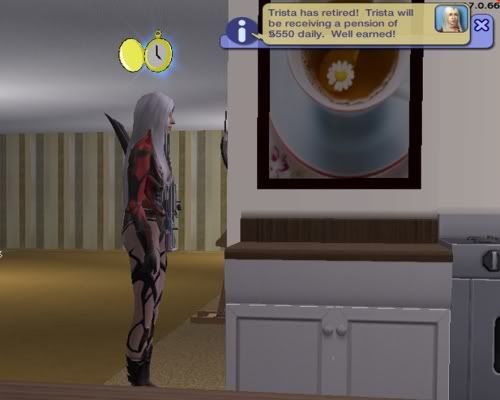 Jane and Trista come back from work, and the first thing Trista does is hang up the outfit for good.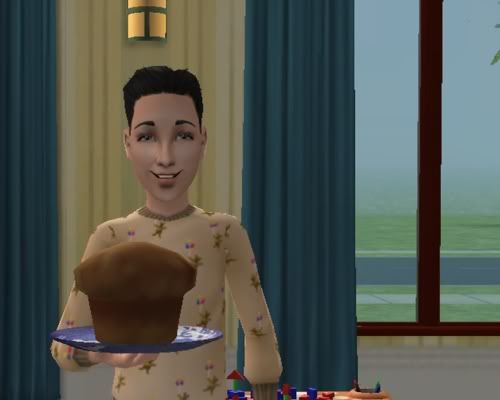 Fail!Muffin: 3
Gen. 3: 3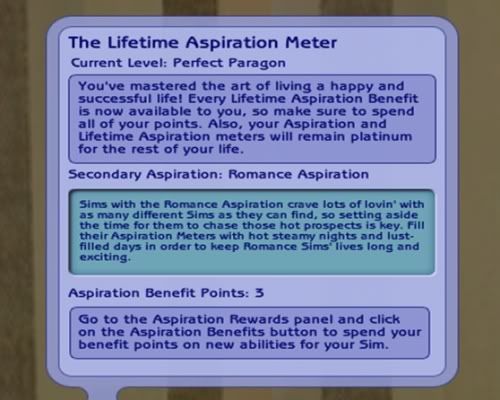 Yay Jane!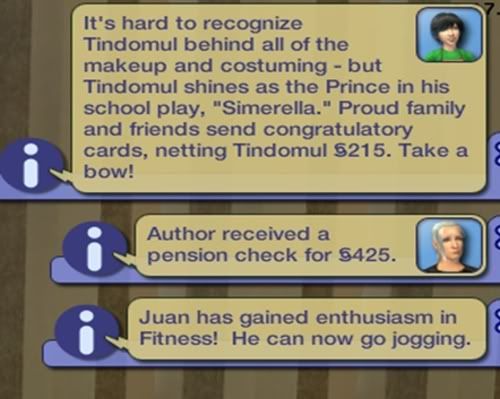 This family is made of all sorts of win. *loves*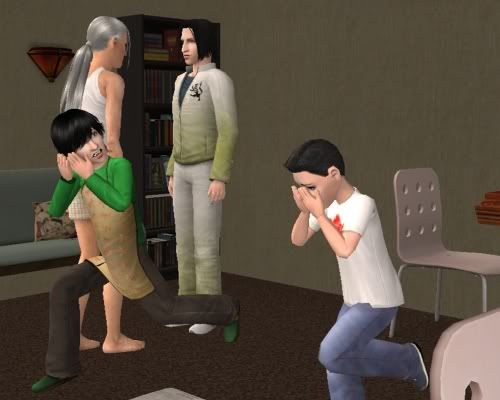 Tin: Run, Grandpa's in his underwear!
Smaug: Aaaah!

Actually, they were upset because Author and Juan were arguing about the finer points of wearing hats.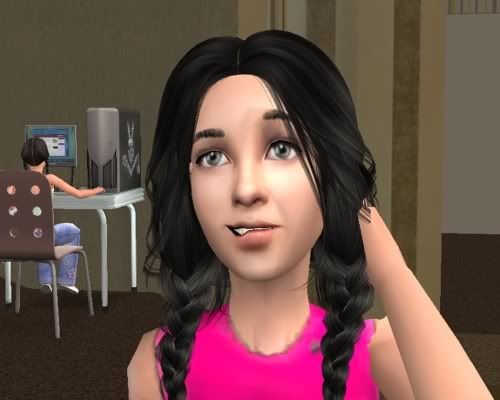 Liant: I don't even get why people argue about hats. I mean, there are better things to fight about, like shoes!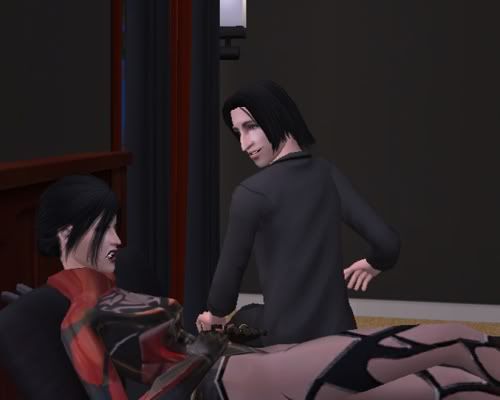 Juan: How was your day, Honey?
Jane: #$*%ing superheroes. *grumbles*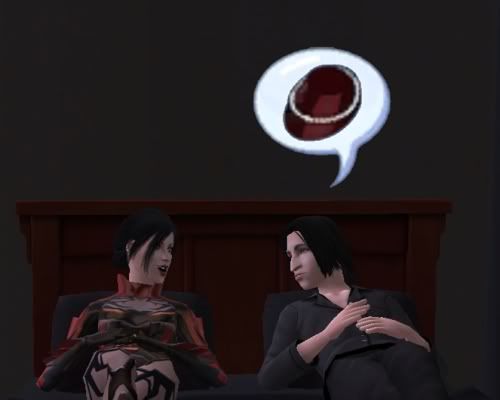 Juan: Well, I know what can cheer you up! *insert pearl necklace joke of choice here*
Jane: No way. I have no idea how well spandex cleans up.




Juan: Well in that case, why don't we find out how fast spandex comes off?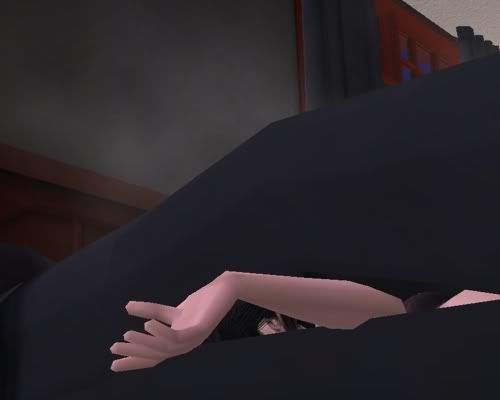 This, she'll let him do.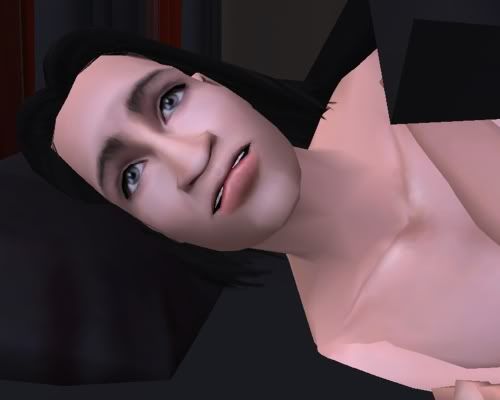 Me: Why the wibbly face?
Juan: Well, now that my wife rules the world, I wonder if I'm good enough for her. I mean, there are more evil guys out there that she's talking to now and...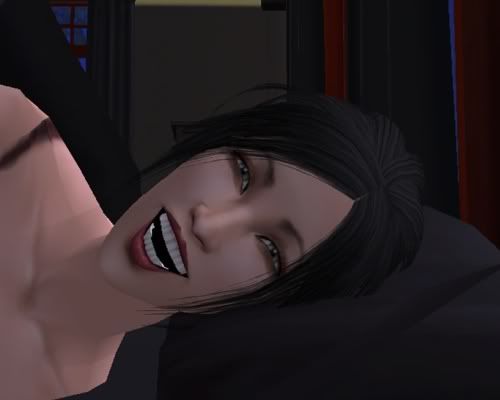 Me: By her expression, I don't think you have anything to worry about, big guy. Besides, no one's nose will ever compare to yours.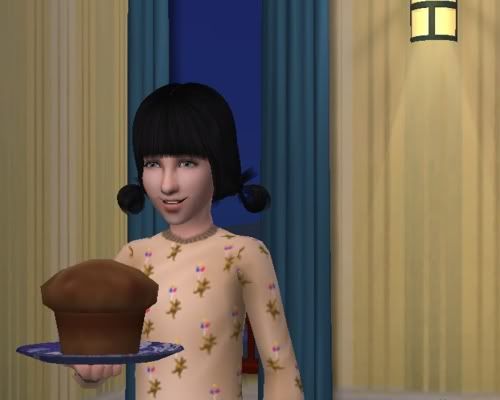 Final score:

Fail!Muffin: 3
Gen. 3: 4

Easy Bake Oven: CURSES!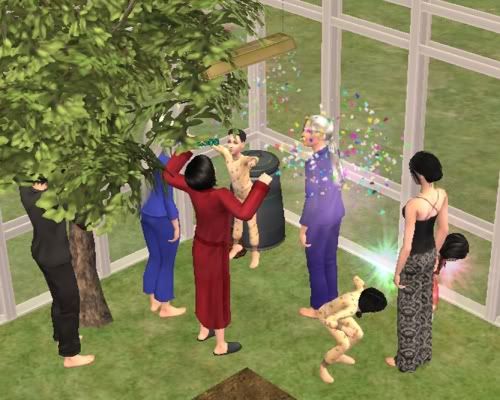 Everyone decided to grow up in the greenhouse. It's a rather popular destination; everyone wants to play catch or tag in there as well.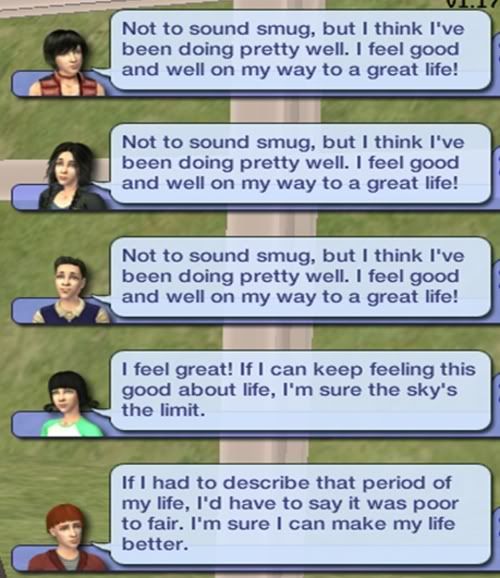 Poor Jessie. He's the only one of them that didn't have a good transistion. I didn't like their clothes, so I sent the four of them off in the Evilmobile to get new wardrobes.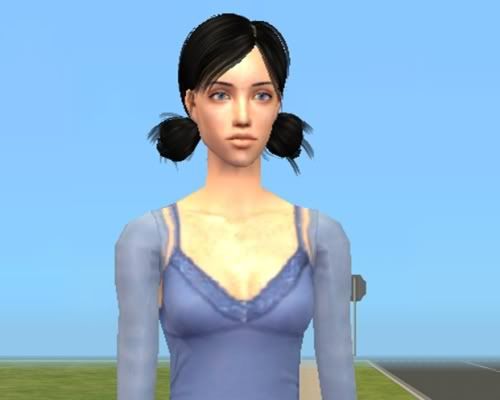 The Quads: Auntie Lizzie! *hugs*
Lizzie: Do I know you?

Um, so Jane hasn't really invited her other siblings over to meet her kids, but Author and Trista talk about them to the quads all the time.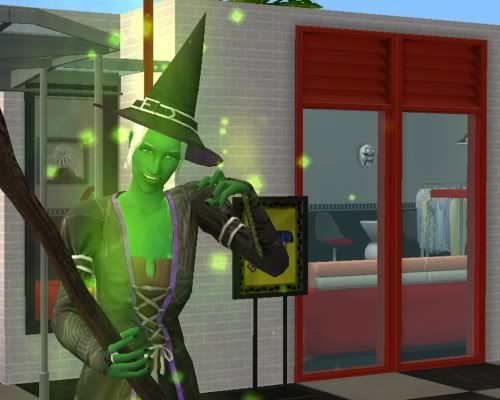 And we have an evil witch sighting! Beru, you're closest, go chat her up so we can keep her in our contacts!

Beru: I'm on it!

This also reminds me that I've got to find a default skin replacement for evil witches somewhere. The green body paint isn't cutting it. After talking to all four of the teens, Evil!Witch high tailed it out of there on her broom. Now for the makeovers and stats: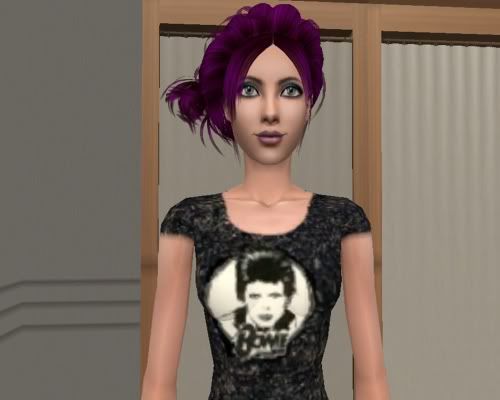 Beruthiel Novel
Romance/Fortune
Scorpio
8/5/8/3/1
LTW: Become a rock god

I wound up giving Beru a more rockish makeover, which should probably give Trista fits, seeing that she doesn't like custom hair. She loves fit redheads, but would rather them go commando than wear underwear.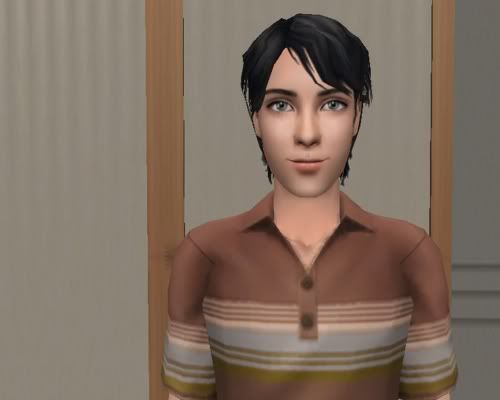 Smaug Novel
Romance/Knowledge
Cancer
7/3/6/2/7
LTW: Become a Celebrity Chef

Smaug adores witches with red hair, but is completely turned off by dark hair. At least we don't have to worry about any complexes with this one!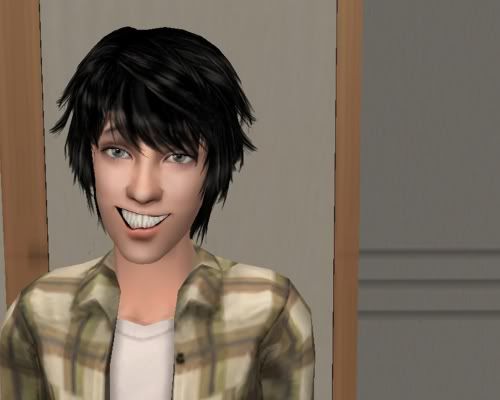 Tindomul Novel
Family/Grilled Cheese
Scorpio
7/5/8/3/2
LTW: Eat 200 grilled cheese sandwiches

Tin favors his grandpa's love of blondes and brunettes, and his father's general dislike of hats.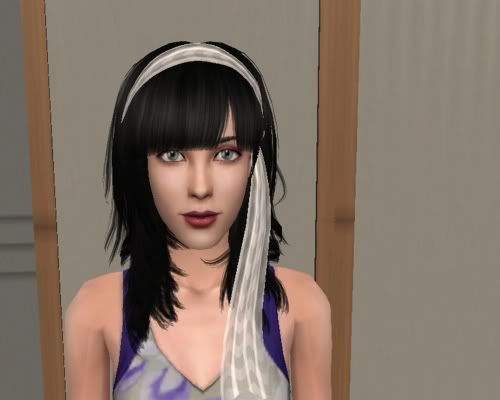 Ungoliant Novel
Pleasure/Family
Aries
6/6/6/3/4
LTW: Become a game designer

Scruffy underwear models make Liant go weak in the knees, but she's going to ignore the older ones, or men that happen to go gray prematurely.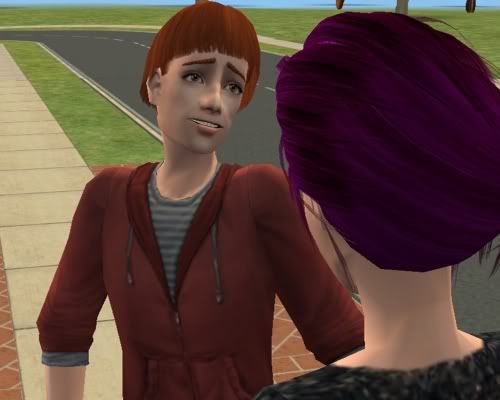 When they get back, look who decided to walk by! It's teen!Jessie!

Beru: Do you like my hair?
Jessie: It's very...purple.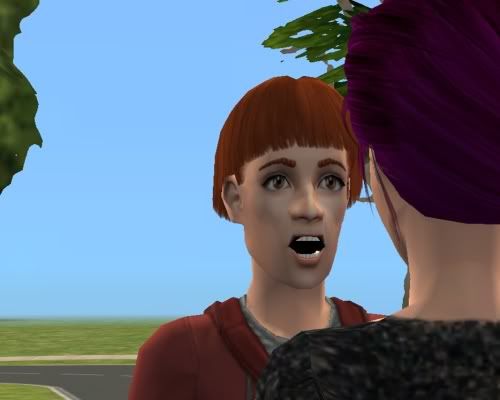 Jessie: But woah! You have boobs!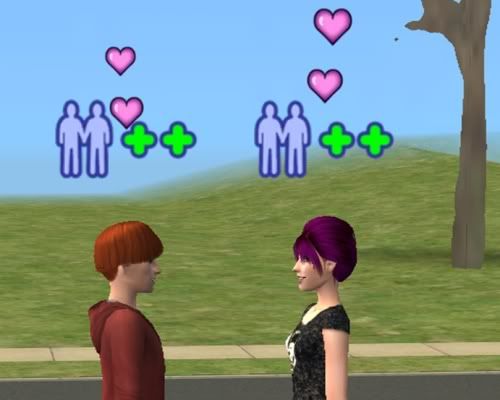 Not only does she have boobs, but she also has a crush on you.

Jessie: The feeling is mutual!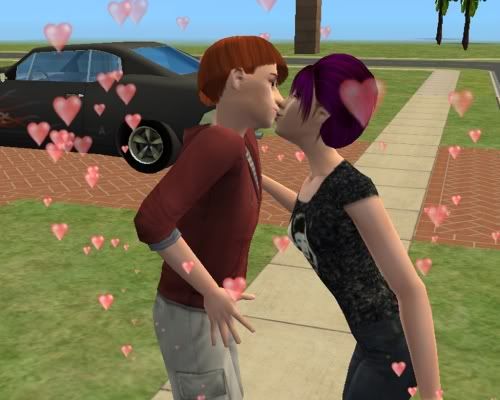 Aww, they're cute.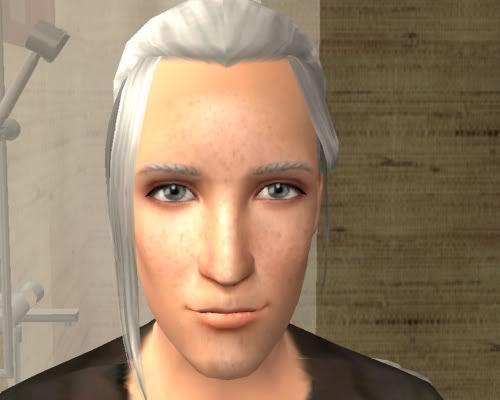 And so is he. ♥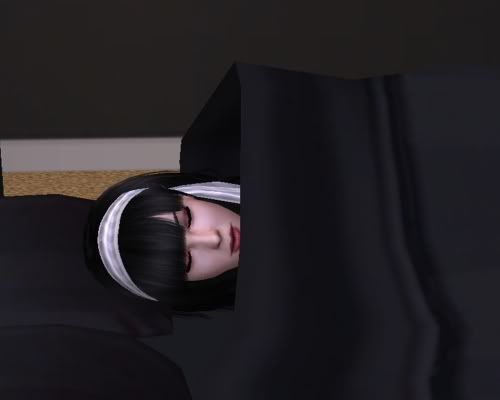 But this isn't. Liant! You have your own bed! Your parents recently woo hoo'ed where you're now sleeping!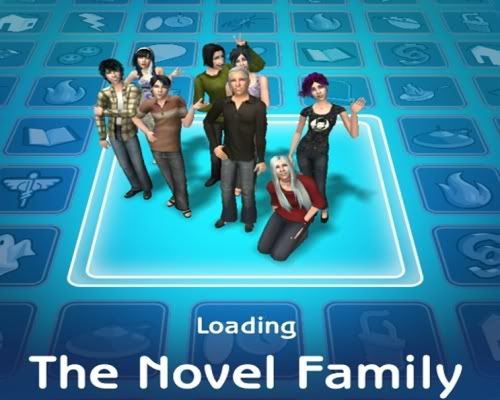 And a shot of the family while Liant lets what I told her sink in. The last thing she did was shoot out of the bed and head straight for the shower.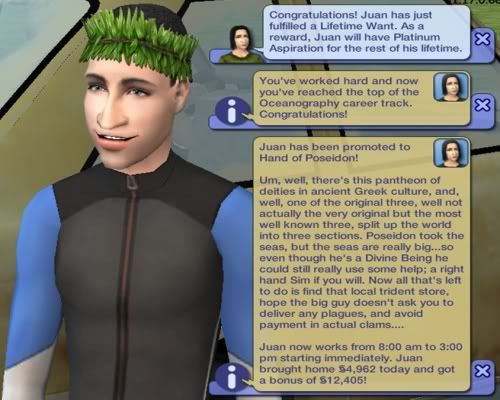 LTW reached! That's four sims on the lot who have permanent platinum ratings.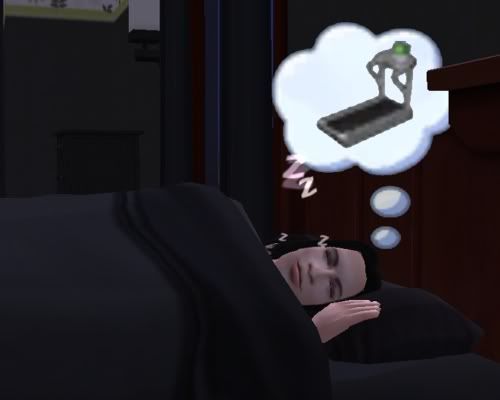 Juan: nrgh...treadmill...can't stop running....

It haunts his dreams, that treadmill does. Maybe he's dreaming that he's a hamster or something.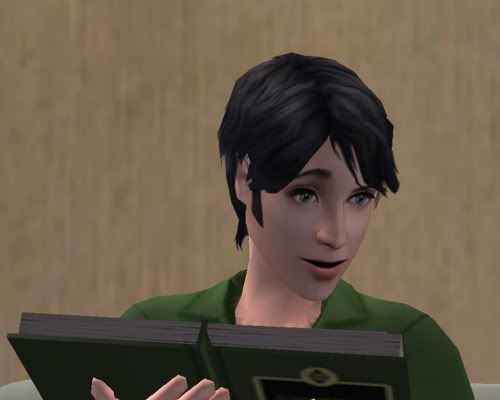 Me: Smaug, sweetie, how come you're still up?
Smaug: I like to get all my studying done at night.
Me: But it's 3:30 in the morning.
Smaug: I like to study early in the morning too.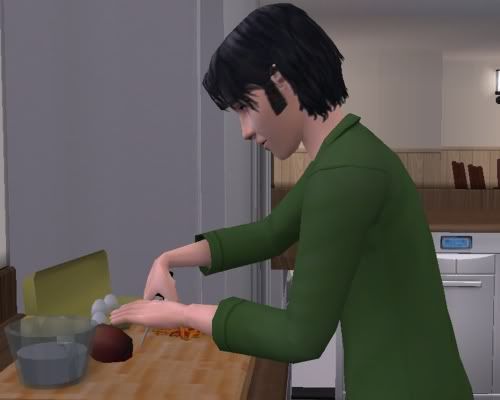 All the studying made him hungry. Hey Smaug, whatcha cooking?

Smaug: Wild mushroom and shallot omelettes with a bit of gruyere for a nutty background taste.

Did I mention that Smaug's favorite hobby is cuisine?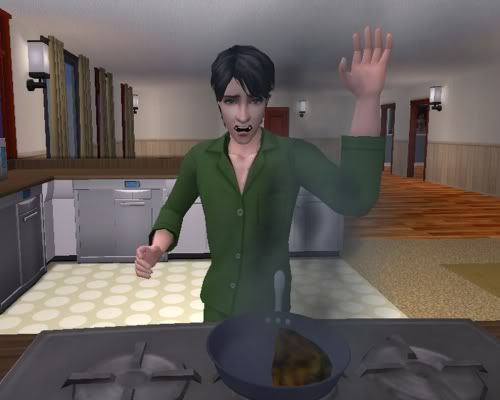 Smaug: Not the gruyere! *waves smoke away*

Well, at least you didn't start a fire. Three generations and we've been blaze-free in the kitchen. Let's hope I didn't just jinx myself.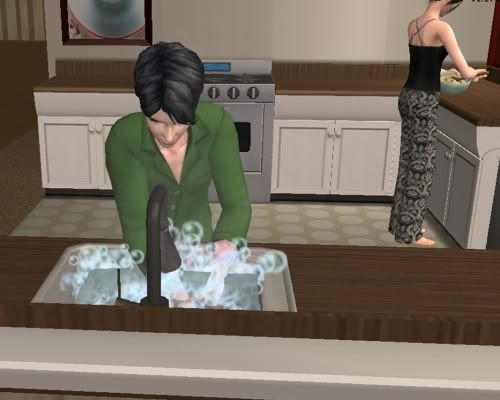 At least he cleans up afterwards.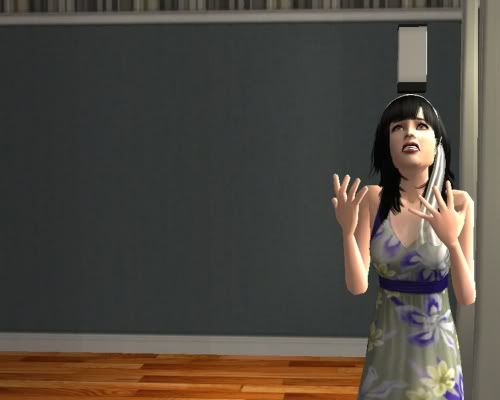 Me: What's wrong, bb?
Liant: I can't take the pressure anymore! Dad and Grandpa want me to be an overachiever; I'm juggling a job and homework at the same time while trying not to fall asleep in class, and I haven't gotten asked out on a date at all! *wails*

If you calm down, we can fix the date thing for you.




Matchmaker: *sneaks* No one expects the ninja matchmaker!
Liant: Hello? Are you the matchmaker I called for?
Matchmaker: Damn!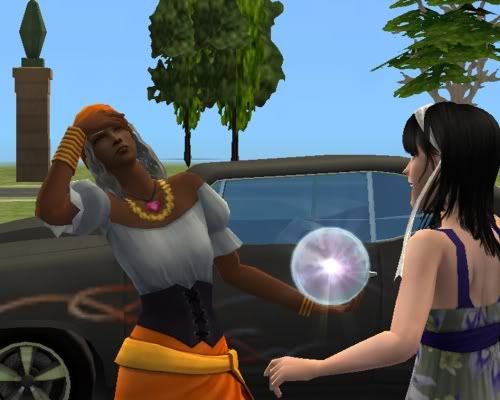 Liant: Oooh, are you consulting the Powers That Be in regards to my (highly expensive) date request? Are you connecting through the ether, to the cosmic connection that my soul mate and I share?
Matchmaker: No. I have a splitting migraine and you're making it worse. Here's the date you wanted kid, I'm going to go home and lie down in a dark room with a cold towel over my eyes.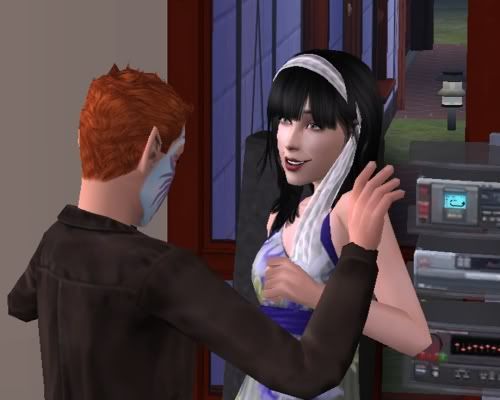 She gave her Puck Summerdream, and the two of them had an okay time, but it wasn't anything first kiss-inspiring. Honestly, I think Liant was sort of glad when the date was over.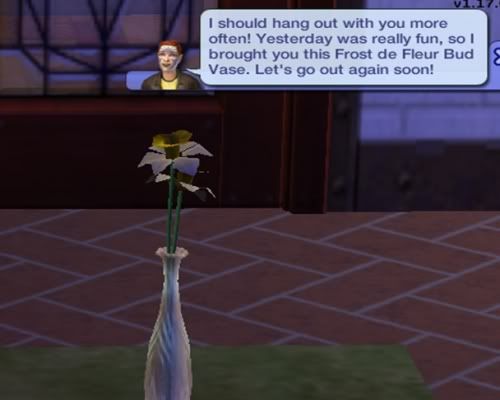 Puck seemed to think otherwise, sneaking back around to leave a flower vase at Liant's front door.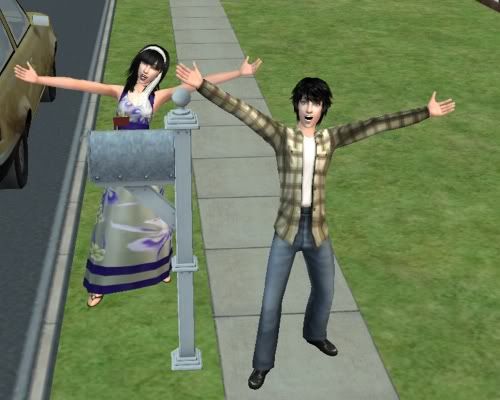 Several days later, this happens as soon as the quads come home from their respective jobs. Guess which two take after their grandma.

Between school and job promotions, nothing very interesting happened to the four. I sent them and Jessie off to college, where they're waiting in the student bin while I try to figure out how to build them a dorm room. My construction know-how isn't of the best, so hopefully they won't be waiting there for very long.

Next update: Just what are the spares of Generation Two doing nowadays?

Previous Chapters:
1.0 | 1.1 | 1.2 | 1.3
2.0 | 2.1 | 2.2 | 2.3