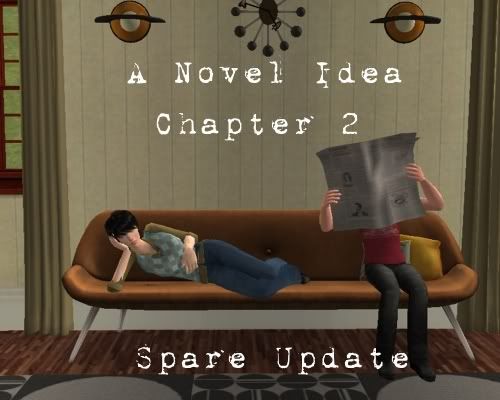 I should have just named this the Darcy Update, because for the majority of the time that I was playing, his sisters spent their time hanging out on the front lawn or working on their LTW.

But to show that something did happen to them, here's Georgiana.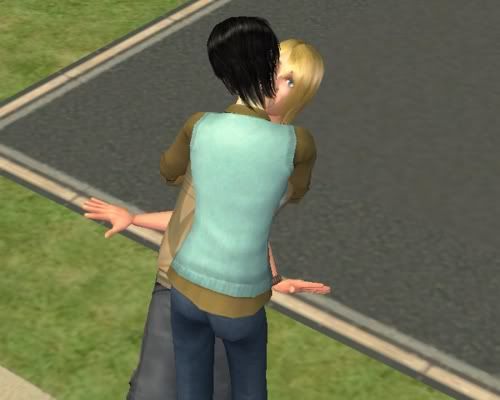 First thing's first: get Love Interest moved in.

Griff: Hey Georgiana, what's - mmmmph!
Georgiana: *tackles*

Oh yeah, he's a gonner. We sent him off downtown to get some clothes and a makeover when I noticed something: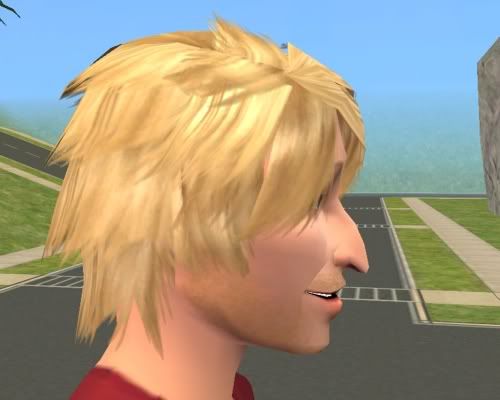 The Novel women like men with big noses, huh? But unlike Juan, Griff's nose looks at odds with the rest of his facial features.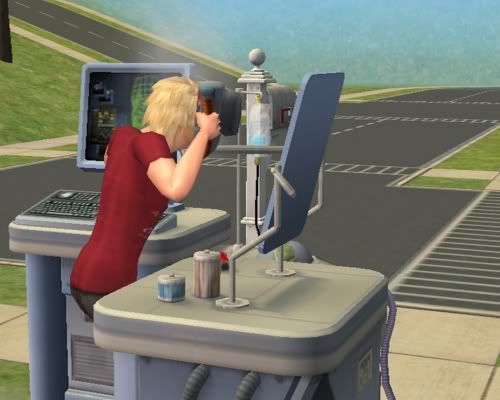 So we fix it. *cough*unlockcareerrewardscheat*cough*

Griff: Is this thing safe?
Me: Only if your Aspiration Level is gold or higher.
Griff: What?
Me: Nothing. Carry on.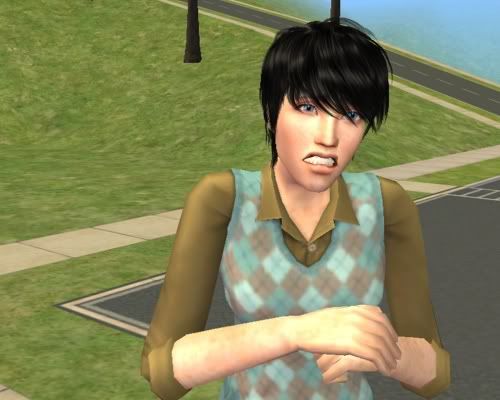 Georgiana: What if he winds up not looking like the little puddin' pie that I fell in love with? *worries*
Me: We're only doing a slight nose lift, not an entire face change.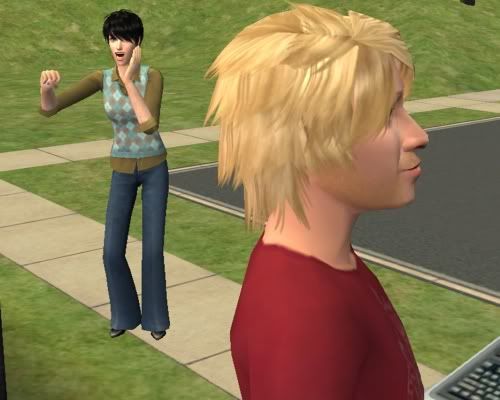 And Georgiana approves! Turns out that we had to do a nose lift, which made it clear that his jawline was way too square, which showed that his chin needed definition, which made his cheekbones stand out, which did...

Okay, so I lied to them. We did do major changes and I'm still not happy with how they turned out. Georgiana didn't care, she went and tackled him for a major makeout session right there on the front lawn.




Meanwhile, Darcy does not approve of his sister's agressive PDAs.

Darcy: Kissing? Ewww.
Me: Stop gawking and go chat up that lady that just walked by! I lost count of how many first dates you had, so get to work!

And while he works his romantic mojo on an unsuspecting victim, a tour of the Spare Lot.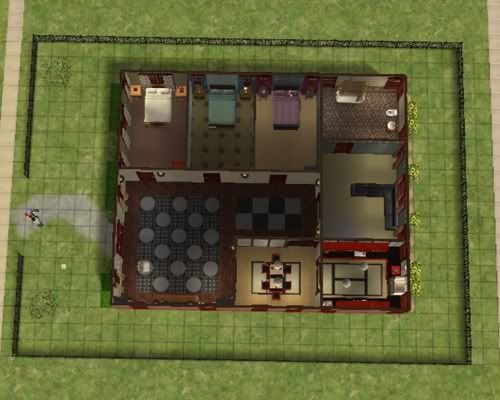 Overall floorplan.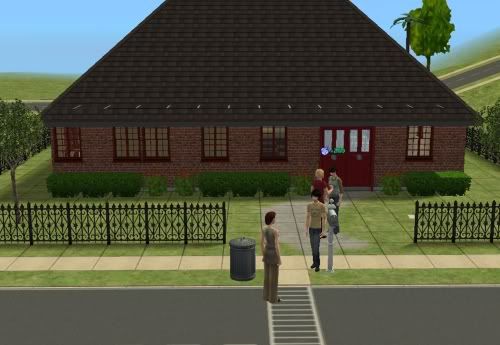 The front lawn.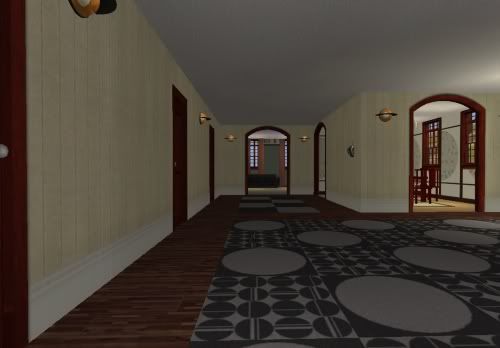 The entranceway.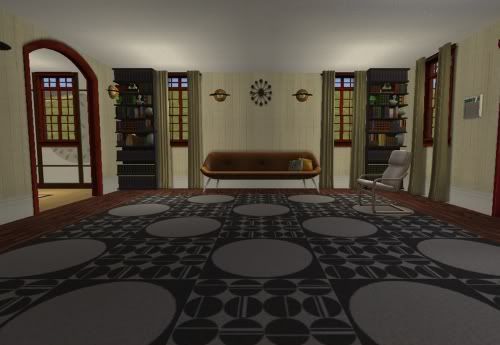 The living room.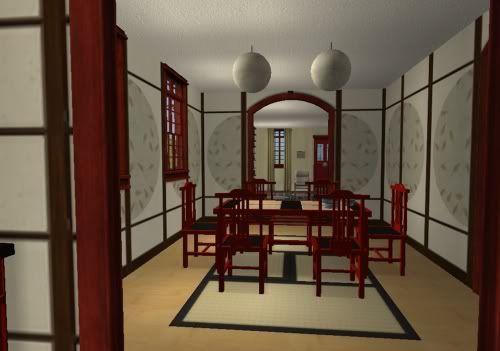 The dining room.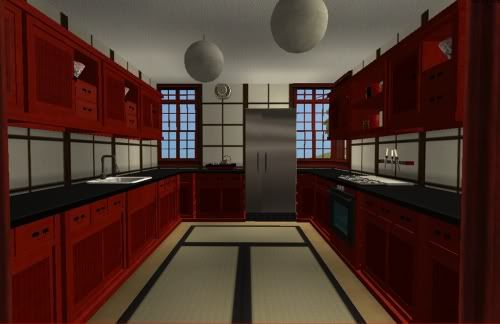 The kitchen.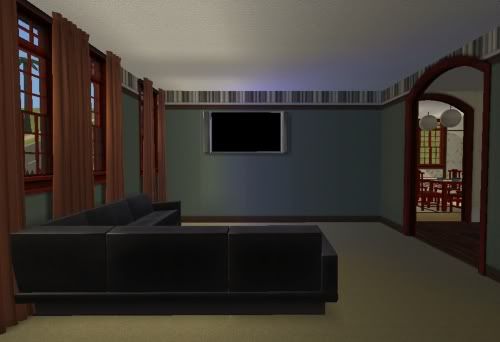 The TV/Media room.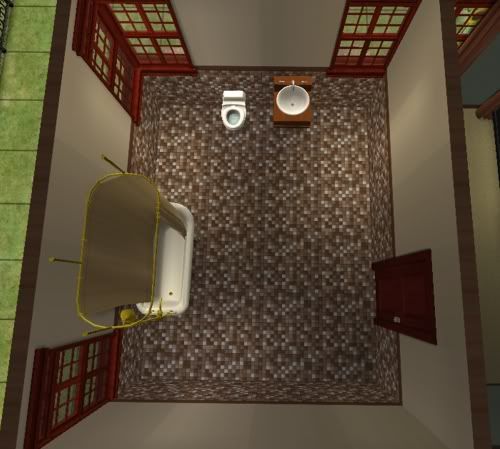 The bathroom.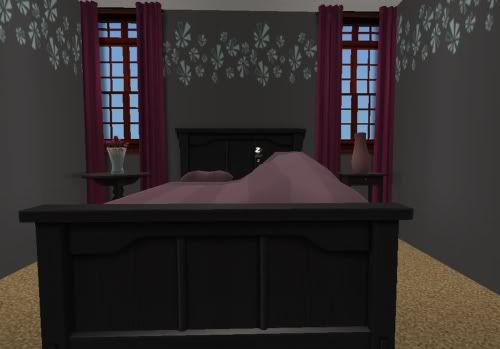 Lizzie's bedroom. The lump on the bed is Lizzie, who is still suffering from the flu she gave Jane for a wedding gift several updates ago.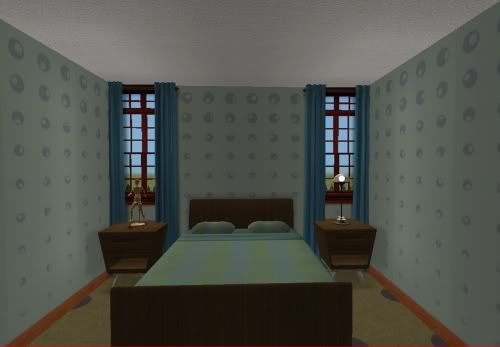 Darcy's love shack bedroom. I put him in the middle just to annoy both of his sisters when he entertains dates.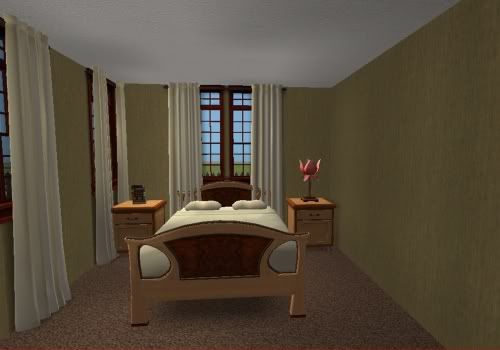 And finally, Georgiana and Griff's bedroom.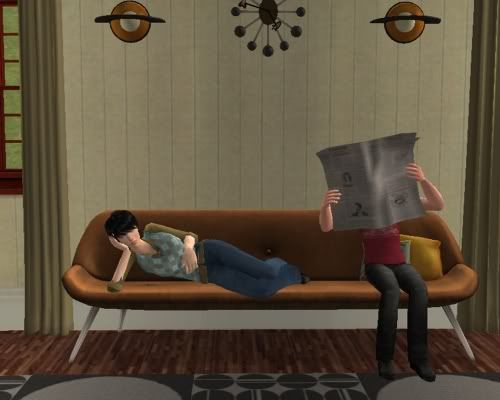 The two of them are always together.




I see you stalking there, Griff. You should be looking for a job instead.

Griff: Georgiana Watching isn't a job?
Me: No.
Griff: Damn.

I took a break from their lot to work on my self!sim's place. Issa!Sim lives near all the planned out Spare Lots with her cat Boots and her muse Jamie. Who should drop by to be their welcome wagon? Why all three Gen. 2 Novels, that's who.

Being nice (and wanting to work on Darcy's LTW), I made Issa!Sim ask him on a date. It was a friendly one that didn't go any further than school cheers and high fives, so I didn't think that Jamie!Muse or Darcy would have a problem.

I thought wrong. Jamie!Muse took one look at Darcy and his relationship points with Darcy went all the way into the negatives. I thought that was pretty drastic, seeing that Jamie!Muse and Issa!Sim were living as platonic roomies, but maybe Jamie!Muse wanted something more. I left them alone to check out what Lizzie and Georgiana were doing while this was going on and when I came back, I found this: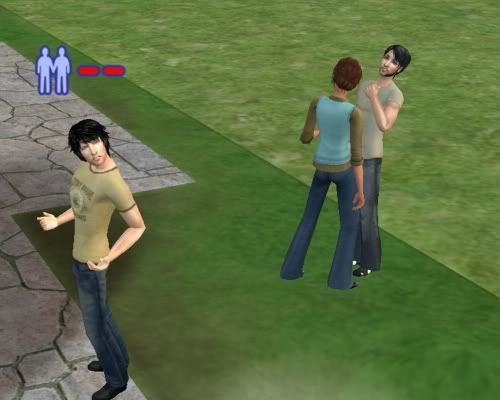 Apparently, Issa!Sim also wanted something more with Jamie!Muse. Either that, or she wasn't that into Darcy and left him for a bigger, better fish.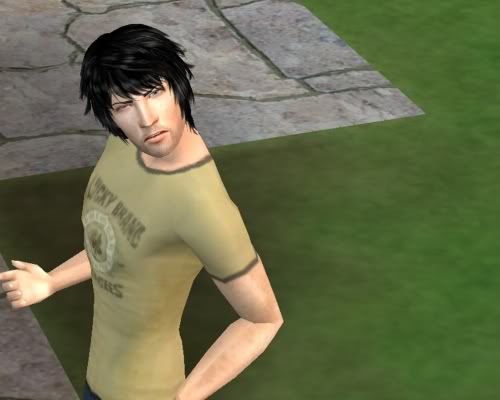 Darcy: WTF is this about? This is me we're talking about. Women don't leave me. *minus minus*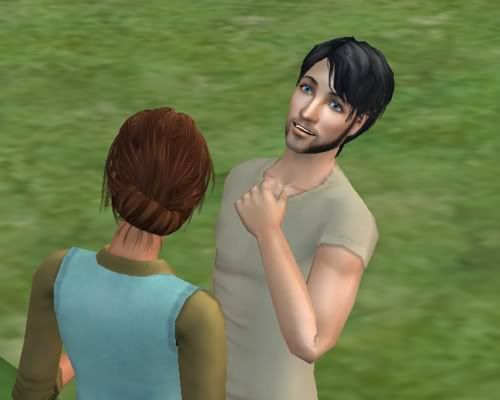 But can you blame her? He's adorable. I mean, look at the mutton chops. *pinches cheeks*

Issa!Sim: You know what would be even better? If we could find you a flannel shirt to wear.

Sorry Darcy. We likes us the rugged men.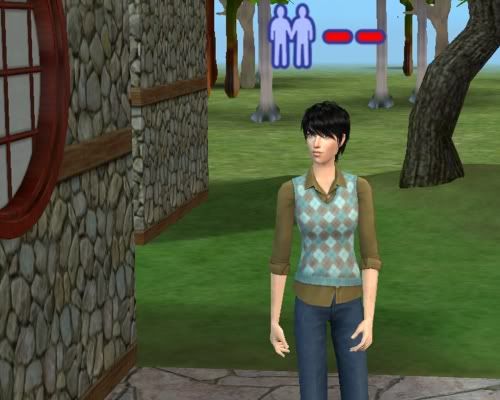 Georgiana, what do you think about all of this?

Georgiana: That chick that insulted my brother is wearing my outfit! *minus minus*

And Lizzie?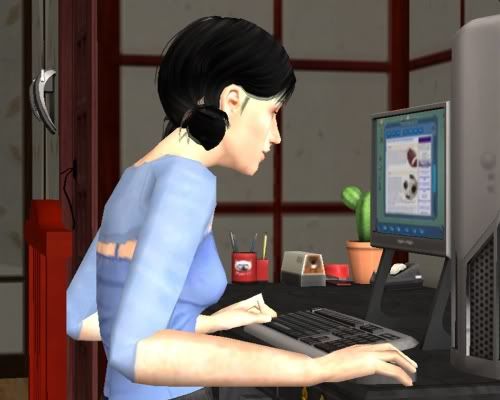 Lizzie: What? I was looking up sports stuff online. I miss anything?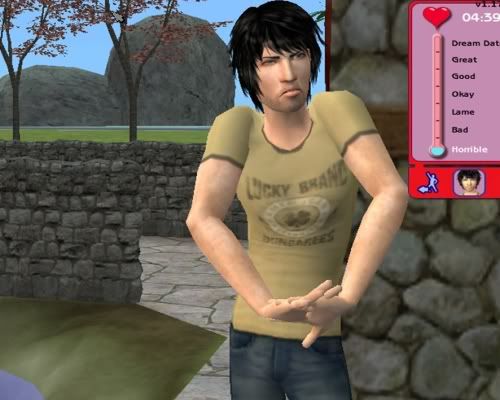 Darcy: I'm gonna have to hurt a muse here.
Me: Um, Dars? He's got like TEN body points. He'd totally kick your ass, which I doubt will bring your date score up any higher.
Darcy: I AM NOT HAVING A GOOD TIME.

Before I wound up having Issa!Sim's doorway graced with a bag of flaming poo, I made Jamie!Muse take a hike and while he was gone, I did the best I could to give Darcy an okay date.

Back home after the near disaster, Darcy decides to knock out the rest of his remaining ten dates speed date style, a la the Matchmaker. I think the Date of Epic Fail at self!sim's house bruised his ego more than he'd like to admit.




Darcy: She's going to go out with me? YES! Quick! To the bat cave bedroom!

Oh Darcy, I see you've got your groove back. Date #45 complete.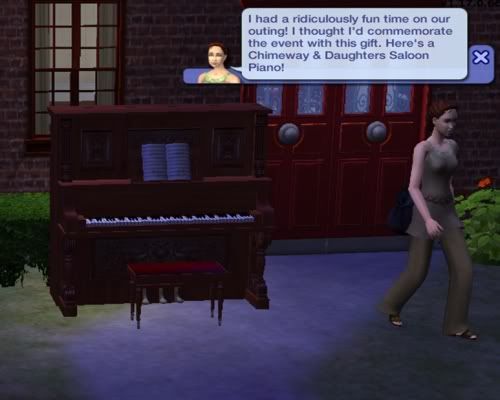 And it was a dream date to boot. We sold the piano so we could have more money for the matchmaker.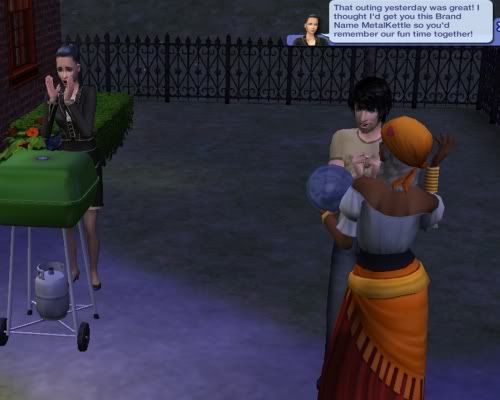 The matchmaker sent him a girl he had already dated in college, but they had a great date, just for old time's sake. Lizzie spent the evening with headphones on to drown out the noise coming from the wall she shared with her brother, while Georgiana and Griff decided that they would try to outdo Darcy and his date in the noise department.

I don't know about you, but I think if my boyfriend went "honk honk" in the middle of sex, I'd wind up laughing so much that whatever mood we'd had would be ruined.

Not even waiting until the next day, Great Date Girl drops off a barbecue pit. We sold that off too, so we could afford the last few first dates.




That letter doesn't belong to you, Georgiana. Date #48 left it for your brother.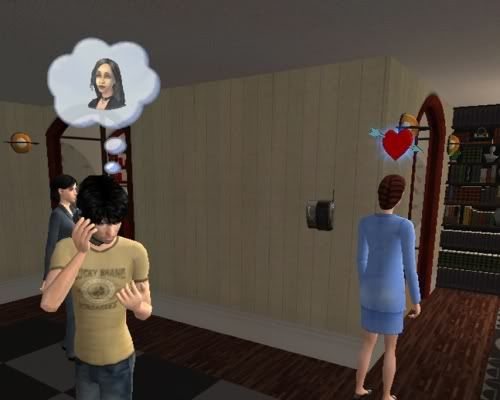 Talking to Date #46 about the great woo hoo you had while Date #45 (who Griff brought home from work) just fell in love with you is not appropriate behavior.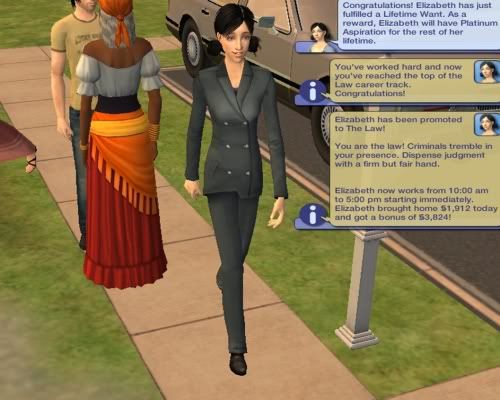 Lizzie is the Law. Strut your stuff, girlfriend. Meanwhile, Date #49 has fallen out of the sky.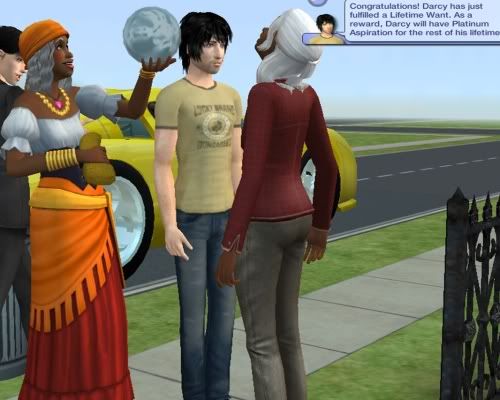 And we have First Date #50. Darcy's LTW has been accomplished.

Darcy: I want my 5,000 simoleans back.
Matchmaker: No refunds!
Date #50: *is a cougar*
Lizzie: *snickers*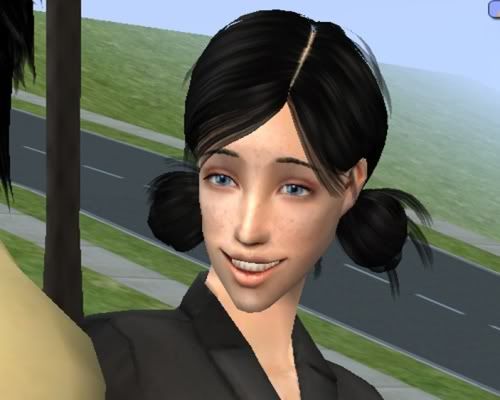 Me: Why the amused face?
Lizzie: Oh nothing. Darcy was just going on and on about how the 50th date was going to be The One for him; that he'd stop sleeping around and settle down with whoever the matchmaker gives him. Somehow, I don't see that happening.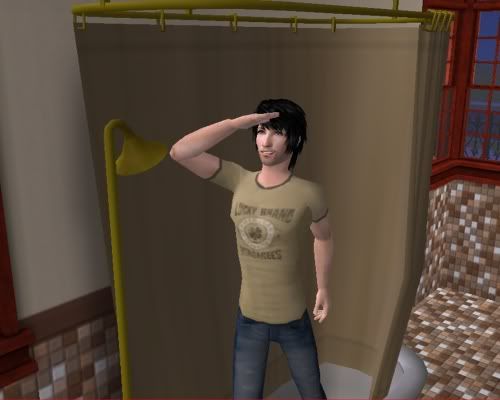 Darcy doesn't either, and goes to his Happy Place as soon as he gets rid of Date #50 and the matchmaker with a warped sense of humor. Don't worry Darcy, I have plans for you.

Darcy: You do?
Me: Yep.
Darcy: *shifty stare* Do they involve me marrying women old enough to be my grandma?
Me: Nope. How do you like Downtown?
Darcy: It's okay, I guess. Why?
Me: Because I love you too much to have you sit here on the Spares Lot. I'm going to make you a Downtownie and then whenever I get finished with this Legacy and start up another, you're definitely going to be in it somewhere.
Darcy: You mean, I get out of here and wind up as a spouse in another Legacy?
Me: That's the plan. I want your freckles in this one I'm planning like crazy.
Darcy: Okay, I'm in. Just don't tell Lizzie, she'd have a fit. She's still sore about not being named heir.
Me: You got it.

Previous Chapters:
1.0 | 1.1 | 1.2 | 1.3
2.0 | 2.1 | 2.2 | 2.3 | 2.4