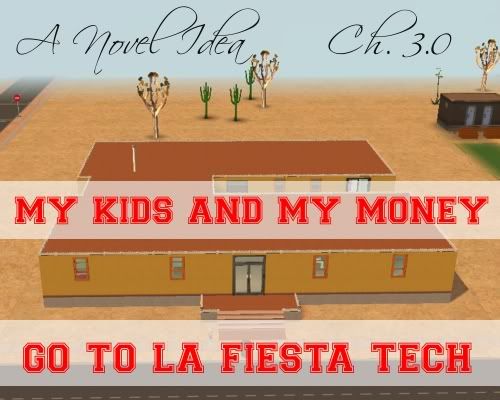 When we last checked up on the main house, elders had retired, the Gen 3 kids won the muffin battle against their Easy Bake Oven, children grew into teens, and Jane's wish of world domination was granted.

And now for the College Edition.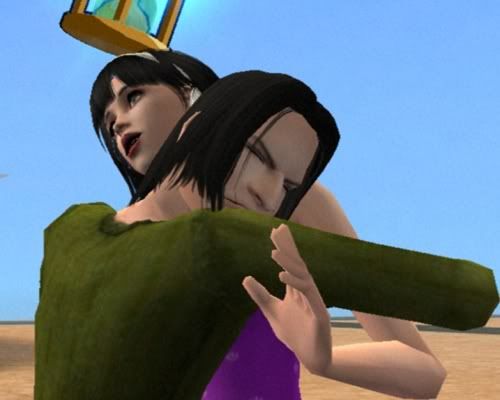 Liant: Daaad, not in front of the dorm! Cute guys might see!
Juan: I'm gonna miss you, sweetie! *clings*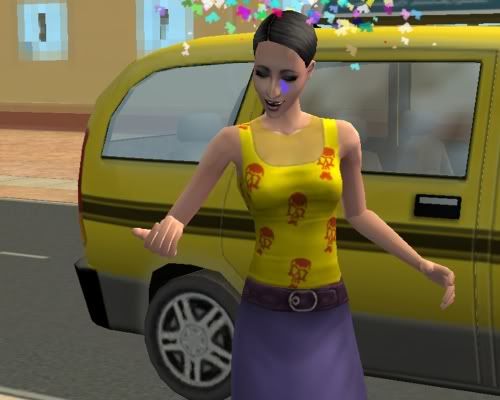 The hair will have to go, but the shirt will stay in honor to your future Rock God status.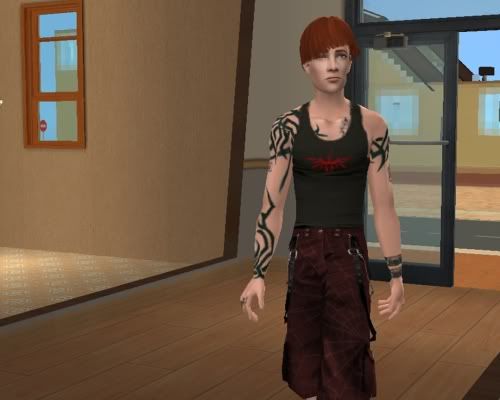 Her boyfriend did a little bit better.

Jessie: I'm too cool to notice my hair in my eyes. *struts*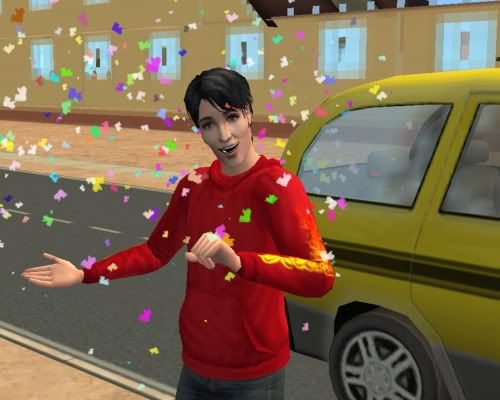 Me:Smaug, my love, you grew up into a sweater. You're going to school in the desert.
Smaug: But I like this sweater. Grandma gave it to me.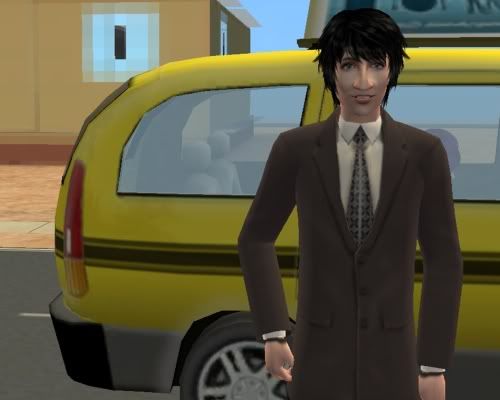 Tin is overdressed for his first day on campus. We'll add him to the list of people that need to go get new clothes.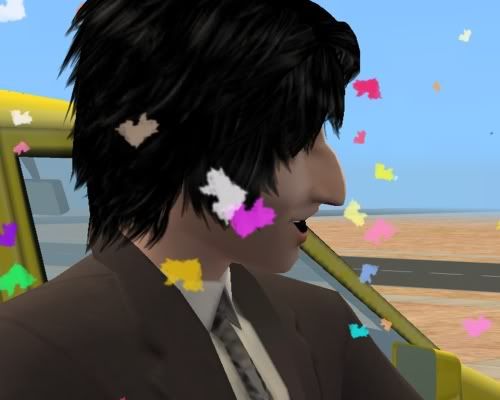 Tin definitely inherited Juan's nose. We shall call him The Nose Jr.

I sent everyone to the campus shop for new duds. Here's what they came out with: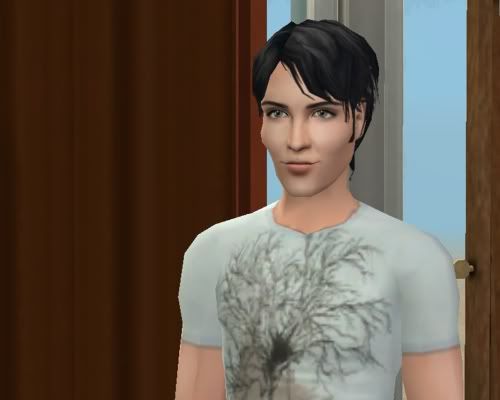 Smaug.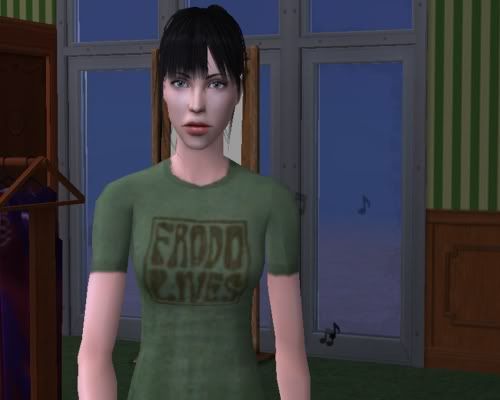 Liant, with a nod to her Tolkien roots.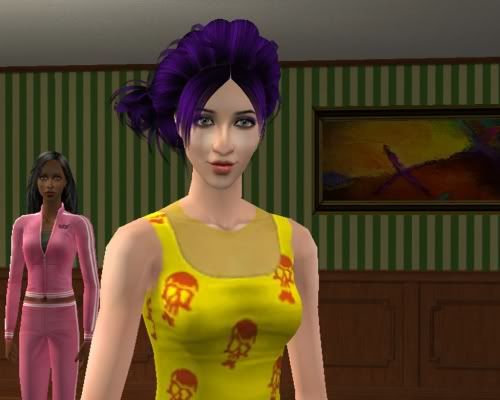 Beru.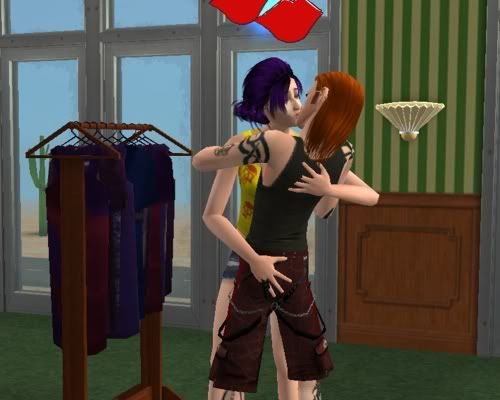 Jessie just got a new hairstyle. Beru approves and proves that like her daddy, she has a thing for butts.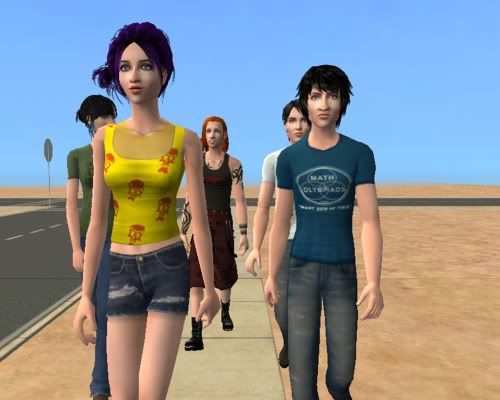 When I saw them coming back from the shop, for some reason I thought about this clip. Also a shot of Tin's makeover, since I couldn't get a good one at the lot they had been on.

By the time they got back, all of their energy levels were either in the red or right on the verge of going red. So after they claimed their rooms, this happened: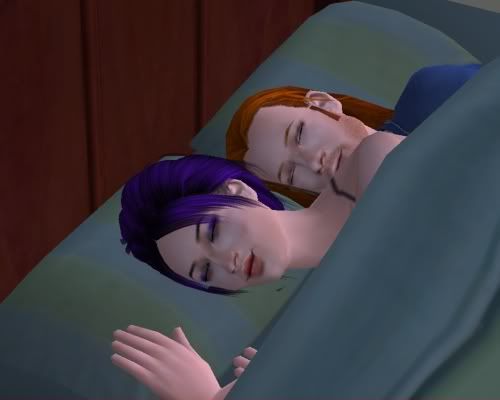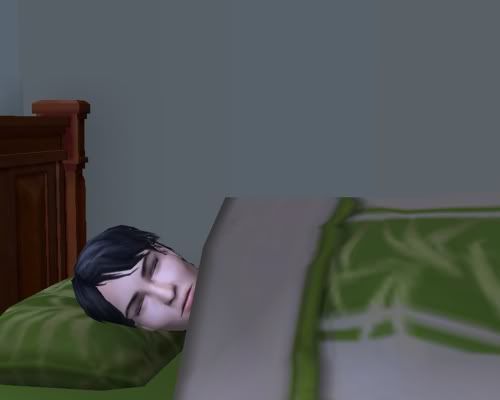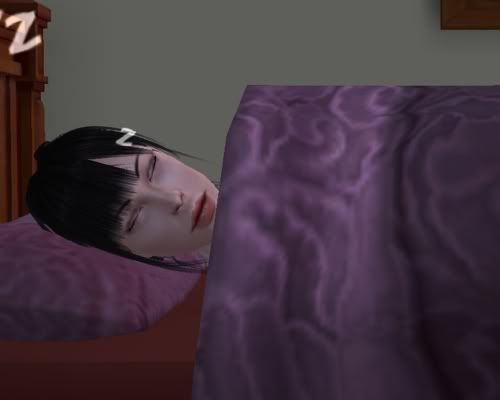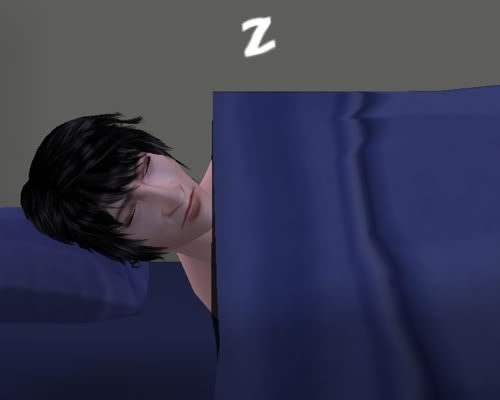 Instead of going to sleep in the room that he was already in, Jessie waved his arms in the air to complain about how tired he was and then made a beeline for the empty spot in Beru's bed. I checked, and they have three bolts, so no wonder.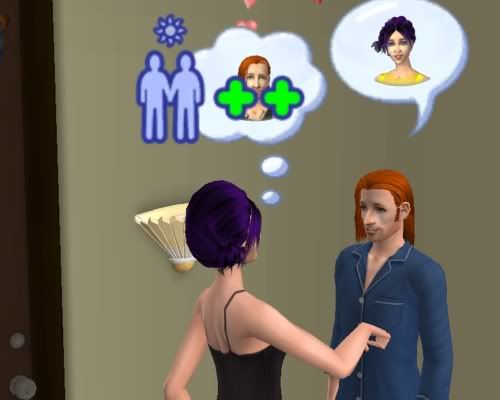 As soon as they got up the next morning, they started to flirt all on their own.

Jessie: So, what do you think?
Beru: *heartfarts*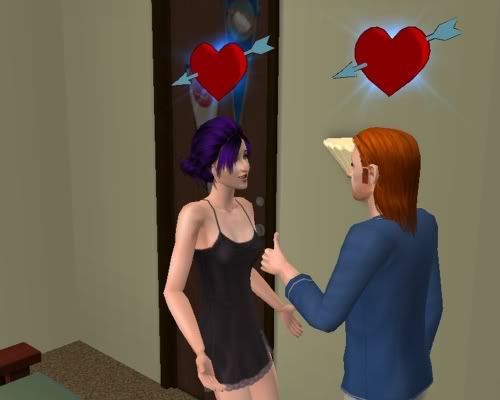 Jessie: Hey, congrats on falling in love! *thumbs up*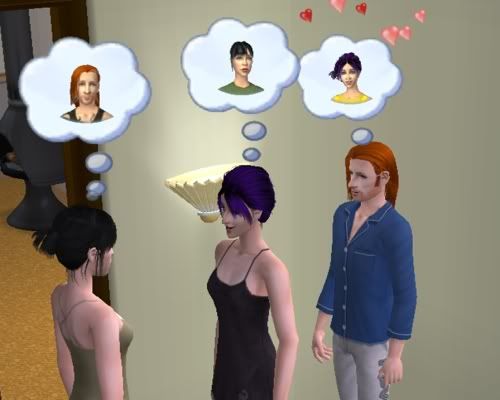 This could be a problem later on.

Liant: OMG, Jessie is HOT! *heartfarts*
Beru: I hope you're not thinking about what I think you're thinking about. *goes into territorial mode*
Jessie: I can't believe how much I love Beru! *is oblivious*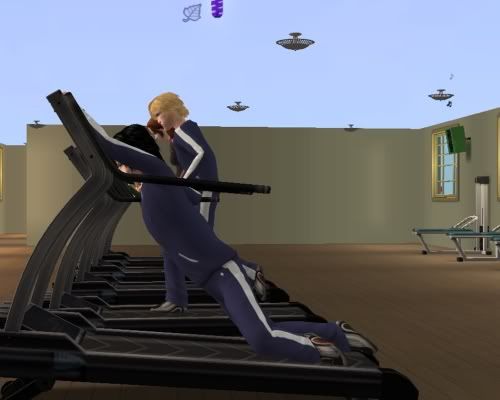 Tin had a "get fit" want, so we shipped him off to the gym. Tin, that's not how you impress girls.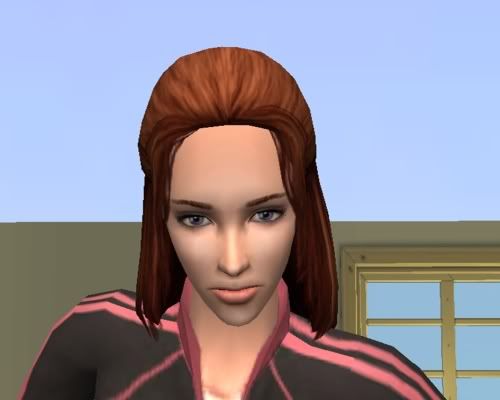 Especially when someone like this is walking the treadmill a few machines down. She left before we could get her number, but Tin was a walking cloud of stink afterward, so it's probably a good thing that we missed her.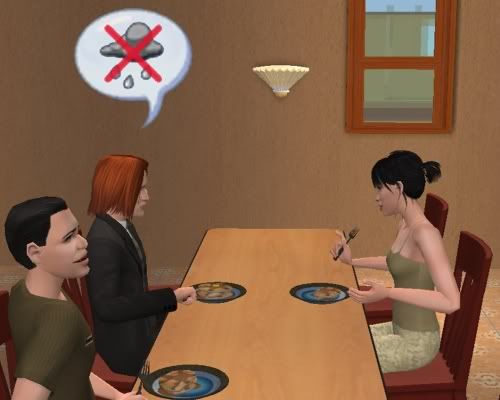 The resident dormie Noses swarm Liant during lunch.

Dormie #1: So, what about this drought we're having? It's freaking hot! *sweats*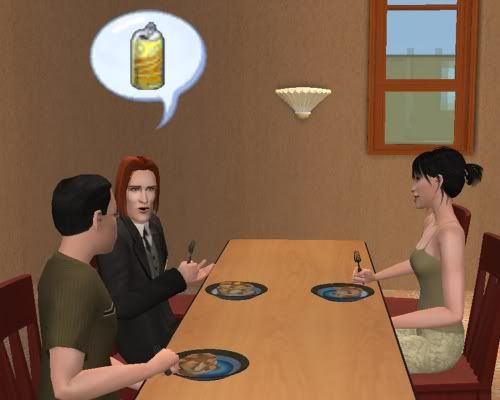 Dormie #1: I could really go for something cold right now! Know any good domestic beers?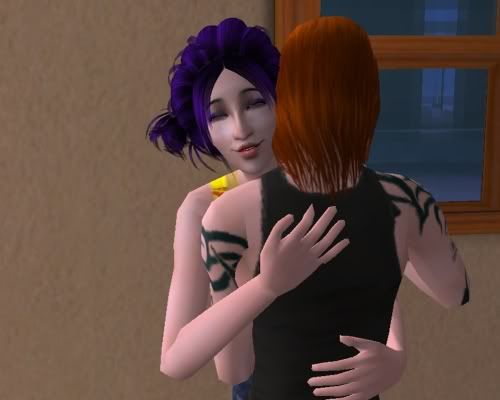 Slow dancing in the dining hall = best date ever.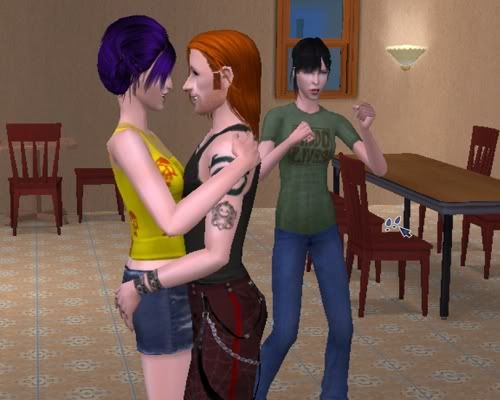 Having your sister, who happens to have a crush on your boyfriend, try to cut in on the dancing time while said boyfriend cops a feel: not such a great time. And we see the beginnings of Stalker!Liant start to emerge.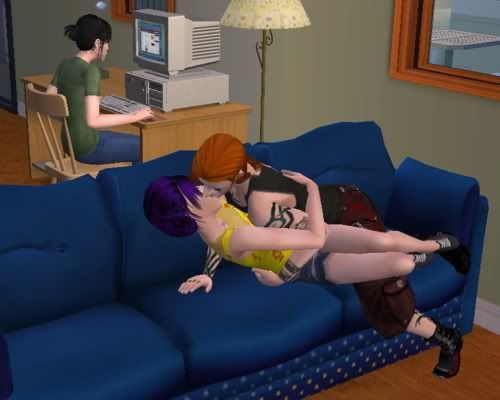 Exhibit A. Note Liant in the background, probably looking up ways to make Jessie fall in love with her instead of Beru.

Liant: Actually, I'm just sitting here watching them make out. Isn't Jessie a great kisser?
Me: Getting creepy, Liant.
Liant: *sighs* I wish that was me.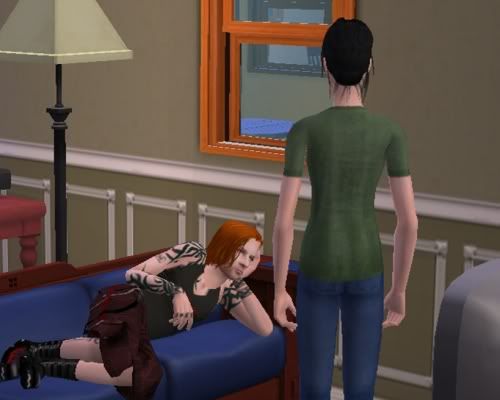 Exhibit B.

Jessie: Hey, Liant? Could you move a bit? Battle of the Bands is on and I want to learn some cool new drum solo moves for the band Beru and I are gonna start.
Liant: He talked to me! *stares*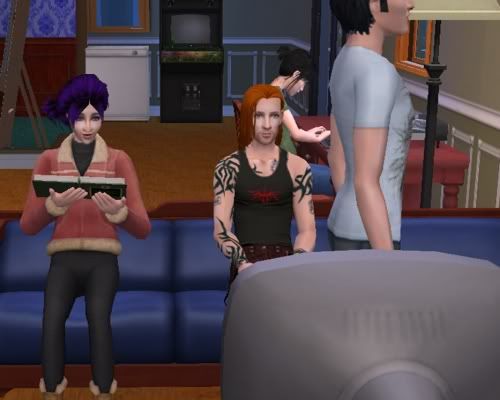 Exhibit C. The stalking continues into Winter. As part of a three bolt relationship, Jessie has also taken to stalking Beru wherever she is.

Jessie: She's just really cute when she's cramming for finals.
Liant: *pretends to write term paper, but is really just staring at the back of Jessie's head*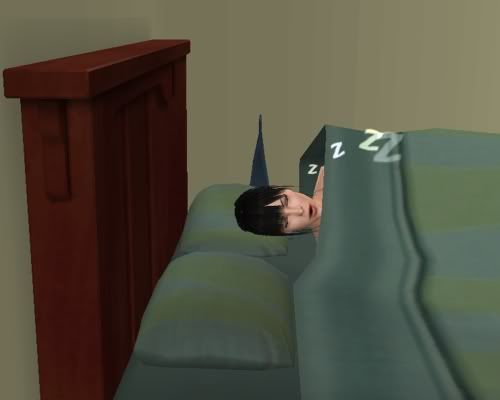 And finally, Exhibit D. The creepiness has officially come to a head when she sleeps on Jessie's side of Beru's bed while both Jessie and Beru are in class.

Liant: The pillow still smells like his hair!





Meanwhile, the boys meet a walk-by. This could spell trouble for them as well.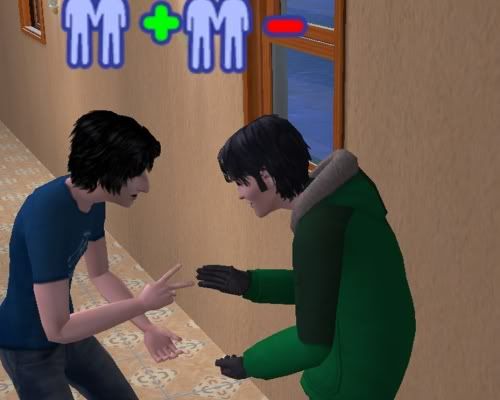 Fortunately, they have a sophisticated, grown up way of deciding on which one of them gets to hit on her.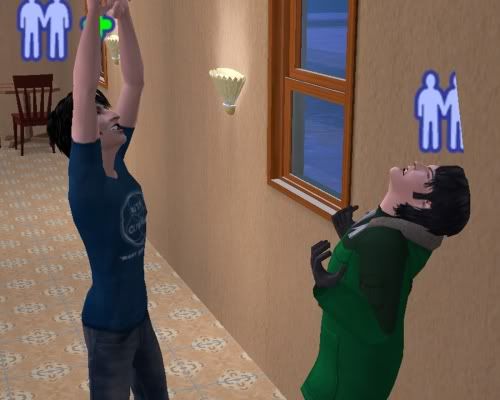 Tin: Woo! On with the flirting!
Smaug: But I'm a romance sim! I should be the one flirting! Best out of three?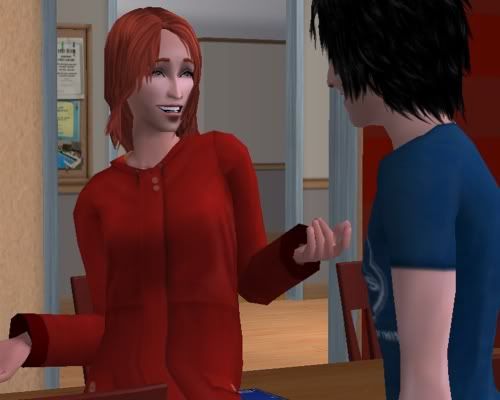 Red likes Tin! Guess she believes in the whole nose size determining penis size theory as well.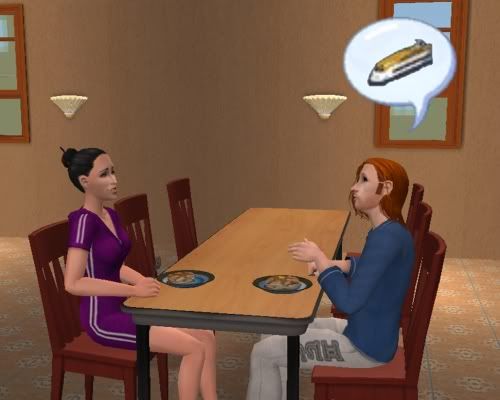 Jessie: But it's not a theory! It's true! I'm hung like a bullet train!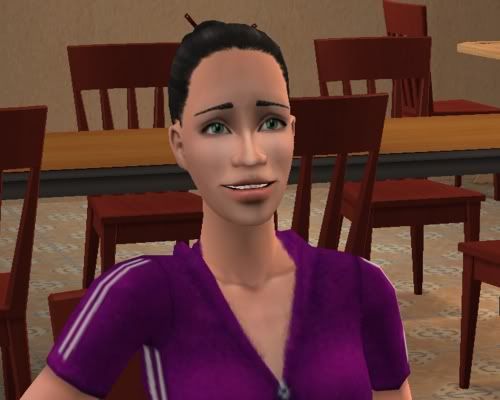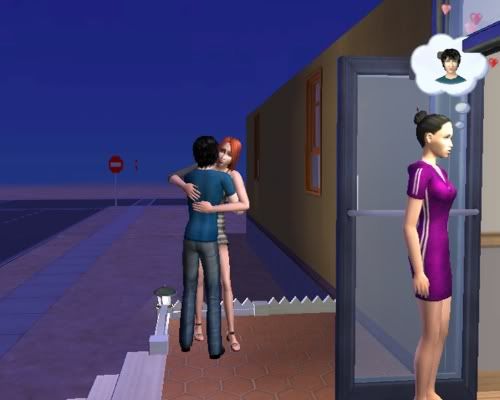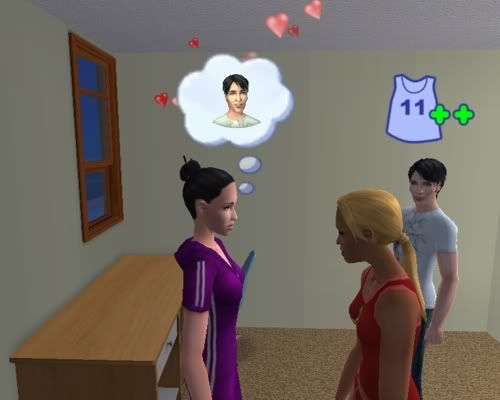 And the dormie is quite impressed. Unfortunately (or fortunately, depending on if Dormie wanted to bring down the Wrath of Beru by flirting with her boyfriend or not) Purple Shirt Dormie started to follow both Tin and Smaug around, heartfarting every five seconds or so. Neither of the Novel boys were interested.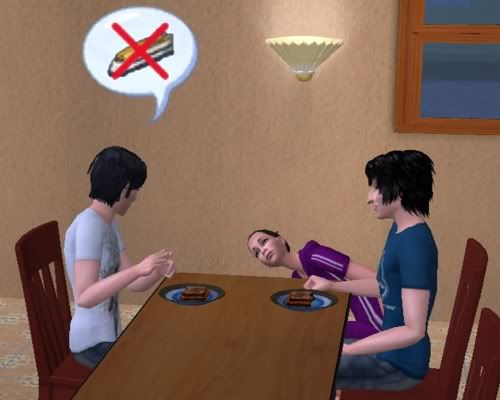 Smaug: I don't know what you heard from Jessie, but it's not true!
Tin: *snort* Liar.
Smaug: Shut up, Tin. You want her to leave us alone, right?
Tin: Oh, right. *to Dormie* Yeah, it's acutally the opposite! Our nose size is in direct opposite porportion to penis size!
Smaug: Well, I wouldn't say that...
Tin: Hey, you were the one that wanted her to leave us alone.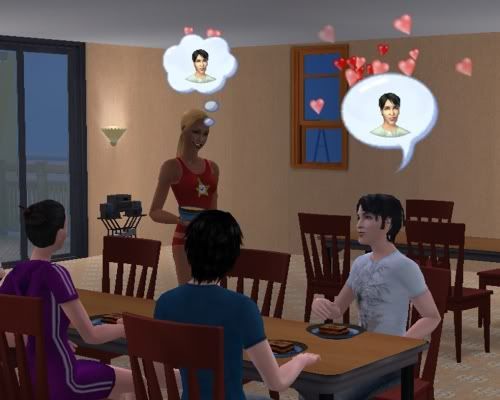 Smaug: Okay, fine. I was trying to be nice. I know all about the little crush you have on me and while I'm flattered, you're not my type. No hard feelings though.
Underwear Dormie: How about me, Big Boy? Am I your type? *leers*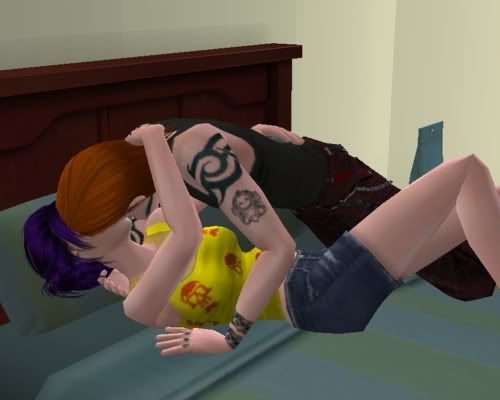 We take a break in the drama up front. Liant is at class, so these two can relax without wondering where their resident stalker is at.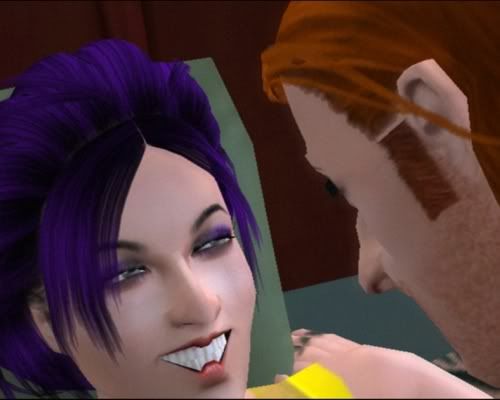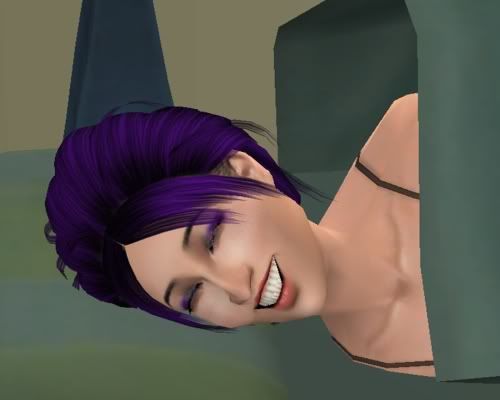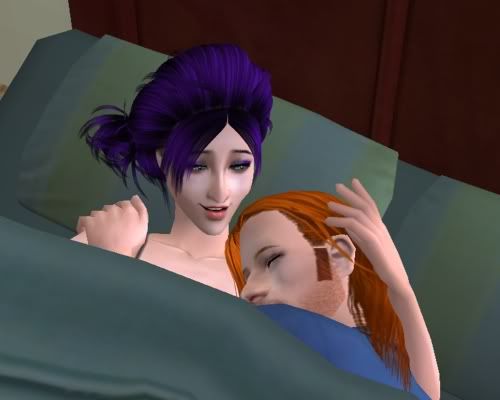 Beru: My precious... *strokes Jessie's hair*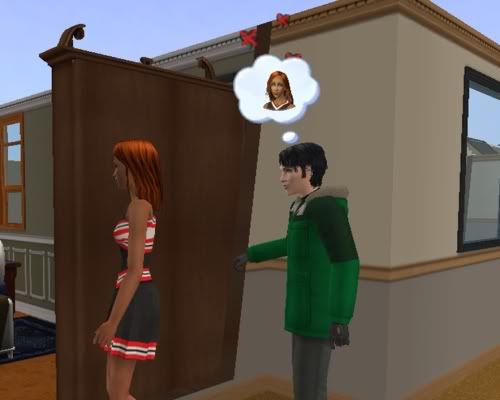 Smaug's quest to get a redhead of his own isn't doing too well.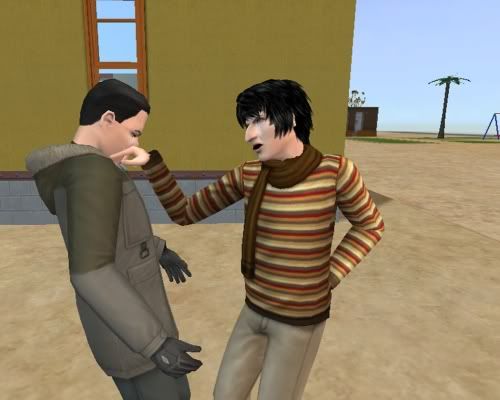 Tin, your two nice points are showing.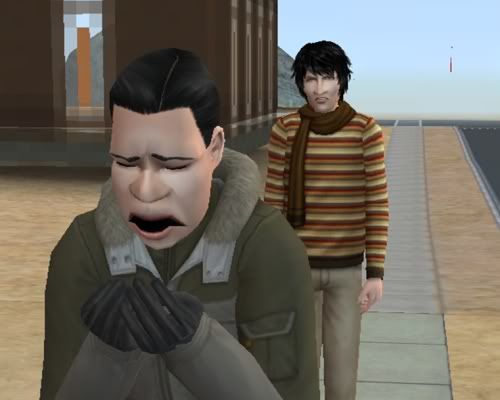 Tin: Yeah! And you'll get more of the same if you try to insult me again!
Dormie #2: *cries*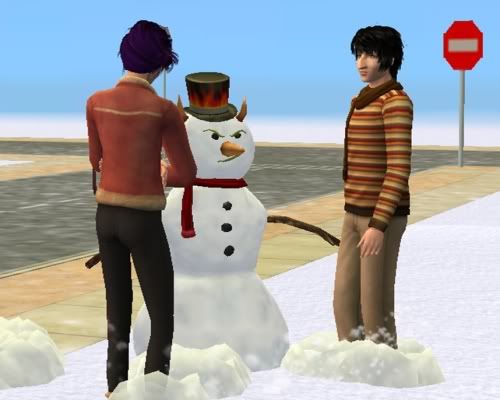 This is what happens when you get a sim with two nice points to make a snowman with another sim that only has one nice point.

Beru: We shall call him the Anti-Frosty.
Tin: I was hoping that he'd come to life and wreck havoc a la that Calvin and Hobbes comic strip.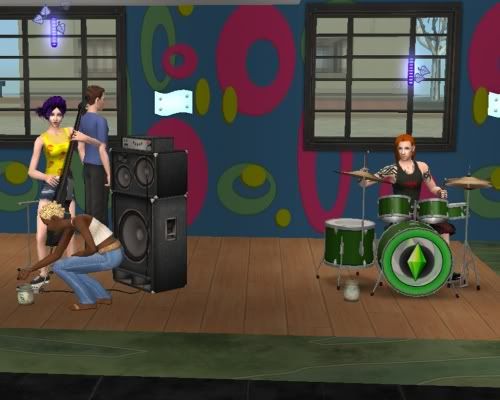 Beru: We are The Wyld Stallyns!
Me: That name's already been taken.
Jessie: How about The Flea Dragons?
Me: I dunno.
Beru: Charged Ides? Frisk Initiative? Buzz Hullabaloo? Oh! What about the Gambol Blitzkriegs?
Me: Where did the two of you come up with those names?
Jessie: Online random band name generator. We're kind of partial to Hubbub Revolutionists.
Me: That works.

[Hubub Revolutionists spam]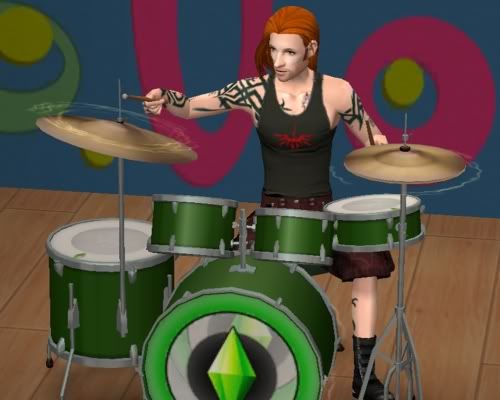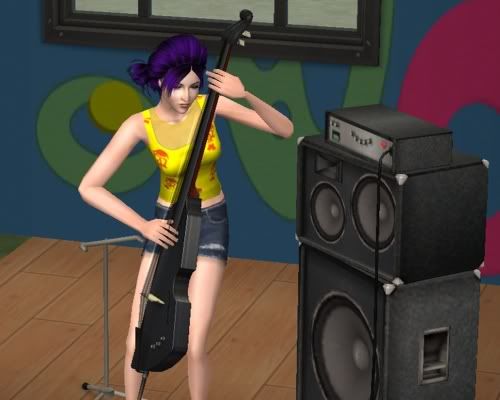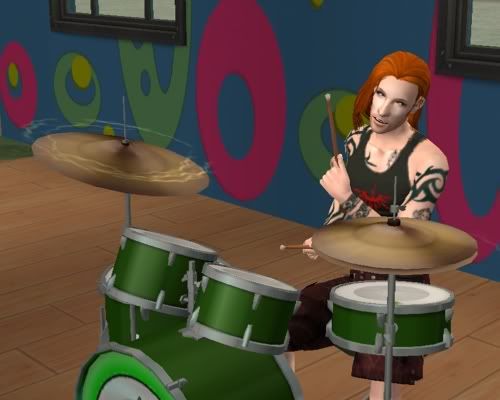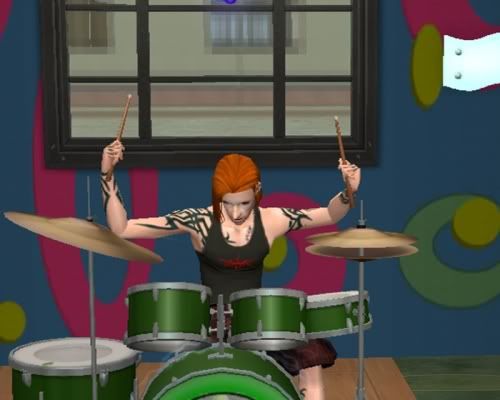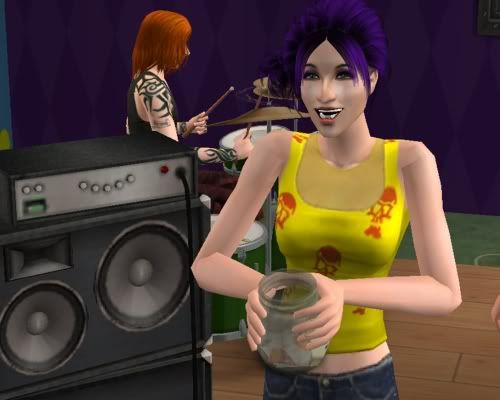 Beru: Thank you! We'll be here all night! [/Hubbub Revolutionists spam]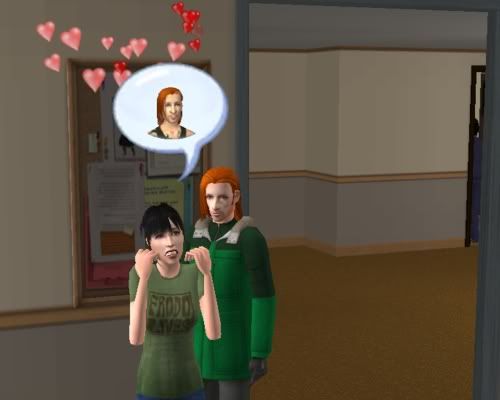 Liant: Argh! I love him, but I can't have him! What do I dooooo?
Jessie: Hey, I'm right behind you, you know.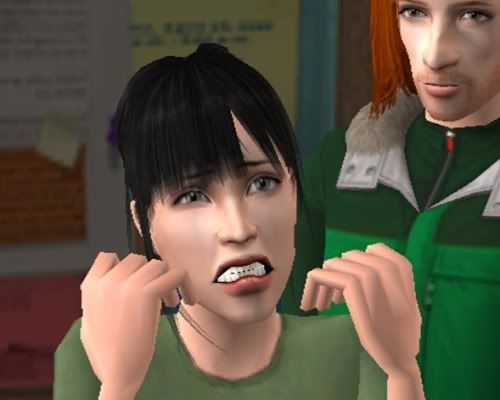 Liant: *has a mental breakdown*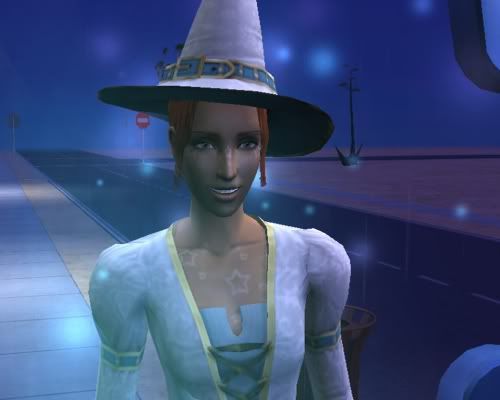 Her answer: find a witch and learn the ways of magic! If she can't win Jessie over on her own, she'll whip up a spell to make him love her!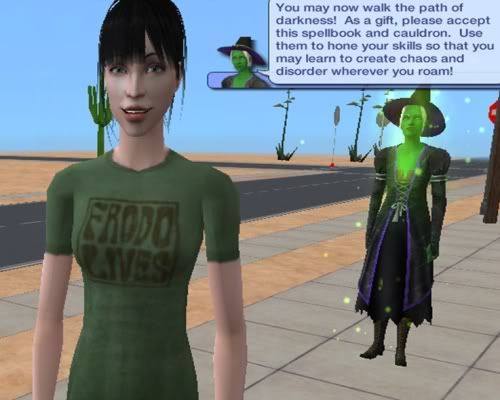 With that being said, did you think that I'd actually let her be a good witch? Come to the dark side! They have cookies!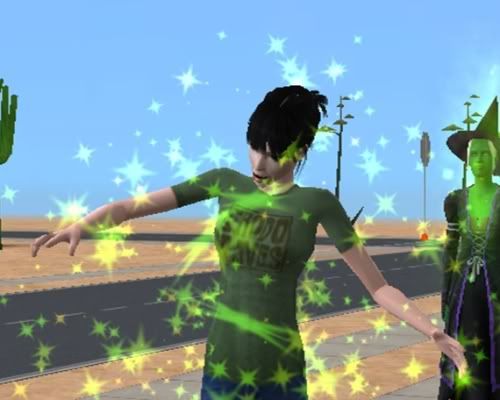 Liant: OOoh, shiny!




Liant: Evil! Muahahaha!

Oh Liant. Your mother would be so proud.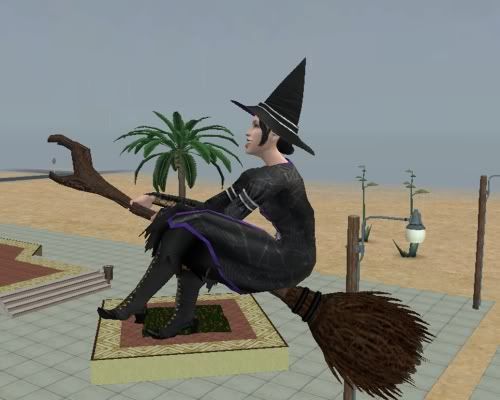 Brooms beat public transportation any day.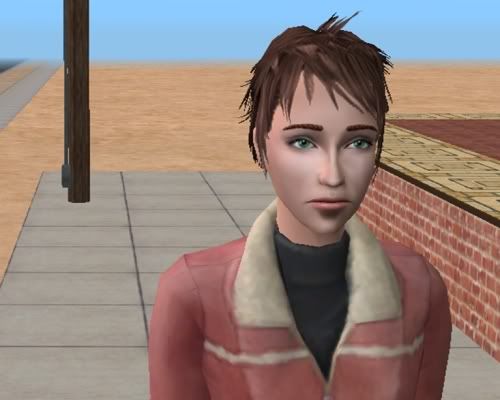 While on the same lot, this lady walked by. We'll put her in the "Possible girlfriend for Smaug" list.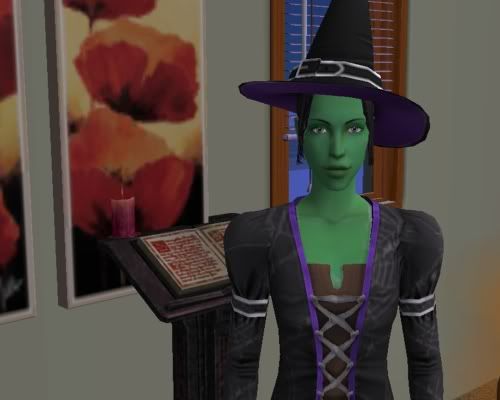 A little bit of studying (while ignoring college classes) later and Liant turns a vivid shade of green.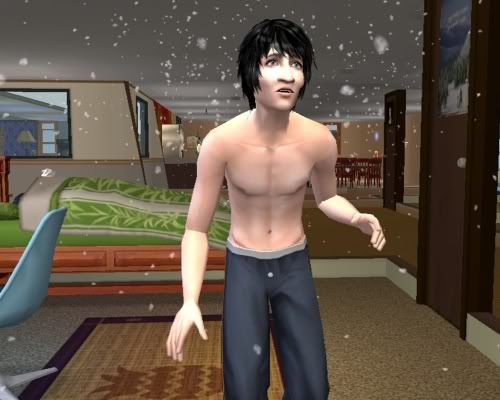 Tin: Snow?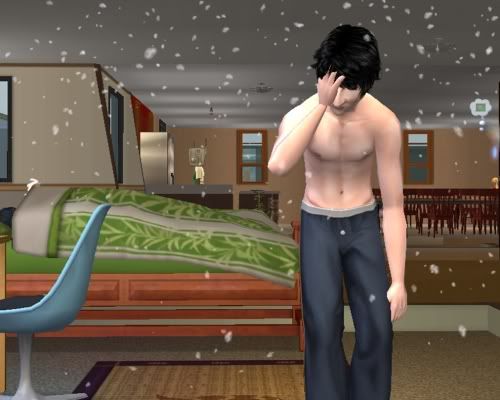 Tin: Damn snow.

I agree! You're in the desert!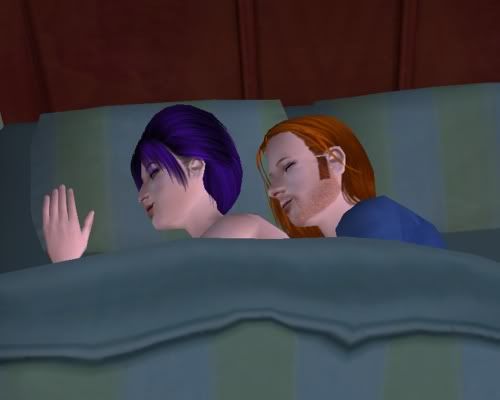 Really, I don't think Jessie knows that he even has a dorm room. The only time he's come close to it was at the very beginning to claim his spot.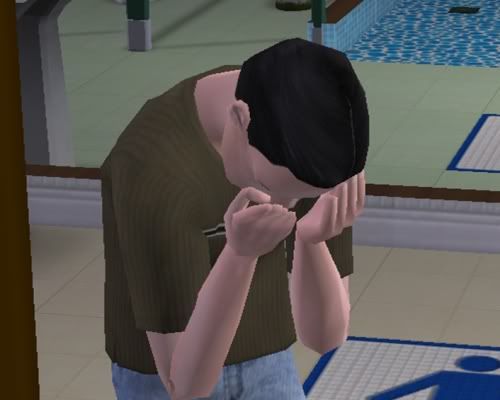 Any time that I see him crying in a corner, it's because he provoked Tin and couldn't take it when someone stood up to his bullying.




Cafeteria Lady: You want me to make what now?! Grilled cheese is stupid!
Tin: *Seethes*

He makes a lot of his own grilled cheese sandwiches, much to Lunch Lady's annoyance. Still trying to get to that 200 sandwich mark!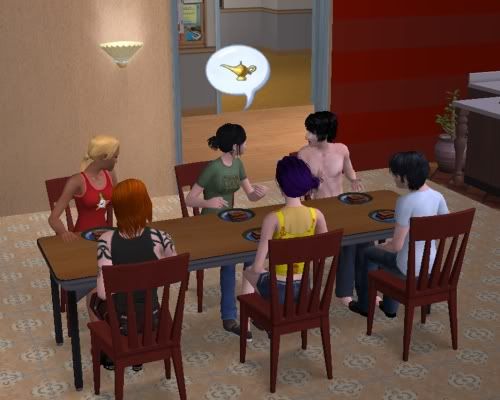 Liant: If you had three wishes, what would you wish for?
Tin: A good cast iron skillet, a stove, and a fridge that had a never ending supply of grilled cheese sandwich ingredients.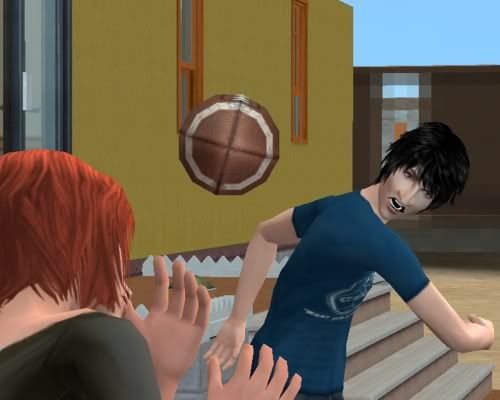 Like mother, like son.




Tin: Grr! Having a crush sucks! *angry face*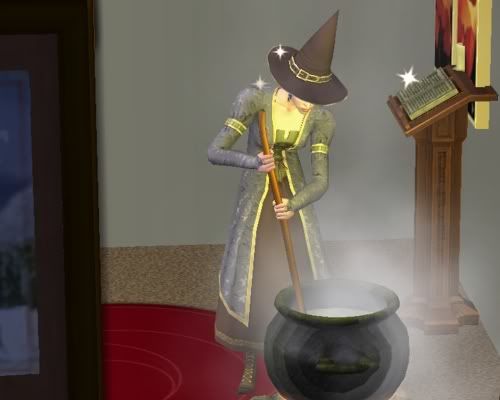 Me: Hey, what happened to the green skin?
Liant: I want to see how the other half lives. Besides, there aren't any black magic love spells in my grimoire.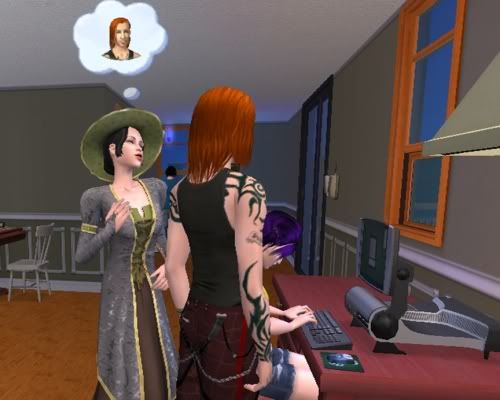 Now that she's not locked in her room, Liant resumes her stalking.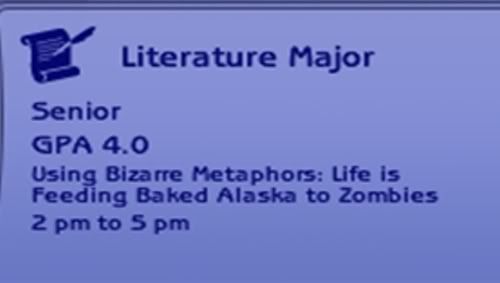 Best class name ever.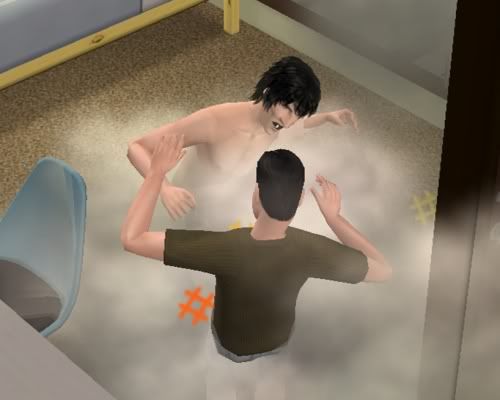 It was bound to happen sooner or later.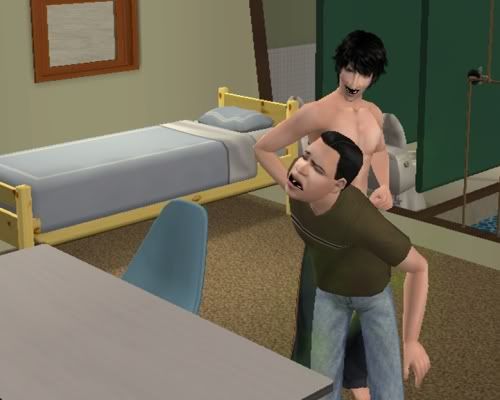 And that's what happens when you mess with a guy that has ten body points. Let that be a lesson to you, Crybaby Dormie.

And with that, it was time for the quads and Jessie to graduate and head on out in the real world. True to form, they all have awful transition outfits, except for Liant, who has her Neutral Witch uniform on.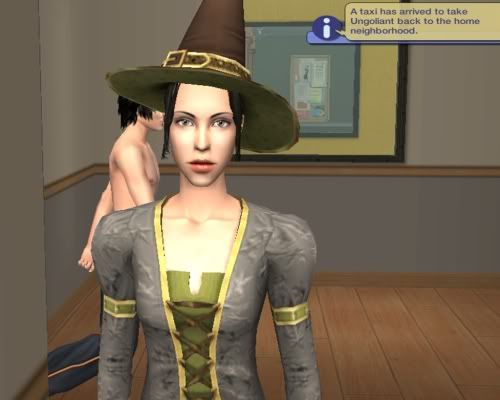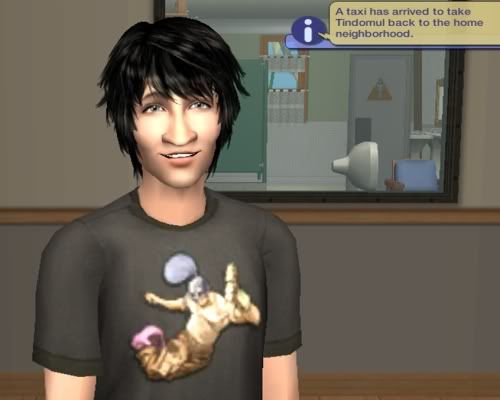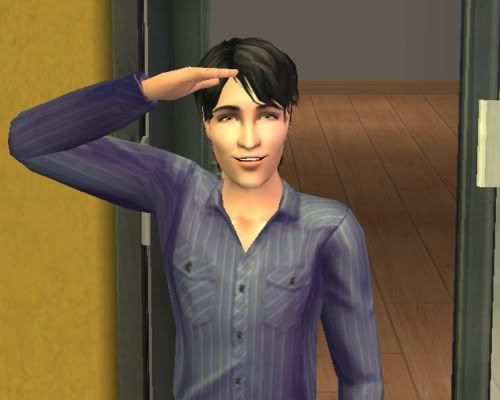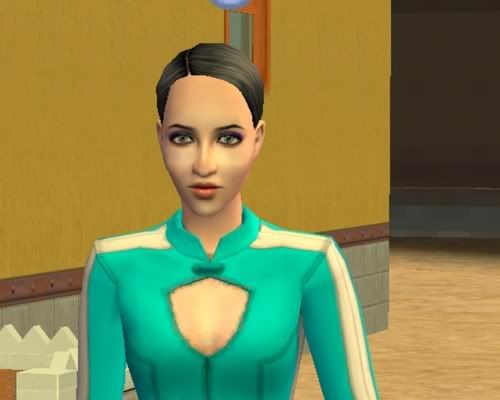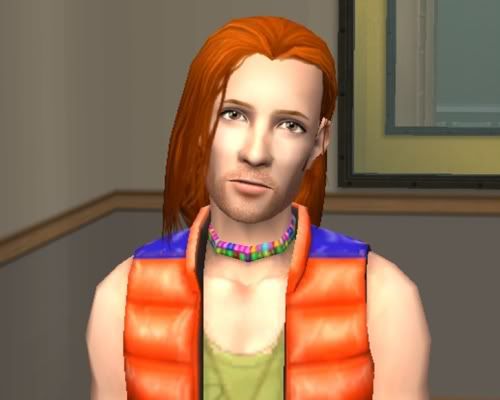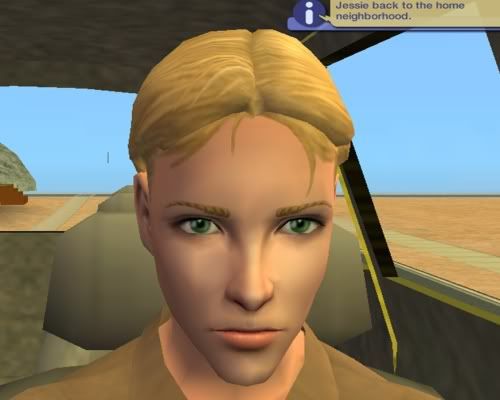 Look kids! It's Grandma Trista's driver Minion! Guess he moonlights as a taxi driver as well.

And that's it! I made up my mind halfway through the first semester of their freshman year that Beru would be heir, but then I got attached to Smaug all over again. I really like both, so I'm going for double heirs! Am I crazy or what?

Previous Chapters:
1.0 | 1.1 | 1.2 | 1.3
2.0 | 2.1 | 2.2 | 2.3 | 2.4 | Spare Update