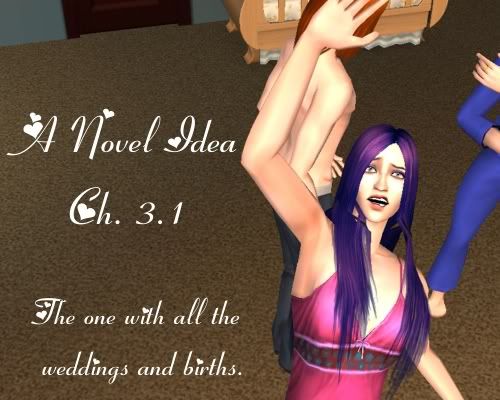 Last update, Liant got a huge crush on Beru's soulmate boyfriend Jessie and wouldn't stop stalking him; Liant also became a witch and spent the majority of her non-stalking time studying the Dark Arts before realizing that while having a spell that would zombify anyone was handy, there weren't any love spells to be had. Tin ate his way through at least Grilled Cheese #50 or so in his quest to eat 200 of the things, Smaug was my favorite unlucky in love, and Jessie grunged up and became the lead drummer for the Hubbub Revolutionists. I also went insane and decided that both Smaug and Beru would come back to the Legacy House to be co-heirs.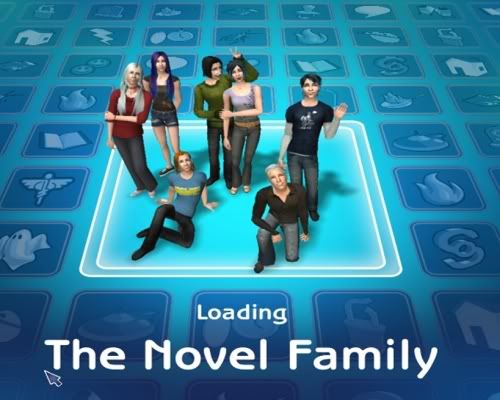 Makeover shot for Smaug, Beru, and Jessie, seeing that I missed them at the clothes store.




First thing that these two do: try out the garage band I set them up with. No one was parking the Evilmobile in the garage, so I figured that the space was better suited for a music room instead. Other Generation 3 renovations included adding a second story to the house that is currently bare except for two bathroom/master bedroom suites for Beru and Smaug.




And the two of them immediately try out their bedroom suite.

Beru: You hear something?
Jessie: No, you?
Me: I heard baby jingles!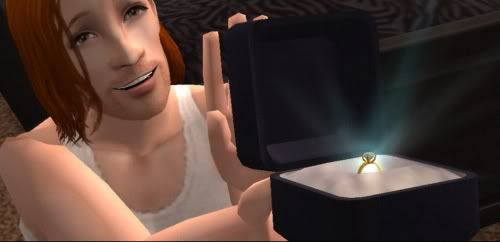 Jessie: Hey Beru?
Beru: Yes, snookums?
Jessie: I know that back in college we said that we were against the whole idea of marriage and all, but I kinda changed my mind? What do you say? Will you make an honest rock star out of me?

Needless to say, she said yes. I mean, who could say no to that face?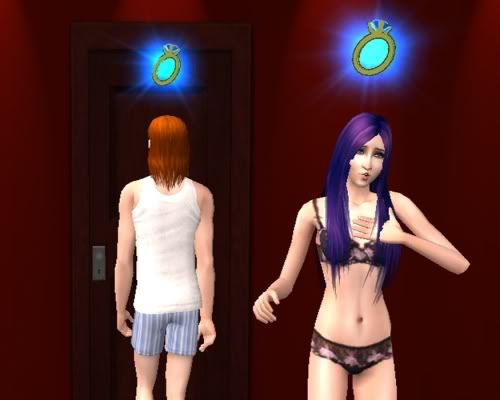 I wonder if these two really are romance sims. Positive memories to getting pulled out of the dating pool?

Jessie: She's all the love I'll ever need.
Beru: Besides, we found this book and there's tons of stuff in there that we can try, so we'll never get bored!

Just a tad bit TMI, dear. Before they both wind up rolling a fear to get married, I get everyone dressed up and down to the family chapel.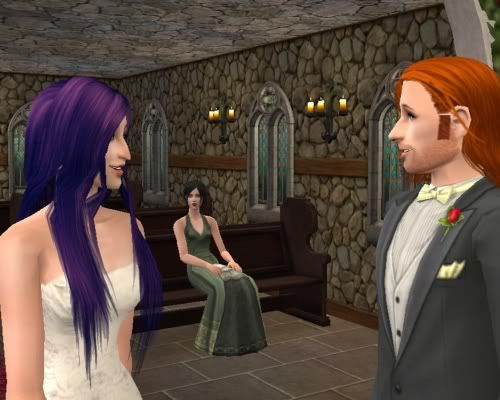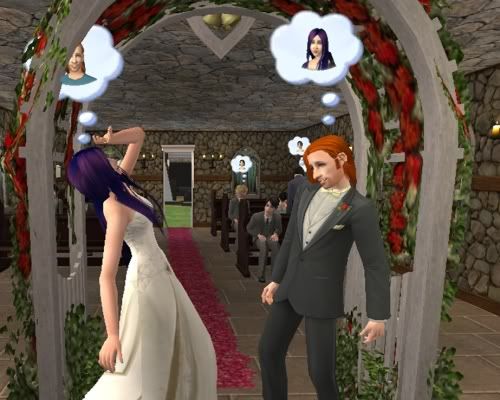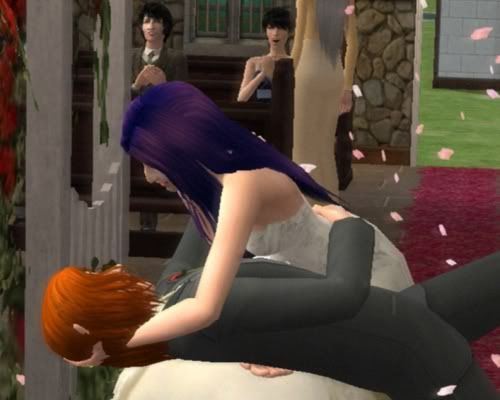 And we have the latest Mr. and Mrs. Novel!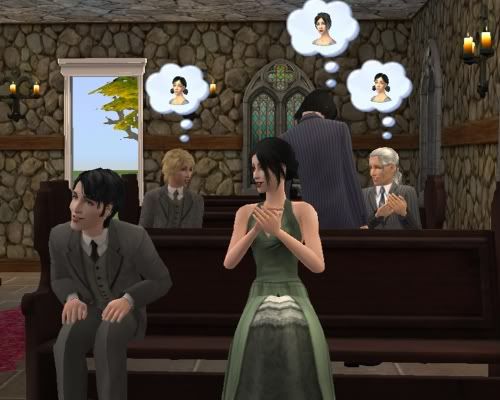 The guest list involved everyone from the main house, Uncle Darcy (of course), Aunt Lizzie, Aunt Georgiana, Georgiana's boyfriend Griff, Liant, and Tin. Juan got confused and decided to sit next to his sister-in-law instead of his wife, but at least he's still sure as to whom he's attracted to.

Juan: I may have my back to her, but damn, my wife is gorgeous!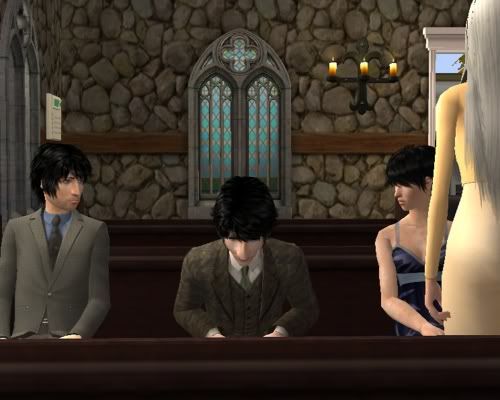 Darcy: Who is this kid again?
Georgiana: I thought you knew.

*sigh* That's what happens when Jane doesn't introduce her kids to her siblings. And where is Liant while this is all going on?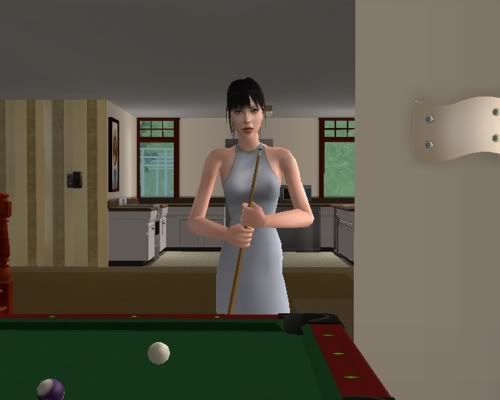 Liant: Tin forced me to come for the wedding, but I'll be damned if I watch Beru marry my one true love!

Liant, get over him honey. He never even gave you any hint that he was interested in you.

Liant: He didn't have to! I knew!

Okay, going back to the wedding party where all the sane people are.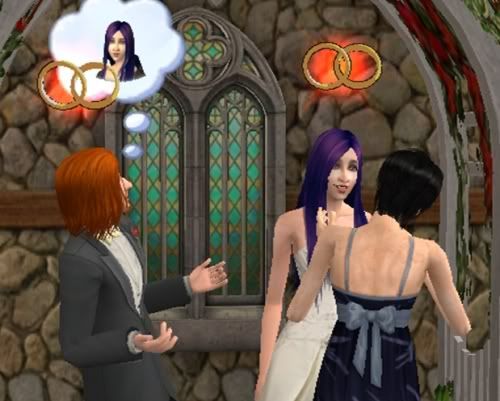 And there's the correct response from two romance sims!

Georgiana: Congrats on getting hitched!
Beru: OMG, what have I done?
Jessie: I don't know if this was the right thing to do, but Beru is HOT in that white dress!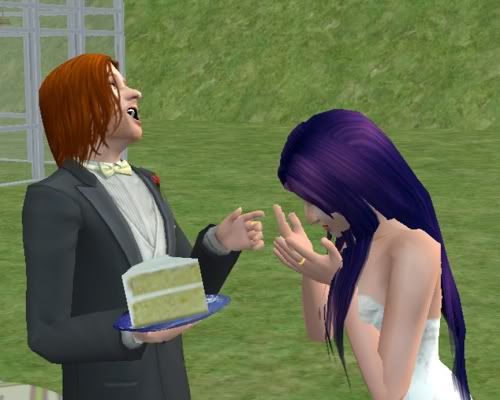 Jessie: *laughs*
Beru: I think I have cake up my nose!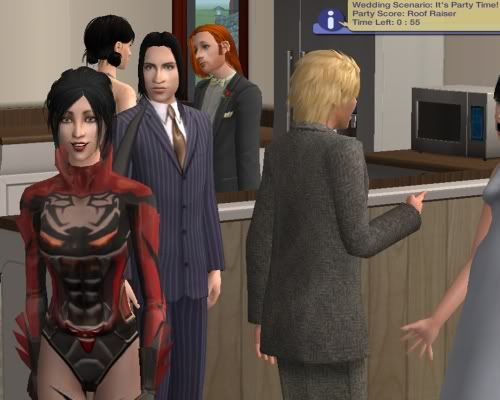 Jane: Sorry for leaving the reception early; world domination waits for no one!
Juan: Have a good day at work! Kick some superhero ass, honey!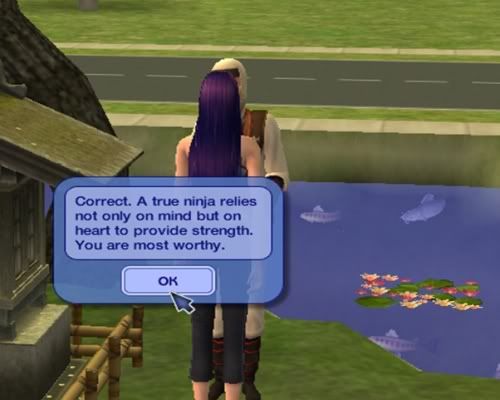 Proof that they did go to the vacation house for their honeymoon.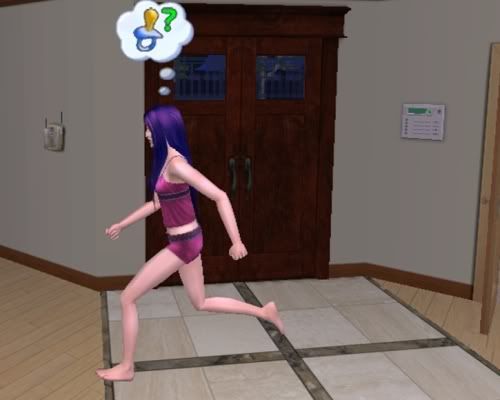 And proof that they might be bringing something else back from the vacation house besides postcards.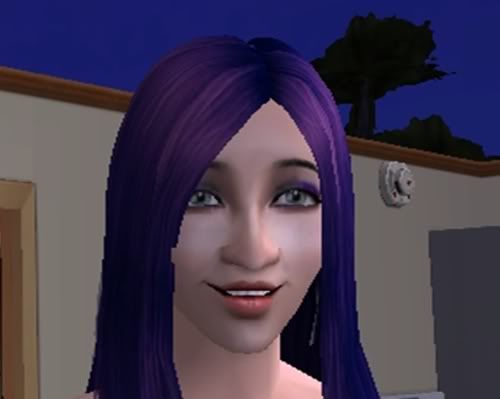 That's too happy of a face for someone that's about to barf their guts out several times in a row. They had an entire schedule planned out, but it had to be shelved because Beru spent the majority of their honeymoon bowing down to the porcelain god.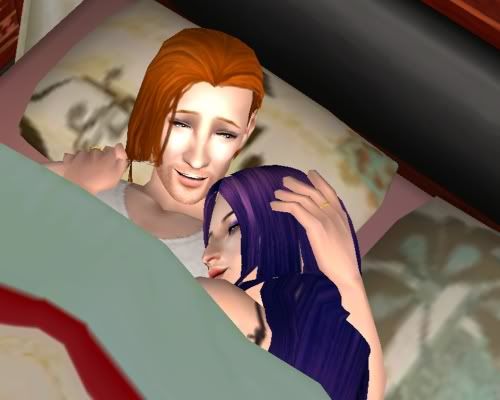 They do manage to squeeze in some snuggle time though.

Jessie: My precious... *strokes hair*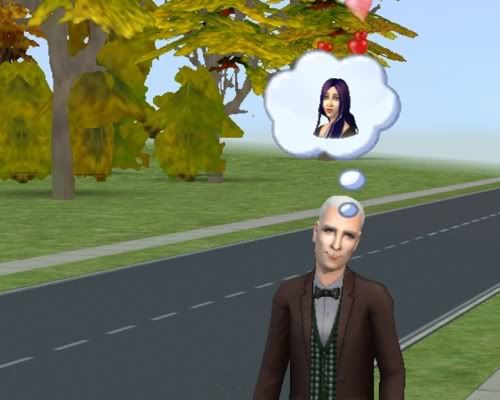 When they get back, this guy tries to make a pass at Beru. She hasn't even had a chance to brush her teeth from getting sick on the plane, buddy!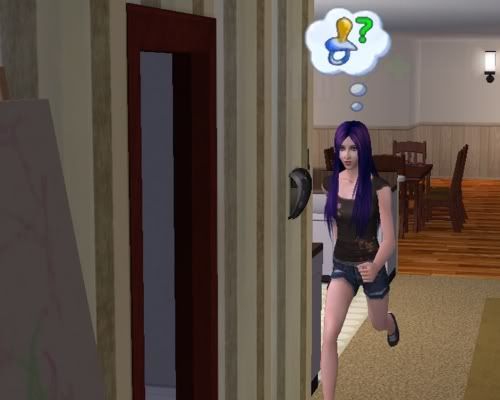 And five minutes after coming back, Beru is running to the nearest bathroom.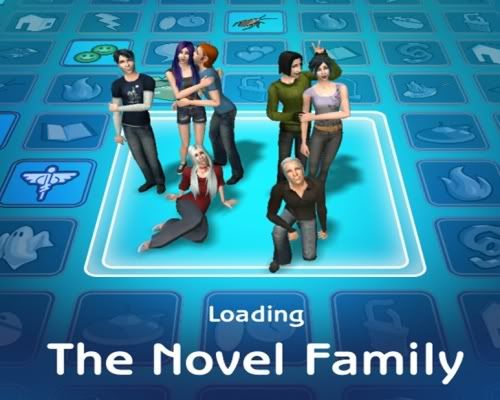 Everyone paired up for the family shot. Smaug looks so lonely. Well, we'll fix that! Into the Evilmobile with you! We're off to find you a woman!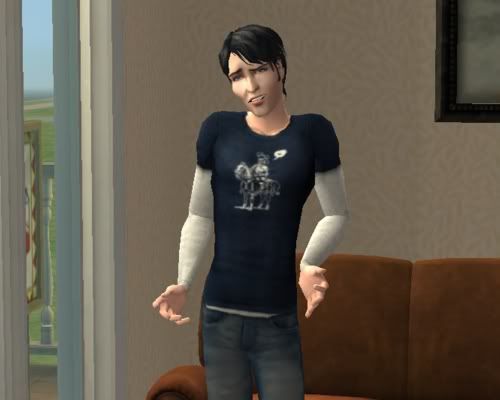 Smaug: This is a bakery. How am I supposed to pick up anyone here?
Me: Trust me.
Smaug: I trusted you when we sat at the bar downtown, when we hung out at art galleries, ate a meal that I really wasn't hungry for, and wasted time at the grocery store. We've struck out every single time!
Me: Hey, while you were at the grocery store, you picked up some pickles and ice cream for Beru. I don't call that wasting time.
Smaug: My point is, this isn't working!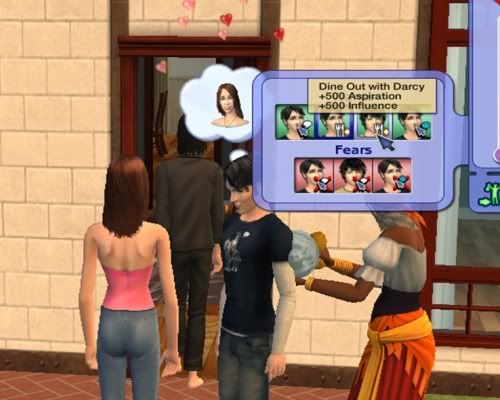 So we go home and call up the matchmaker. Seeing that Darcy invested a lot of money into her business while going after his LTW, she owes us a good date.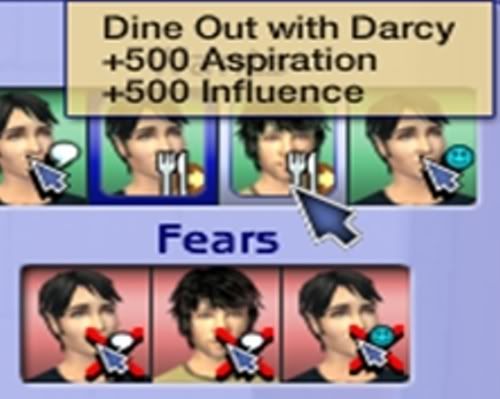 Smaug's Date: I thought you said I was going to be matched with Darcy Novel! I've heard all sorts of stuff about his dating habits from all my other friends!

I'm sure you have, missy. Hopefully this isn't a date that Darcy wined, dined, then woo hoo'ed their brains out in order to get a dream date. That would be kinda awkward.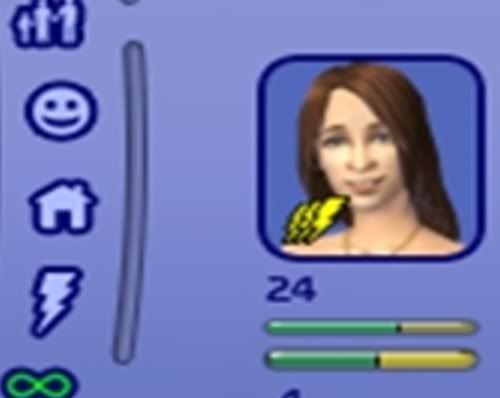 Smaug: I don't care! I really like her!

Ah, the matchmaker came through with a three-bolter! And we didn't even pay her 5,000 simoleans. Smaug's date is Demi Love, which I can't ever reacall even dating Darcy, now that I think of it. Then again, all those dates were kind of a blur, especially right up at the end when Darcy was doing the speed date method.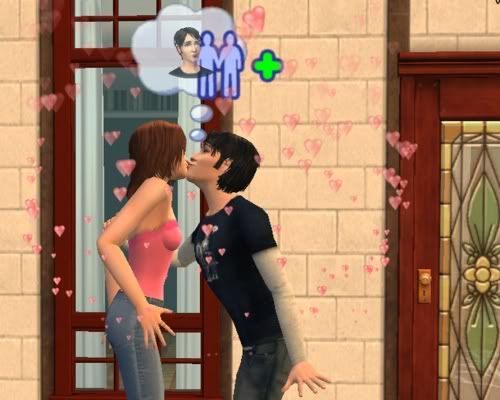 Oops! Sorry, I thought I got your first kiss taken care of back when you were a teen!

Smaug: No, I was too busy studying for college.

Oh. Well, here's your first kiss, sweetie!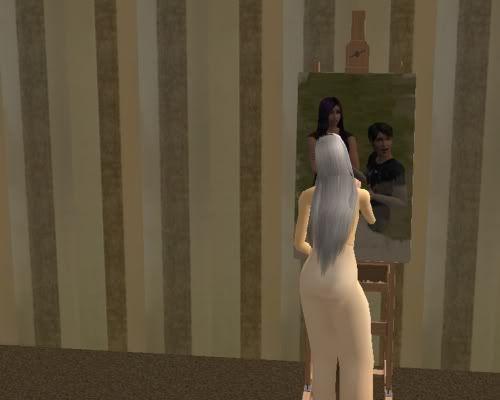 Since she's still around, Trista gets to work on Gen 3's heir portrait.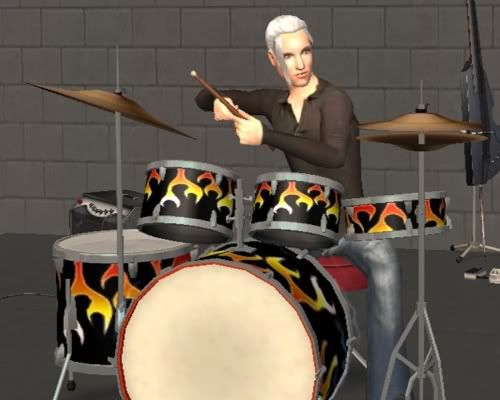 While Author connects with his inner Rock God.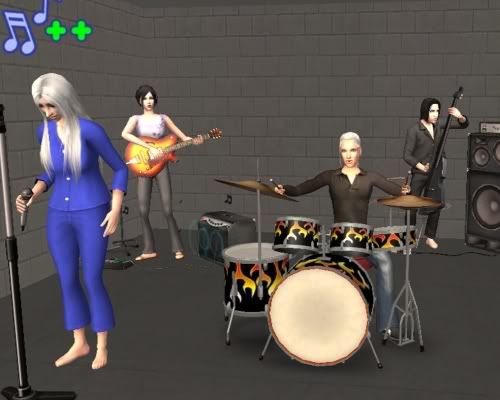 Guys? When Beru and Jessie said that they needed to find more band members, I don't think this is what they had in mind.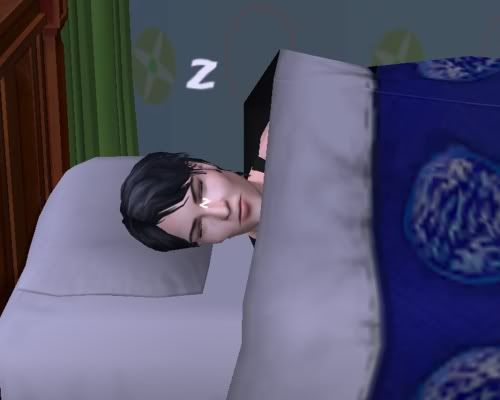 While trying to get the nursery in order, I found Smaug passed out in his old bed. Hon, you have a perfectly good one upstairs!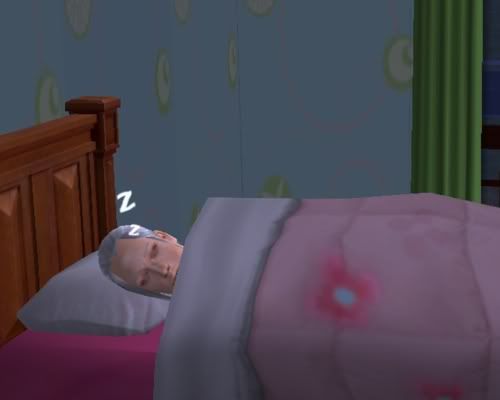 And what's your excuse, Author? Are you and Trista having some problems that I'm not aware of?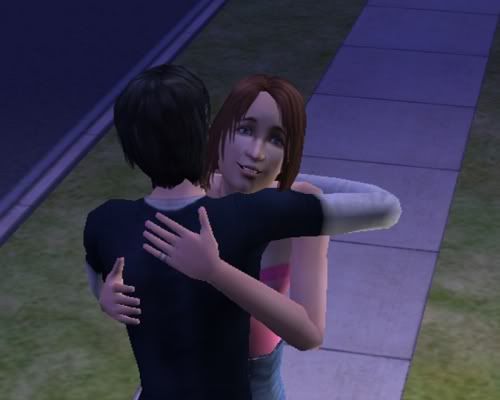 The next night, Smaug asks Demi to move in.

Demi: SimGod? He's rich, right?
Me: If you only want him for his money, you've just earned yourself a "death by flies" card.





Proof that she doesn't want to suddenly die have any interest in Darcy and that she has three bolts with Smaug as well.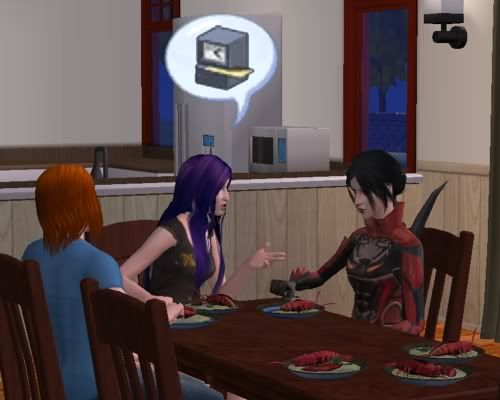 Beru: So Mom, how was work?
Jane: Oh, I took over a corporation, built onto my secret lair, had to kill an insubordinate henchman. You know, the same as usual.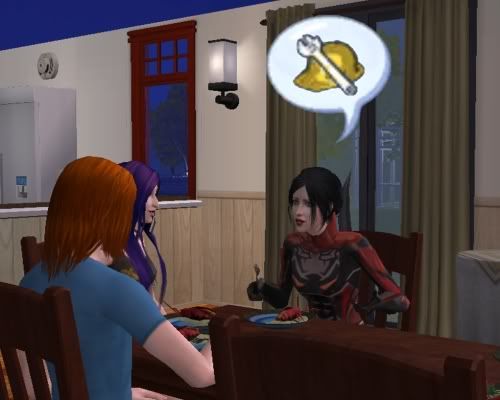 Jane: You know what the henchman I killed was suggesting? He said we should register with OSHA, that my lair wasn't up to safety codes! Can you believe that?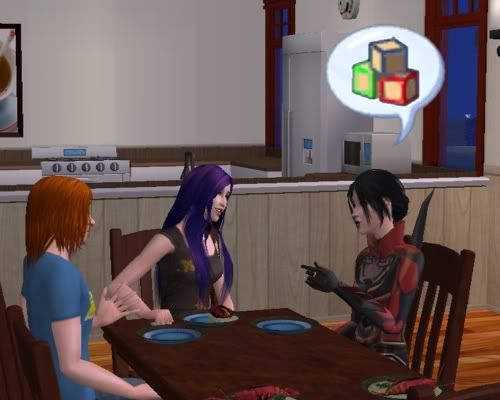 Jane: But enough about me. What do you two think about babies?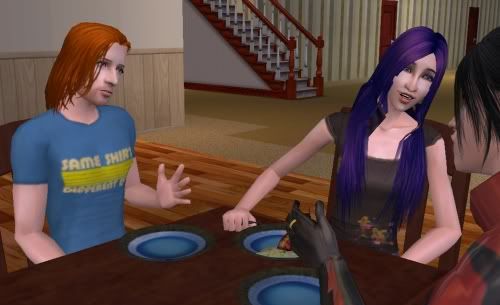 Jessie: Uh, um...*waves hands*
Beru: Oh, I just LOVE babies! I want about a million of them!
Jessie: *leaves table*

I don't think Beru's told Jessie about their impending bundle of joy yet.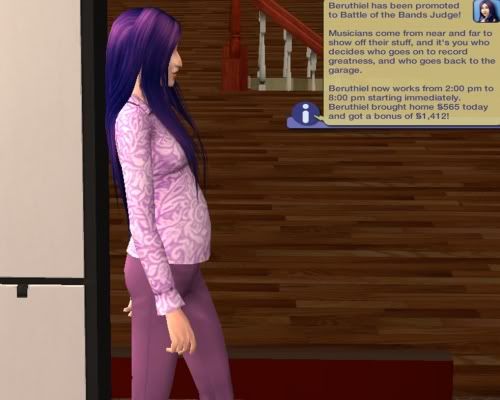 Not like she can hide it much longer either.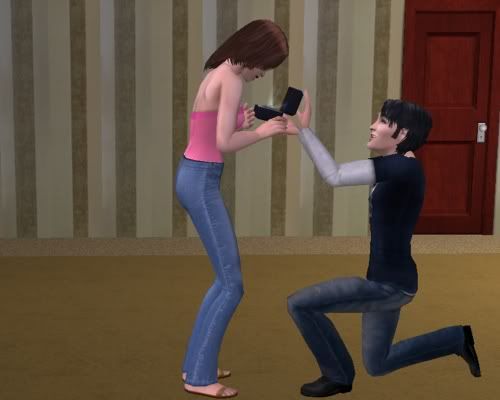 Smaug's a romance sim as well, so I figured that a quick, classy hallway engagement was in order before he chickened out.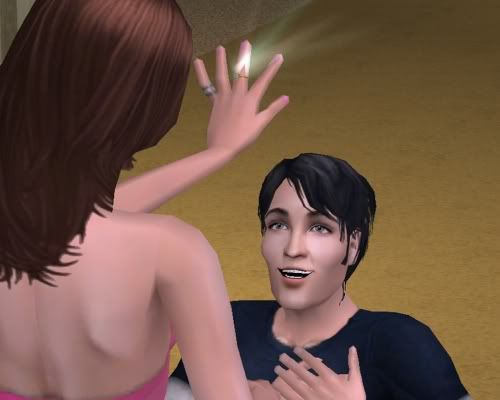 Demi: Oooh! Shiny!
Smaug: Dear SimGod, what am I getting myself into? *wibbles*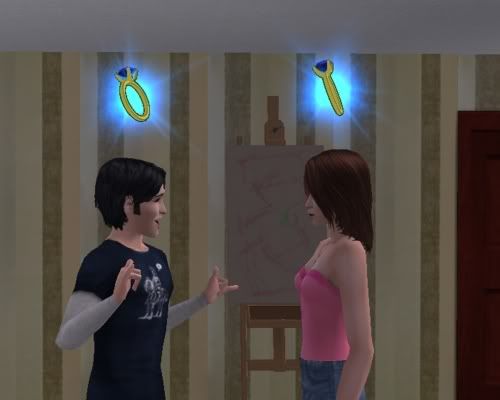 And yet he still has a positive reaction to his engagement.

Smaug: Haaaaang loose!
Demi: Excuse me?

Or else he's in denial.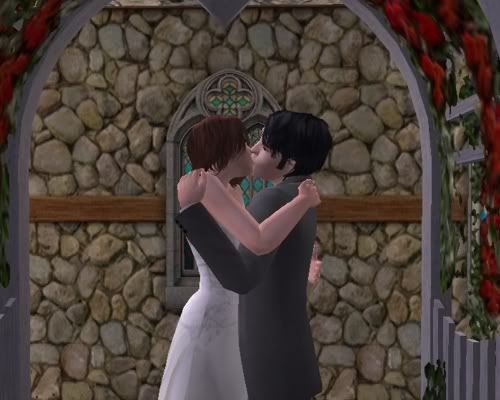 Wedding in the family chapel. It was 2 AM, so it was a small, private affair.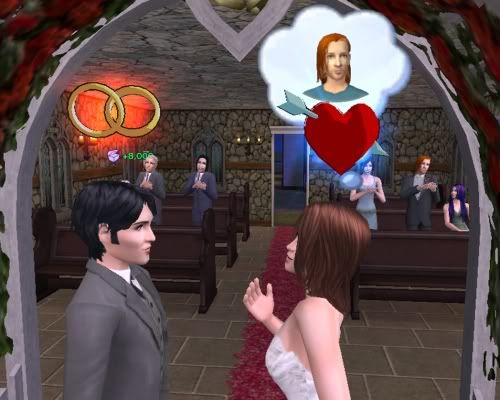 Let's play "Spot What's Wrong With This Picture!"

Jessie: Beru, honey, I swear I love you more than anyone else! I can't help it if I'm pretty!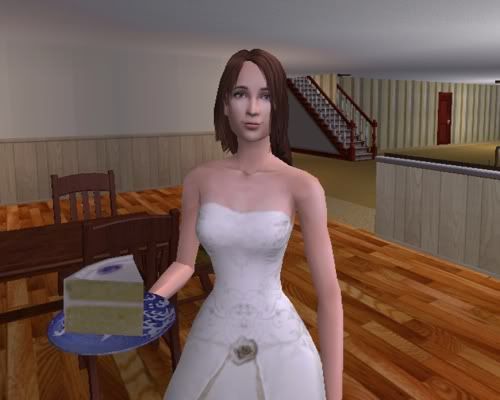 Demi: My husband just smushed cake in my face.

Demi Novel (nee Love):
Fortune/Family
Scorpio
6/5/8/3/3
Earn 100,000 Simoleans

She's turned on by athletic men who own a brain, but doesn't care for blondes.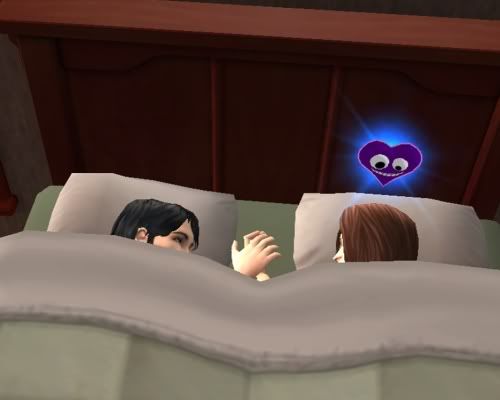 Smaug, you liar.

Smaug: What? I have too woo-hoo'ed with other people!
Me: Oh yeah? When, mister I've Never Been Kissed?
Smaug: Uh, before I got married!
Me: With whom?
Smaug: With LOTS of people! I can't remember all their names!
Me: Well, whatever. At least you know that your wife never slept with your uncle. Oh, and FYI, I heard baby jingles.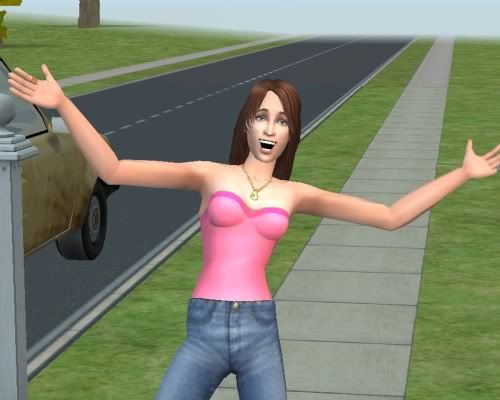 Oh no. Not another one.

Demi: Wooo! Look who just got home! I didn't get a raise, but I'm back from work! Hey everybody!

Me: *keeps finger on "kill by flies" button*




Get. Over. Him. Liant.

Liant: But I could have been carrying his children!

And with that, we ship her back to her house, because Beru is about ready to pop and I don't want Liant brainwashing newborns into calling her Mommy.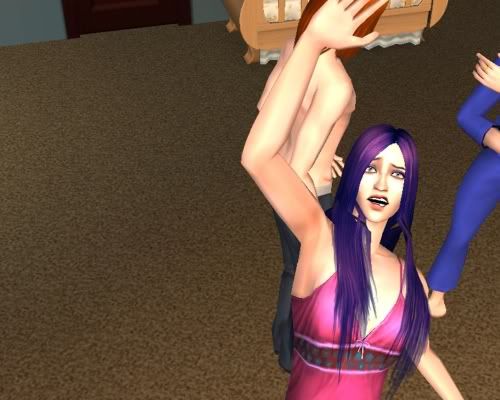 Beru: Hey, Narrator Lady? Something doesn't feel right and I don't think it's indigestion!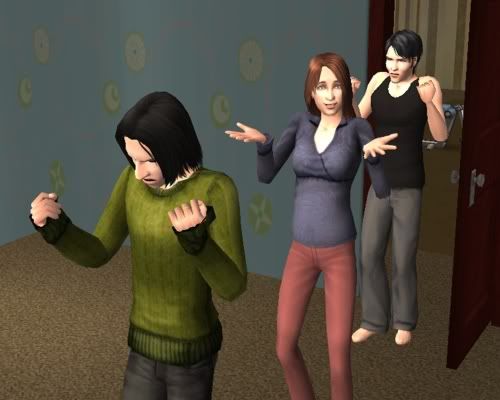 Juan: Not the carpet!
Demi: What's going on? (says the pregnant lady)
Smaug: Somebody make my sister stop screaming!
Jessie: (in the background) OMG, I thought you had just put on a little weight!
Beru: *screeches in agony*

There will be no pictures, because everyone swarmed and I couldn't get decent shots, but Beru and Jessie welcomed four children into the world. FOUR. Why did I have to say I was hitting "random" on every generation pregnancy on this legacy? In no particular order, I bring you Icihro, Ken, Awajiumi, and Chiyo, the beginnings of Generation 4, Memoirs of a Geisha style.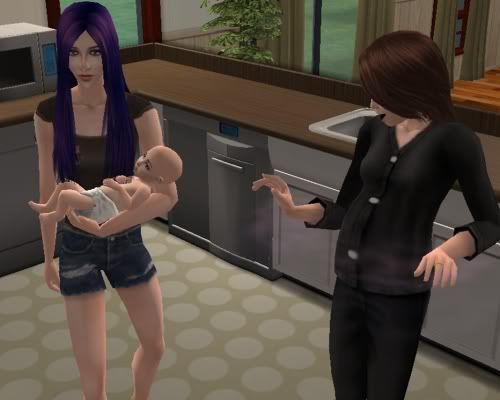 Demi: Wow, my pjs changed color and there was an explosion of pink dust around my belly!
Beru: Meh, get used to it. Oh, and get some sleep while you can, because you're going to need it.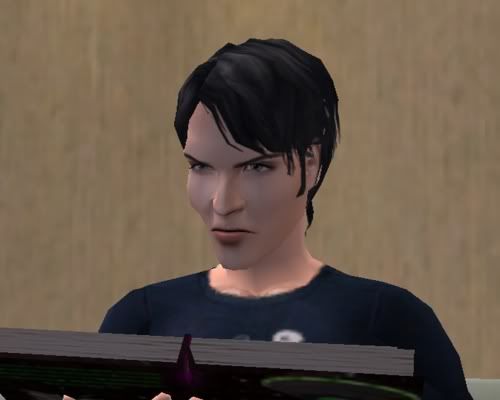 Smaug: "Full on the town he fell. His last throes splintered it to sparkes and gledes. The lake roared in. A vast steam leaped up, white in the sudden dark under the moon. There was a hiss, a gushing whirl, and then silence. And that was the end of Smaug and Esharoth, but not of Bard."

Me: You okay?
Smaug:...
Me: Smaug, honey?
Smaug: But that's not how the story goes! Smaug the dragon eats Bard the Bowman, sets fire to the town, and recaptured all his gold! He doesn't die!
Me: ...
Smaug: SimGod, he doesn't die!
Me: Well, if it makes you feel any better, he did set fire and destroy the town before he kicked the bucket.
Smaug: MY ENTIRE CHILDHOOD HAS BEEN A LIE!
Me: Don't look now, but Old Yeller and Bambi didn't end the way you thought they ended either.
Smaug: Gah!

Meanwhile, in the kitchen, more important things are going on.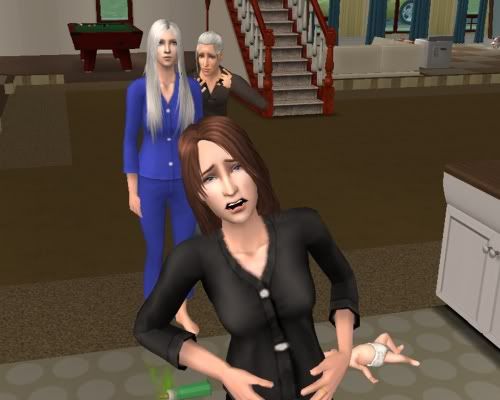 Demi: I don't want to graduate from Pregnancy Class any more! This hurts!
Author: OMG! A woman giving birth! What do I do? (says the retired Chief of Staff)
Trista: More grandbabies! *glee*
Chiyo: Great, another kid I have to share the floor with.

No, Chiyo, not just another kid you have to share the floor with, but THREE kids you'll have to share the floor with! Demi's random number of children turned out to be triplets. That's SEVEN babies in the house at the same time!

The triplets, following the Geisha naming pattern are: Nobu, Hatsumomo, and Jakob.

Next update: We'll see how long it takes for everyone to go crazy dealing with seven babies, including me.

Previous Chapters:
1.0 | 1.1 | 1.2 | 1.3
2.0 | 2.1 | 2.2 | 2.3 | 2.4 | Spare Update
3.0