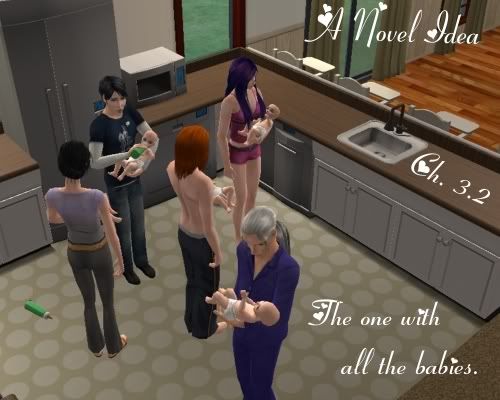 Last week, Beru and Jessie got married and went to Takemizu Village for their honeymoon, Smaug and Demi got married and skipped going on a honeymoon, and seven babies were born.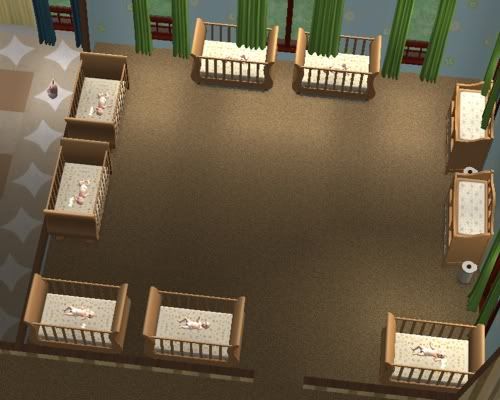 A look at the little darlings while they're sleeping. I handle chaos way too well; before everyone went all "I'll take care of the baby!" I decided to have everyone take shifts. Normally, I was playing this legacy like a semi-ISBI, where I wasn't really paying attention to any of the non-ruling generation sims and letting them do their own thing. Now, I pretty much cancelled any action that had to deal with babies for the sims off-duty unless it was totally needed, like when more than one of them needed to have their diapers changed at the same time.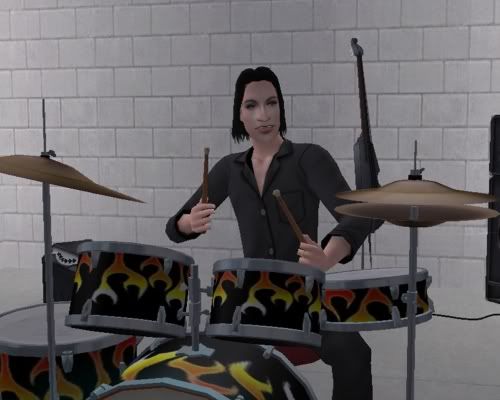 Except Juan doesn't do diapers, even when he's on duty.




Thankfully, Jane is a good grandma.

Jane: I deal with smelly underlings all the time. Diapers don't even compare.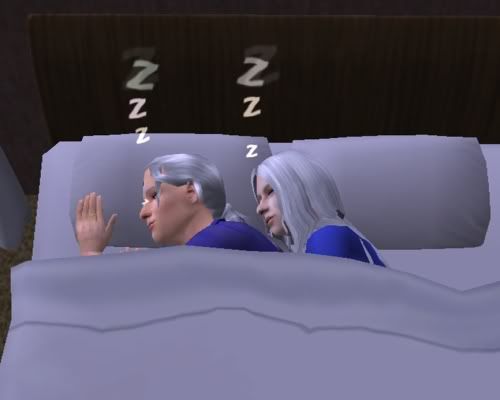 A look at what the great-grandparents do during their off time.

Author: Hey, give us a break, we're not as young as we used to be.
Me: Not complaining. You're still the best dad/grandpa/great grandpa ever.
Trista: What am I? Chopped liver? Hrumph. *goes back to sleep*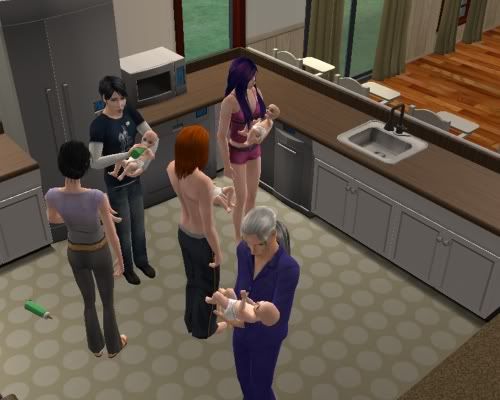 Though sometimes, the carefully organized plan does have the occasional hiccough and there is the occasional traffic jam in front of the fridge.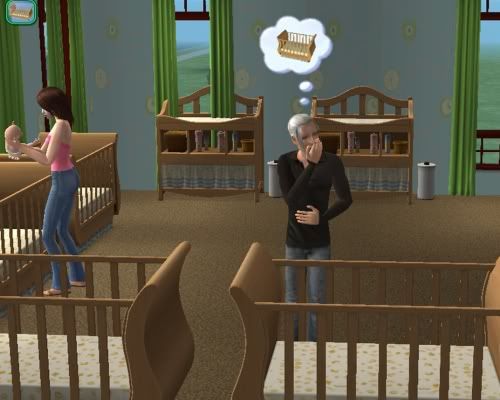 Author: So many babies...
Me: I know, I know. And everyone's triplet/quad chance ratio is way down. I guess the Novels are just super fertile or something.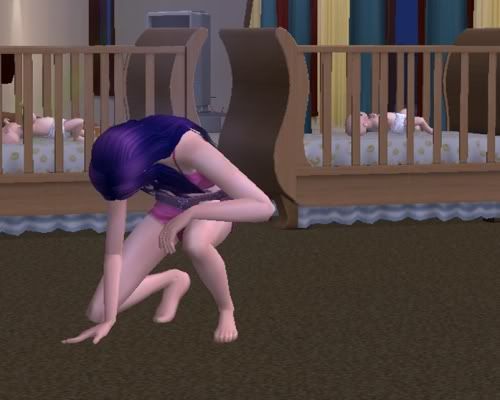 Beru: *ninja!bamf* I heard babies crying!

I really wish that I had taught all my sims how to teleport, it saves a lot of time running through the house to get to the nursery.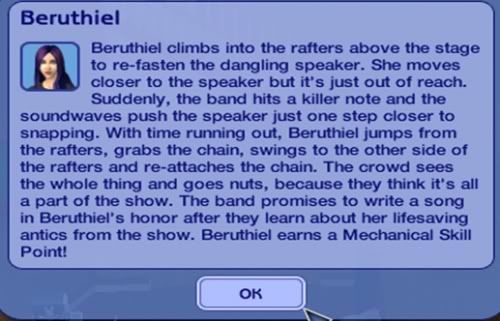 Not only is Beru being awesome with the kids, but she wins at her job. I'm thinking she's going to ask the band that she's a roadie for if they want to join the Hubbub Revolutionists, but maybe she's just trying to feel out the competition instead. Either way, she did get a song written in her honor!

Beru, Beru
What would we do
Saving the speakers
From fallin on our sneakers
Beru, Beru
This song's for you

Eh, so I'm not a songwriter. Moving on.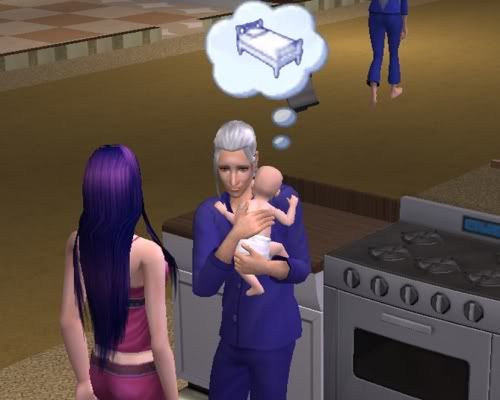 Hatsumomo: I NEED SLEEP! *cries*
Author: I think this one's tired!

Guess reading those parenting books back when Jane was a baby really paid off, didn't it?




Beru: What do you want, child? WHAT DO YOU WANT?!

Guess who hasn't cracked open a parenting book in her entire life. And you were rolling with all the win up until then.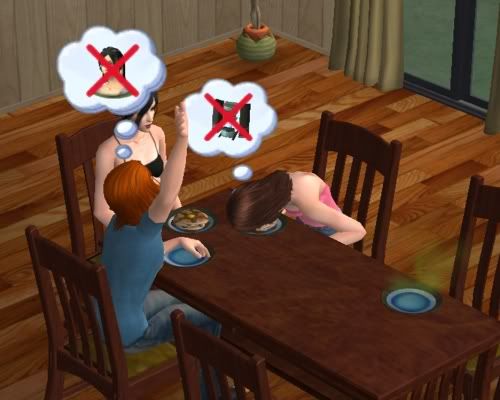 The parental fail continues.

Jessie: I don't want to talk to my mother-in-law! Help!
Demi: Stupid stereo set, why won't it let me sleep?
Jane: Ack, my children-in-laws are idiots.




Ken: SOMEONE HOLD ME, DAMN IT!

The boy screams for no reason. He's not hungry, he's not dirty or needing a diaper change, and he's been held. As soon as someone puts him back in his crib, he starts screaming at the top of his lungs and wakes all the other babies in the nursery up. Kid has attachment issues.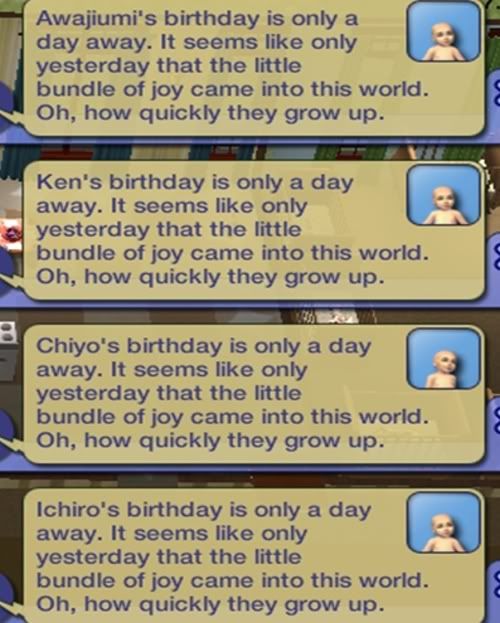 Yay, finally! These were the longest infancies I've ever had.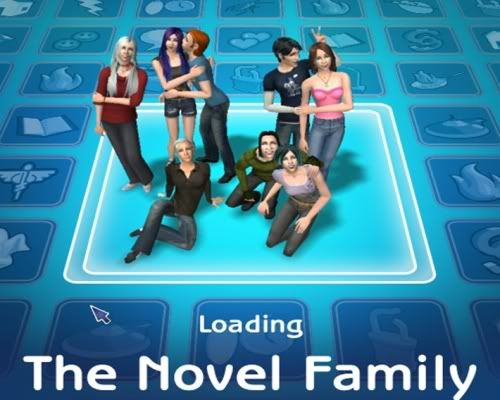 Family shot, minus the babies. Guess there were just too many of them for one load page.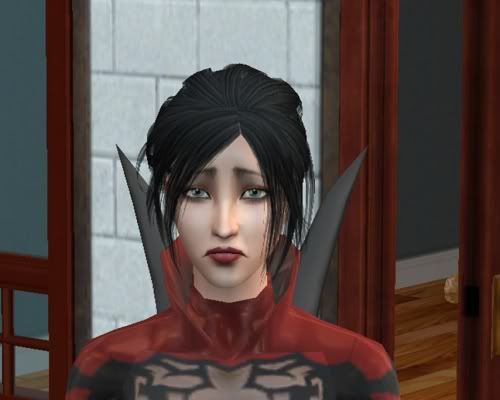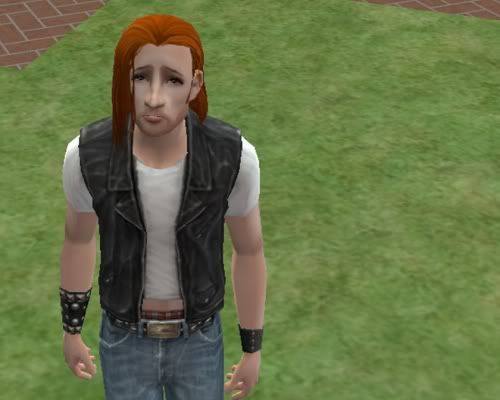 Me: Jane? What's wrong? You're usually so happy to go to work! Is everything okay, Jessie?
Jane: My grandbabies are growing up today! I'm going to have to miss the party!
Jessie: Yeah, my kids aren't babies any more and I have to go to work!
Jane: I guess I'll just have to kill more superheroes than usual to try to cheer myself up, but it's not going to be the same. *sigh*
Me: Don't worry, I won't age them up until you get back. I promise.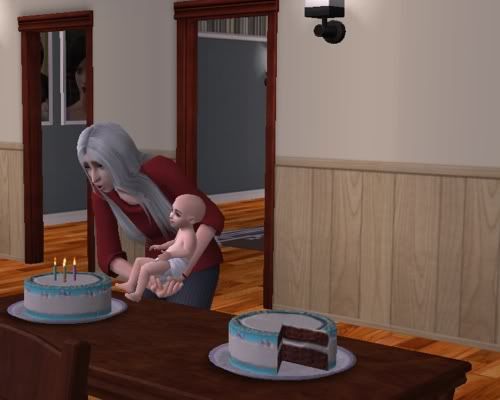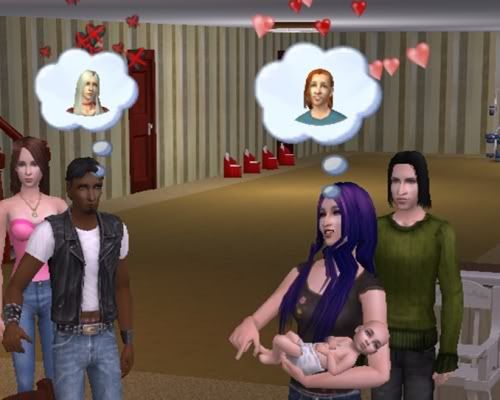 Yeah? Well, who asked your opinion, Guy Jessie Brought Home From Work?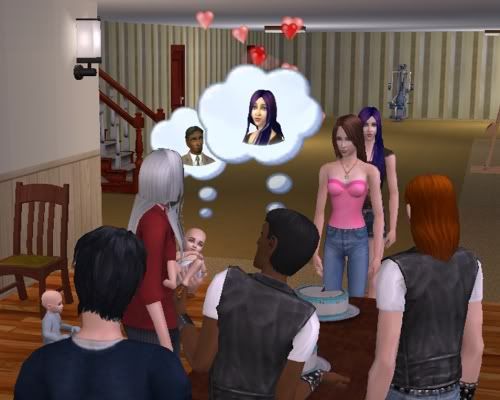 Guy is totally inappropriate.

GJBHFW: Wow, my co-worker's wife is smokin!
Nobu: Are you checking out my Aunt Beru? Can we pay attention to me now, please?

And in birth order: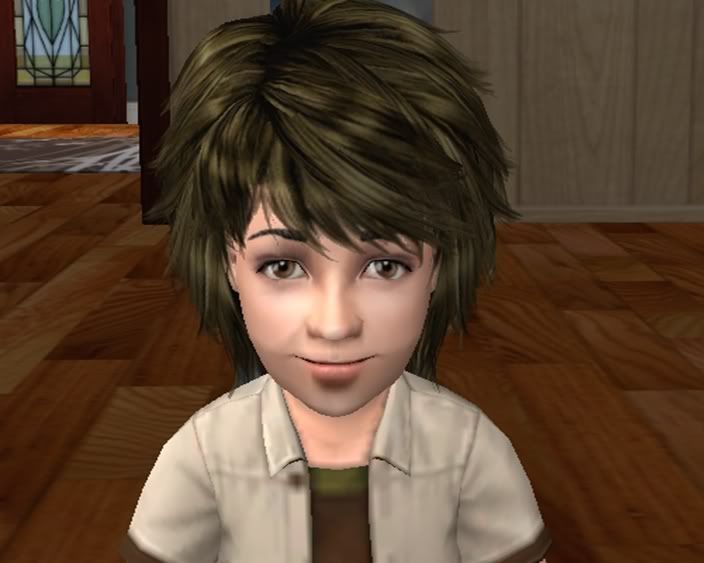 Ichiro. He has Jessie's eyes and Beru's hair color.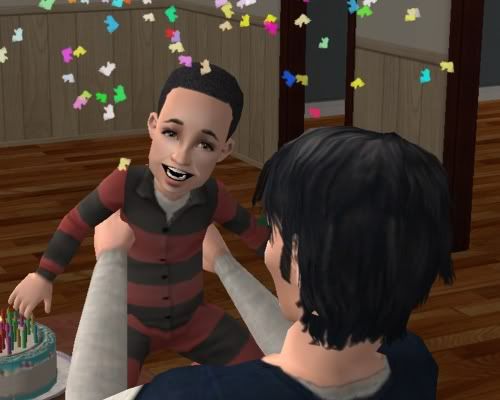 Ken. Again, Jessie's eyes and Beru's hair.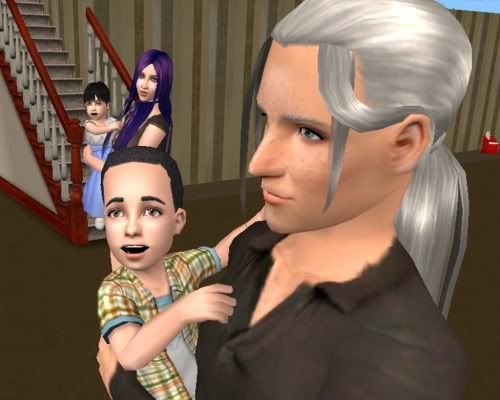 Awajiumi. Another Jessie/Beru combo.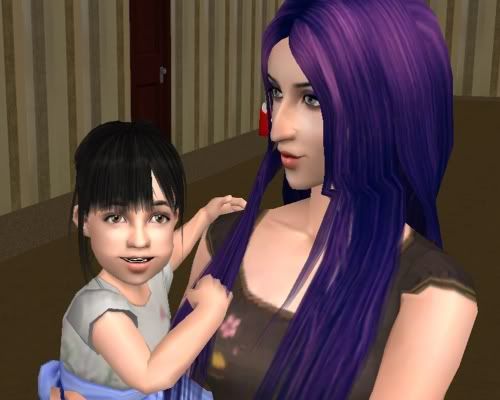 Chiyo. Yet another Jessie/Beru combination. She favors Jessie the most in facial features, IMO.




Hatsumomo. We fixed the bald issue later on, but she has Demi's hair and eye color (or Demi's hair and Smaug's eye color, seeing as they're the same.)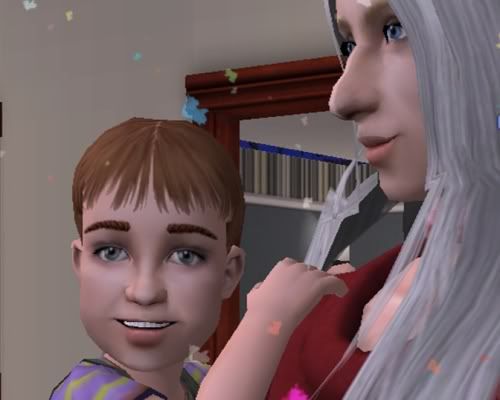 Jakob. Demi's hair and Smaug's eyes. He has his mother's square jaw.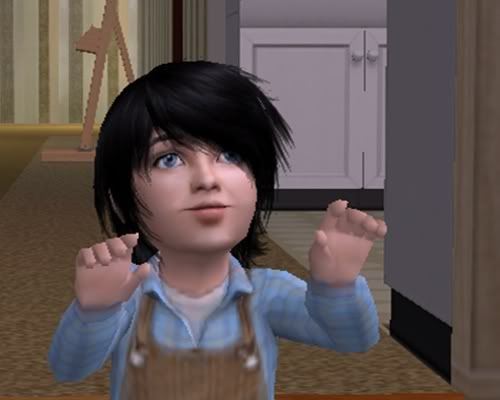 And finally, Nobu. He has Smaug's hair and Trista's eyes. Aww, genetics at work! This kid's a front runner for heir, just for the passed on eye color alone. If he would have had freckles, he would have been a shoe-in. We'll see what happens later in college though before having a final say.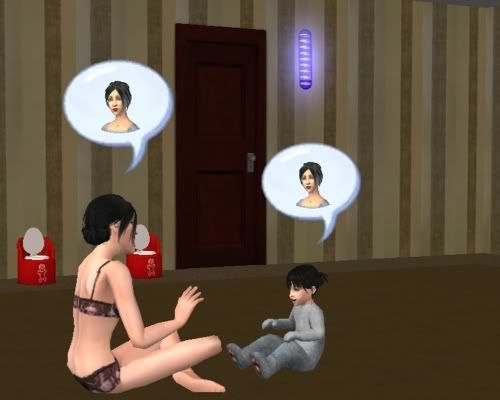 Jane: Say Evil Overlord!
Chiyo: G'Ma!
Jane: Meh, that'll do for now, Underling.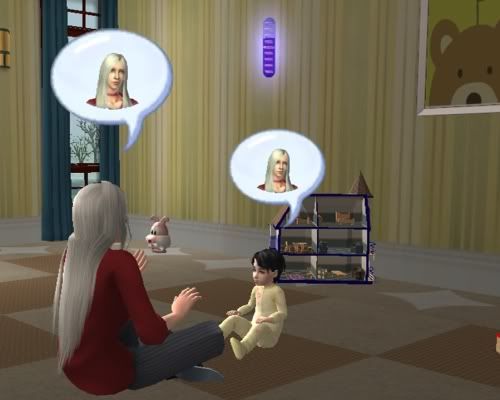 Trista: Say Great Grandma!
Awaji: Evil Overlord!
Trista: Awww, isn't he the sweetest! Just don't let your grandma hear you call me that, okay?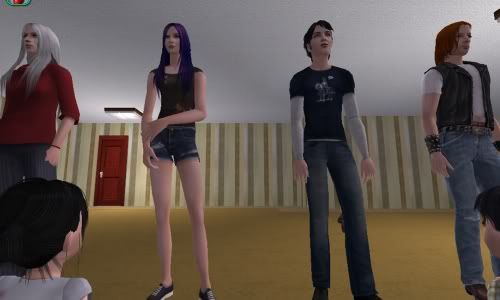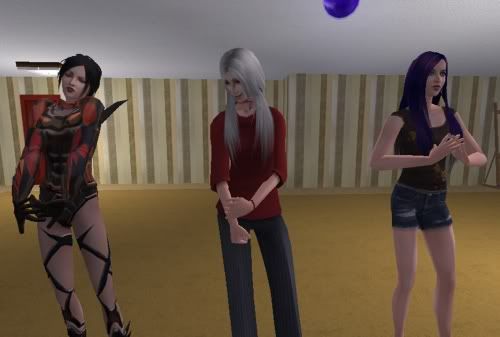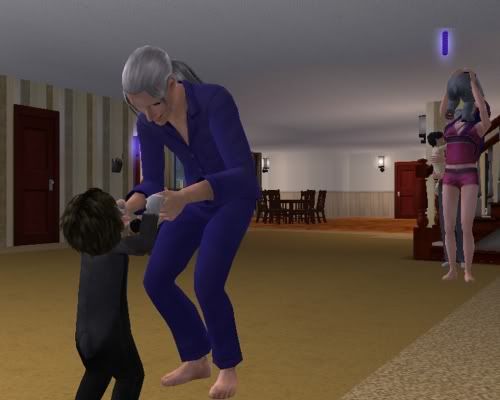 [/toddler training spam. FYI, Author just won Great-Grandparent of the Year.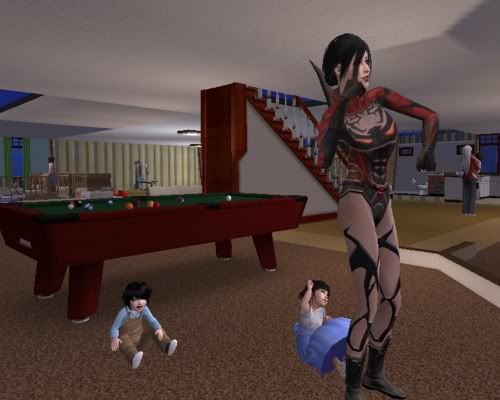 Though Jane is in the running for Grandma of the Year.

Jane: Just quoting the Evil Overlord List.
Me: Which one is that?
Jane: Number 142. "If I have children and subsequently grandchildren, I will keep my three-year-old granddaughter near me at all times. When the hero enters to kill me, I will ask him to first explain to her why it is necessary to kill her beloved grandpa. When the hero launches into an explanation of morality way over her head, that will be her cue to pull the lever and send him into the pit of crocodiles. After all, small children like crocodiles almost as much as Evil Overlords and it's important to spend quality time with the grandkids."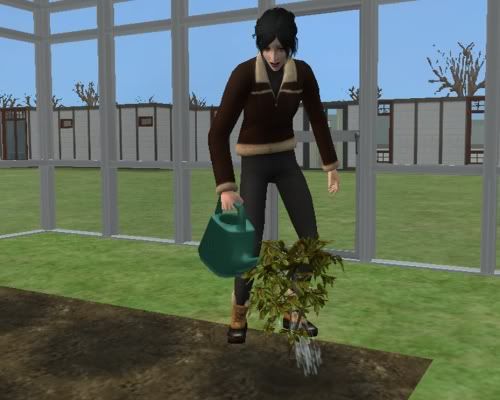 And Jane took up a hobby.

Jane: Grow little plant. Grow by leaps and bounds! I shall name you Audrey III. And you shall crush good-doers everywhere! Muahahahaha!
Me: Hon, that's a tomato plant.
Jane: Not a man-eating plant?
Me: I refuse to buy a cowplant. Ever.
Jane: Curses!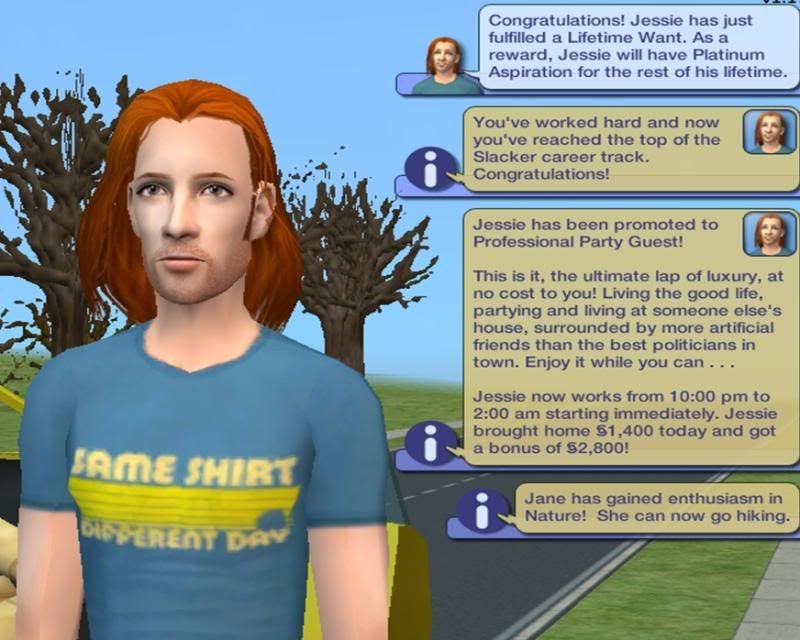 Hair blowing back dramatically in the breeze, Jessie obtains Permaplat status.

Jessie: Sweet! Now I can catch up to Beru and we can be Rock Gods together!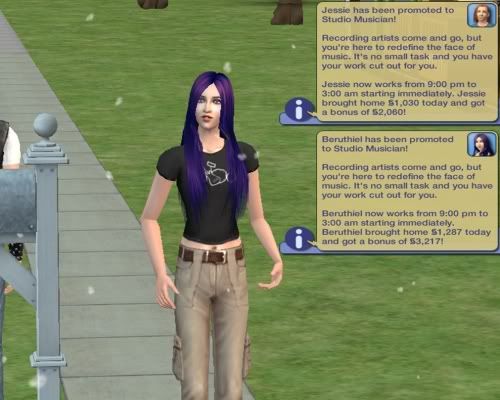 Several promotions later, and Jessie has indeed caught up with his beloved.

Beru: WTF is this? Snow? I hate snow.



Bask in victory indeed. Smaug's LTW complete!

Smaug: Yay, I'm on cable TV! Listen to my show hook: How to cook healthy, organic meals in thirty minutes!
Me: Isn't that like Thirty Minute Meals and Emeril Green?
Smaug: Yes, but I've combined show ideas! It's gonna be fantastic!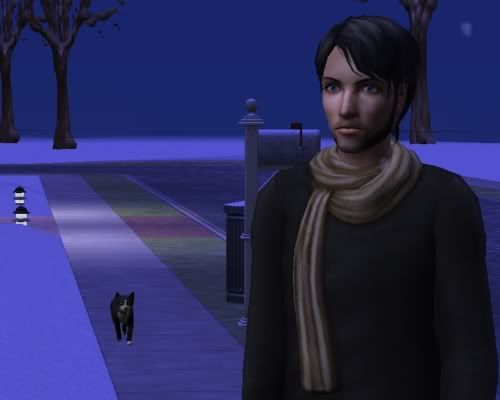 Why hello there, Jamie!Muse ♥

Jamie!Muse: That guy that hit on my Writer used to live in that house...

Huh, so it seems like Jamie!Sim is still holding a grudge against Darcy for the Date of Epic Fail he and my Self!Sim went on while Jamie!Muse was present.

Me: Hey, Boots! Whatcha doin?
Boots the Cat: Nothing much. Just wandering around, walking the human. They need their exercise, you know.

[Author pool spam]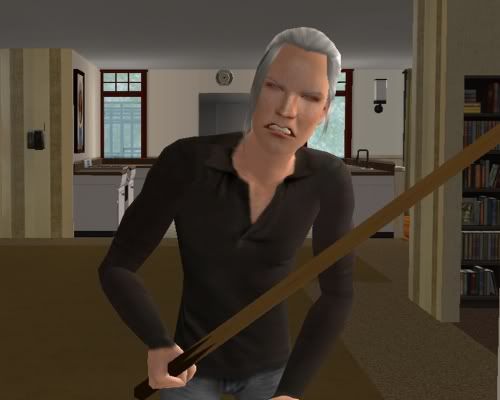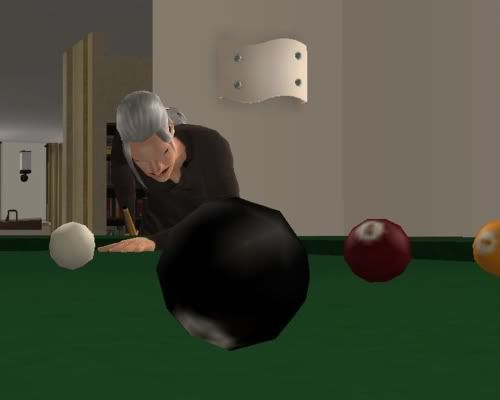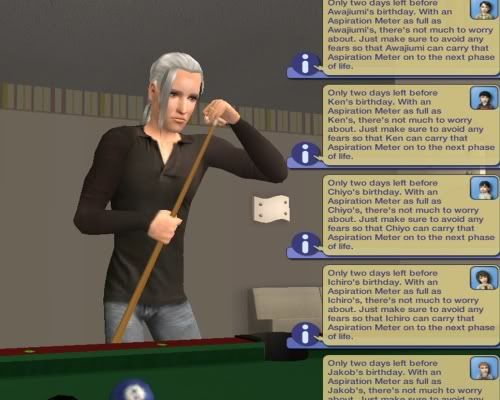 [/Author pool spam]

Author is 76 days old and the end of his lifespan bar is creeping up, which is why I show you that A: Author stinks at pool, B: Author is my favorite sim in this legacy so he deserves as much spam before he dies, and C: It is time for the toddlers to grow up. I didn't go with cakes or a birthday party for anyone, so here they all are in all their childhood glory: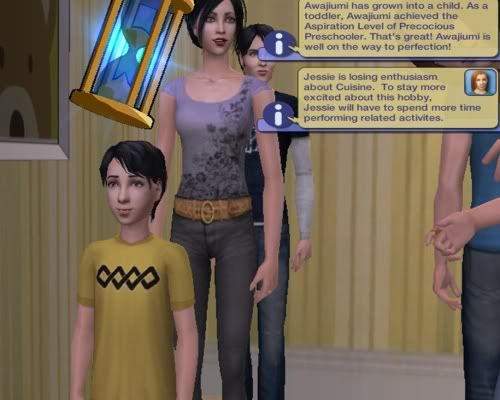 Awaji.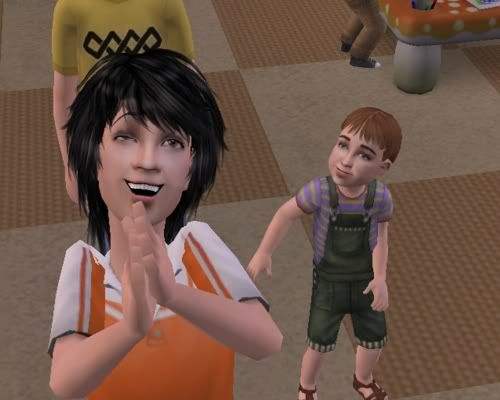 Ichiro.

Ichiro: Yay, I'm a kid! *twitches*
Jakob: Hee, my cousin is silly.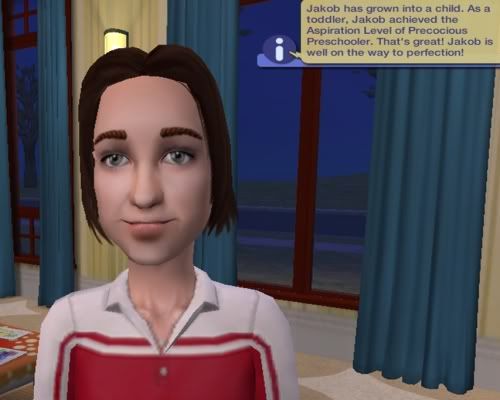 Jakob.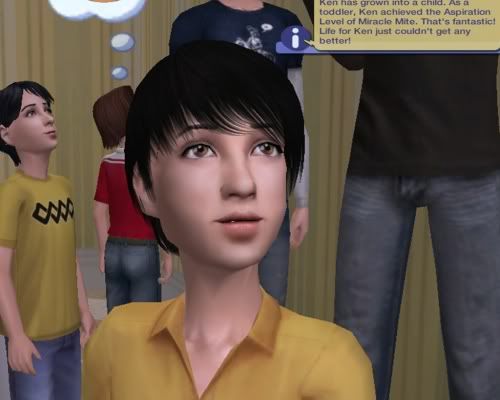 Ken.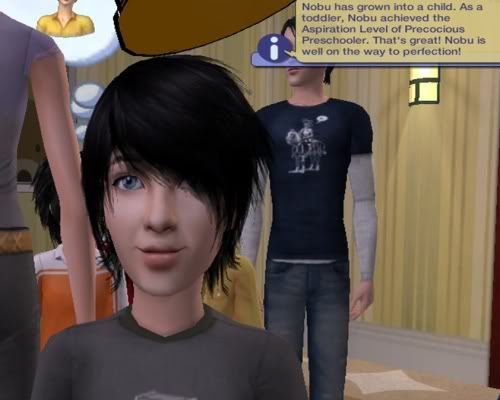 Nobu.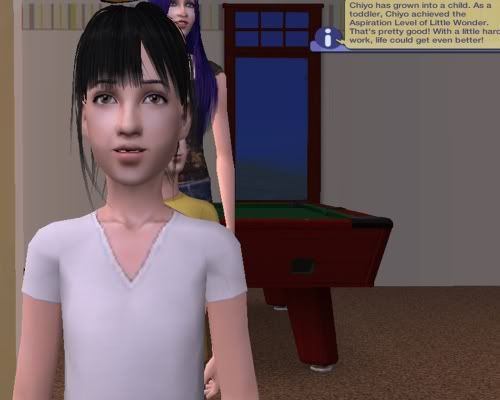 Chiyo.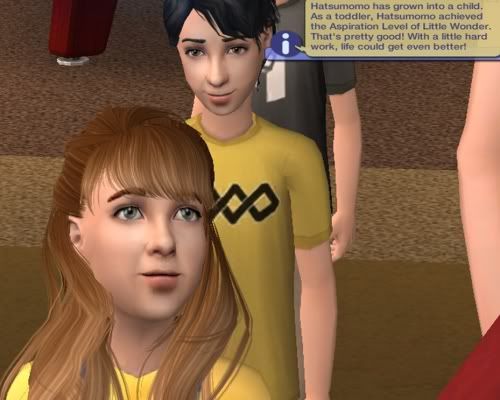 And Hatsumomo.

Next update: School, and Childhood, and Teenagers, oh my!

Previous Chapters:
1.0 | 1.1 | 1.2 | 1.3
2.0 | 2.1 | 2.2 | 2.3 | 2.4 | Spare Update
3.0 | 3.1

Novel Family Tree