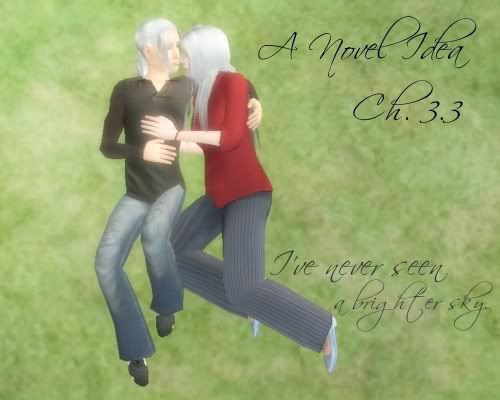 Last update, all seven kidlets grew up to be cihldren without a lot of fuss. Lifetime wants were accomplished, and Author was his usual adorable self.




Easy Bake Oven: STAND FORTH, CHALLENGER.

And Gen 4 bake-off is on!




Final Score:

Easy Bake Oven: 2
Gen. Four: 1

Easy Bake Oven: REVENGE IS MINE!

Yeah, safe to say that the oven is still a bit sore from losing to Generation 3.




Jessie becomes a Rock God, thus launching the Hubbub Revolutionists into fame and glory. Or at least launching their music onto every iPod in Veronaville.

Jessie: We've got a really big fan base in Pleasantville, too!




They've been spending every waking moment together. It's as if they know something's going to happen soon.




Author gets a hug from my Self!Sim, just because.

Issa!Sim: OMG, we're going to miss you! *squishes*
Author: Do I know you?




Author: So this is what that crazy girl was talking about!
Death: Author Novel, your time has come. And this time you can't weasel your way out of it!

Yep. I used the last hours of Author's life to call up his kids and invite them over. Darcy and Georgiana came over, but Lizzie refused to show up, even though we called her several times.




Oh, Trista.




Even Jane cried.

Jane: My daddy!

Just goes to show that under that cold, calculating Evil Overlord exterior lies a little girl who just wanted to be her daddy's little princess.




Author: But I don't want to go into the cart!
Death: Face it, Novel, you're dead.
Author: I think I'll go for a walk now!




Death: Look, it's not as bad as everyone wants you to think it is. You have your own tiki hut and everything. See, your bags are already packed and here's a complimentary Mai Tai.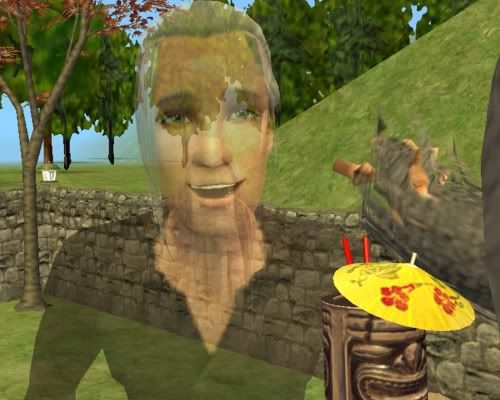 Author: Free booze and a private suite? Where do I sign up?
Trista: *cries*
Author: Don't worry honey, I'll be seeing you soon! *blows kisses*

Oh Author. I'm going to miss you, sweetie. I'm not going to lie; I got a little misty-eyed when he left.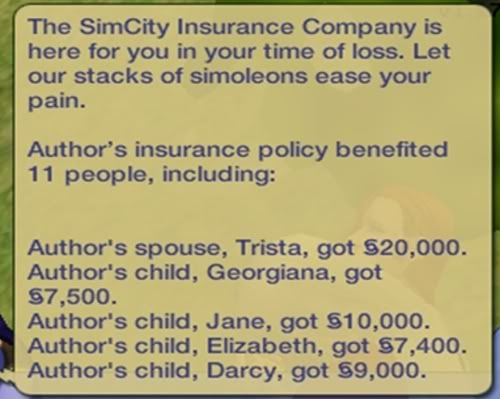 The insurance company would like to announce that Lizzie was Author's least favorite child.




Georgiana couldn't take the stress of losing her father and had the first nervous breakdown of this legacy on top of his grave.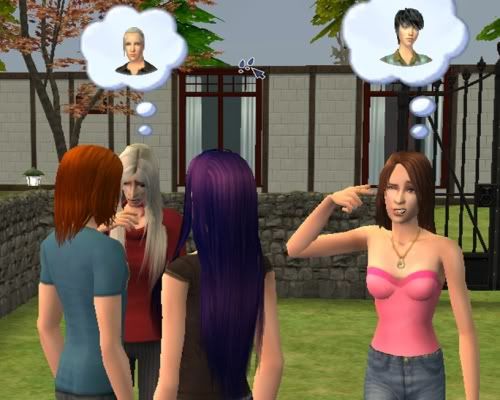 Demi, it's not nice to point out the crazy person, especially when your grandmother-in-law is in need of comforting.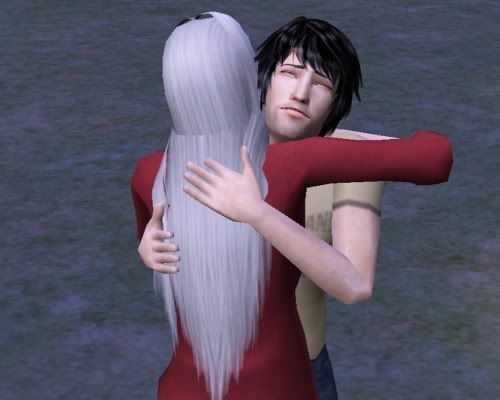 Dars, you are the best son ever. Autonomous hugging FTW.




The stress of losing a father and in-law was enough to age both Jane and Juan at the same time.




They got into the Evilmobile and high-tailed it to a store for makeovers. And is it me, or did the Nose's nose shrink? It doesn't look as pronounced as it used to! What the hell?




Back home, they prove that they might be getting old, but nothing else has changed with age.




No, Jessie. Just...no.




Jane hands over the family inventory, thus passing the torch from one generation to the next.

Beru: But I've been the Gen 3 heir for a while now. You've been running her on partial ISBI mode since before the almost-septuplets were born.
Me: Shh. You're ruining the moment.

Speaking of the almost-septuplets, I decided to age them up a day before their actual birthday. Trista's lifebar is really, really close to the end, so I don't want to have seven birthdays and a funeral at the same time.

They all age up in the cemetary. I'm thinking they were hoping that Author might show up to help celebrate. They all have funny personality scores that don't add up to 25. I'm wondering if that's a glitch. Oh well, keeping them as is.





Chiyo Novel
Family/Fortune
Pisces
1/3/10/3/10
LTW: Reach Golden Anniversary

Chiyo likes nerdy boys with glasses, but dark haired nerds need not apply.




Awajiumi Novel
Knowledge/Family
Aquarius
6/5/6/8/6
LTW: Become Chief of Staff

Author would have been so proud. Awaji likes redhead underwear models, but does not care for stinky people.




Hatsumomo Novel
Fortune/Romance
Cancer
6/7/8/6/7
LTW: Become Criminal Mastermind

Jane has a young apprentice! Hatsumomo is a sucker for fit blondes, although facepaint completely turns her off.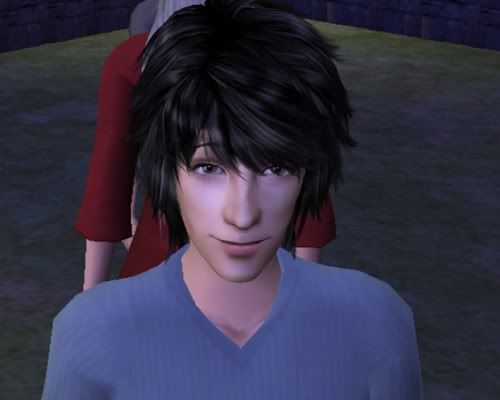 Ichiro Novel
Romance/Popularity
Virgo
10/2/10/3/10
LTW: Have 20 simultaneous lovers

Ichiro loves blondes and redheads equally, but like his cousin Hatsumomo, he doesn't care for facepaint.




Jakob Novel
Pleasure/Fortune
Scorpio
8/9/5/8/2/3
LTW: Become Celebrity Chef

Following after his dad's footsteps, I see. Jakob loves black hair and gray hair, but doesn't want his chosen mate to have better cooking skills than he does. I'm sensing he's going to be entering a few May/December romances. Also, Demi is in the background for a comparison shot, seeing that out of the triplets, Jakob looks the most like her.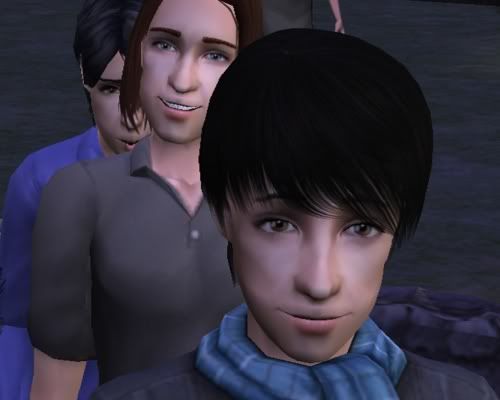 Ken Novel
Popularity/Pleasure
Aquarius
6/5/8/8/7
LTW: Become the Law

Ken likes plump, creative types, but shares his grandpa's dislike of hats.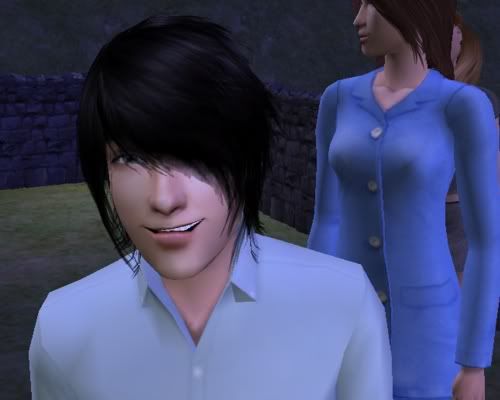 Nobu Novel
Family/Grilled Cheese
Virgo
8/1/10/3/7

Nobu's LTW never showed up, so we'll get it posted once he heads off to college. He likes redheads with glasses (can you see that I want a red haired, blue eyed child with freckles somewhere in this legacy yet?) but doesn't like stinky sims.




That same night, Beru becomes a Rock Goddess. LTW done!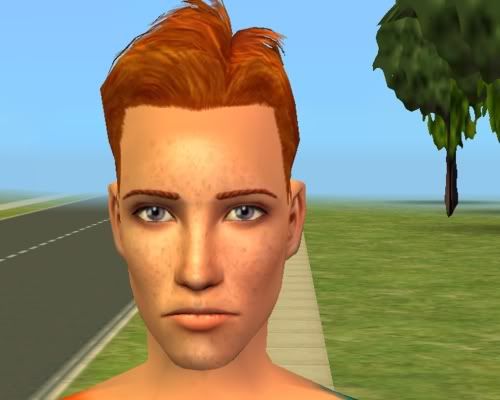 Red hair? Purple eyes? Freckles to increase the genetic chances of future offspring having freckles as well? You! Get in my legacy! Now! We had Beru run out to put him on the Rolodex under "possible heir spouse" greet him.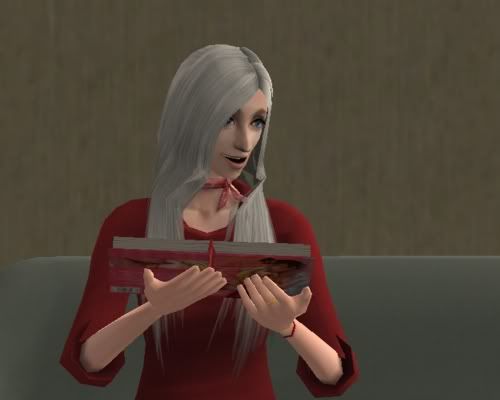 Trista has finally come full circle, spending the end of her life how she spent the beginning of her life: reading trashy romance novels.




Trista: Would it kill you to talk to your sister? Put aside the anger at not being picked for heir.
Lizzie: Do I have to?
Trista: It's my final wish. That means yes.




And then Trista walked out to Author's tombstone and waited for 6:00 to roll around. She looks ready. Darcy, on the other hand, isn't ready to let go.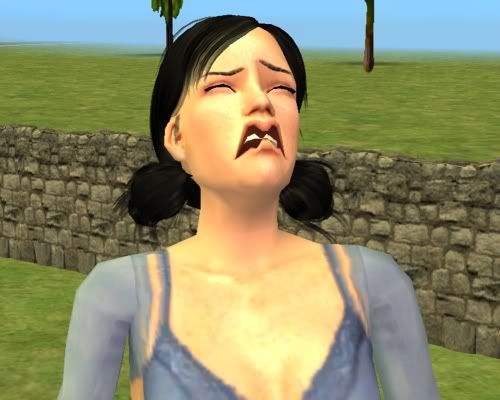 Neither is Lizzie. Underneath all the jaded cynicisim at not being picked for heir is a person that deep down, just wanted to be accepted.




Ken: Dude, think of all the cash that Great-Grandma is leaving us!
Jakob: Awesome!

Guys, so not appropriate.




Death: Hello, Trista. Long time no see.
Trista: You were just here two days ago for Author.
Death: I meant...oh, nevermind. Can we make this quick? I've got a 7:15 meeting with some girl that thought it was a good idea to light chainsaws on fire and then juggle them.
Trista: Wasn't that what you said the first time you tried to collect me all those years ago?
Death: Well, yeah. Some people just really like to juggle flammable objects that may or may not slice off an arm. Anyway, you ready?
Trista: I have my whole family here and I'm going to see Author again. Where's my Mai Tai?




Bye Trista. You were a good Founder Spouse.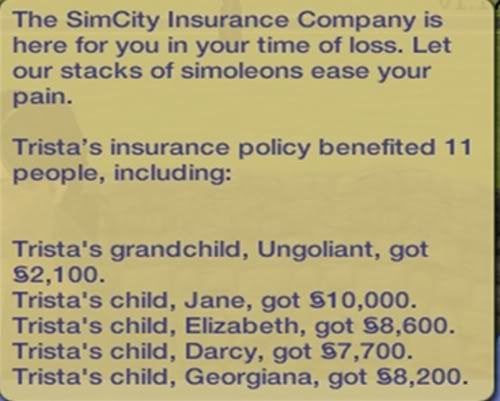 And the insurance company would like to point out that Author and Trista did indeed play favorites when it came to their children.




Ken: I know it's a sad day and everything, but look at the money we just raked in! Every cloud has a silver lining! And look: Great-Aunt Georgiana didn't go nuts again!

And on that note, we send the kids to college. I feel sort of bad for them, seeing that they didn't really get much screen time in between Author and Trista's funerals, but they'll get more play time during college.

Previous Chapters:
1.0 | 1.1 | 1.2 | 1.3
2.0 | 2.1 | 2.2 | 2.3 | 2.4 | Spare Update
3.0 | 3.1 | 3.2

Novel Family Tree