After getting the boot for heir moving out into their own lot, Tin and Liant decided to get busy hiring builders for their new pad. After getting the required permits and checking to see which contractors were legit, here's what they came up with: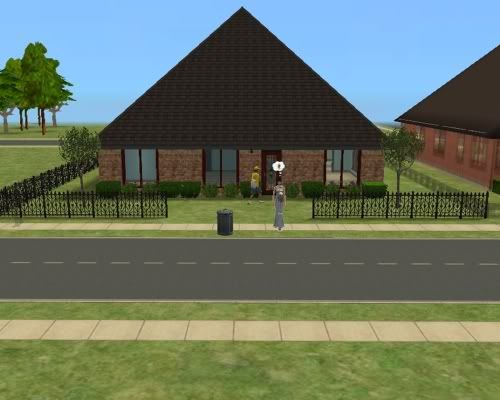 The front of the house. They share a fence wall with Gen 2 Spares.

Tin: Hey, from our kitchen window, we can see inside Uncle Darcy's bedroom!
Me: Well, that may or may not be a good thing. Maybe he can inadvertantly teach you a thing or two.
Tin: I never knew people were that flexible before!
Me: Anyway, back to the tour.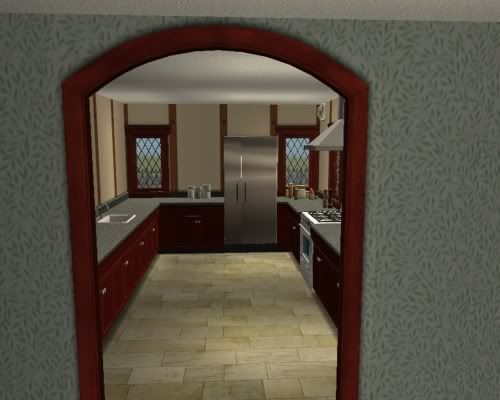 The kitchen. The infamous window is not visible from this angle.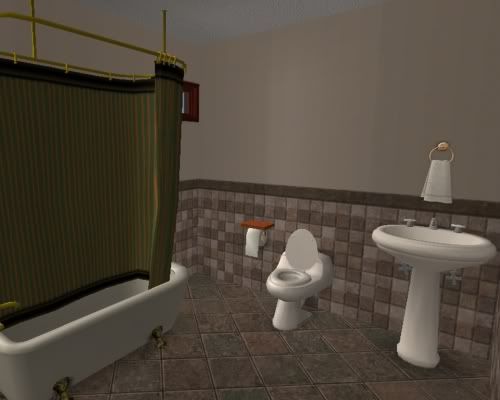 Bathroom.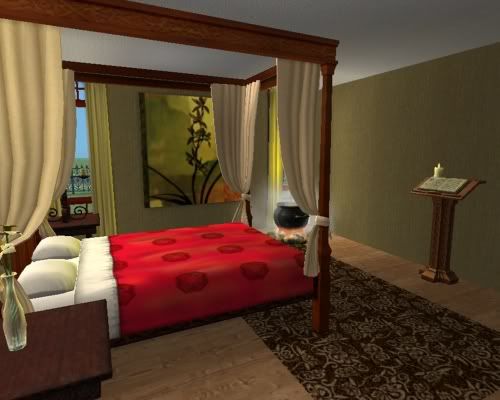 Liant's bedroom.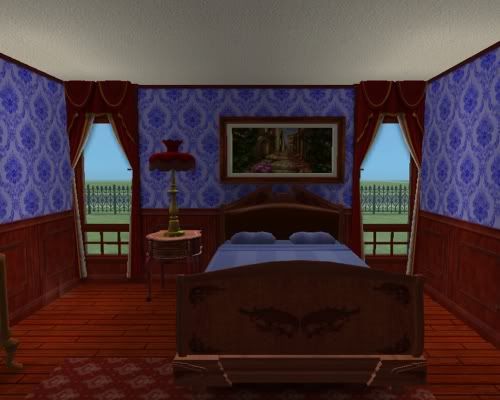 Tin's bedroom.




Living/dining room.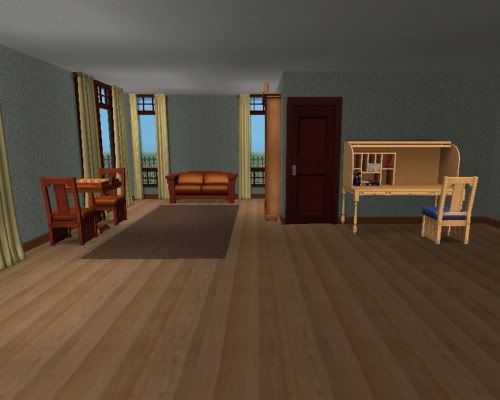 And study area.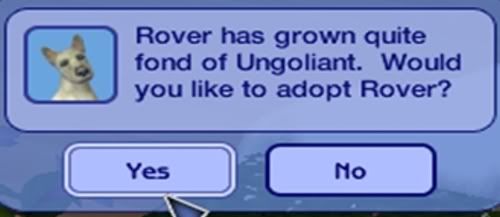 Liant wanted to adopt a pet, so we had her make friends with the first stray that crossed her path. Rover must have sensed that she was leaning towards the dark arts (Liant realized that there wasn't a love spell to snag Jessie, so she said the hell with it and wanted to be an evil witch instead) and refused her adoption request.

Liant: Stupid dogs. *mutter mutter*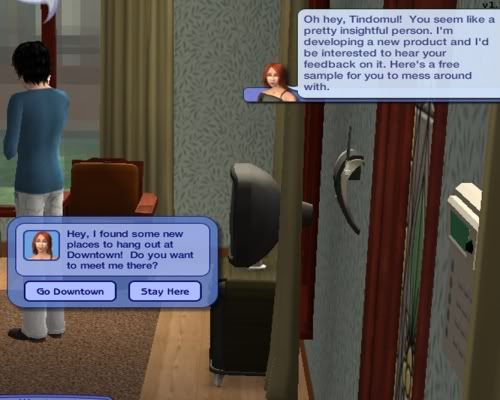 Meanwhile, Tin's old girlfriend from college calls him up for two reasons. One, she graduated college and went straight to a R & D company, which is why she was offering Tin a plasma TV to test out. And two, she just thought that he was awfully dreamy and she'd never had the chance to see if that whole thing about nose size was really true or not.





Tin had such a good time on their outing, and after dinner and a few hours of catching up, he asked her if she'd like to move in with him and Liant. Crystal, having had a few drinks, said yes.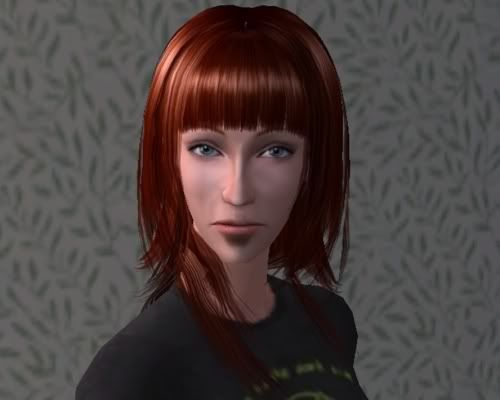 And she gets a makeover.

Crystal Jones
Knowledge/Family
Pisces
5/3/7/3/7
LTW: Become a city planner

Crystal likes dark haired unemployed men and has an aversion to zombies. Better hope that Tin never gets a job or becomes one of the living dead.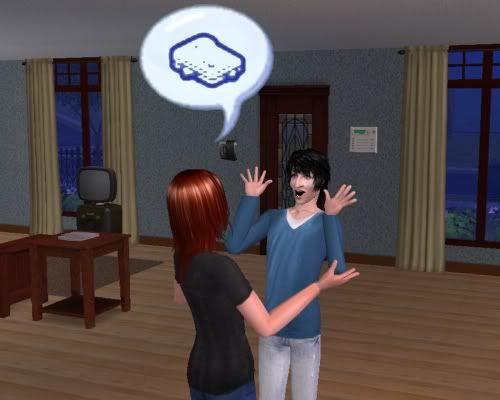 Tin: Grilled cheese is the best, isn't it?
Crystal: Yes! I especially love how toasty the bread gets and how the cheese just oozes out after the first bite!
Tin: It's like we're soul mates!
Liant: *in her room, making potions* SimGod, can I please start looking for my own apartment? All the love is really making me nauseous.
Me: No. All Spares live on the same lot.




All that talk of grilled cheese was just too much for Tin. He had to marry her in order for his life to be complete.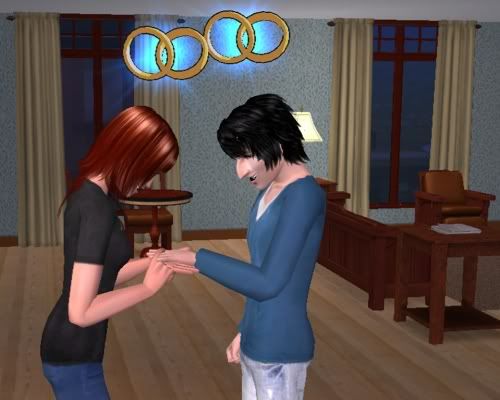 Three seconds later, Crystal is the newest Novel wife. Since both Author and Trista recently passed, they decided to honor their memories by marrying Generation One style, with the living room couch witnessing the union. Liant was also present, but she got bored and went back to studying the Ways of Darkness.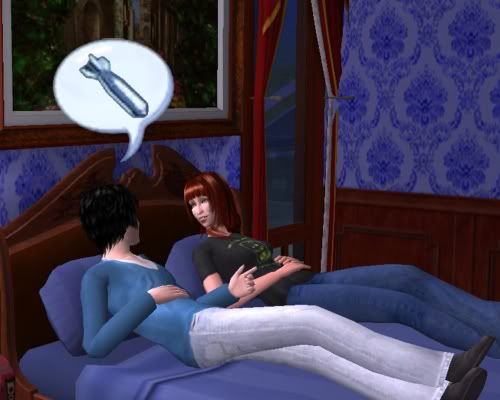 Tin: So, about all those rumors in college...
Crystal: *is intrigued*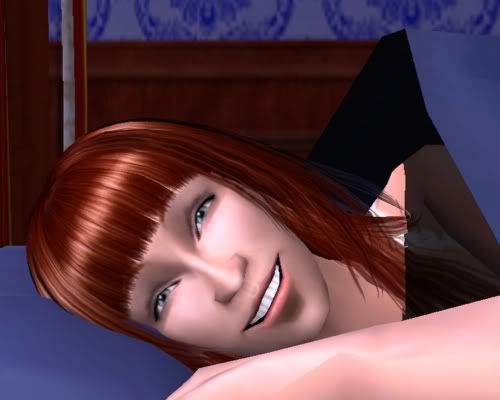 Not bad for your first try, Tin. Seeing that I had already pegged Beru and Smaug as co-heirs, I really didn't pay much attention to Tin's relationship. Not only did he get his very first woo hoo, but by the way Crystal's smiling, he did a pretty good job too. Oh, and there were also baby chimes.

What am I doing? Hopefully there'll be only one to send off to college with their cousins to fight it out for Gen 4 heir.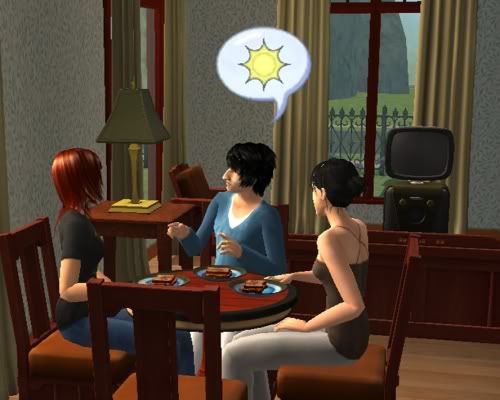 The next day:

Tin: Honey, you are my sunshine.
Crystal: Awww, that's so sweet!
Tin: No, I'm serious. You're my only sunshine. You make me happy when skies are gray. You'll never know, dear how much I love you. ♥
Liant: *gagging* TRYING TO EAT MY GRILLED CHEESE BREAKFAST HERE.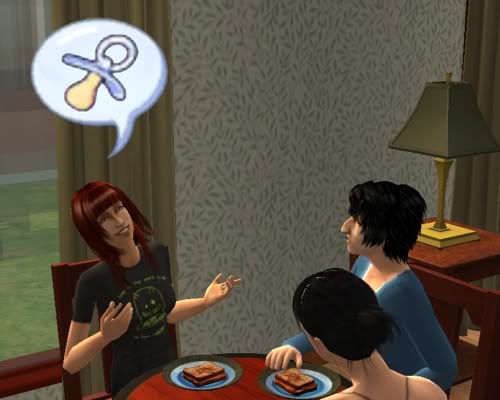 Crystal: You know, I think I might be pregnant!
Tin: Really? How can you tell?
Crystal: Well, if the constant urge to pee isn't one thing, then it's the five times I've thrown up in the past hour. And it was really bad when...
Liant: AGAIN, TRYING TO EAT HERE.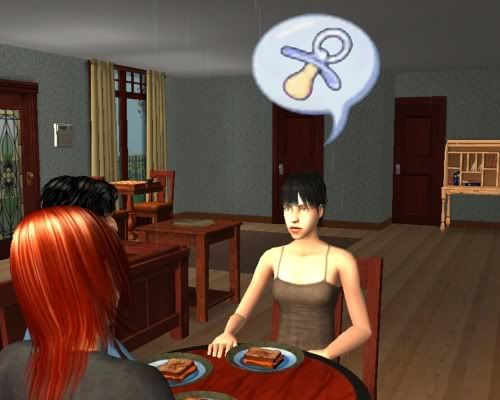 Liant: You know what? Congrats on the upcoming baby. I could always use an apprentice.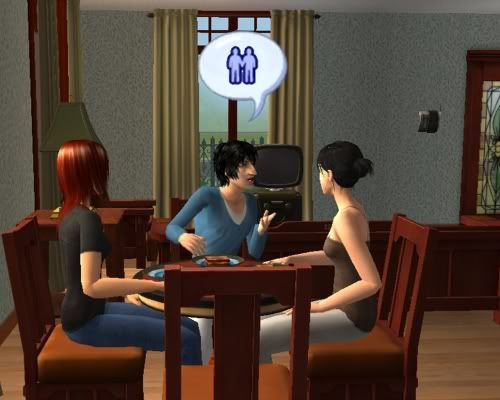 Tin: Hey, sis? Isn't it time that you found some other people to hang out with? Maybe someone that needs a roommate?
Liant: I already tried. SimGod says you two are stuck with me.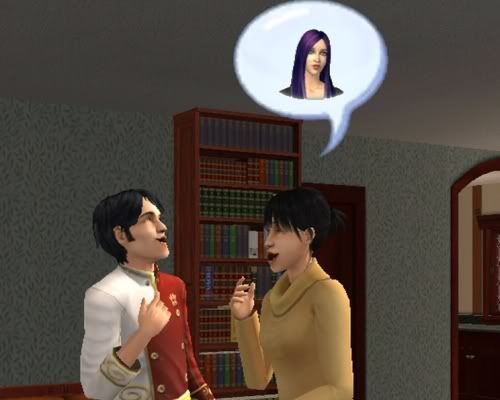 A couple of days later, Smaug comes over!

Liant: You know Beru?
Smaug: Shh! *snicker*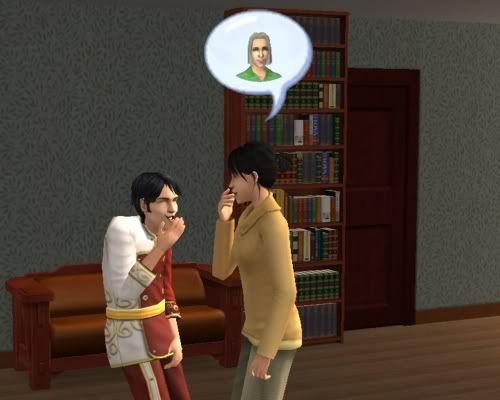 Liant: She's totally Daddy's favorite!
Smaug: *snickers* Hey, wait...

And then they spent the rest of the afternoon playing chess and being depressed about not being the Number One favorite child. Tin was far more productive. He spent the rest of the day talking to his wife's belly while she read parenting books.




That had better not be quads you've got in there, Crystal.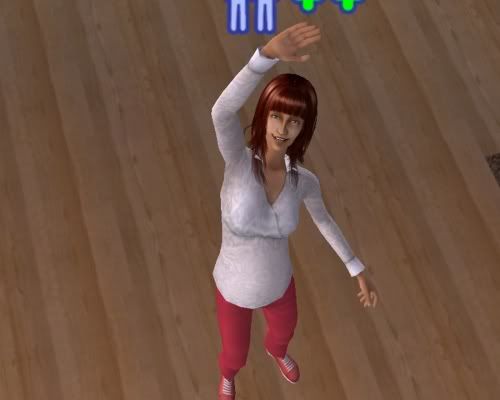 Crystal: Hey, something's happening! *relationship plus*

Okay, Crystal is the first sim that I've had that's actually happy to be giving birth. What gives? I'm wondering if it's a family sim trait or something.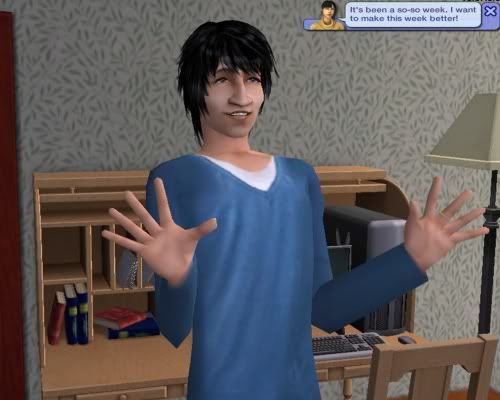 Liant: I've had a so-so week. I wonder what can make it any better?

Sweetie, try hanging out in the living room. You're about to be an aunt.

Tin: Yay! My wife is in labor! *jazz hands*

Again, I'm thinking this is a family sim "yay baby!" trait.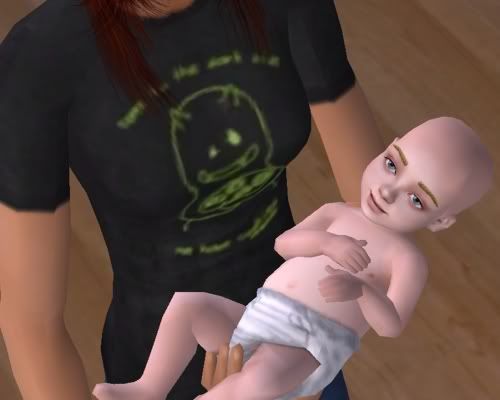 There are two babies (hopefully that's all) on the way! The first, following Gen 4's Geisha name system, is a girl named Pumpkin.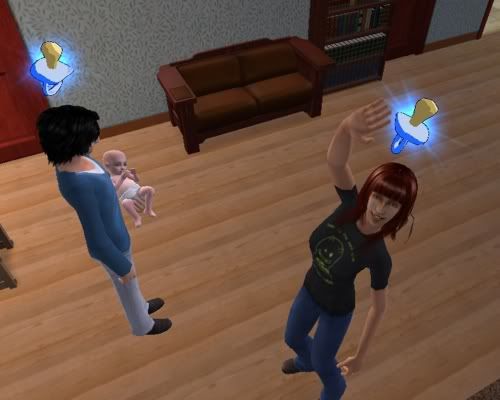 Crystal: Yoo hoo! I just gave birth to a baby and I'm about to have another one! I'm really excited about the whole process!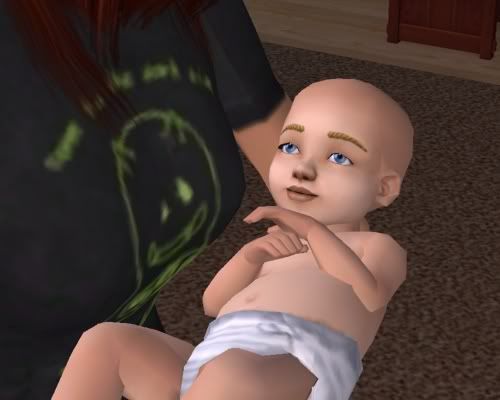 And the second one! A boy, named Shojiro. THAT'S IT, YOU TWO. Trista's genes are proving to be dominant, seeing that she's the only blonde in the entire family. Shojiro also got Trista's blue eyes while Pumpkin inherited her daddy's gray.

And to fast forward things a bit, here's the kiddos all grown up. (*cough sim blender cough*)

First Shojiro: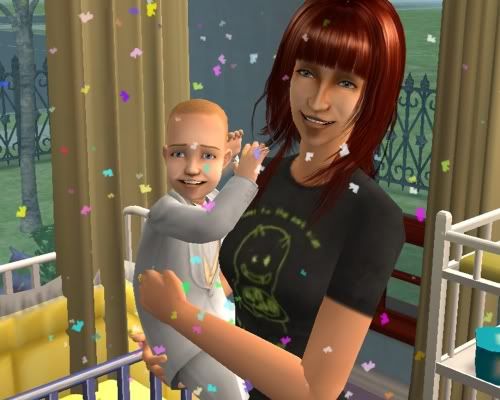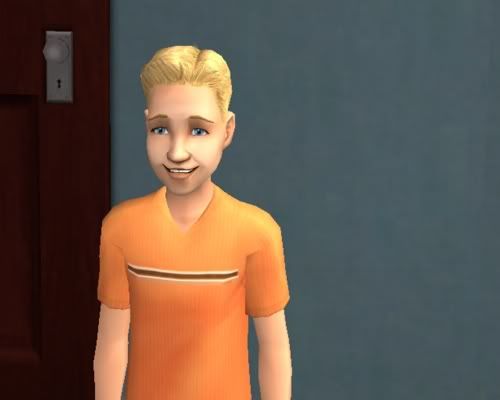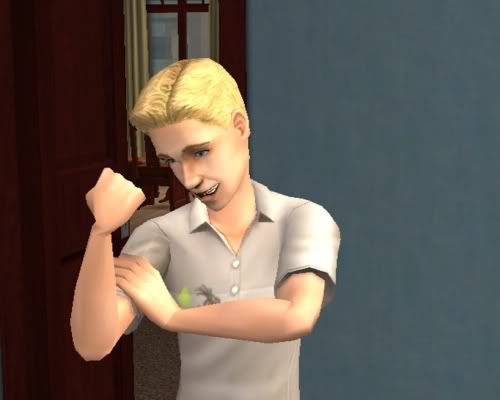 Then Pumkin: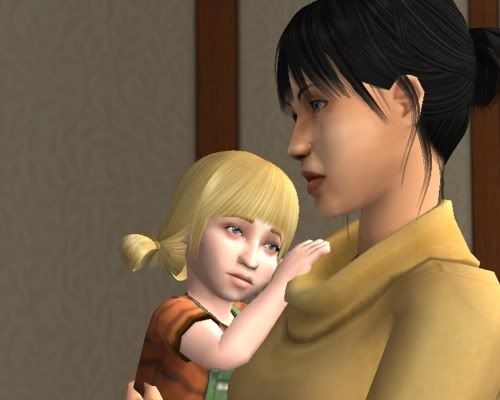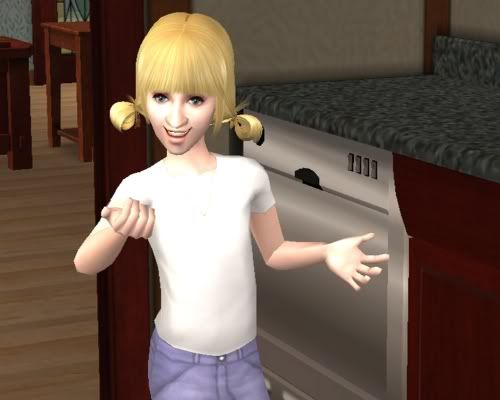 And now they've pretty much have had the same amount of screen time the rest of Generation 4 have had. Now it's off to college with them all!

Previous Chapters:
1.0 | 1.1 | 1.2 | 1.3
2.0 | 2.1 | 2.2 | 2.3 | 2.4 | Spare Update
3.0 | 3.1 | 3.2 | 3.3

Novel Family Tree