52 images under cut.






Since there were nine kids in Generation Four (never again!) going to college at the same time, I didn't feel right about having them all take over a single dorm. So I broke them up into two dorms instead. Beru saw both sets of kids off.

Beru: Have fun sweetie! *clings*
Ichiro: Mooom! Cute girls might be watching!




Trista's minion still moonlights as a taxi driver on his days off.

Me: My, you're looking quite evil today.
Trista's Minion: Thanks, I try.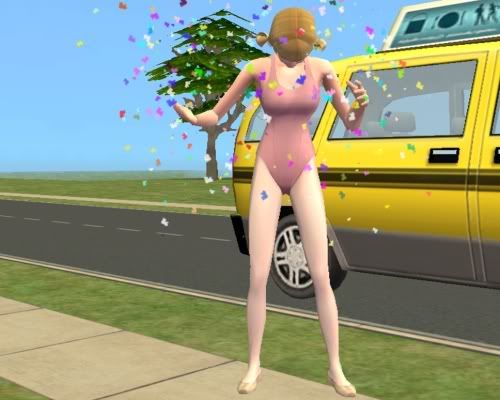 Pumpkin: I can't believe I aged up in this!
Me: You and me both. We'll get that fixed, pronto.
Pumpkin: I mean, it's not even orange!

Pumpkin decided to major in Political Science.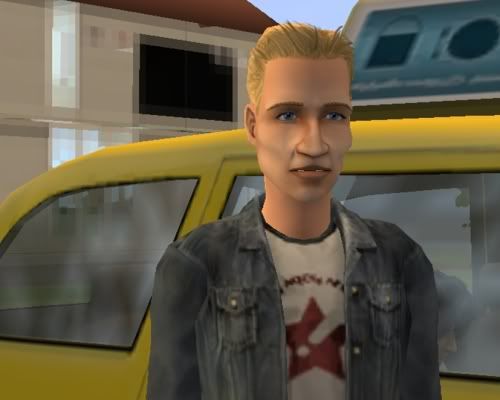 Shojiro wound up getting his daddy's cheekbones. And the Fong nose. Thank you, Juan, for your dominant genes. [/sarcasm] He chose Biology as his major.




Jakob definitely inherited his mother's square jaw. He's an Art major.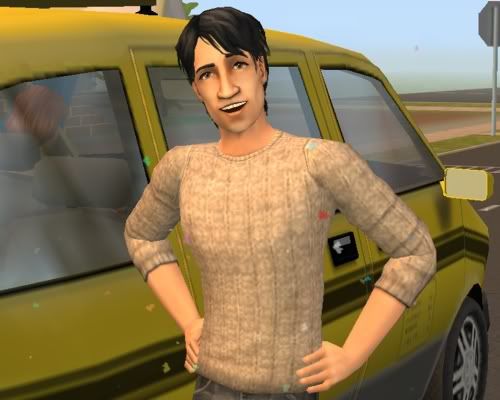 You know, if it weren't for his huge nose, I'd say that Awaji was heir. I mean, look at his jaw! He's a biology major as well.




Hatsumomo grew up overdressed, but picked Math as her major. Meanwhile, Pumpkin and her cousin Jakob discuss the weather.




Ken decided to go into History for his major, which is a first for this legacy. He's also ready to drop everything at the drop of a hat and go backpacking across Veronaville, or so it seems.




And Nobu, who is entering college not only as an Economics major, which is another first, but as my personal favorite for heir. As long as he doesn't screw things up, he's a shoe-in.




So, as I was saying earlier, I broke the Novel Clan up into two groups. Hatsumomo took it upon herself to be the group leader, so while Chiyo, Jakob, and Pumpkin were back at the dorm, she went to the Student Union and bought them all new clothes. She also picked up a stalker in the process.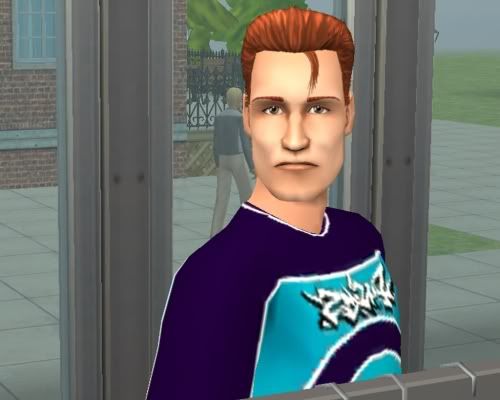 Stalker Dude: So pretty...

Seriously? I mean, he stood there for almost the entire time she was there picking out things and stared. Talk about creepy.




Chiyo made over.



And Pumpkin. I missed Jakob and Hatsumomo's initial makeover shots, mostly because they spent all their time stuffing their faces in the dining hall.





After clothes and makeovers, the four of them participated in a family smustle. Jakob in particular believes that smustling is very serious business.




Pumpkin, on the other hand, has two left feet.

Pumpkin: So I'm supposed to go to the right now? I'm so lost.




Pumpkin: Oh the hell with it. We shall kick ass in a LAN tournament instead.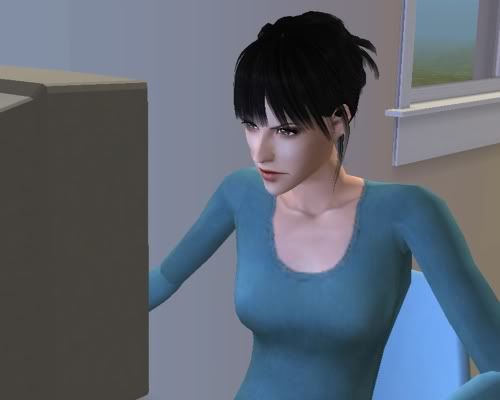 Chiyo: Like hell you will, cousin dear. Take this!




Me: Why are you worrying? You just got here a week ago!
Jakob: None of my wants are being met!
Me: You want your great-grandparents turned into zombies. Of course none of your wants are being met. It's not going to happen.
Jakob: But Hatsumomo's got it in for me, I know it! Great-Grandpa Author could eat her brains!
Me: No.
Jakob: But...
Me: No.
Jakob: *sulks*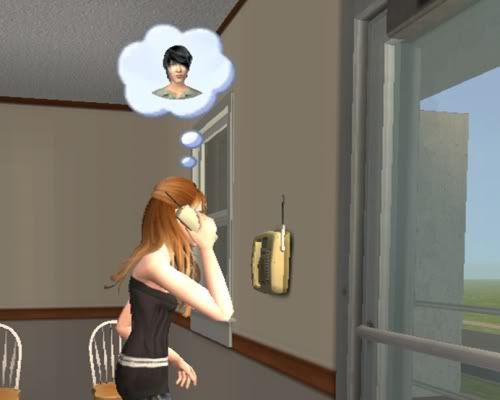 Hatsumomo: Hey big bro! I think Jakob squealed to SimGod that I've got it in for him. Uh huh. Yeah, I'm so going to be the finalist for heir when it comes to this dorm room.




Hatsumomo: I've got this game in the bag! I hate to break it to you, but I'm going to step all over you whenever SimGod puts all the finalists together in their own house.




Hatsumomo: What do you mean, you're her favorite? I'm the one that's going to take over Grandma Jane's job as Evil Overlord. ... What? Who said you were Grandma's favorite too? Nobu? Hello?
Me: Problems?
Hatsumomo: I can't believe he hung up on me.




Chiyo: Coursework is hard. I'd rather be playing video games.




Jakob: Woah, did you guys know that doctors still use Leonardo Da Vinci's anatomy drawings for reference? And did you know that he was left handed?
Me: Yep. I was an Art major in college too, you know. And unfortunately, the shared love of historical art trivia will not keep you in the running for heir. I'm going completely superficial this generation and your heavy jawline isn't going to cut it. I'm afraid you'll have to head to the Spares Lot.
Jakob: I knew Hatsumomo had it in for me!




Jakob: At least I'm the first one there, right? I get my pick of rooms, right?
Me: Actually, it's just a blank piece of land at the moment. You'll have to wait until more of your relatives add their bank accounts to the Generation Four pool to get an actual room.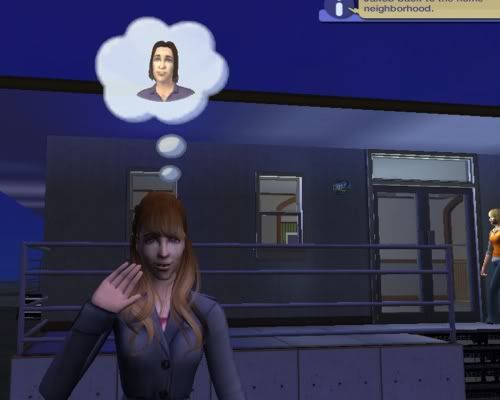 Hatsumomo: Bye, little brother! I hope you'll want to visit the Main house every once and a while! I'll see you when I'm heir!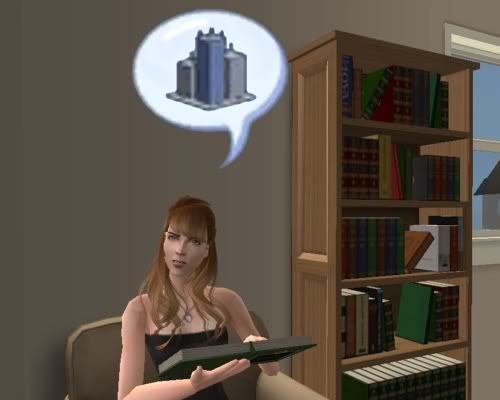 Me: Well...
Hatsumomo: What do you mean, I'm not going to be in the Main house?
Me: You spend most of your time picking on Chiyo and Pumpkin. I don't like that.
Hatsumomo: But Hatsumomo was your favorite character in the book I'm named after! I thought that was my guarantee of being heir!
Me: Sure, she's one of my favorites, but you're just really boring to play, even if you do have a different hair color to bring into the genetic pool.




Hatsumomo: This did not go as I planned.




Great-Grandma Trista's Minion: So, taking you to 104 Spare Lane?
Hatsumomo: Just drive, minion. *sulks in back seat*

And seeing how Pumpkin and Chiyo were doing well on their own, I moved them into the Gen 4 off-campus house to wait for the rest of the heir finalists.




Over at the boy's dorm, we'll show off everyone's makeovers and play a quick game of "Spot the Romance Sim."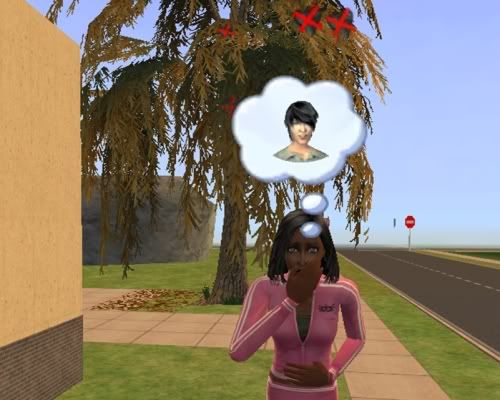 Dormie: Ugh, that Nobu is so not my type!

Yeah, well who asked you anyway?




Upstairs, nothing is irritating the Llama.

Llama: Grr! I'm so angry at nothing in particular! *seethe*

I was playing with a few different skin replacements during this update, but I wound up going back to my original ones in the end. I also realized that while cleaning up my CC folders that I had put a geneticized/towniefied (I think it's towniefied, but I'm not quite sure) eye color and a default replacement eye together, so I took out the defaults and found out I liked the genetic set a whole lot better than what I had. Long story short, both changes made the heir finalist ruling a bit easier.




Awaji: What do you mean, I'm going to the Spare Lot already?
Me: Hon, you're awful pretty, but the nose killed you. Your great-aunt Lizzie was right; I let this Legacy become a family of big nosed children with recessive freckle genes.
Awaji: My nose isn't that bad.




Me: We're naming you The Nose III.
Awaji: Do I at least get to finish college?
Me: Everyone finishes college. We're putting you on the fast track, via the College Adjuster.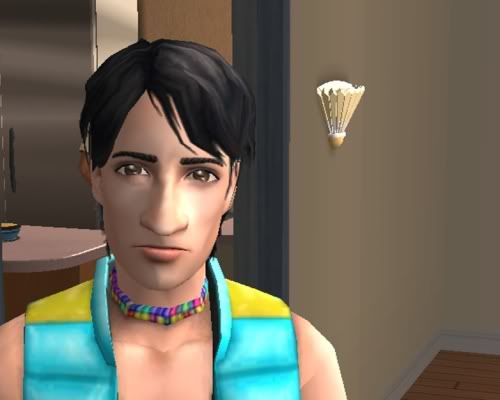 And that same day, Awaji enters adulthood.

Awaji: I demand a wardrobe change as soon as I hit the Spare Lot!
Me: Trust me, you're going to get one.




Shojiro: Hey sis! How's the new digs over at your own house? Uh huh. Uh huh. Yeah, SimGod is starting to weed us out over here too. Awaji just left because of his big nose. What? Hey, how can you say that I'm next? Well, yeah, I know Dad has a huge nose, he got it from Grandpa Juan. Oh. Yeah. I see.
Nobu: If that's Pumpkin, tell her I'll be seeing her soon!




And a quick shot of Nobu's makeover.




Ken: *dances in his underwear*
Roomie: *not so secretly tries to scope Ken out*
Shojiro: *dances angry* Curse my genes! Curse them!




Off to the Spare Lot you go.




Nobu: What's a guy gotta do to get a grilled cheese sandwich around here?
Me: It's past midnight. You want food, you gotta make it yourself.
Nobu: Oh well, we've got the same cafeteria lady that told Uncle Tin that grilled cheese was stupid. I can't trust her to make it right anway.




And we have Victim #1 of Ichiro's twenty loves.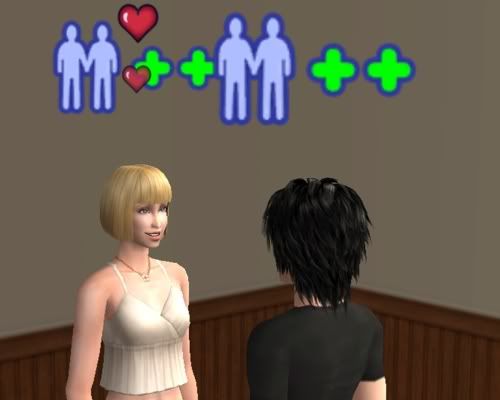 Ichiro: Check this one off the list. Next!




Ichiro: But wait, first we'll get some practice in smootching.




Ichiro: Hey! What gives? My nose is perfect!
Me: I didn't like your LTW.
Ichiro: Then cheat and reroll it! I'm a great pick for heir!
Me: You want to keep on arguing, or should I just "accidentally" have flies attack you?
Ichiro: Going to the Spare Lot. *runs to taxi*




The first thing that Nobu did after getting settled in the Finalist House was to start working on his creativity skills. With Trista gone, we're going to need a new Legacy portrait painter.




Pumpkin, while very nice and the cleanest sim on the lot, reminded me that she was Tin's daughter when I looked at her in profile. She also reminded me that she was Crystal's daughter, and therefore the pointy chin could be something that might be passed down as well.

Pumpkin: I'm not going to argue. I didn't really want to be heir in the first place. All that craziness is just not my thing.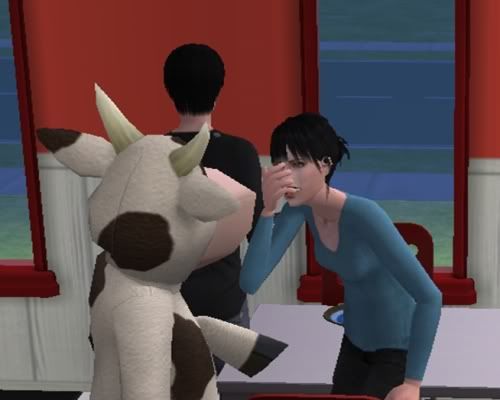 Chiyo: My eye! You poked my eye out, you creep!
Evil Cow: Muahahaha!

Yeah, Chiyo and the Cow mascot do not get along. Mr. Cow kept on hitting her with a pillow that was more than likely filled with rocks. Ken came to his sister's defense and made the Cow leave.




You might be wondering what Smaug is doing back in college. Well, that's Nobu without his hair in his face. I got curious as to what he would look like with a different style and found out that he's a clone of his father. Nobu! You screwed up!

Nobu: No! I was the favorite! *flails*
Me: *flails alongside Nobu* Damn it, he was my favorite too.




Nobu: Well, if all else fails, I can be your favorite Generation Four Spare, just like Great-Uncle Darcy was your favorite Generation Two Spare.
Me: That's the spirit, kiddo.




Ken: Well, it's down to us two.
Chiyo: Yep. And the narrator lady said that she wouldn't do any more double heirs after the whole population explosion thing our generation was.
Ken: I really like you, sis, so I hope she doesn't make us fight to the death.
Chiyo: ... Ken?

Yeah, I guess Ken has a little more of his grandma's personality than he originally thought. I figured that I would choose based again on nose sizes, but they're basically the same. Then I thought I would pick based on who I liked, but I like them both equally. And picking because of their relationships with their parents wouldn't do, because one has a high relationship score with Beru and another has a high relationship score with Jessie. So I'm stuck. I played them both through their college graduation and I still couldn't make up my mind.

So here's where viewer particiaption kicks in. Who do you want as heir?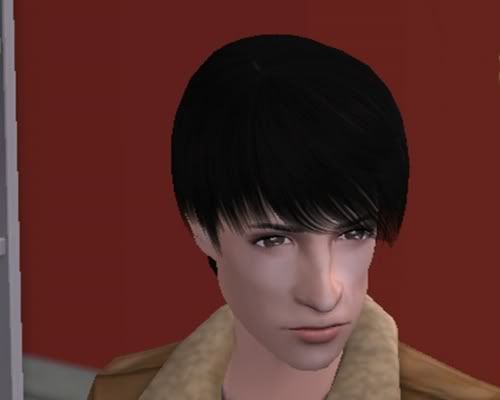 Ken?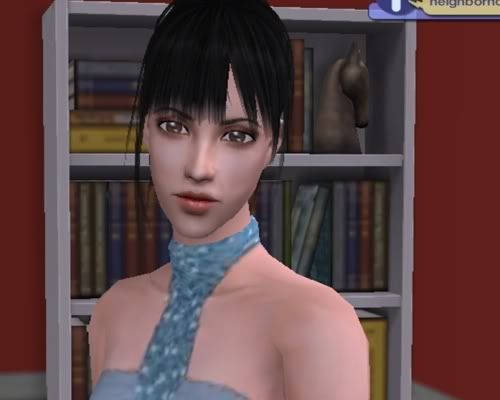 Or Chiyo?

Previous Chapters:
1.0 | 1.1 | 1.2 | 1.3
2.0 | 2.1 | 2.2 | 2.3 | 2.4 | Spare Update
3.0 | 3.1 | 3.2 | 3.3 | Spare Update

Novel Family Tree