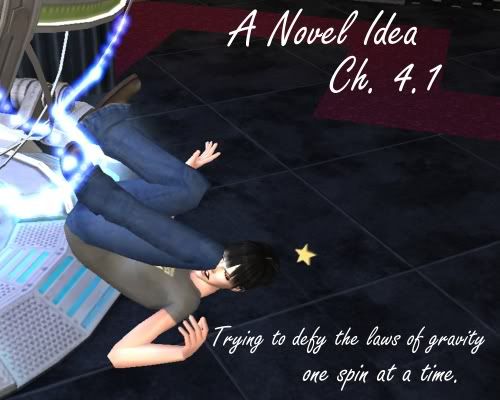 87 pictures under cut. Link to the Family Tree at the bottom has been updated for Generation Four.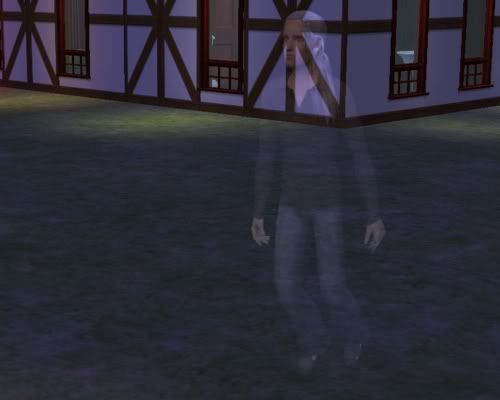 I would have opened up this update with a tour of the newly renovated Novel house, but I forgot to take any pictures. Instead, I bring you our first ghost! Fittingly, it's Author. Hi, honey!

Author: What the hell did you people do with the house?

Er, he's a little bit upset about a few changes, namely the kids shipping all of his and Trista's things off to a non-profit charity to make room for a bathroom where the bedroom used to be.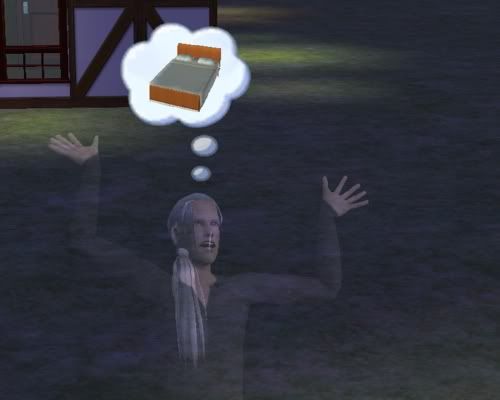 Author: My bed! That thing was vintage 50's furniture! You could have gotten a fortune for it!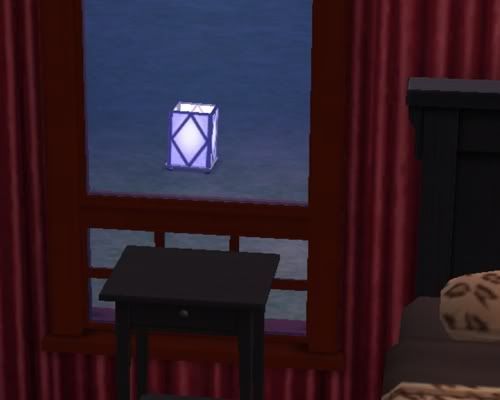 He takes to possessing Beru's lamp to properly express his displeasure.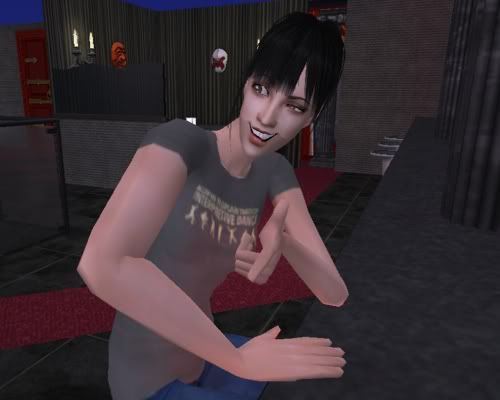 Meanwhile, Chiyo, who won the heir poll, goes husband hunting.

Chiyo: How you doin'?
Me: Hon, there's no one there except a brick wall.




Chiyo: How you doin'?
Me: And there's no one there either.
Chiyo: I'm just practicing. It's still really early.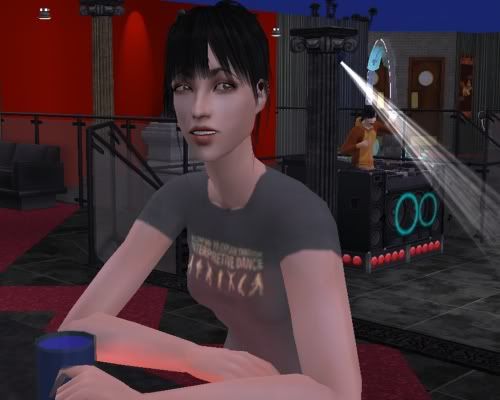 Chiyo: Okay, I've been here all night. Am I going to have to get stinking drunk in order to have somebody pick me up?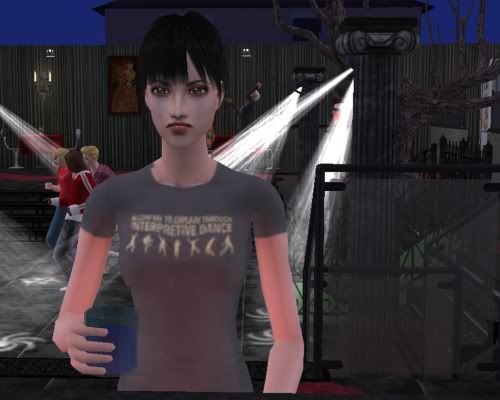 Chiyo: This *hic* is not *hic* working. I'm leaving.

So she stumbles out of the club and weaves her way towards the art museum. If anything, she can pass out on the lawn and people will think that she's doing some sort of living art piece.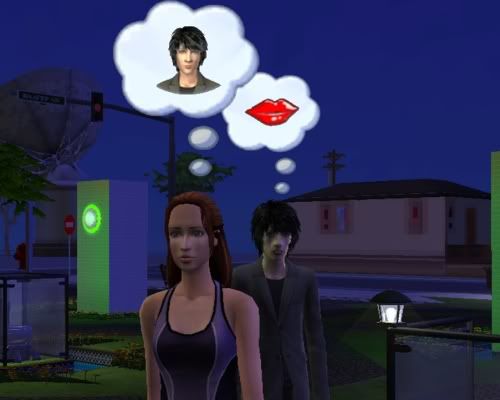 When she gets there, she finds out that her brother Ichiro has already staked the place out as his own territory.

Downtownie: That love-em-and-leave-em Novel is behind me, isn't he?
Ichiro: Pucker up, buttercup, 'cause you're next on my list!

And that is why I didn't pick you for heir.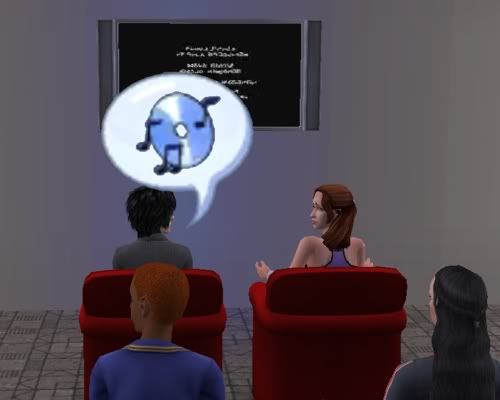 Oberon Summerdream: Have you heard the newest album by the Hubbub Revolutionists? It's fantastic!
Downtownie: Shh! We're trying to watch a movie!

Kinda makes you wish Hugh Jackman would show up and tell him off, doesn't it?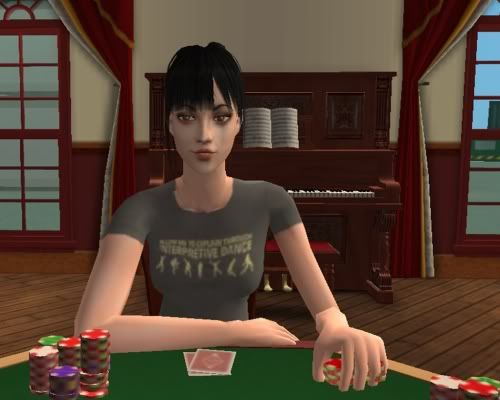 She made her way to another bar, hoping to find her One True Love. All she found was a hundred simoleans that she won at a poker tournament. It wasn't bad, but money can't buy you love, or can it?

Darcy: *happens to be in the neighborhood* No, but it will buy you a lot of first dates. You even get a gold Matchmaker card.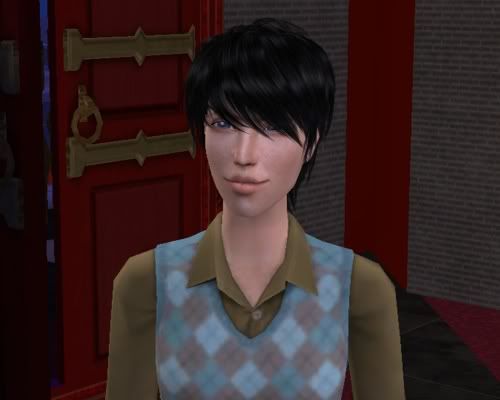 Finding nothing that even remotely made her spidey senses tingle, Chiyo made her way back to the club, just to give it another chance. All she found was her great aunt Georgiana.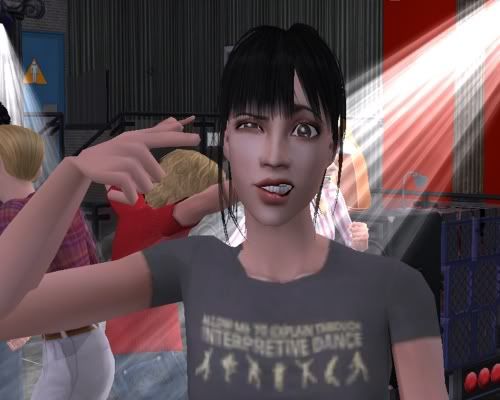 Chiyo! She had one nervous breakdown at her father's funeral! She's not a nutcase!

Chiyo: What? I was talking about the guy in red behind me. He's fallen down like four times. Somebody should really cut him off.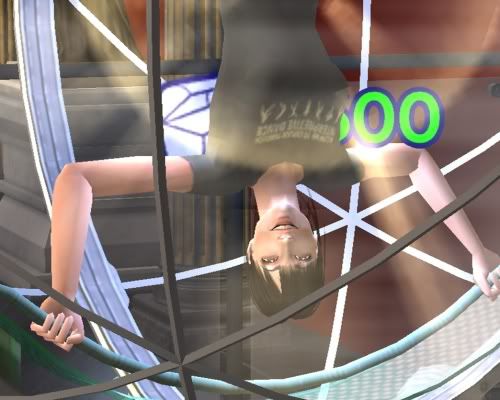 Chiyo: Hey, this isn't so bad!
Me: I don't think it's a good idea to get on at the highest level, especially since you've had one too many yourself.
Chiyo: Oh come on. Live a little.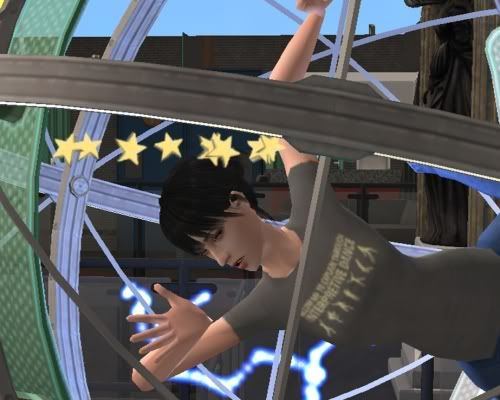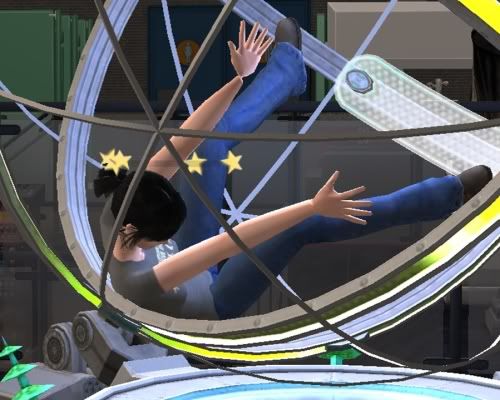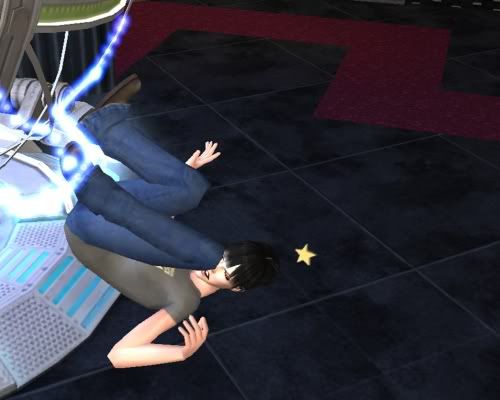 Chiyo: Oof! *knee to forehead*
Me: I told you so.
Chiyo: Let's just go home and never speak of this to anyone.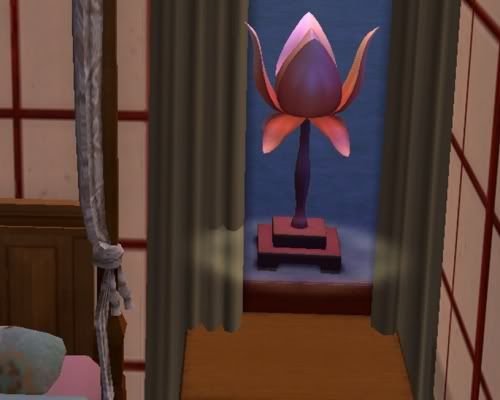 Back home, Author continues to haunt lamps.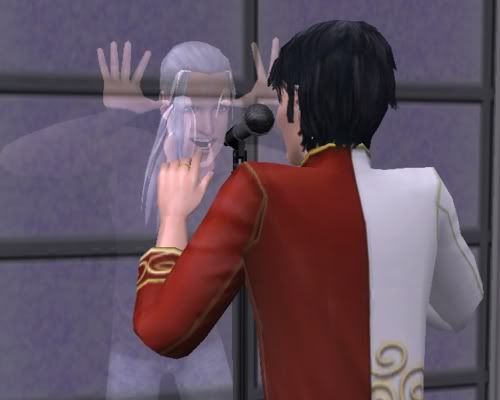 And scare his grandchildren.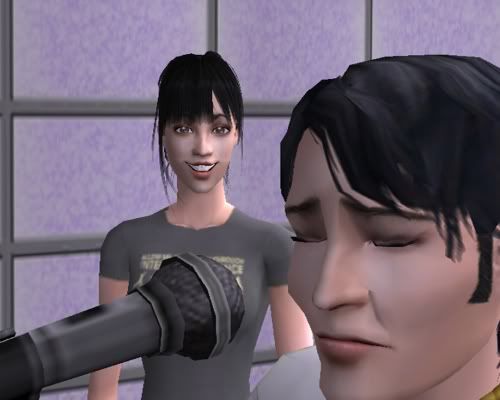 Which Chiyo finds horribly amusing.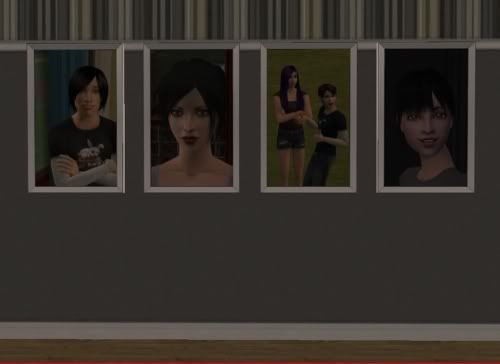 Generations One to Four portraits.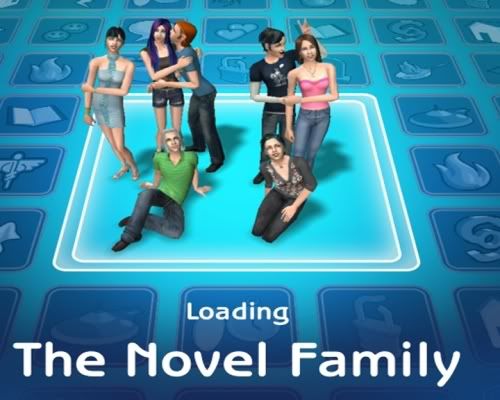 And a look at everyone in the family. Chiyo looks lonely, so hopefully we can fix that. The third time's always the charm, so I sent her off to the club the next evening. This time, she promised to stay off the dance sphere.




Oooh, who do we have here?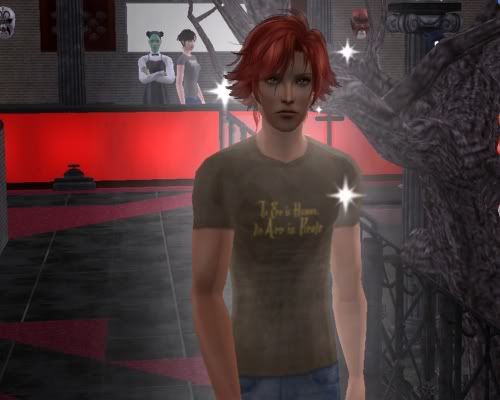 And Chiyo thinks he's pretty! Run after him, girl, run!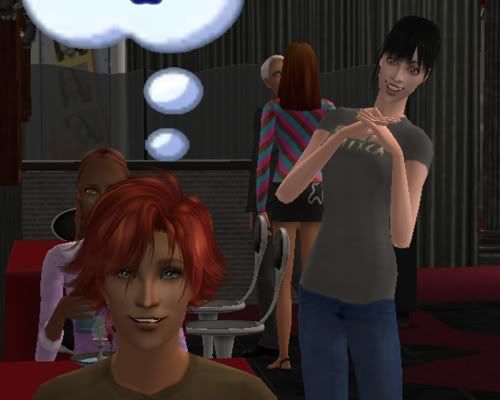 Pretty Man: There's someone behind me, isn't there?
Chiyo: *heartfarts*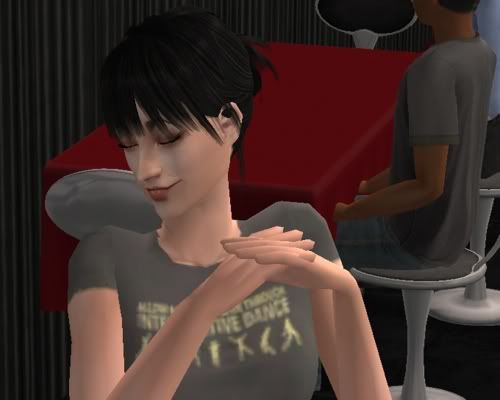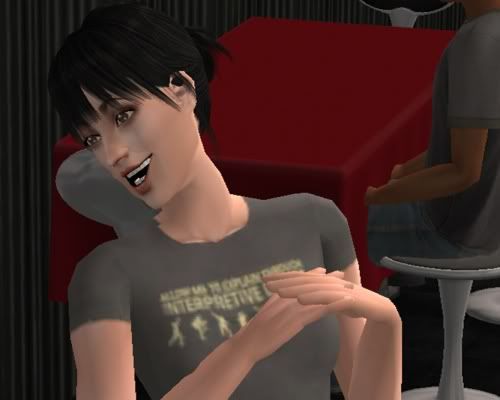 Chiyo: He's so dreamy. *swoons*

After he finishes his dinner, Chiyo strikes up a conversation with him. Turns out his name is Damian Grey and they spend an enjoyable evening making fun of everyone on the dance floor in between flirting with eachother. Damian leaves in the wee hours of the morning, but phone numbers and promises to see the other were exchanged. Chiyo hopped into the Evilmobile and drove home afterward, feeling like she had just won the lottery.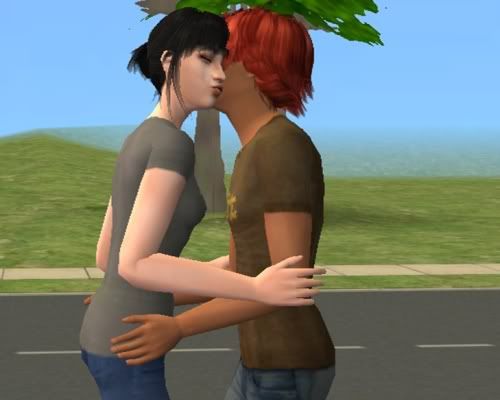 As soon as it's daylight, Chiyo calls up Damian and asks him over. He asks if he can invite his bartender friend, and Chiyo says yes, just in case saying no proves to be a dealbreaker.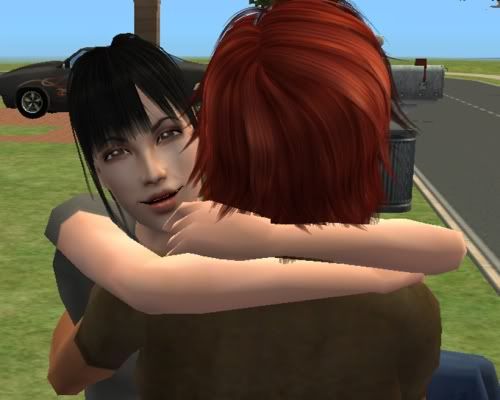 They have a whirlwind romance on the front lawn.

Chiyo: I'm keeping this one, right?
Me: Oh most certainly.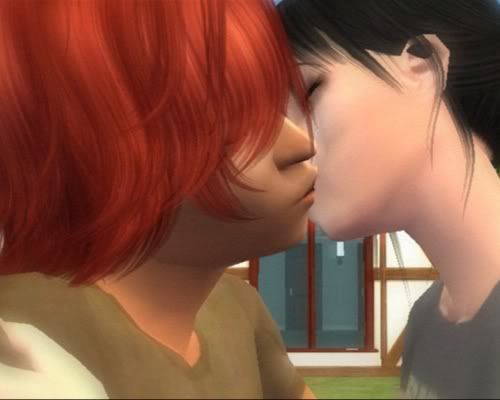 First kisses are adorable, no?





And he moves in.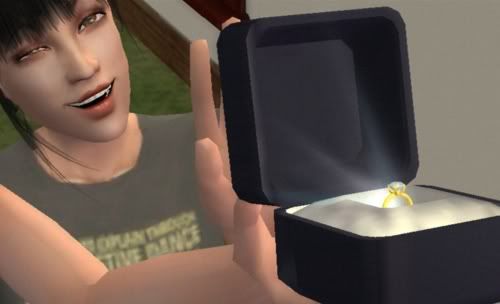 Now that he's trapped in the legacy all settled in, Chiyo pops the question. Damian takes one look at the rock she's presenting him and says yes.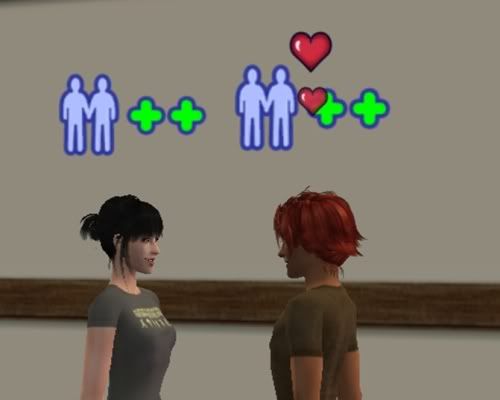 Only then, does he realize that he loves her.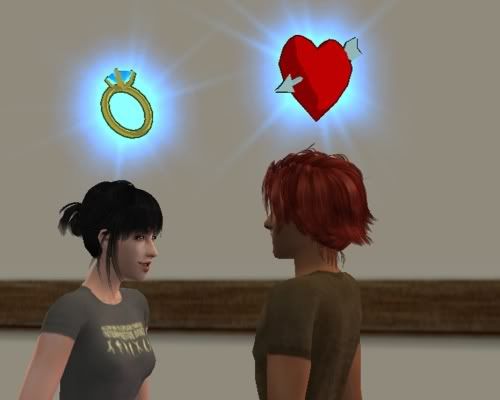 Chiyo: Yay, I got engaged!
Damian: Yay, I fell in love!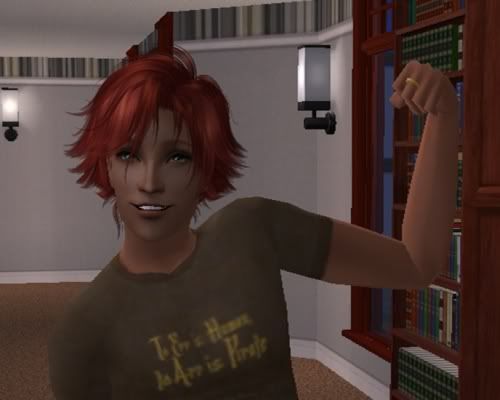 Damian Grey
Family/Knowledge
Pisces
5/3/7/3/7
LTW: Graduate three kids from college

He's a sucker for black haired women wearing underwear, but watched Terminator one too many times, so servos freak him out.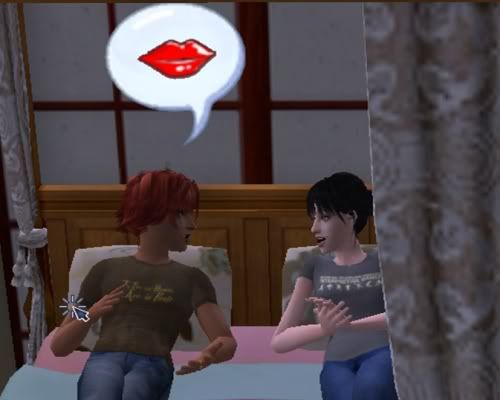 Damian: So, want to celebrate how we just got engaged and I just fell in love?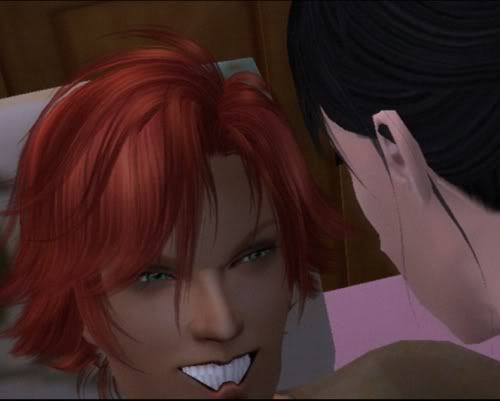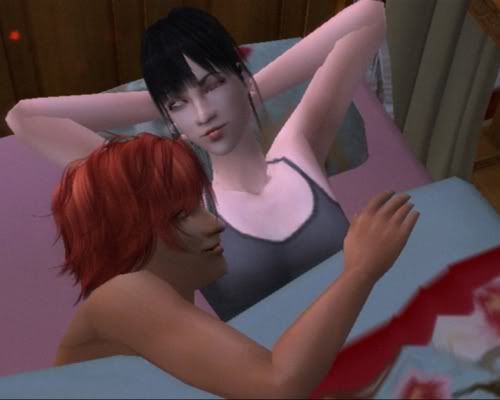 Guys, I just heard baby chimes. Baby #1 is on the way!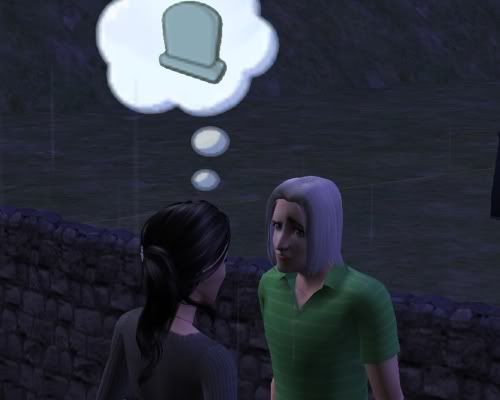 Jane: So, seeing that we're both going to die soon, why don't we hang out in the family plot for the rest of the evening? Come on, it'll be romantic!
Juan: What?!

While Chiyo and Damian were celebrating their impending nuptuals, Jane was thinking about her mortality. Both she and Juan are around the halfway point of their life bars, and seeing that they're both permaplat, I don't see them going anytime soon, but I guess she's wondering who will take over the world after she dies. She would like it to be one of her kids, but Beru isn't going to give up her job as a Rock God and besides his name, Smaug hasn't given any hint that he would like to join the dark side.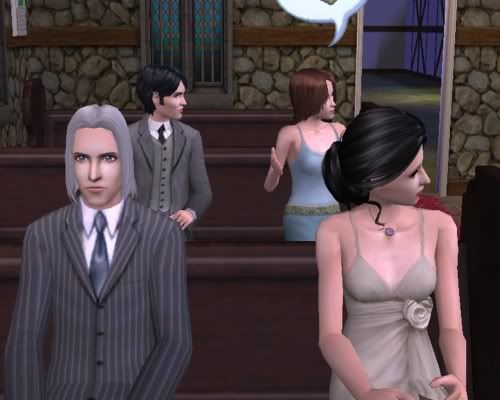 Everyone manages to clean up and head over to the family chapel. With Baby #1 on the way, they decide to get things moving before Chiyo can't fit into the Novel heirloom wedding dress.

Jane: Why are you people sitting over there?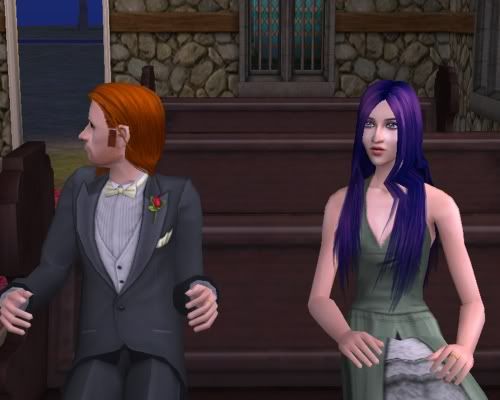 Jessie: The groom's side would be empty if we didn't.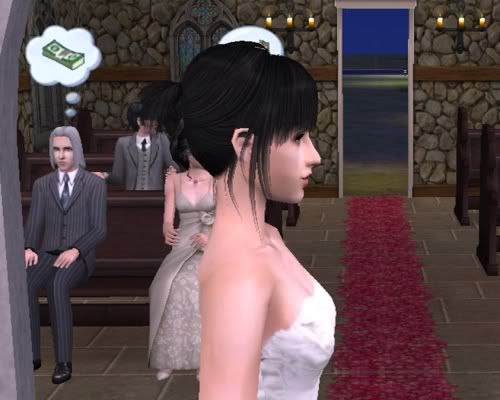 Juan: I wonder how much money this is going to cost me.

Just the cake, everything else is paid for.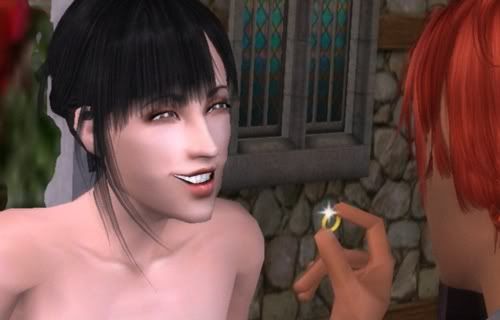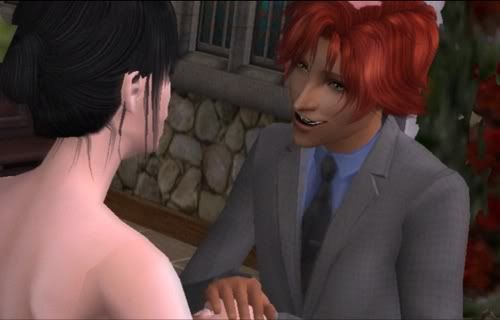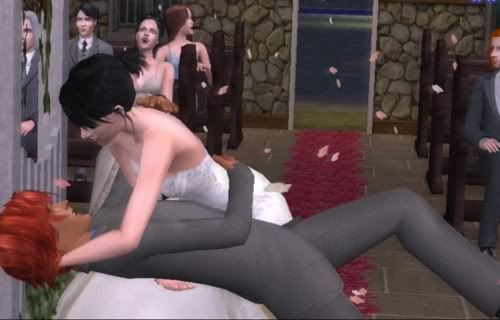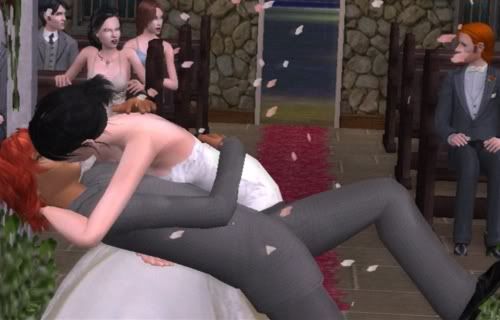 Jane: My great-granddaughter is kissing her husband! How disgusting!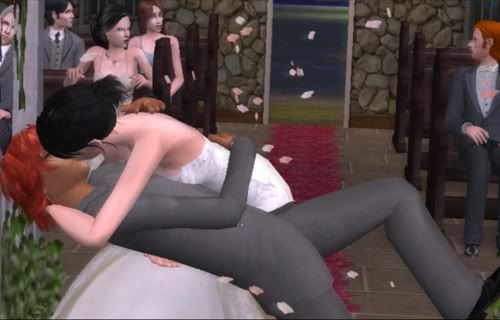 Demi: Shocking! I don't know if that was a church kiss! (clearly she's seen the Wedding Singer way too many times.)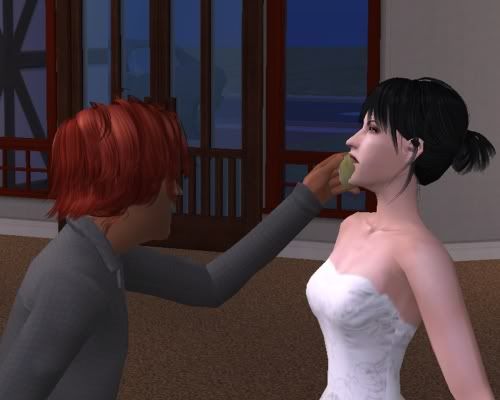 And we have cake shoved in the bride's face.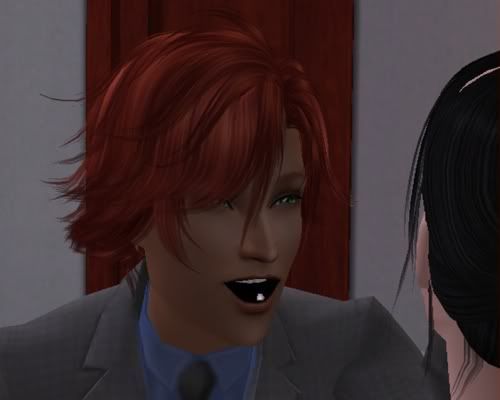 Damian: Hee hee!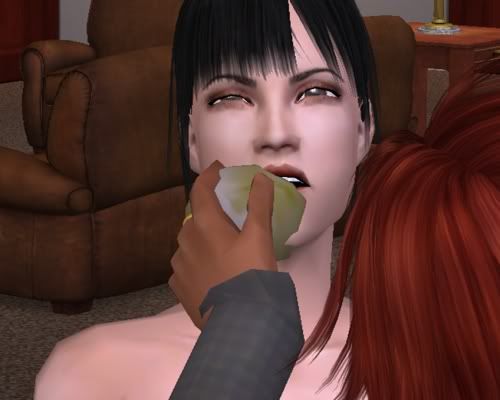 Chiyo: This is not how I had planned to start my marriage.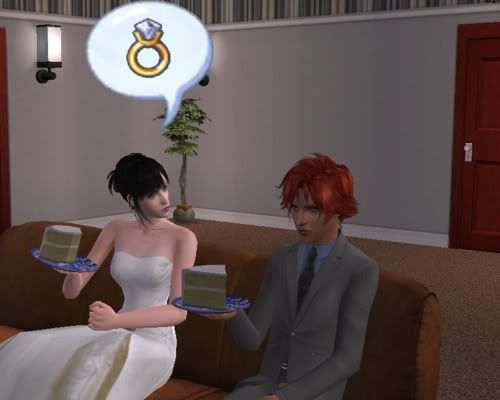 Chiyo: So, do you like your ring? I went to Jared.
Everyone in the household: She went to Jared!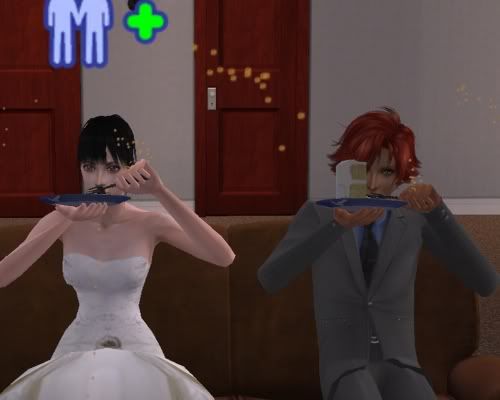 Yep, the two of them were made for each other. Very classy.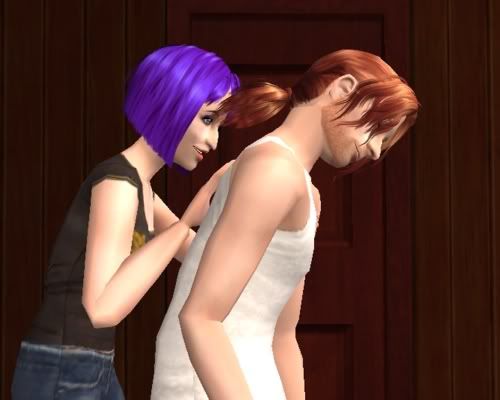 Now that their baby has gotten married, Beru and Jessie get a more middle aged yet still fitting with their rock and roll lifestyle makeover.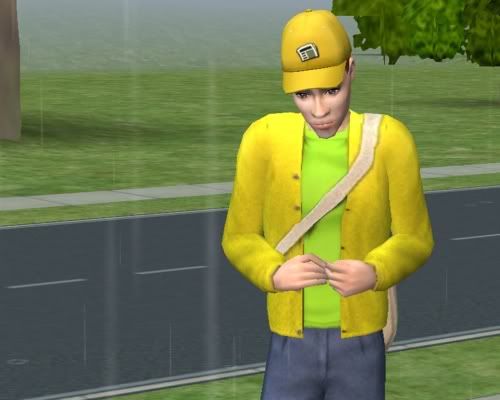 Me: What's wrong?
Paperboy: This is my first day on the job and I have the Novels on my route. What if I mess up and don't put their paper in the right spot? *worries*
Me: Ah, don't worry about it. They never read their paper anyway. Someone either steals it before noon or they wind up recycling it.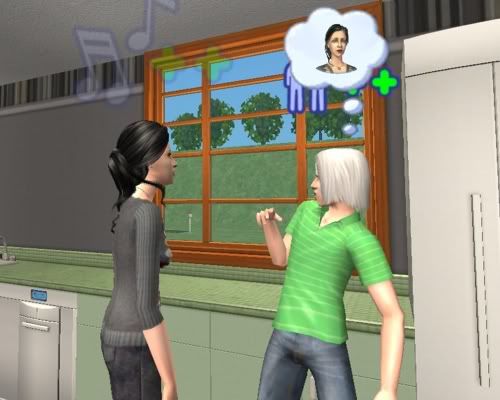 Inside, Juan still finds Jane attractive.

Jane: Dear, I'm over here.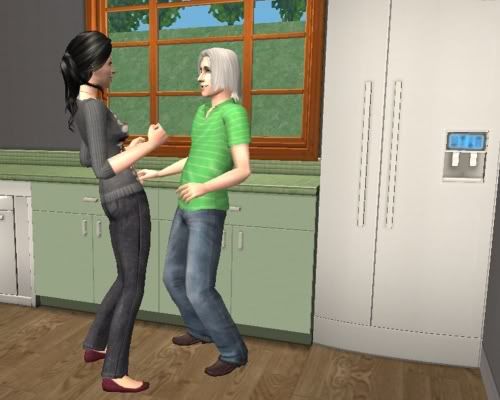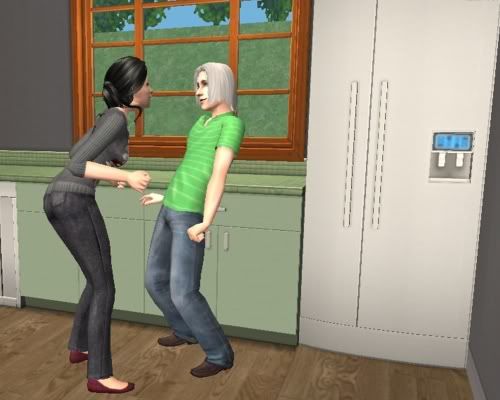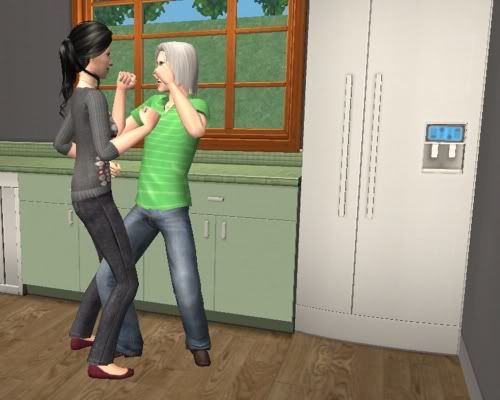 Yeah, these two still got it. *snuggles*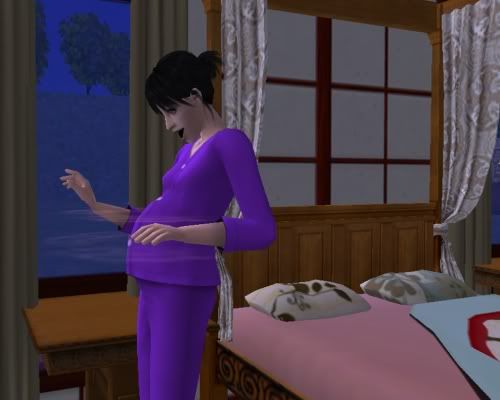 Chiyo: My PJs changed colors!

Of course you'd notice that, seeing that waking up in the middle of the night to find your belly expand is perfectly normal. [/sarcasm]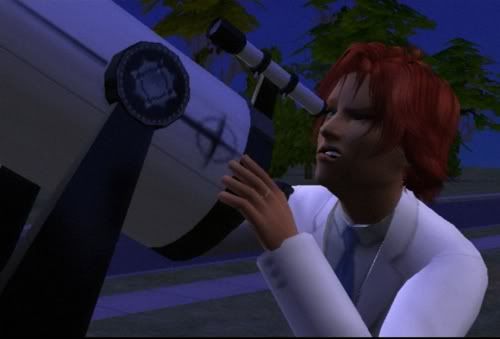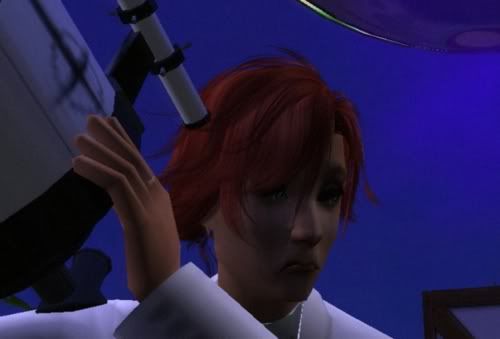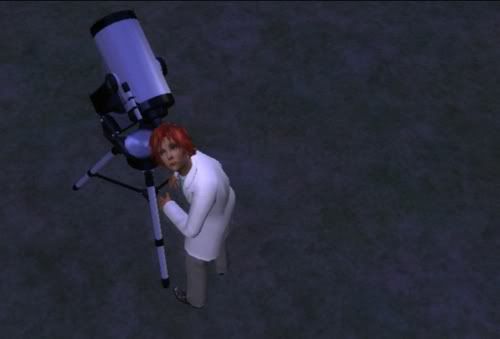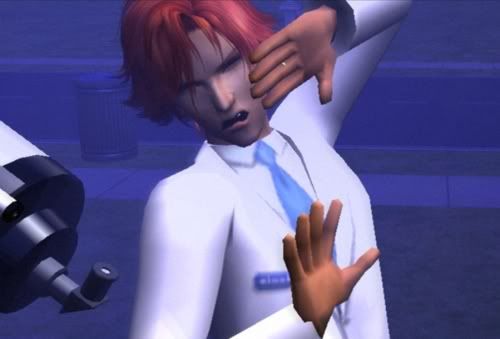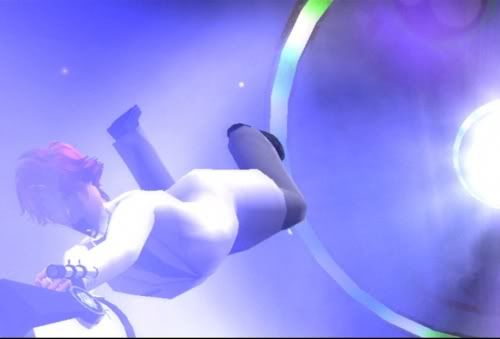 Damian: I'm too pretty to be probed!

I just downloaded some new alien skin and eye defaults, so I'm waiting to see what they look like. Besides, Damian is a secondary Knowledge sim and he works in the science field. He should enjoy his trip.





Or maybe not, seeing that he's all the way into the red now. Hopefully he won't be too mad at me when he comes back.




Nothing of importance happened while he was up in the sky, so a shot of the family while we wait for him to be dropped back off.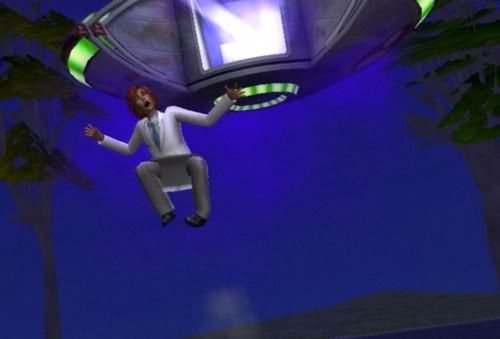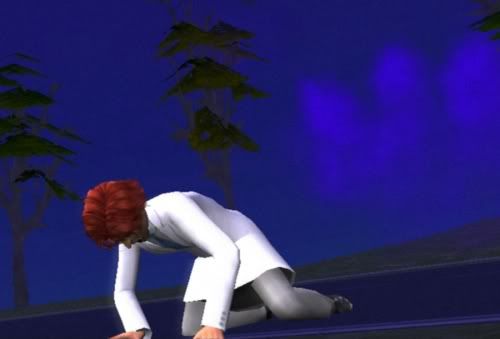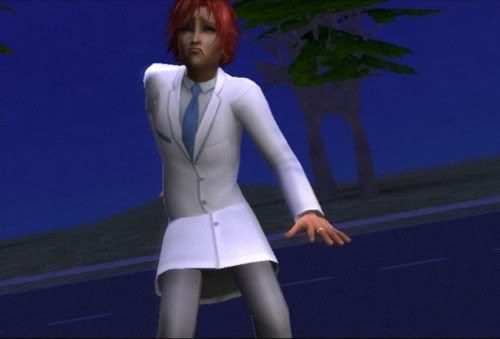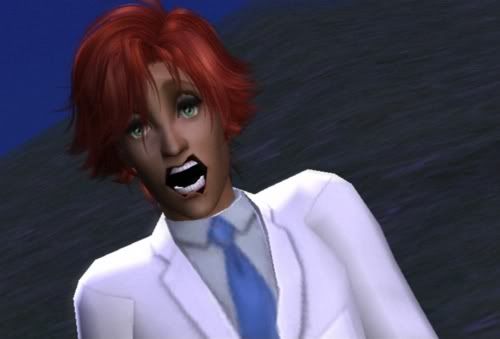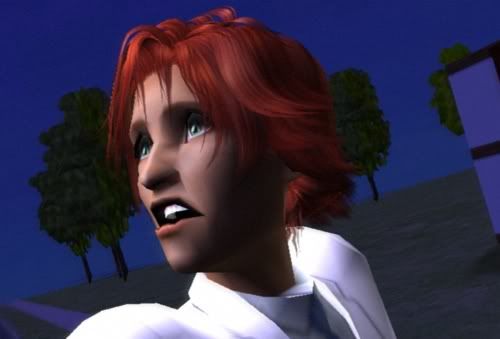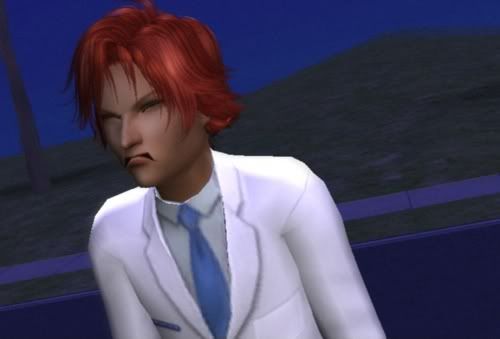 Damian: I'm going to pretend that tonight never happened.
Me: Good luck with that, I heard baby chimes.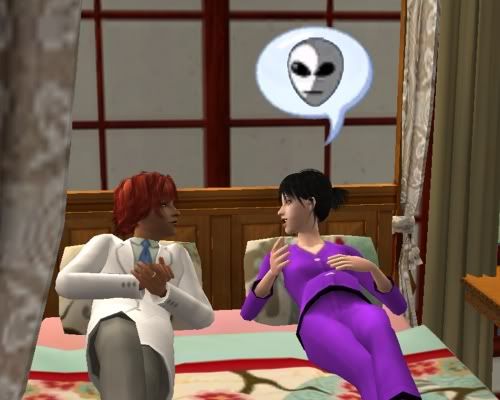 Chiyo: So, how was the abduction?
Damian: What abduction? I know not of what you speak of.
Chiyo: I'm so glad we stocked up on ginger ale. It'll really help with your morning sickness.

Chiyo is taking being the step-mother to an alien/human hybrid in stride. I think she's pulling on her Family sim roots and wants more babies in the house.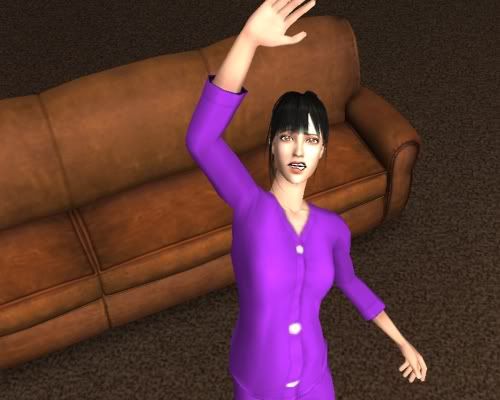 Speaking of babies, Chiyo's water just broke.

Chiyo: Hey, I couldn't make it to the smallest bathroom in the house, but is the living room okay?




Everyone ran into the living room in time to welcome baby Shane, who has his daddy's green eyes and his mommy's black hair. I'm naming all the kids in Generation Five after Jennifer Crusie and Bob Mayer's book Agnes and the Hitman.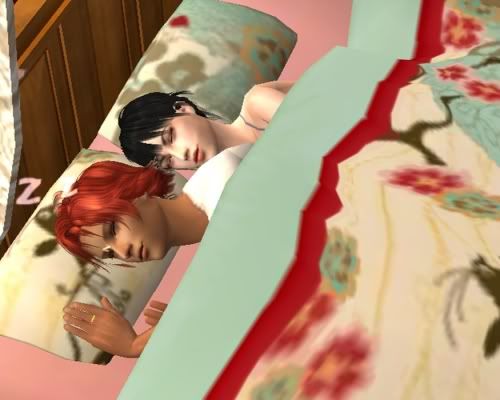 Just because Shane's random pick was a single birth does not mean you have to stack the odds. I mean, we could have more than one alien baby on our hands, you two. They never listen. Baby chimes are heard.




And with the magic of Sim Blender, we have almost twins on the same day!

First, Baby Agnes, a little girl with Damian's hair and eye color.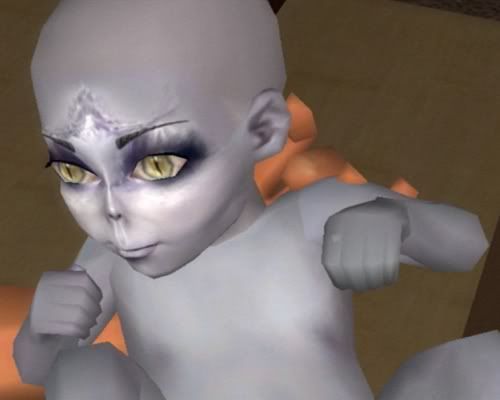 Then, Baby Carpenter, who proves that I did install the default replacements in my downloads folder correctly.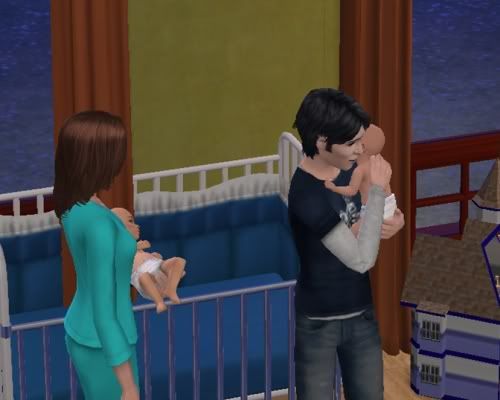 Demi and Smaug take to being Great-Aunt and Great-Uncle even better than they did when they first became parents.

Demi: Hey, raising seven kids in one house will give you plenty of practice.




We ignore Smaug's "If a baby is covered with a green cloud of stink, he must be hungry" reasoning to bring you a special news bullitein. Shane has freckles! And with that, even though Agnes does have red hair and Carpenter is cute, Shane has taken the lead spot for heir.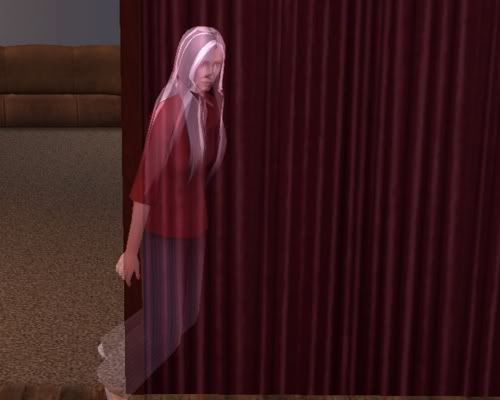 Trista celebrates this freckled realization by deciding to haunt the household for the first time.

Trista: Where the hell did my bed go?! And why is there a bathroom in my old bedroom?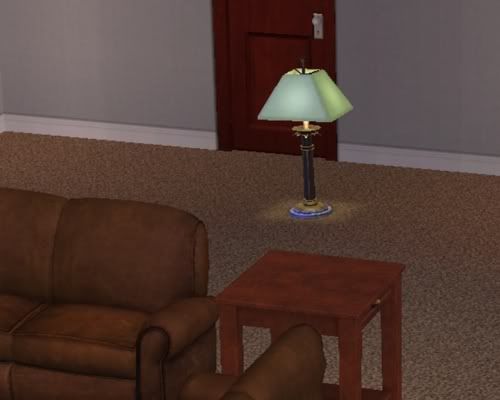 Like her husband, Trista is a little put out that her things had been sold and haunts the lamp as a form of protest.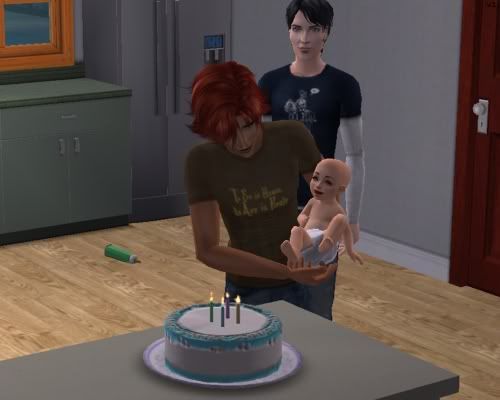 Time flies when you're looking after three babies, though after last generation, three is a cakewalk. Speaking of cake, it's time for baby Shane to grow up into a toddler. He's such a happy looking baby here, isn't he?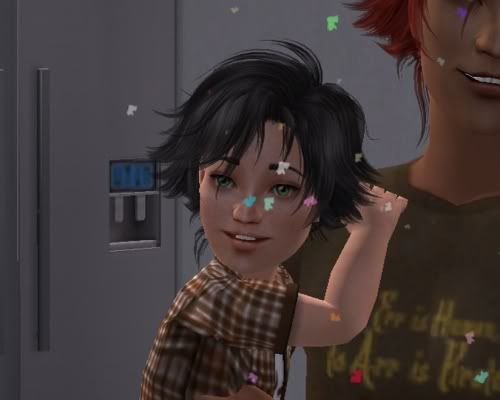 And here's Toddler Shane! Not only did he inherit his daddy's eyes, but his hairstyle as well. And we can see the freckles just a little bit better! *pinches cheeks*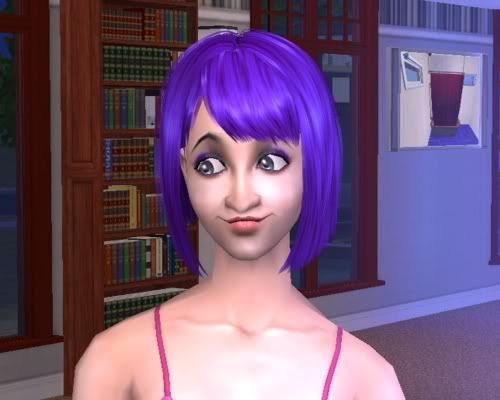 And we close this update with Grandma Beru taking over potty training duties.

Next: Toddlerdom! Childhood! Hopefully more Author!Hauntings!

Previous Chapters:
1.0 | 1.1 | 1.2 | 1.3
2.0 | 2.1 | 2.2 | 2.3 | 2.4 | Spare Update
3.0 | 3.1 | 3.2 | 3.3 | Spare Update
4.0

Novel Family Tree