really
well at the moment.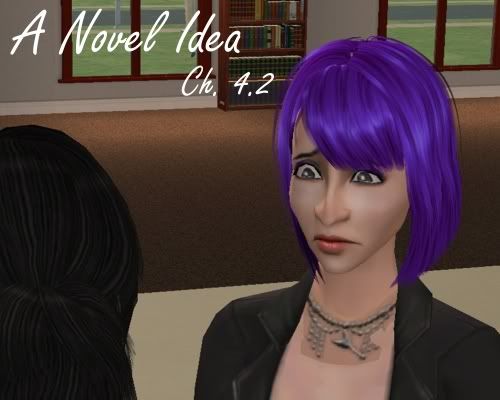 41 pictures under lj-cut.



Last time we saw the Novels, Chiyo had been named heir, she nabbed herself a cute husband, and they had three kids, one of which was a starchild, and another who had finally inherited the Novel freckles, and a third who was cute but never actually did anything noteworthy besides have red hair. Author and Trista made ghostly cameos and Jane and Juan were their normal groping couple.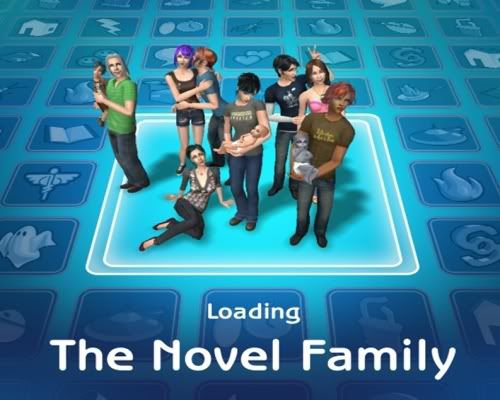 A look at the current Novel Household. Note that Jane has abandoned her "It's all about ME" center post and Damian is holding Carpenter as if to say "DO NOT WANT."

Damian: All I wanted was a night of quiet stargazing.

Take a good look at Carpenter, because that's pretty much all you're going to see of him in this update. He definitely wasn't the favorite child.




But this one was! [Shane dance spam]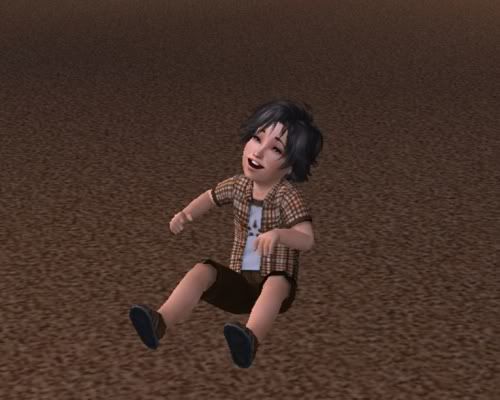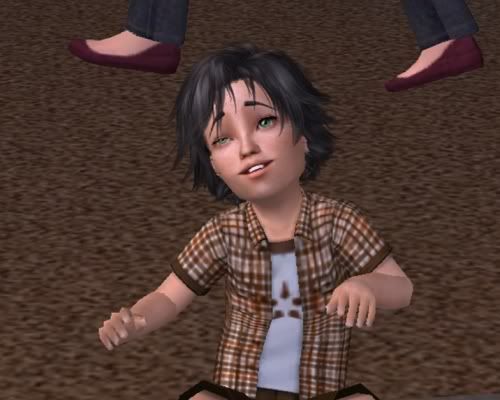 [/Shane dance spam] He's really feeling the music, isn't he?

Shane: Pretty colors...

What the heck are you people feeding this child?




And we also see that Shane has elf ears. If the freckles hadn't already sealed the deal, the ears just crowned Generation 5's number one pick for heir. Unless something drastic happens, like it did for last generation's favorite, Shane has this thing in the bag.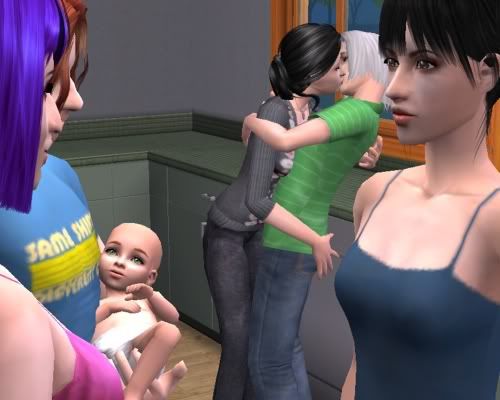 Four generations in one shot. I was trying to get them to pose, but Jane and Juan had other ideas. Oh well, just another day in the life of the Novels, I guess.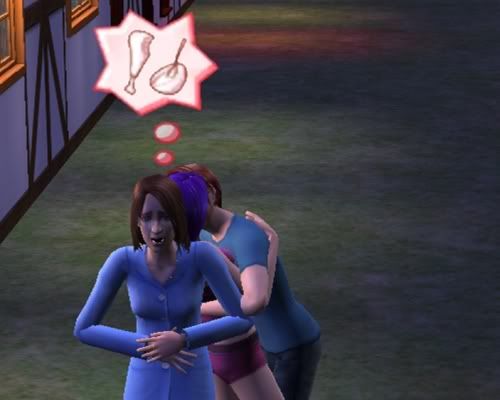 Demi: I'm so hungry!

Well, your husband just made lobster just for you. All you have to do is stop stalking Jessie and Beru while they canoodle behind the house.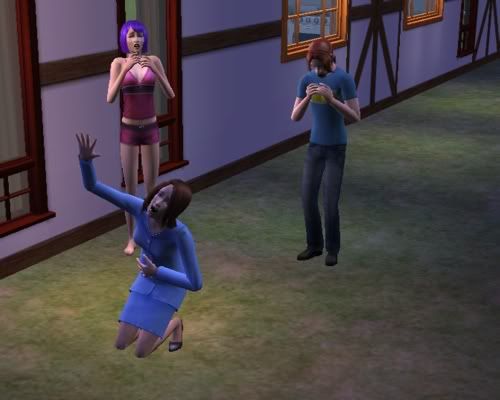 Demi: Hungry...
Beru: BAWW. Why didn't she stop watching us make out?




Jessie: *SOB* We can't help it that we're so pretty!
Demi: Lob...ster... *dies*

And where is Smaug while all of this is going on?




Smaug: Hey, this lobster came out great! Not bad for a celebrity chef, huh? Guys? Where is everyone?




Chiyo looks oddly cheerful for witnessing her aunt's demise. And no one goes up to bat to plead for her life either.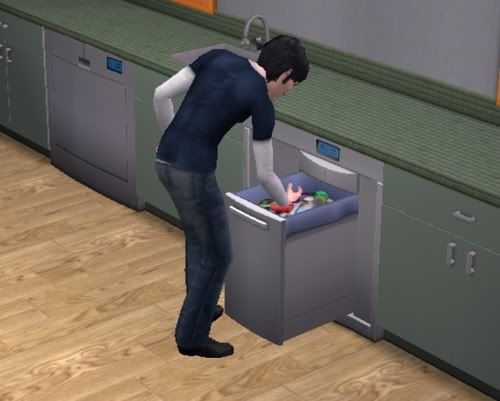 Smaug: Seriously, where is everyone? Their lobster is getting cold. Oh well, guess I'd better empty out the trash. Hum de hum hum.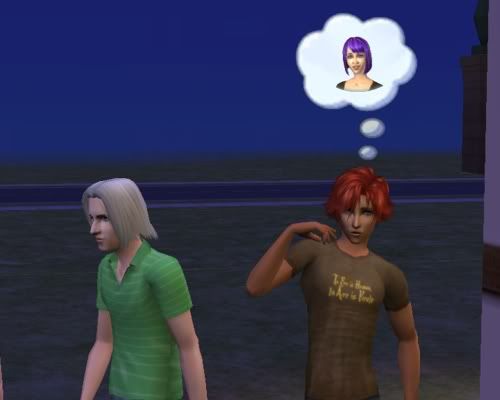 Damian, your aunt-in-law is dead on the ground. So not the time to be checking out your mother-in-law.

Damian: But she's hot. I've always been a big fan of the Hubbub Revolutionists!
Me: You were one of those adolescent boys who had her solo poster hanging up on a wall in your room, weren't you?
Damian: Oh yeah. Good times.
Me:... I really do NOT wanna know details.




Let's play "Spot What's Wrong With This Picture"! I'll give you a hint: it's not Beru and Jessie making out! They do that ALL the time, funeral or no!




While taking out the trash to the compost, Smaug discovers something is wrong.

Smaug: My wife DIED?! How come no one told me?!?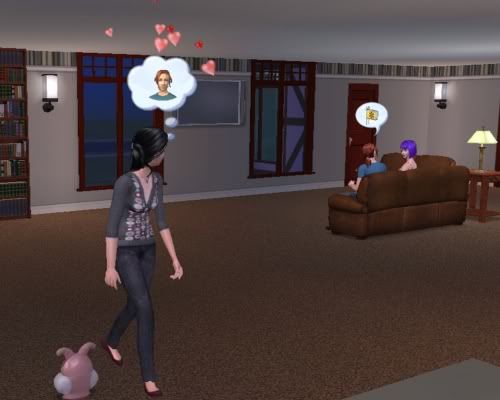 Inside, Jessie partakes of the meal Smaug had made specifically for his now dead wife.

Jessie: Hey, this lobster really IS great!
Jane: *heartfarts*

No, don't do it Jane! Lusting after Jessie only brings death! Learn from Demi's mistake!




While she might like her son-in-law a little too much, Jane can't say the same for her grandson-in-law.

Jane:That jerk is in the bathroom again isn't he? I need to go to the bathroom!

There's two bathrooms in the house. She could have picked the other one, seeing that she had to pass it in order to get to the one Damian's using.




What's with the face, Jane?

Jane: Just plotting an untimely demise for a certain in-law.

Somehow, I don't think Chiyo would like it very much if her grandma wound up killing her husband.




Woah, way to show you're pleased with the promotion, Damian.

Damian: I hate tweed.




At least Chiyo knows how to turn that frown upside down. Thanks to ACR, these two have been at it like rabbits. Here's hoping that we don't have another kid in the running for heir. After last generation, three is PLENTY.




Since the passing of his wife, Smaug's been putting all his energy into taking care of the children in the household. In other words, the almost!twins have a birthday. First Agnes.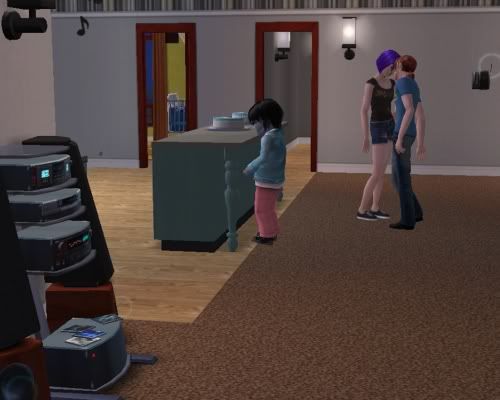 And then Carpenter, who I didn't get a good shot because as soon as Smaug put him down, he was off and crawling towards the stereo. Is this an alien thing, where they levitate in order to dance, because he did it like three times in a row after I cancelled his actions. Floating toddlers!




And we haven't forgotten about Shane! Juan spends almost every waking minute with his favorite great-grandbaby.




Well, almost every waking minute. He does spend a good amount of time doing non-ACR induced dancing, hugging, and making out with his wife. *sigh* Three-bolters. They're too damn cute.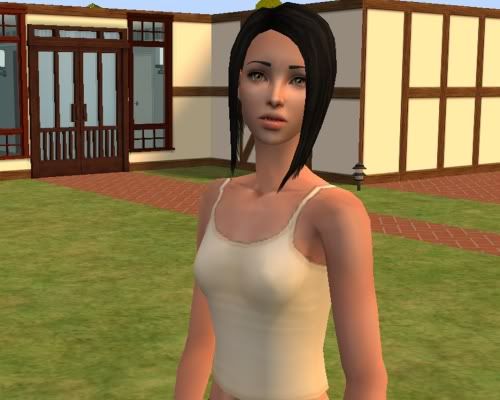 Speaking of cute, look who walked by! I didn't get her name, but she'd be interesting to have in this legacy.

Cute Walkby: I'd rather be in the Movies.
Me: Wrong neighborhood. You'll be wanting New Pleasantview, not Veronaville.
Cute Walkby: Damn.




Jane: Why didn't she just eat the damn lobster?

Poor Jane. She's taking Demi's death really hard.

Jane: IT WAS RIGHT THERE! *sobs*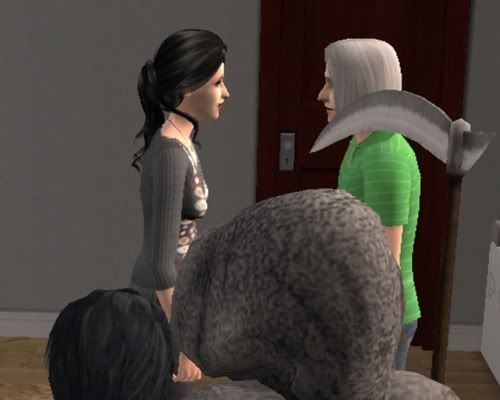 Speaking of death...

Death: Two Novels for the price of one! My day, it has been made!

I don't think they're listening, Death.

Juan: Wanna go makeout?

Nope, not listening.




Jane: There's someone behind me, isn't there?
Death: Juan Novel, your time has come!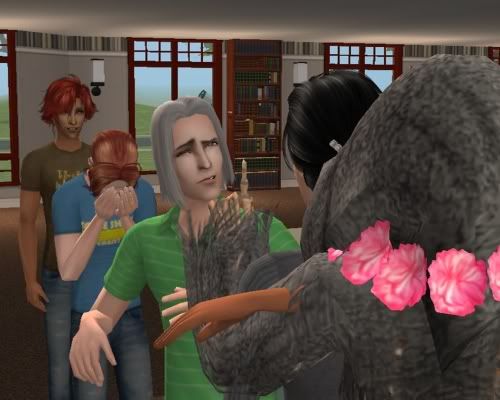 Juan: But I don't want to get into the cart!
Death: Look, that line didn't work with Author, what makes you think that it'll work with you?
Juan: I feel fine!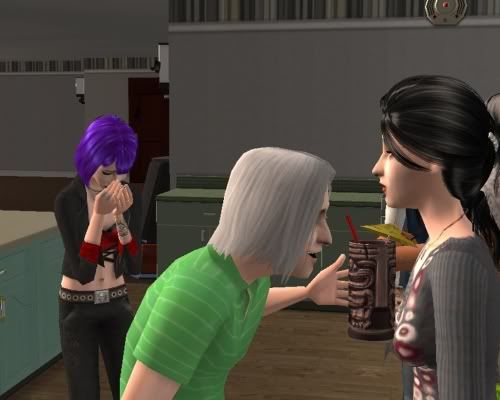 Okay, I know that Jane is just in the wrong spot at the wrong time and Juan is reaching for the tumbler of booze, but it really looks like he's checking out her rack at this angle.




And even more so at this angle.

Juan: BOOBIES!




I was about to get all upset that Juan didn't leave a single penny to Jane, but then I remembered that she's dying as well, which would make sense that she'd be off his will.




Death: Jane Novel...
Jane: Hold it. What's with all the death stuff, Death? I mean, there's an afterlife, right?
Death: Well, yeah. Tiki huts, mai tais, all the undead cabana boys you could ever want.
Jane: So technically, there's another world on the other side of this one, correct?
Death: You got it.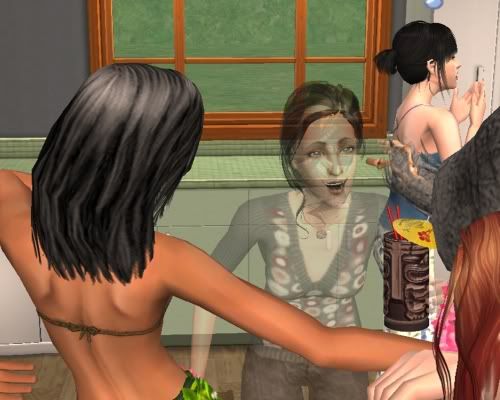 Jane: Hot damn, I'm off then! Time to be the evil overlord of the Underworld!
Death: Somehow, I think I've made a serious mistake in letting you die.




And a shot to show that Jane plays favorites when it comes to her kids. Poor Smaug, he gets so little love. And Jane finally gets to show just how pretty she thought Jessie was. She's leaving him her vacation home in Takemizu Village.




Nope, nothing out of the ordinary here.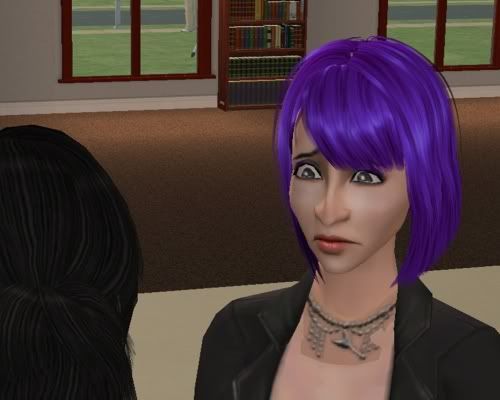 Beru: You mean Mom and Dad died?

If you hadn't been checking your husband out the whole time Death and his Hula Zombies were around, you'd have gotten the memo.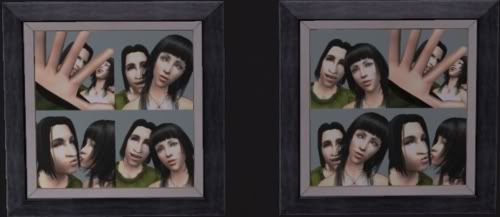 One last look at Generation Two's heir and spouse. Farewell, Jane and the Nose. We truly loved your evil ways. *sniff*

Besides their photo booth portraits, all of Jane and Juan's stuff got sold and Beru and Jessie moved into the now empty bedroom. Their old bedroom is in the process of being turned into a study, and since Smaug doesn't need much room, he and Chiyo switched bedrooms, giving Chiyo and Damian the second largest one in the house.




Jessie, if having your sister-in-law die on you, then your in-laws kick the bucket is what you call having an amazing week, I'd sure hate to see you have a bad one. I will forgive you, because of your abs in this shot.

Next: Who knows? I was planning on taking this update up to when the kidlets turned teens, but all the death kinda threw me for a loop.

Previous Chapters:
1.0 | 1.1 | 1.2 | 1.3
2.0 | 2.1 | 2.2 | 2.3 | 2.4 | Spare Update
3.0 | 3.1 | 3.2 | 3.3 | Spare Update
4.0 | 4.1

Novel Family Tree
Taking a break from NaNo, which is going really,