47 pictures under the cut.



Last time, Death decided to practically become a part of the family, first by coming around to collect Demi, who had starved herself to death because she was way too into stalking her brother-in-law, and then again for Juan and Jane. Both of them had lived full lives and it almost makes sense that the two of them die from old age together, mostly because they couldn't seem to spend a second apart in life without going and hunting the other down for a makeout session.

Oh yeah, and the kids turned into toddlers.




Shane managed to be the only toddler to be held in the family shot, further cementing his title as Generation 5 favorite.




He's also the first kid to learn all of his toddler skills, because Chiyo had every single want pop up one right after the other.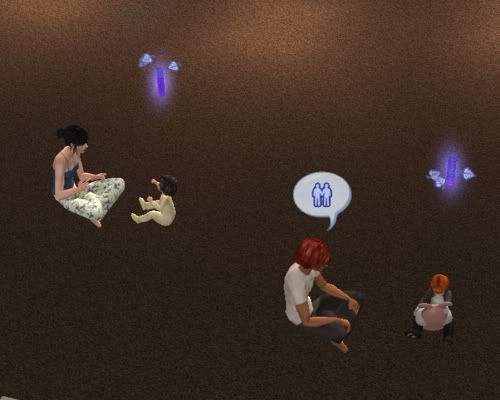 But that's not to say that the other two were completely ignored.

Carpenter: I'm not in that shot!
Me: Well, okay, so you were ignored for the better part of your toddlerhood. But Agnes wasn't!

Speaking of Agnes, her daddy took over potty training duties from Grandma Beru:




[/potty training spam]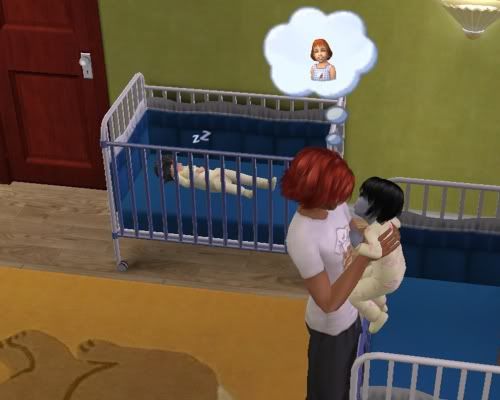 Damian: *sigh* Why can't you be more like your sister?

Wow, I've never seen such blatant dislike of a child in this legacy by practically all of the family members before. This has to be some sort of record. Come on guys, where's the Carpenter love?




Proof that he did eventually learn toddler skills. Also, I think he's growing into his facial features a bit better.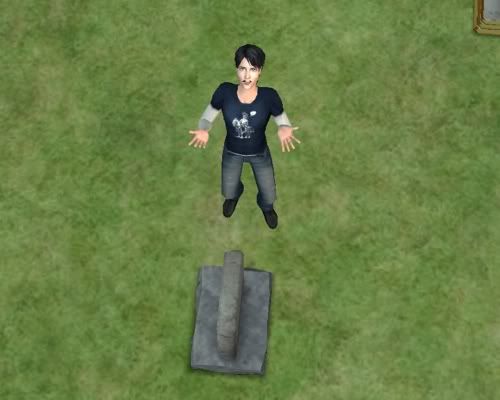 Smaug: I even made that lobster just for her!

This is pretty much all that Smaug does when he's not working or I'm not controlling him.

Smaug: WHY DIDN'T SHE JUST EAT THE LOBSTER? *sobs*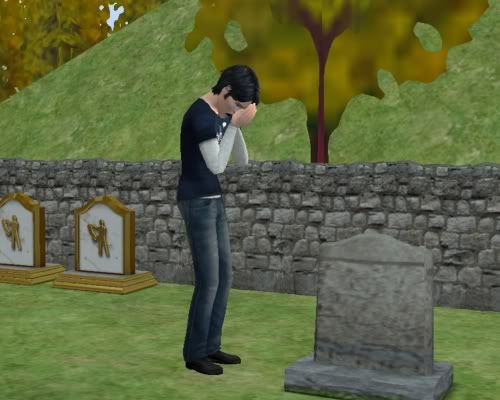 I feel so bad for him. I think he and Demi were three bolters, but even Trista didn't act this way when Author died.

Smaug: I have nothing to live for. My life is so empty. I'm so...so...
Me: Sad?
Smaug: No, ANGRY! I need to kill something!




A job change and a few promotions later, and Smaug is granted his wish.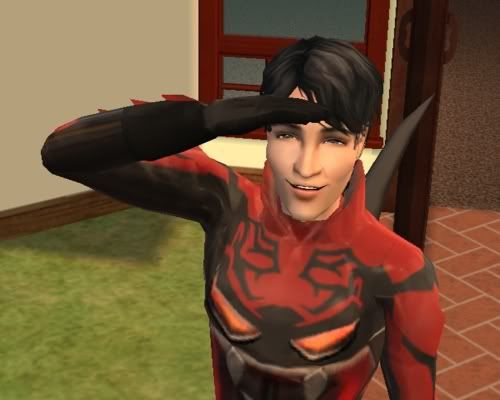 Smaug: My life has purpose again!

Like mother, like son, no? Trista and Jane would be so proud to see that the family legacy of Evil Masterminds has continued onto the third generation.




Birthday for Shane!




Child Shane: still #1.

A few days later, his siblings follow suit.




First Carpenter.




Then Agnes. She inherited Jessie's nose, IMO.




I don't see a lot of Damian in her features at all.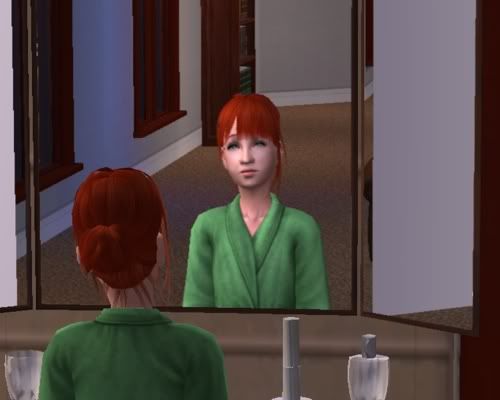 Especially after giving her a makeover. She takes after Chiyo's side of the family the most, I think.




Author leads this update's ghostly hauntings! Hi, honey!

Author: *cries* My little princess! *bawls*

He spent nearly all night crying at Jane's tombstone. The poor guy; she really was his favorite. *pats*




Trista chose to forgo mourning her firstborn in favor of scaring the crap out of her great-granddaughter's husband.




And Author took a break from bemoaning his daughter's demise to levitate a few lamps, which is his favorite thing to do.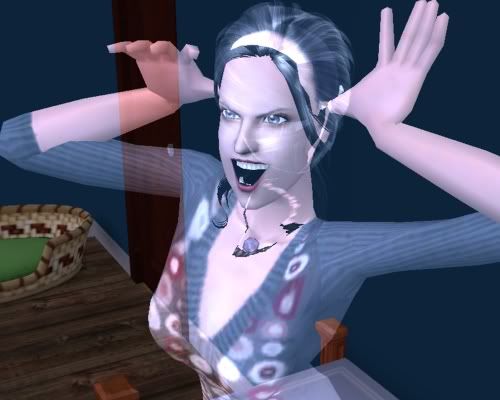 Jane must have heard her daddy, because she made her first appearance since joining the ranks of the non-living. But who is she scaring?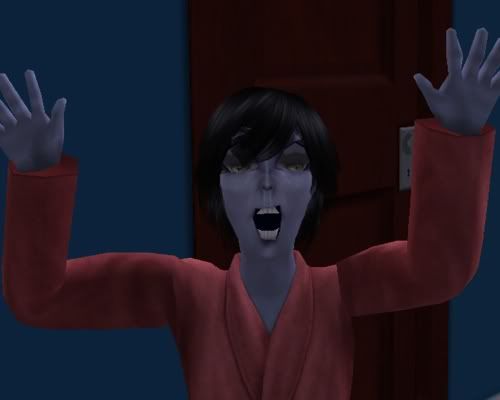 See? Least favorite child in this legacy. Even the ghosts don't like him.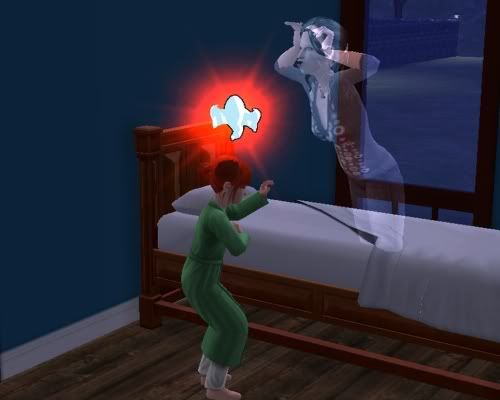 Or else she's just going down the lists in order of who's closest. This is Jane, I can never tell what she's planning on doing.




Where's Shane running off to? Is he trying to escape the house full of ghosts?




Nope. We caved and got our first animal of the legacy, just because he had "get a puppy" on his wants. Everyone, meet Maxx.

Shane: PUPPY! *loves*




Beru: Jessie, babe?
Jessie: Yeah?
Beru: The house is getting crowded, what with three pre-teens running around, a new dog, my parents and grandparents haunting all the lamps, my daughter not keeping her hands off her husband (Three words, Beru: Pot. Kettle. Black.) and my brother bringing home his evil henchmen every other day. What say you and I find ourselves a little recording studio we can live over?
Jessie: You mean, we can have privacy to woo hoo on the sofas whenever we want to?
Beru: The sofas, the kitchen, the bathroom, wherever.




Jessie: I'll meet you in the taxi.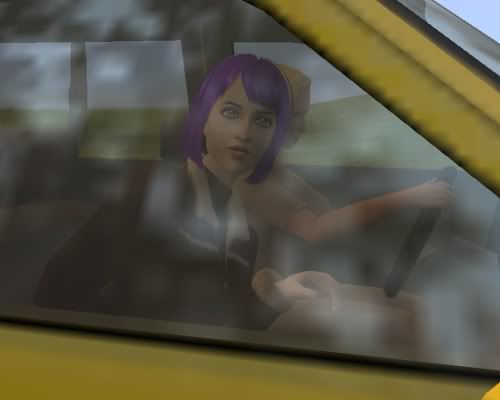 Bye guys! To tell the truth, I moved them out for two reasons. One, my lot was still running a little slow and I thought that by narrowing down the number of sims living in the main house, it would run better. Two, I fell in love with Jessie and Beru and I don't want them to die. Beru's generation had double heirs, so Smaug is still technically holding Gen 3's place in the Legacy House.

And now no one else can starve to death because they're too busy watching in-laws grope. I'm looking at you, Damian.

Damian: What?




Carpenter: MY LIFE IS HORRIBLE! *rage*




Carpenter: Why doesn't anyone love me? *slumps*

Well, maybe if you didn't stomp down your sister's dollhouse or act mean to everyone else, people might like you a little better. Another first: Carpenter is the first kid in the legacy to throw a temper tantrum.




His little outburst is soon forgotten, because it's time for birthdays! (Actually, there were a few days in between birthdays, but nothing exciting happened that was noteworthy.)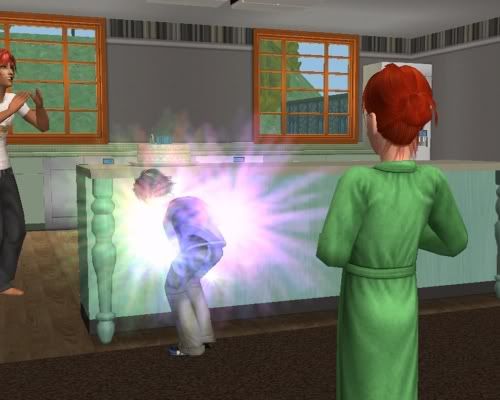 Shane: *explodes*




Into a great big ball of cutie pie! Look at that face! *loves*




Side by side comparison shot. It's clear that his features favor Damian.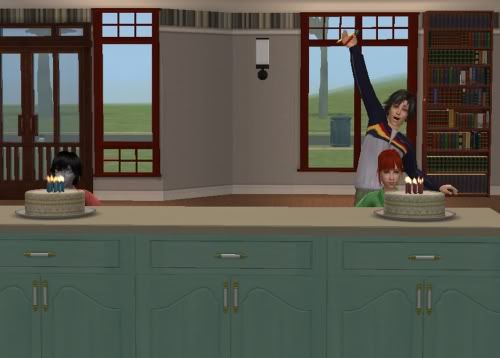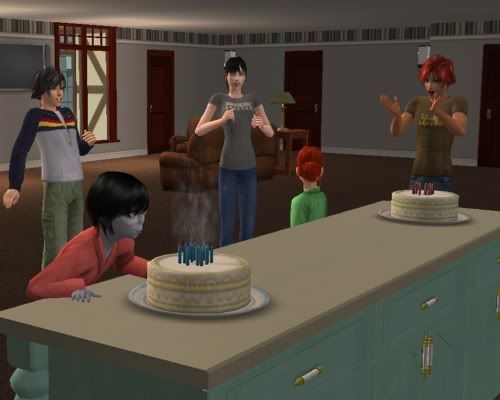 And then the almost!twins.




Agnes: I have boobies, Daddy! *is a cutie*
Damian: *goes to get his baseball bat*

Yep, you're going to have to beat boys off with sticks once they get a look at her.




And Carpenter. I really do think he's growing into his face as he ages. If he weren't such a jerk, then I'd totally put him in running for heir.

I'm going to wait to post everyone's stats once they hit college, and I haven't looked at their personality traits, but it seems as if Carpenter probably has one nice point, Agnes is outgoing, and Shane more than likely has ten neat points. The boy loves to clean, and every morning he starts his day off by making up everyone's beds. I'm going to start calling him Cinderella if this trend continues.




The first thing that the boys do? Give/Get noogies.

Shane: Happy birthday, little bro!
Carpenter: *silently plots Shane's demise*




The girl is glued to the bathroom mirror.




Shane rolled Knowledge, and he had the want to get the scholarship you get from being abducted. This is the first time that any of my teenage sims actually had that want, so I indulged him. I mean, I've been granting all of his wants so far, why stop now?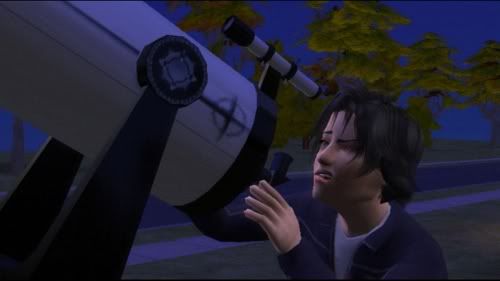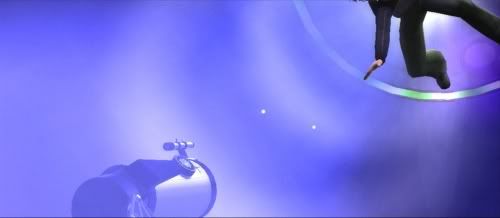 Shane: I changed my mind! I don't want the scholarship!

Too late, sweetie.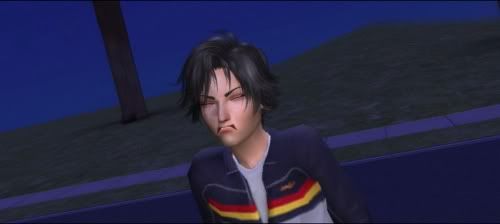 Shane: This had so better be worth it.




Smaug was at work when Shane came back, but the rest of the family came outside to greet him, with various reactions to his abduction.

Damian: *worries* I'm too young to be a grandfather! *worries some more* I hope Carpenter's dad wasn't on board...
Agnes: *ROTFLMAO* Just wait till I tell everyone at school!
Chiyo: *cheers* Woo! Great job, son!
Carpenter: *shouts* Dad? Are you in there? ANYONE, BEAM ME UP! NO ONE LIKES ME DOWN HERE!

And I'll leave it with that. Next: college! Togas! Drunken parties! Oh, and some studying too, but mostly HEDONISTIC PARTIES!

Previous Chapters:
1.0 | 1.1 | 1.2 | 1.3
2.0 | 2.1 | 2.2 | 2.3 | 2.4 | Spare Update
3.0 | 3.1 | 3.2 | 3.3 | Spare Update
4.0 | 4.1 | 4.2

Novel Family Tree