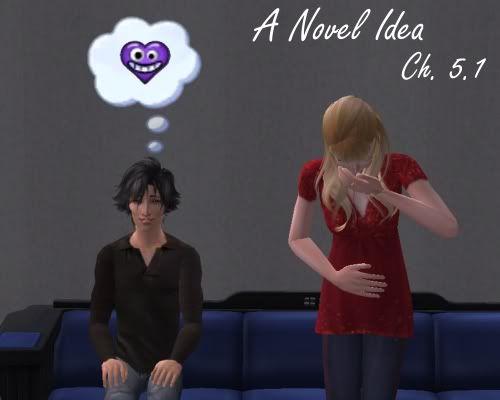 67 pictures under cut. Family tree has been edited to include Generation Five.



Last update, the three siblings of Generation five went to college, Carpenter aged well for once, Agnes was leered at by the family minion, and Shane was officially crowned heir. Carpenter and Agnes started a feud which ended with Agnes getting thrown through furniture. Shane got a girlfriend, who in turn got him into the campus' secret society. Everyone graduated and now Shane's back in the main Legacy house, ready to get down to renovations.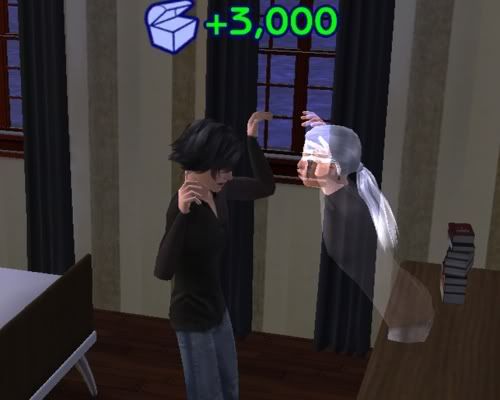 But first, Author wecomes the latest heir back home.

Author: Boooga booga! Hey, you're wearing the same clothes that I am!
Shane: Well, they were in the closet, and the narrator lady doesn't really feel like sending me out to the store to get new ones.
Author: Meh, they look good on you. Not as good as they do on me, but still. *goes off to haunt lamp*
Shane: *plus 3,000*

I'm so glad that he's a knowledge sim. And now, renovation time! We're trying the Novel household on two stories again. Hopefully there's not going to be any problems with traffic jams like the last time.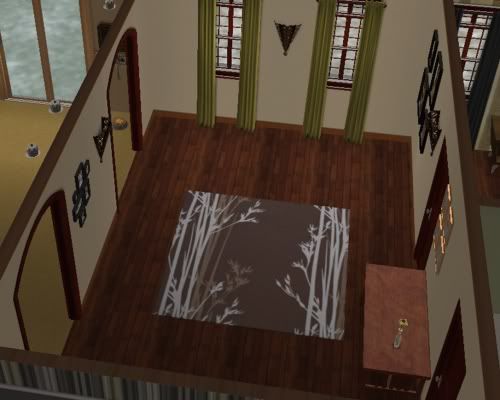 The hallway, which leads to the Heir bedroom, the downstairs bath, and the kitchen/breakfast nook.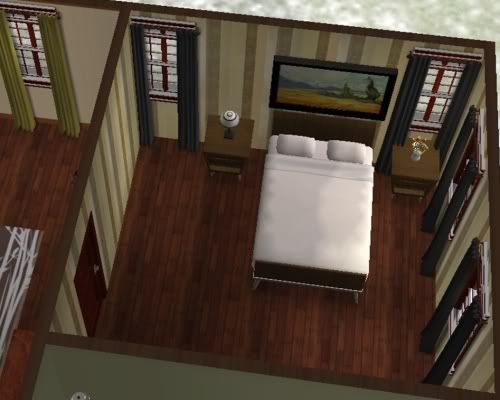 The heir bedroom.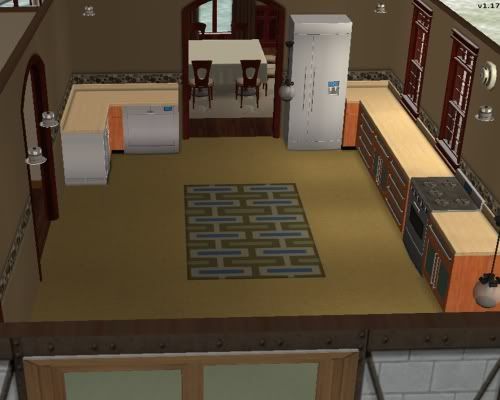 The kitchen, which leads to the dining room.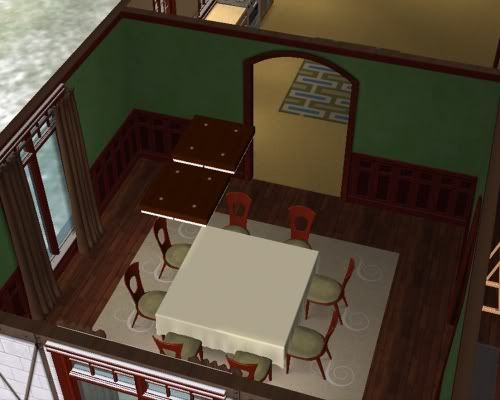 The dining room, which leads back into the living room, which I didn't get a shot of.




Upstairs, we have Chiyo and Damian's bedroom, with Chiyo taking a nap.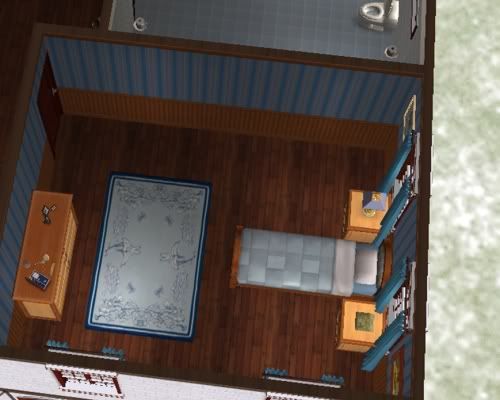 Smaug's bedroom. He still hasn't put away Demi's makeup stand or a signed photo from their wedding.

Smaug: I'm...I'm just not ready yet.

Lesson learned: NEVER let three-bolters become widowers. I love Smaug and it's so sad to watch him mourn for Demi.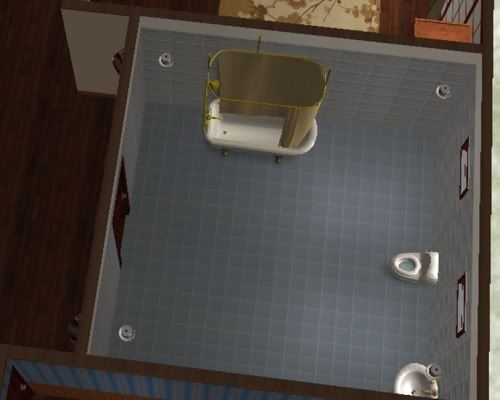 The upstairs bath, which is between Chiyo and Smaug's bedrooms.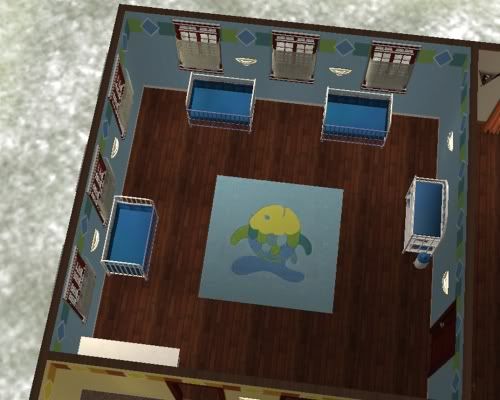 The nursery. We kept all three cribs from last generation, because the Novels are proving to be quite the fertile family and I don't want to wind up a crib short. I also put in a fridge so that everyone wouldn't have to make trips downstairs to feed the kids. Should have thought of that a long time ago.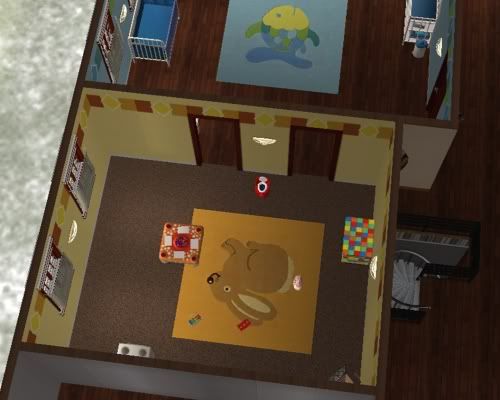 The adjoining playroom. The room right next to it is empty at the moment, but it'll become a bedroom once future kids are old enough.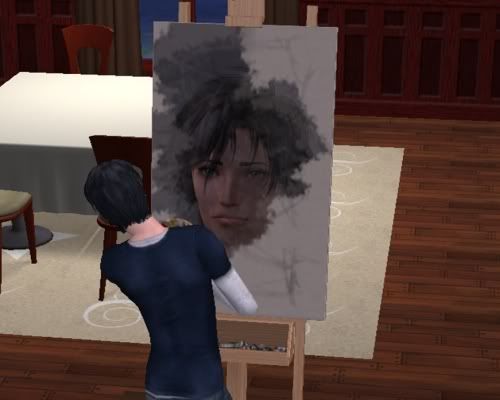 Smaug gets busy painting the newest heir portrait.





The latest addition to the portrait wall.

Shane doesn't waste time: he calls Opal up and pops the question as soon as it's light outside.

[Proposal spam]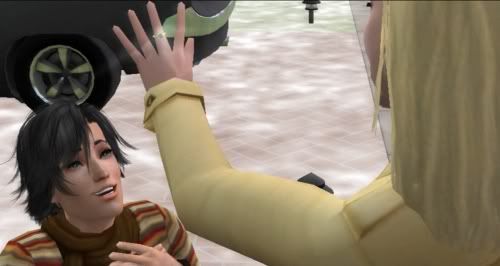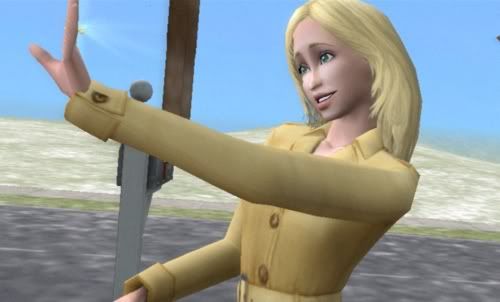 [/Proposal Spam]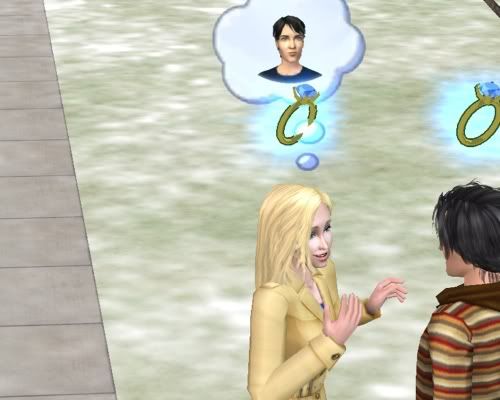 This could be bad.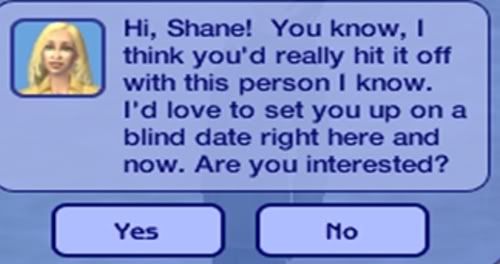 Um, no. He just proposed to you and you just said yes! Hopefully, this isn't going to be a bad start to their marriage.

Speaking of, wedding spam!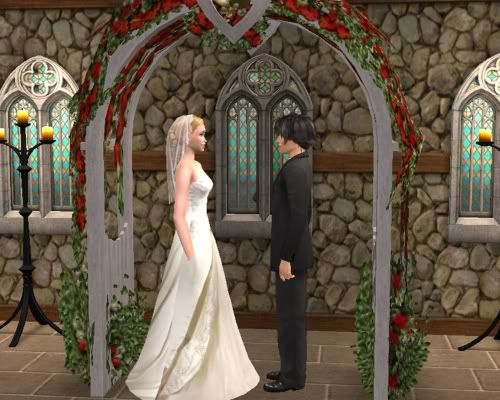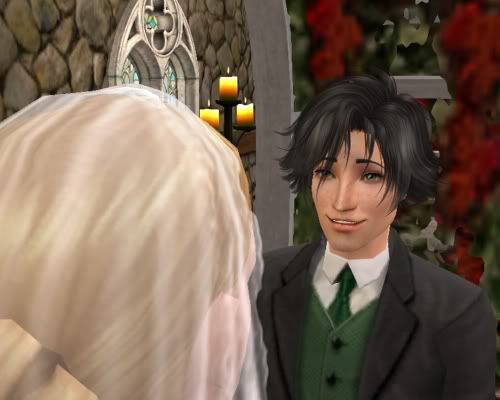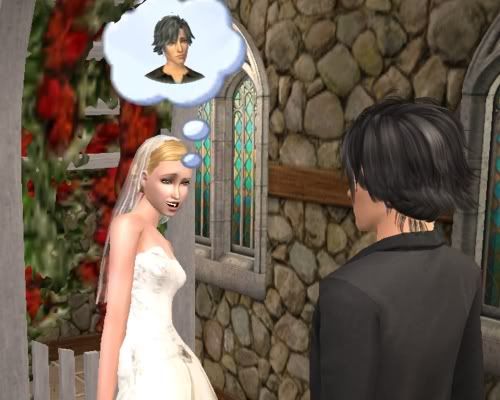 (That's more like it!)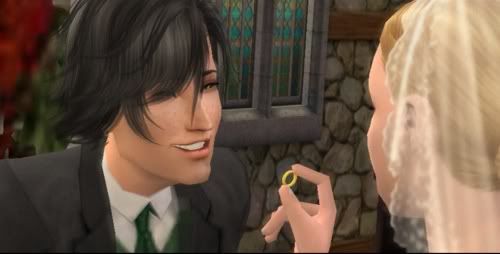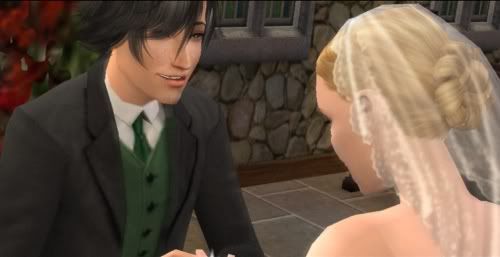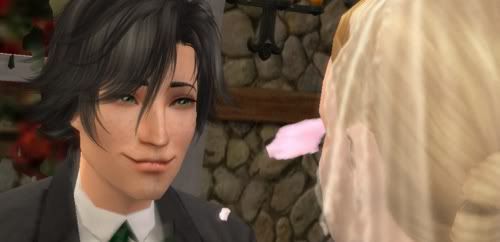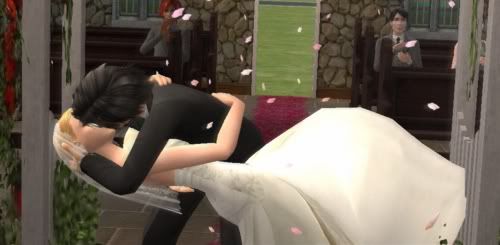 And now introducing the latest Novel...hey, where are you going?

Opal: Look! Snow!
Me: Oh, so you take a break in your own wedding to check out snow. Shane, I hope you made the right decision when it came to picking your bride.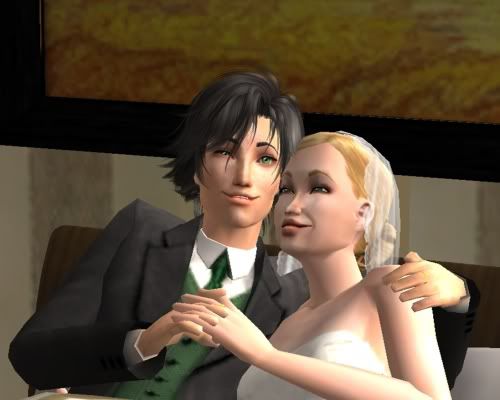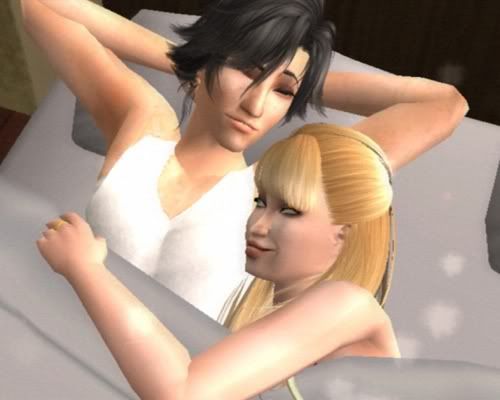 Shane: Oh, I know I did.

And we have baby chimes!

And Opal's stats:

Opal Novel (nee Thompson)
Pisces
Knowledge/Fortune
5 Neat, 3 Shy, 7 Active, 3 Serious, 7 Nice
LTW: Become City Planner (what's with all the career based LTWs?)
Turn Ons: Black Hair/Neatness. Turn offs: Werewolves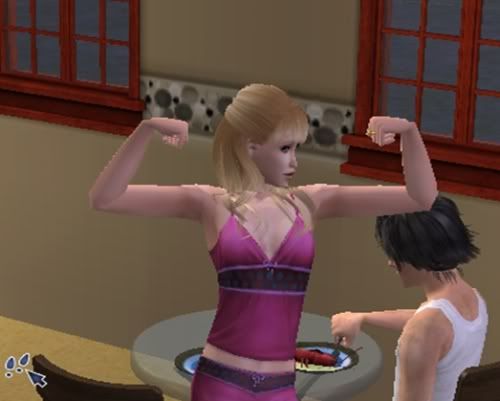 Lobster now has the amazing ability to make one fit as a fiddle as well as satisfy their hunger!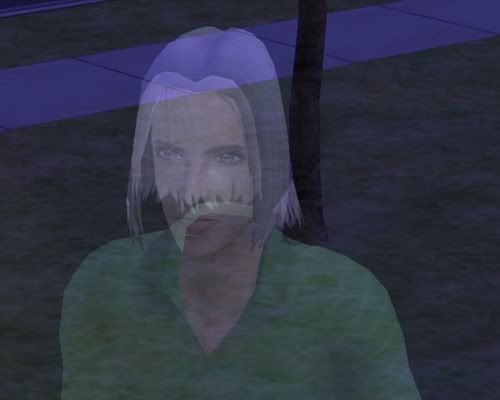 It's Juan! Hey Juan!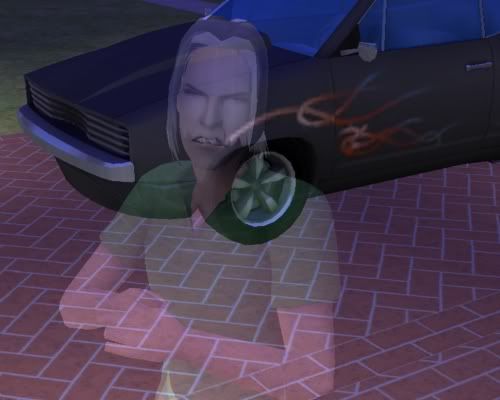 Juan: Where the hell's my bed?! Imagonna scare the crap outta the people that sold it!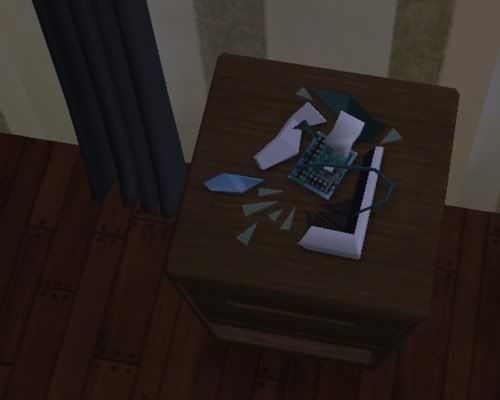 Aww, dammit, Juan. I liked that lamp.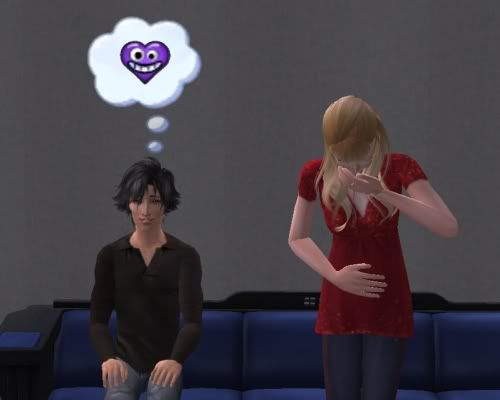 Why yes, woo hoo does indeed lead to morning sickness. I'm so glad that you put two and two together, sweetie.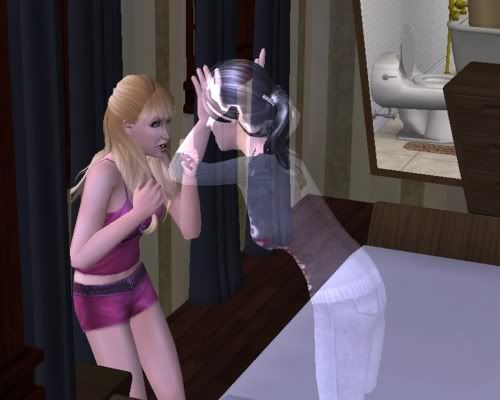 Jane: Boo! Welcome to the family!

Jane, that can't be good for the baby!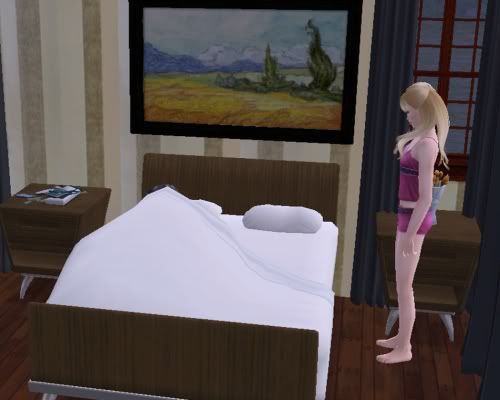 Great. After the night of haunting, Opal got out of bed from a dead sleep, turned around, and stared at Shane until I made her get back into bed. We will not be doing scenes from Paranormal Activity in this legacy, thank you very much.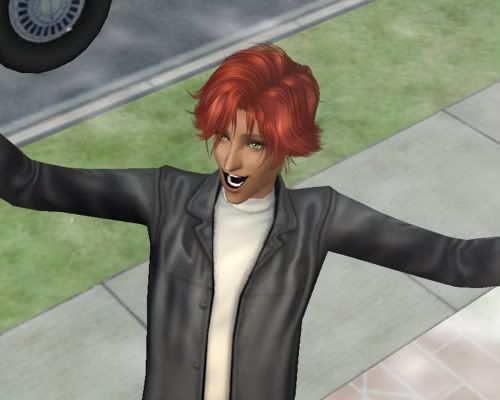 Damian: Everyone! I'm home!

*sigh*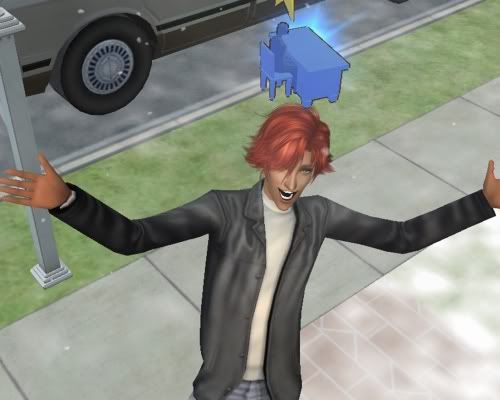 Shane: And I got a promotion!

Well, okay. We'll let you do the "Yay, I'm home" dance for promotions.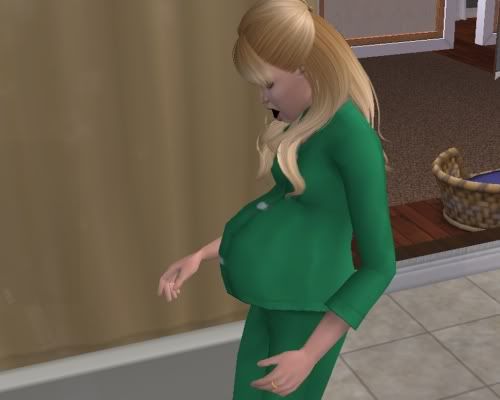 POP!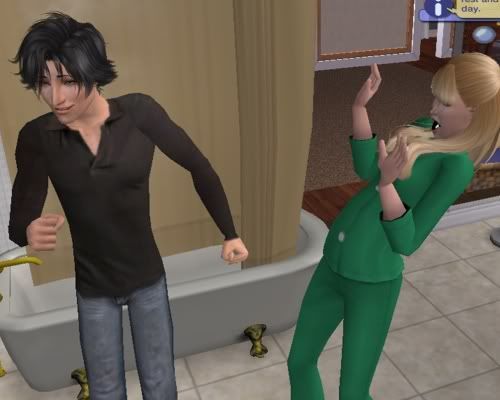 Opal: Eeek! My husband just got out of the tub and changed clothes right in front of me!

Because we know that she's never seen him naked before...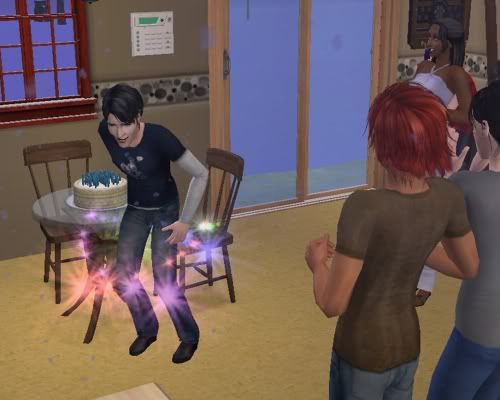 Smaug's birthday! I have no idea who the lady in the background is.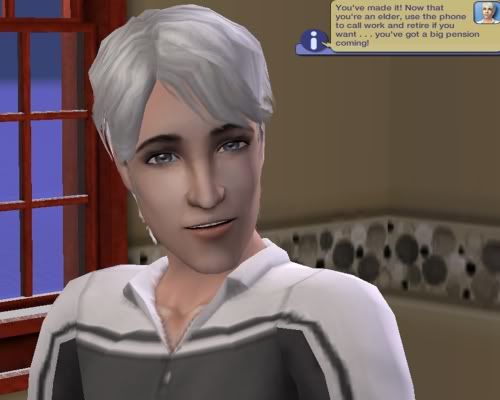 Elder!Smaug. He's still quite the cutie.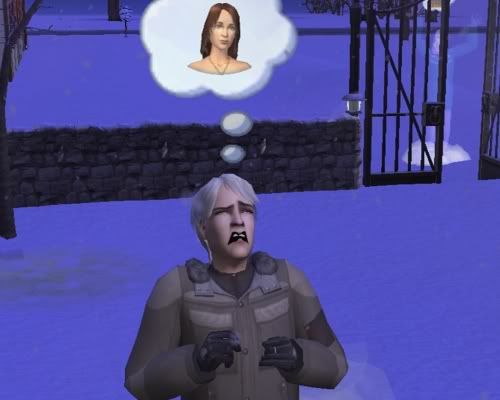 And instead of getting some birthday cake, he went out to the family plot and did this.

Smaug: I wish she was here to share today with me! *cries*

You know, Demi is the only ghost that I haven't seen on the lot yet. Weird.





He was near frozen and almost starving when he finally did come in and grab some cake.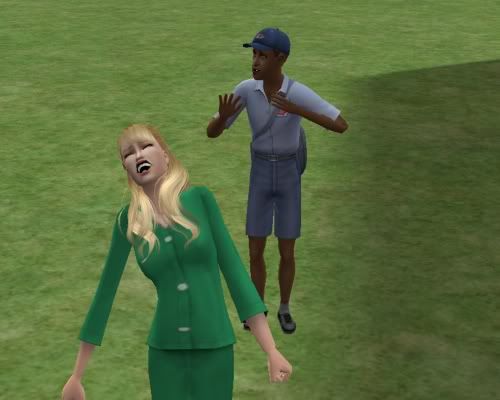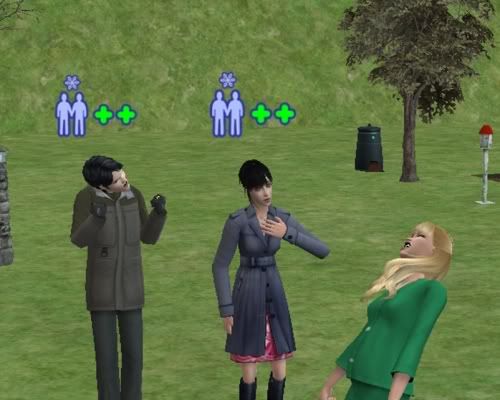 Baby times for Opal! Even the mailman was there to see it!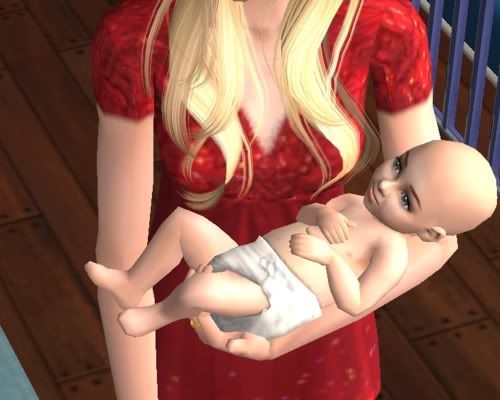 Meet baby Meredith and baby Rhys. Generation Six names are from Laurell K. Hamilton's Merry Gentry series.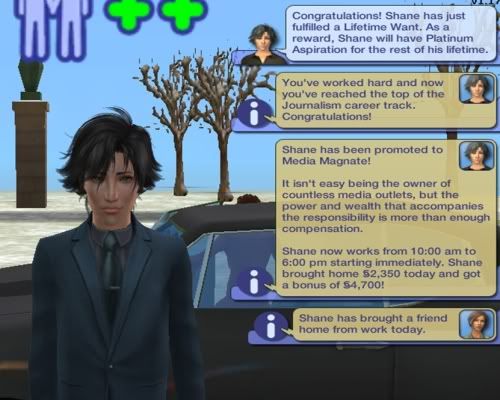 The family is made of win. Shane also brought back my self!sim from work, which is odd, because I don't remember giving her any sort of job.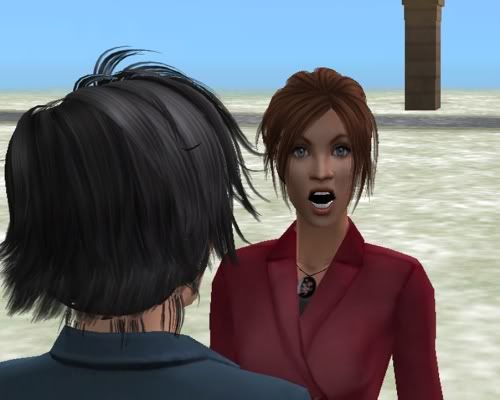 Issa!Sim: What do you mean, I don't look a thing like you?
Me: Well, you don't. The self!sim in New Pleasantview looks a little more like me.
Issa!Sim: Just how many of us are there?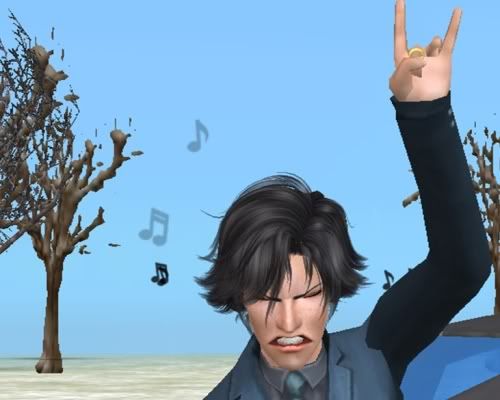 Shane's listening to the Classical station, btw.

Shane: Beethoven's Appassionata Sonata is mosh pit worthy, okay? *rocks out*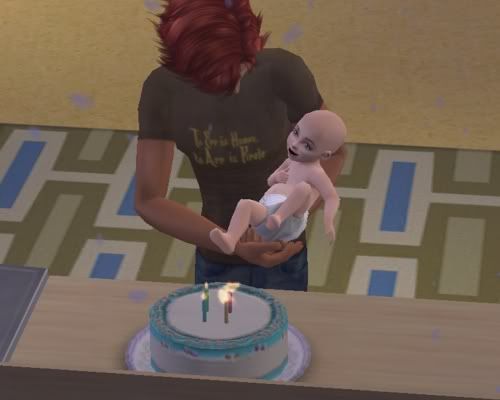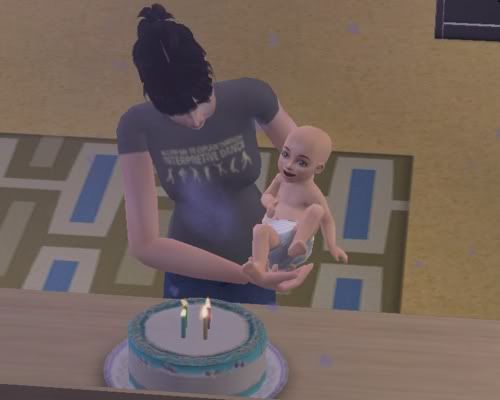 The twins had a rather uneventful infancy.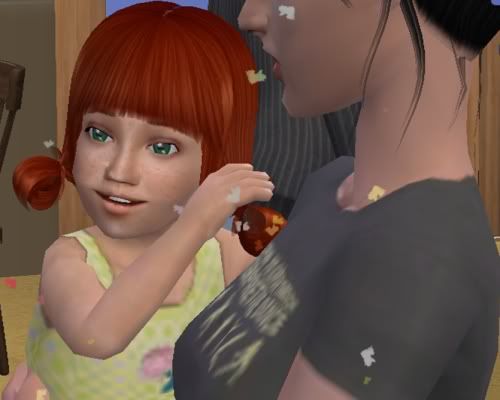 Toddler!Meredith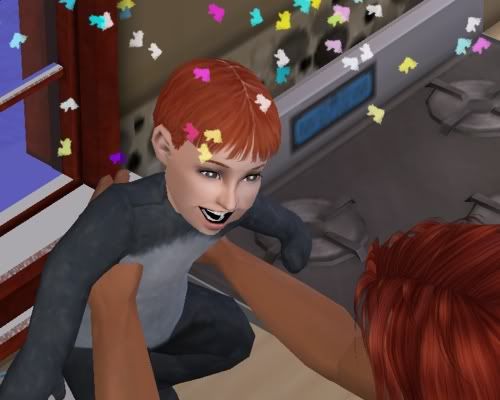 And Toddler!Rhys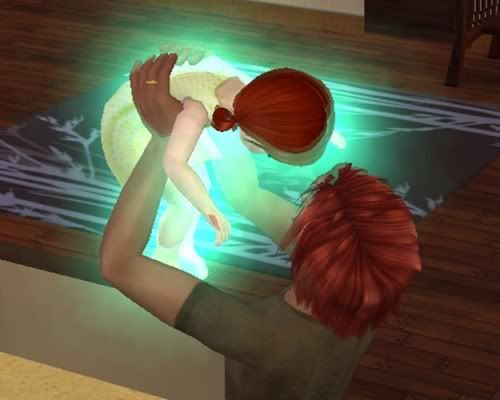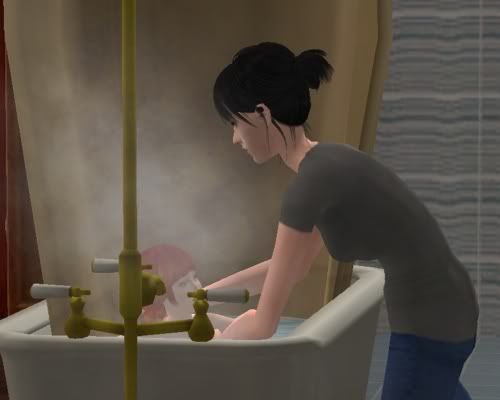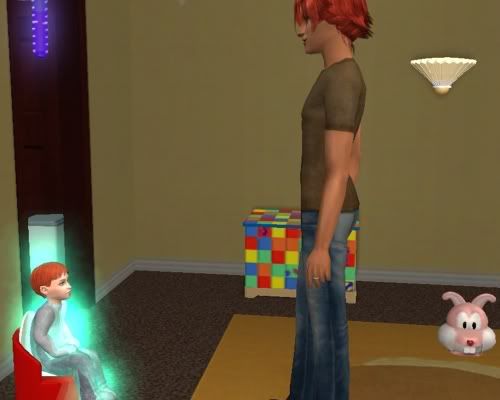 These grandparents are on the ball. Between the two of them, both Meredith and Rhys learned all the toddler skills in a very short amount of time, which left them plenty of time to play with all the newly bought toys in the playroom.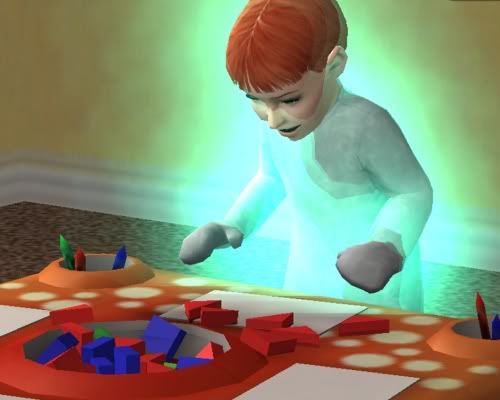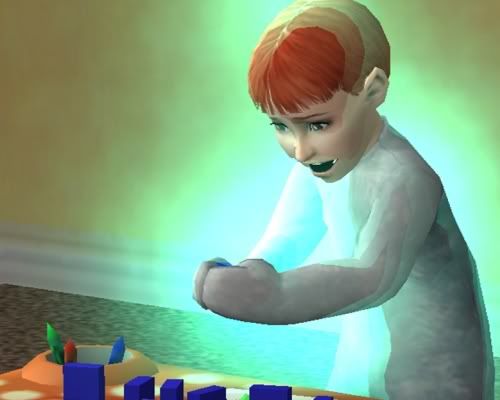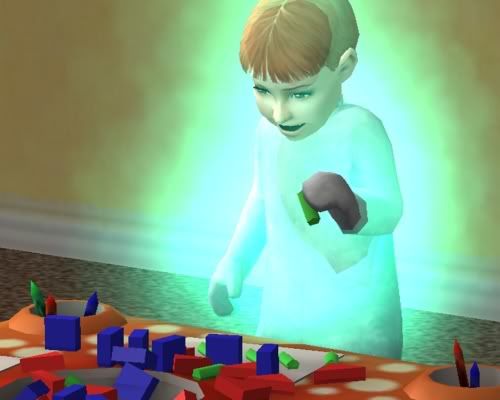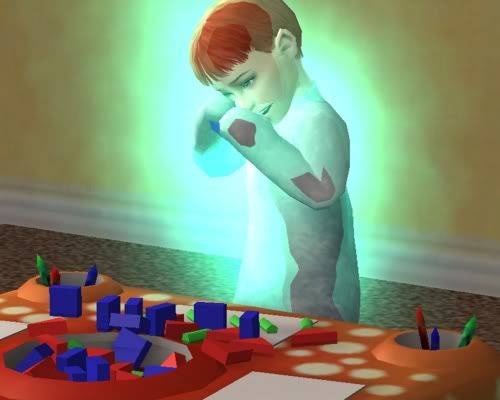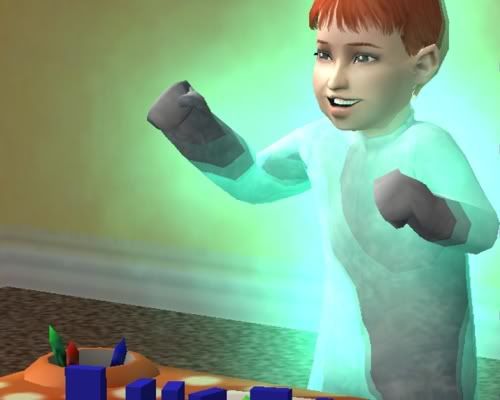 [/radioactive baby building block spam]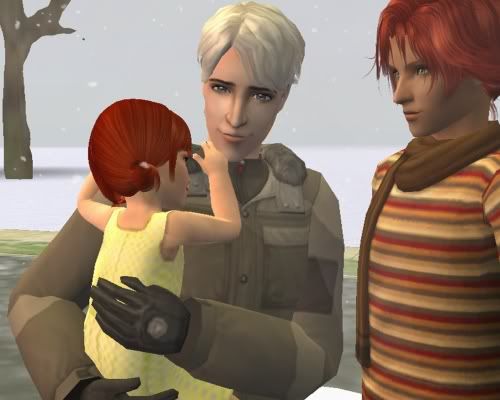 Meredith is popular. She knows how to walk, but between her great, great uncle and her grandpa carrying her everywhere, she doesn't really have to.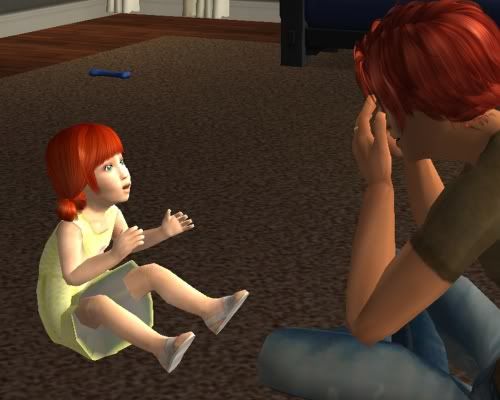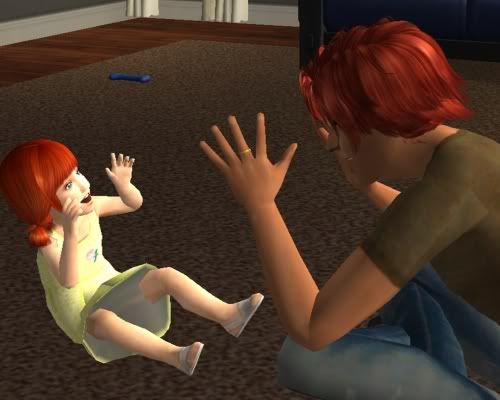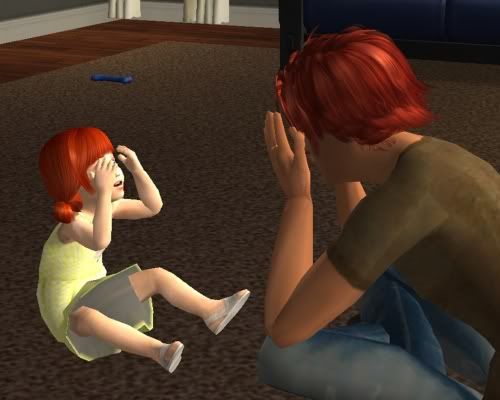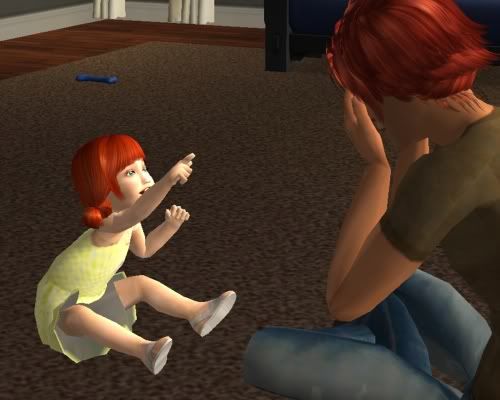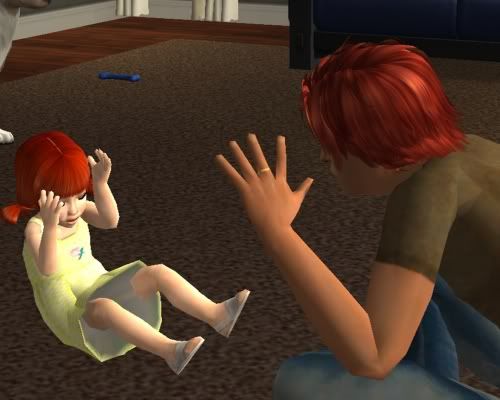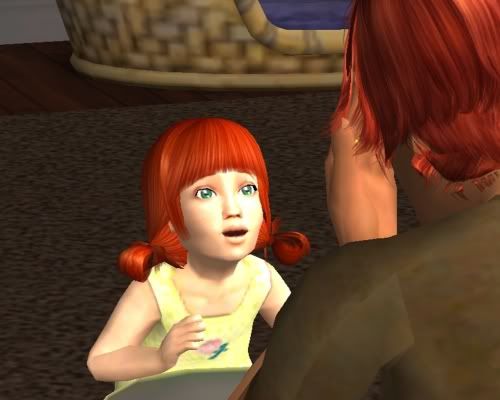 I'm seeing a lot of Opal in both of the twins, even though Meredith got the Novel freckles and I think that both of them have pointy ears that they got from Damian's genes.

Next: Childhood! School! Teenagers!

Previous Chapters:
1.0 | 1.1 | 1.2 | 1.3
2.0 | 2.1 | 2.2 | 2.3 | 2.4 | Spare Update
3.0 | 3.1 | 3.2 | 3.3 | Spare Update
4.0 | 4.1 | 4.2 | 4.3
5.0

Novel Family Tree