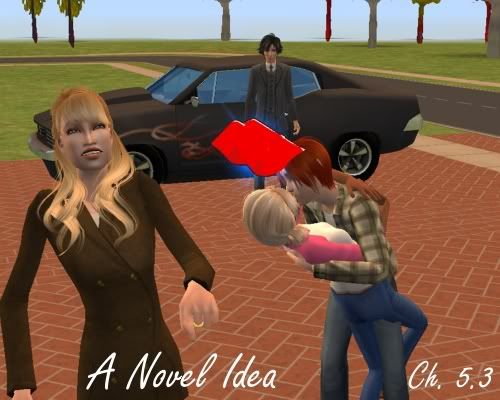 59 images under cut.



Last time, Smaug pined himself to death atop of his wife's grave, Opal failed to cheat Death, and Demi finally showed her otherworldly face in time to welcome her husband into the realm of the non-living. She also complained about being hungry, but that's her own damn fault, IMO. The twins turned out to be cute toddlers and even cuter children, Chiyo and Damian got some alone time while their grandkids were in school, and even after the epic fail of Death, Opal kept on climbing the career ladder, getting closer to gaining her LTW of being a City Planner.

Shane continued to be absolutely adorable as well, but then again, that's a given. *Narrator Lady is partial to Shane*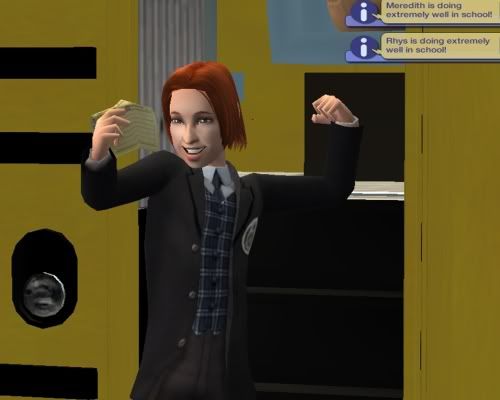 We open the update with double win.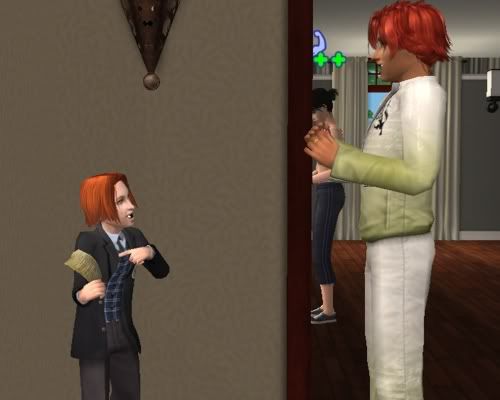 Rhys: Grandpa! Grandpa! I got an A-plus!
Damian: That's fantastic news! *thumbs up*




Meredith: Grandpa! Grandpa! I got an A-plus!
Chiyo: You look so hot when you congratulate our grandkids' scholastic achievement! Come here you!
Meredith: Grandpa?
Damian: Yeah, yeah. Congrats, kiddo. (to Chiyo) You know I can't resist you when you get all demanding and such. Come here you! *proceeds to make out with his wife*

Yep, Damian's playing favorites.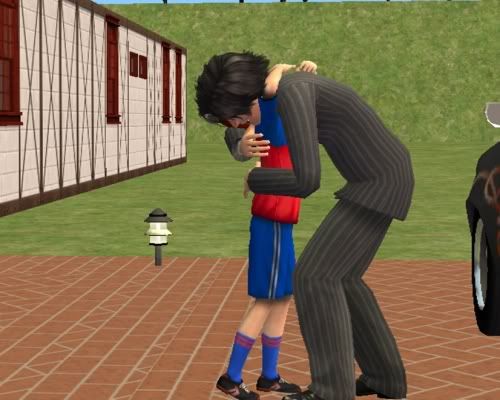 Which is quite alright, seeing that Shane plays favorites as well.

Shane: I heard you got an A-plus! Way to go; I'm so proud of you!




Meredith: I knew someone would care! *hugs*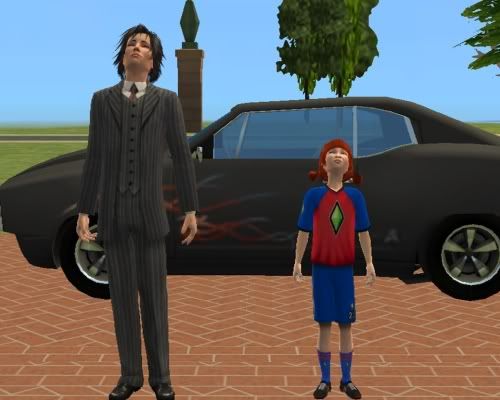 Ah, father-daughter bonding time with synchronized afternoon sun basking.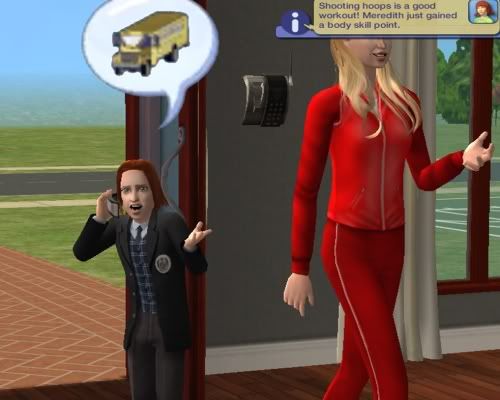 Rhys: I can't believe I got moved to a new school! How am I supposed to see you during the day? I hate it!

I'm sorry, little brunette that came home with Meredith. The blonde that came home with Rhys won his heart. He keeps on getting wants to be her friend/call her up/etc. and she tends to call the house an awful lot asking for him. It's fate.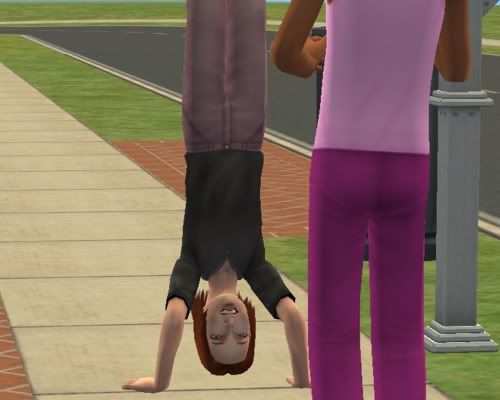 Rhys: Look at me! Look at me! *stands on head*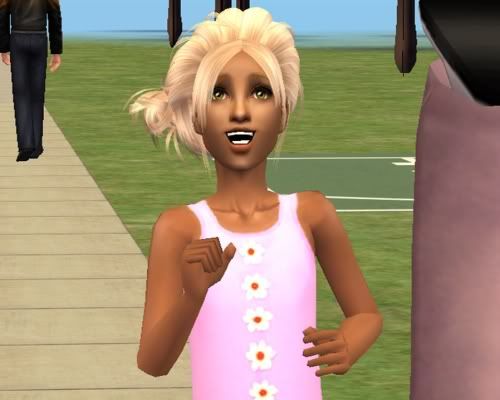 Blondie: *approves*




Blondie: *does not approve*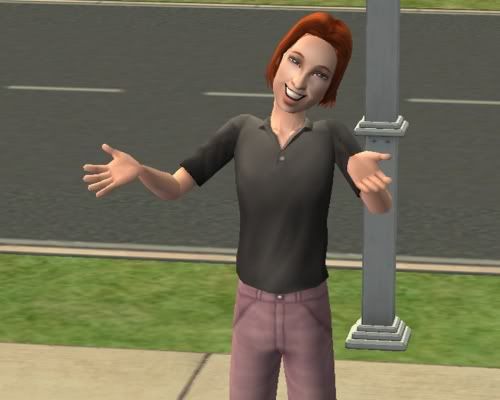 Rhys: *is cute, so she forgives him*

Oh Rhys, you're your father's son all right. Just an FYI, throwing baseballs at a potential girlfriend's head is not a way to win her over.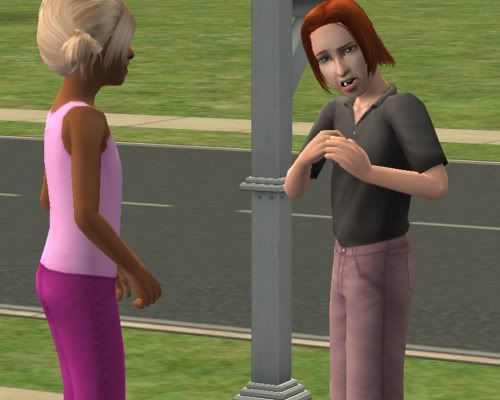 Rhys: Do I have to? She has cooties! *wibbles*
Me: Yes, you do. Hug her, you fool.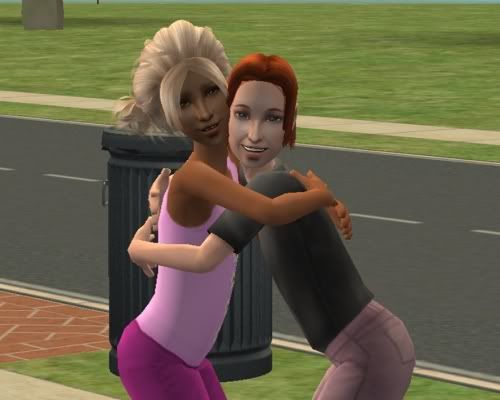 See, was that so bad?

Rhys: Actually, this is kinda nice.




Meredith: And over here is where we'll put the elephant exhibit!




Rhys: Oooh, can we build a bug house full of exotic insects?
Meredith: Of course we can!

The twins get along so well. This sure beats the ninja assassin ducks that Jane sent to kill off Lizzie's sumo wrestlers.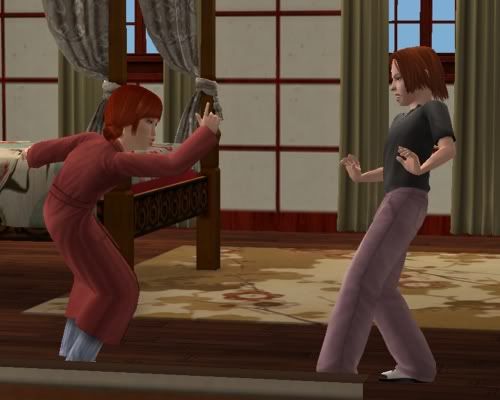 If they're not upstairs building cities, they're playing cops and robbers in their grandparent's room. Rhys is always the robber. I think he just likes hamming it up with his death scenes.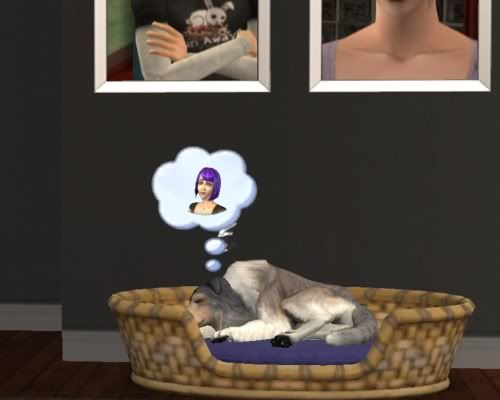 Maxx has been dreaming about Beru an awful lot. I think he's the only one in the family that actually misses our Rock Goddess. Then again, that's probably because she fed him treats every ten seconds.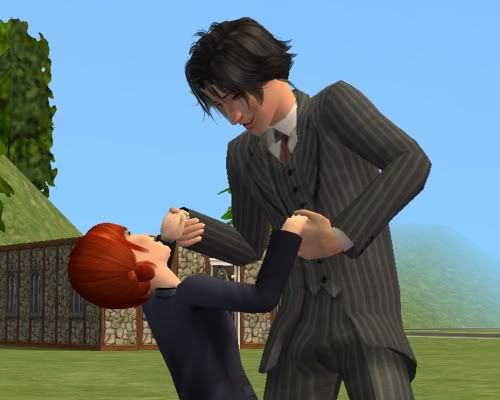 Shane still plays favorites.




And I want a plant sim in this legacy, dammit.

Damian: I'm a man out standing in his field. Out standing, get it? Outstanding? Anyone? *crickets chirp*


Meredith:
I made this half-monkey half-pony monster to please you
Meredith:
But I get the feeling that you don't like it
What's with all the screaming?


Meredith: You like monkeys, you like ponies
maybe you don't like monsters so much
maybe I used too many monkeys
Isn't it enough to know that I ruined a pony making a gift for you?

Me: Catchy tune.
Meredith: Thanks. Grandpa taught me.

Yep, my Mad Scientist sim is a big fan of Jonathan Coulton. But is Meredith following in great-grandma Beru's musical footsteps?




Nope. She favors her daddy.

Shane: *continues to rock out to Classical music* Rock me, Amadeus!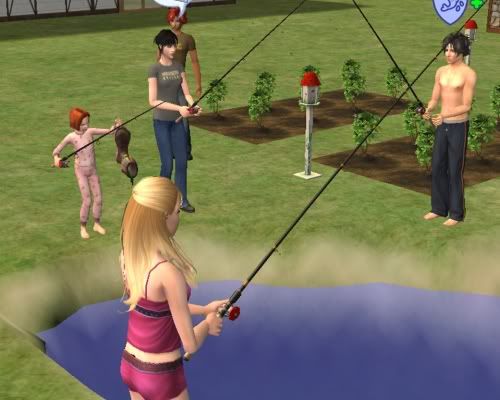 The family that fishes together, stays together.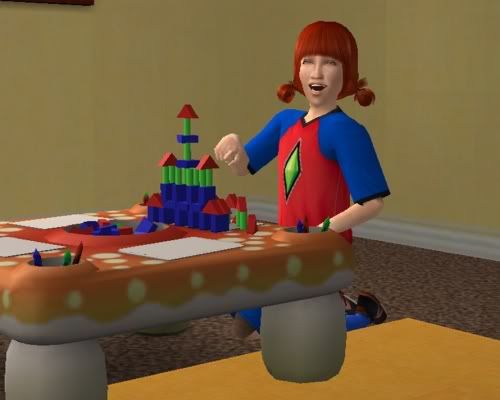 Unless you're an indoor girl, like Meredith.

Meredith: Hey everybody! Look, I made an aquarium you all can put your fish in!




Rhys: This isn't a fish! And why does it say "property of Henchman No. 284" on the inside of the boot?

Chiyo: Oh dear. We might have dug the pond in the place grandma Jane did her "gardening" after she got home from her Evil Overlord job.




Rhys: Oooh, FISH!

Yep, totally forgot about the skeletal remains in the new family pond. The kid is easily distracted.




Shane, showing that even with the rare example of Novel!fail, is still adorable.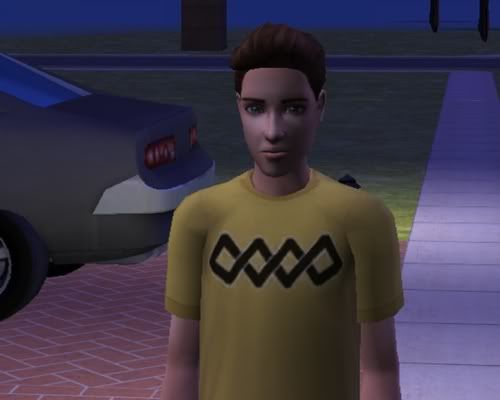 This is Keith. Say hi, Keith.

Keith: Hello? Who said that?
Meredith: *runs out to meet Keith* That was the Narrator Lady. Get used to hearing her, because she says that our family is stuck with her until Generation Ten, whatever that means.
Keith: Who are you?
Me: Just start talking to her; she's going to grow up into a teen tomorrow and I have plans for the two of you.
Keith: Okay, this is starting to give me the creeps.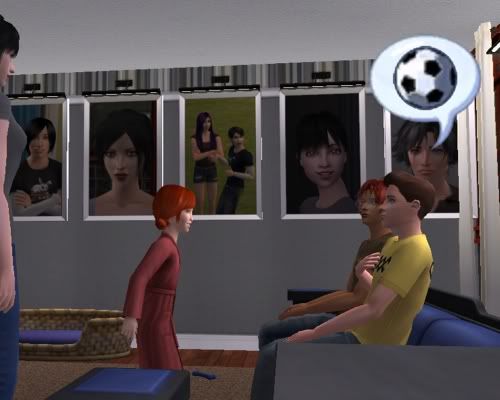 Meredith invites him inside and they start talking about sports. Chiyo and Damian decide to play chaperone.




Though they don't do a very good job of it.




And Juan decides that this boy deserves a proper welcome to the family.

Keith: First disembodied voices on the front lawn and now ghosts in the bathroom! I'm out of here!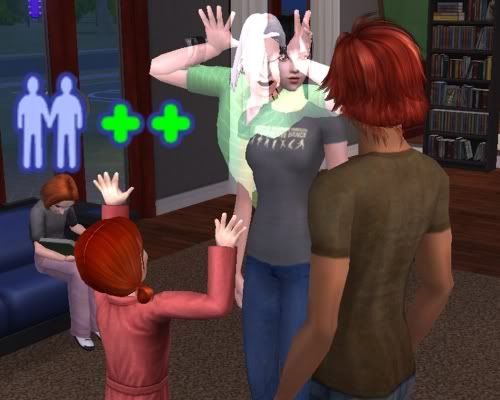 Dammit Juan! You scared a potential boyfriend away already, you don't need to be scaring your great-great granddaughter in the same night!

Juan: That boy was bad news! I can sense these things, you know!
Me: Actually, I didn't know that.
Juan: And replace that lamp in my great-grandson's bedroom already! I need to break something!

Needless to say, I'm not going to be replacing that lamp ever again.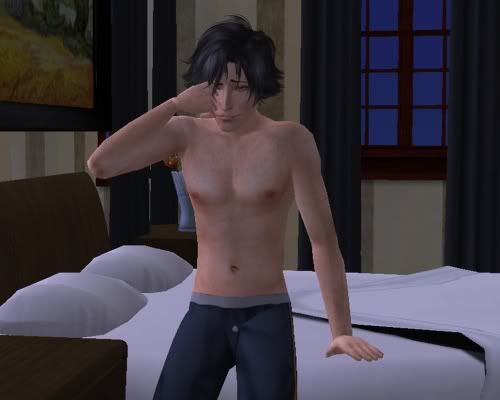 Me: Shane, hon, why are you waking up? It's 2 AM.
Shane: I had a feeling that someone was watching me while I slept.
Me: Oh, that was just Opal at the foot of your bed, doing her whole demonic possession thing that she's been doing since she moved in.
Shane: I knew we shouldn't have gone to see that movie! It wasn't even that scary to begin with!
Me: Totally agree. Let's just hope that what happened in the end doesn't happen here.
Shane: *eyes Opal warily* I hope not either.




Time for the twins to grow up!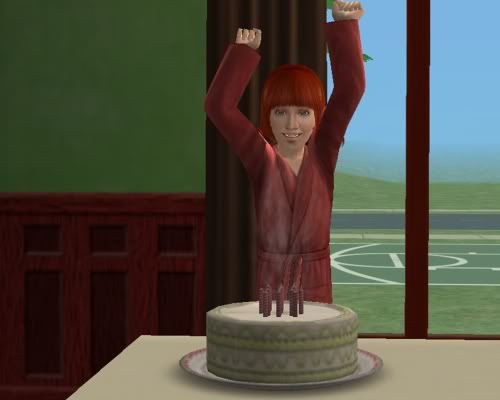 Meredith: I wish that I'll get a boyfriend when I grow up. Oooh, and a pony!




Will being a total cutie do for you instead?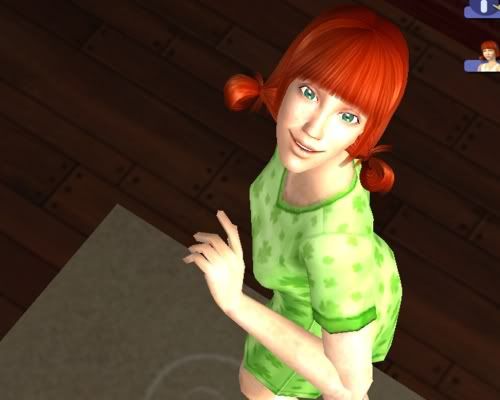 Meredith: I wasn't kidding about the pony, Narrator Lady.




Rhys: All I want is a monster truck!




Me: You should have asked not to inherit your mother's cheeks instead.
Rhys: What? No truck?




Ah, he's cute in his own way. His pointy ears totally peek out from his hair too. *squishes*




A made over Meredith.

Meredith: Will this make Keith fall in love with me?
Me: Call him up and see for yourself.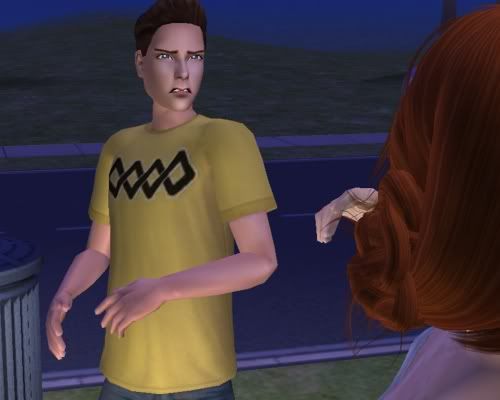 Meredith: Hey there, hot stuff.
Keith: OMG, DON'T TOUCH ME! *cringes*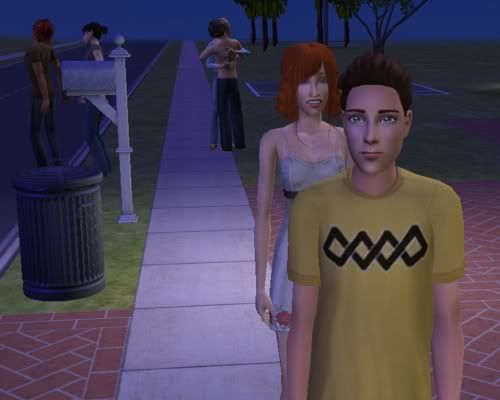 Opal and Shane: *noisily make out in the background*
Chiyo: *gives Damian a back rub*
Me: *starts to hum "one of these things is not like the others"*
Meredith: But...don't you like me now that I'm all grown up?
Keith: Hell no. Get away from me. I hate girls that put on makeup. It makes them look like cheap whores.
Meredith: But it's just chap-stick.
Me: *seethes*
Keith: I'm out of here. That whole disembodied voice is getting to me.

Yeah, you better run! I was gonna sic Death on your lip gloss rejecting behind! It wouldn't have been pretty!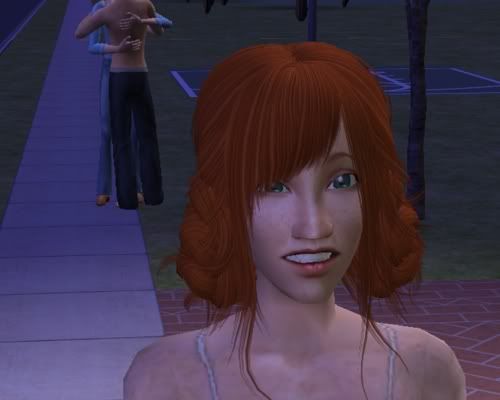 You made her do the wibble face! Aww, forget him, honey. There'll be other fish in the sea.

Meredith: MY LIFE IS MADE OF FAIL!

Honey, you're a Novel. Of course your life is made of fail. It's genetic; blame your great-great-great grandfather Author.




Breaking news: We have our first wolf spotting and he has a badass name. Damian tried to make friends, but he left too fast for any real progress.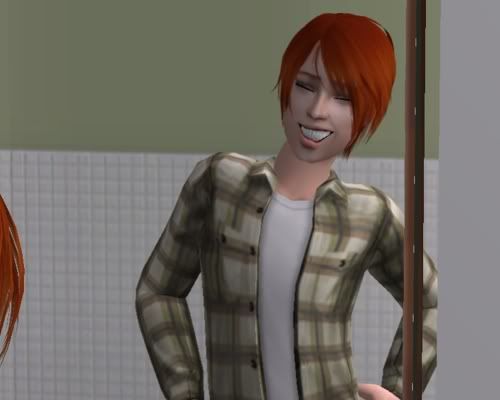 Rhys gets a makeover. It was too late to call up Blondie, but he did have it in his want slot to invite her over. We did that the next day as soon as he got home from school.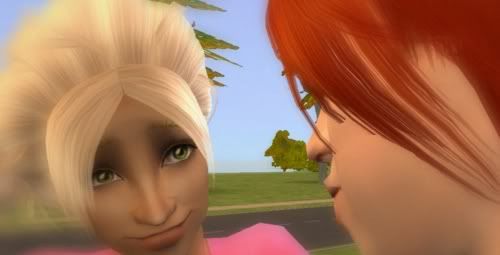 This just in: Rhys gets his first kiss with a teenaged Blondie.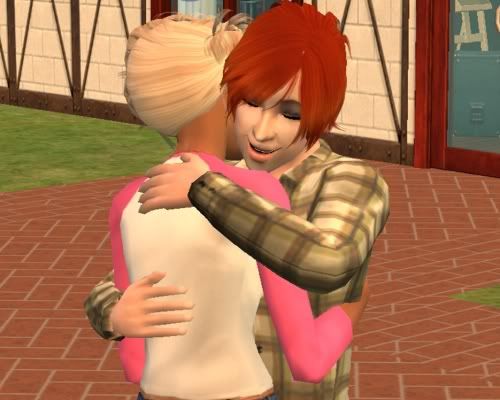 And they are quite cute together. Also, he just gave her his Senior ring and asked her to go steady with him. She said yes.




Isn't she lovely? Her name is actually Zoe Pai, but Rhys calls her Cutie Pai when they're alone.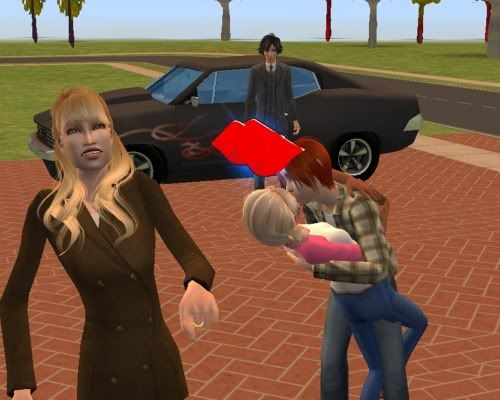 And they most certainly aren't alone here.

Opal: Um... *decides to ignore*
Shane: ...

Close up on Shane's face?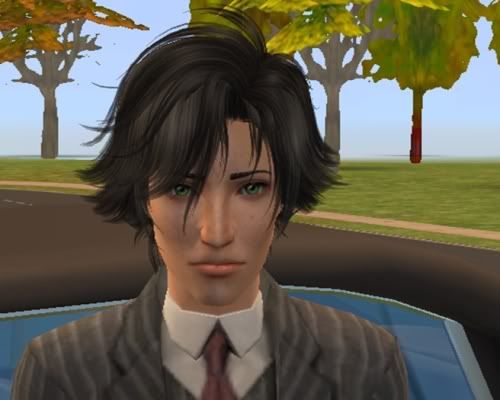 Shane: Just yesterday, he was playing catch in the front yard. Now he's sticking his tongue down some girl's throat.
Me: They grow up fast, don't they?
Shane: *sniff*

And then to prove how a-ok they were with their son making out with a girl they hardly knew, Shane and Opal proceeded to do the same near the basketball court I bought them. Oh ACR, what silly things you make my sims do.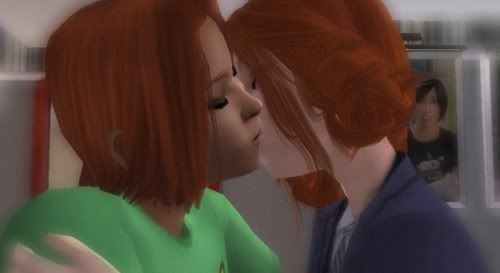 Meredith, not wanting to be left behind by her twin, grabbed the kid who came home with her by the shoulders and planted one on him. She had barely any attraction to him, but I think she was still reeling from the Keith fiasco.




And just where do you think you're going, young man?

Rhys: Out.
Me: And with whom?




Zoe: Me!
Me: Zoe, does anyone in your family happen to drive a limo, maybe for a group of super villains? You're starting to look awfuly familiar...
Zoe: My uncle owns a car rental business, does that count?




Sure, she'll pick you up at the curb, but she drops you off a block away.
Rhys: It's almost five o'clock. Grandpa wakes up early and I didn't want him to hear us drive up.

You're just lucky I think you're cute. Otherwise I'd have woken up the entire household and told them to stand in the living room.




Rhys: Yeah, who just snuck out for a night on the town with his girlfriend? *poses*

And we'll leave it at that! I lied; teenagers are boring for me and this was the most I could play with them before wanting to ship them off to college. Next update: the twins get shipped off to Sim State University for four years and we see who gets to come home to the Legacy House and who gets to spend eternity in a Spare Lot. I like them both, so they'd better pull out all the stops in college.

Previous Chapters:
1.0 | 1.1 | 1.2 | 1.3
2.0 | 2.1 | 2.2 | 2.3 | 2.4 | Spare Update
3.0 | 3.1 | 3.2 | 3.3 | Spare Update
4.0 | 4.1 | 4.2 | 4.3
5.0 | 5.1 | 5.2

Novel Family Tree