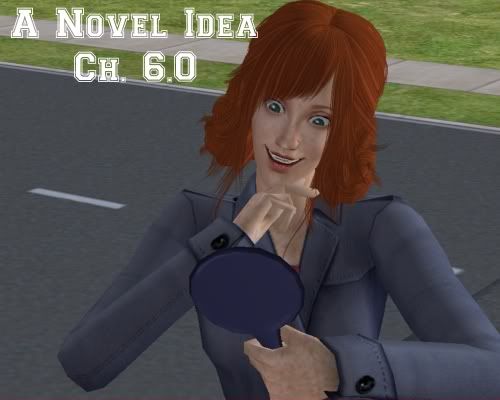 53 pictures behind cut.



Last update, the kids were made of win, Meredith became Daddy's favorite, and Rhys found his One True Love in the form of one Zoe Pai. Then they hit their teens and Meredith's delicate ego was crushed by some jerk who definitely didn't want in on any Legacy business and the two were shipped off to college.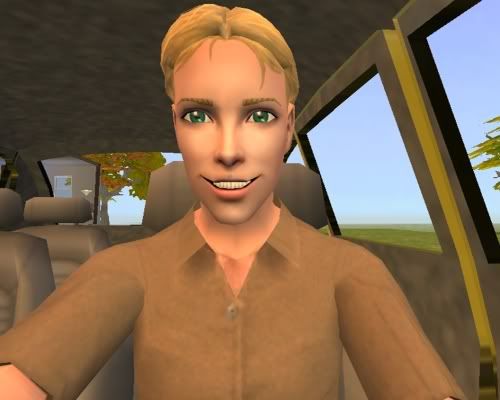 A shot of Great-great-great grandma Trista's minion can only mean that the first year of college is now underway.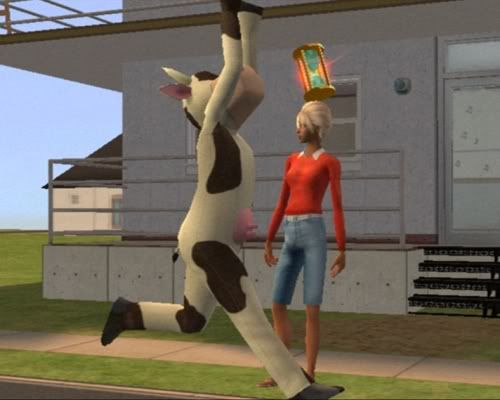 And we start the update with... hey, how come neither of the twins got the college cutscene?

Zoe: They were busy talking to the family minion in the taxi.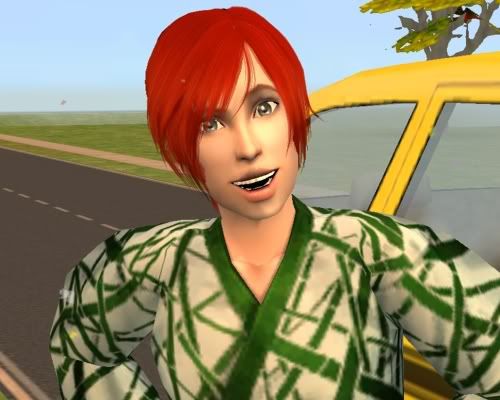 Rhys Novel
Family/Grilled Cheese
10 Neat/3 Shy/9 Active/3 Serious/1 Grouchy
LTW: Have six grandchildren
Turn-ons: Blondes/Brunettes. Turn-off: Unemployment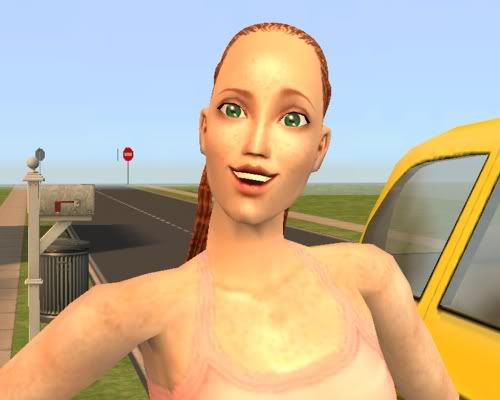 Meredith Novel
Fortune/Romance
10 Neat/9 Outgoing/9 Active/0 Serious/7 Nice
LTW: Become business tycoon
Turn-ons: Brown Hair/Hard workers. Turn-off: Cologne




Post-makeover, Meredith proves that she's her father's daughter. Some sims freestyle for spending money: Meredith hustled poor, unknowing students out of over a hundred dollars a game for a couple of hours.





Back at the dorm, their mom makes odd calls. Opal, if you want to talk to your husband, then all you have to do is look around your house. You practically work on the same work schedules, so he should be there when you are.

Nothing much happened between going to classes, and I was dead set on having Rhys become heir. But then he and Zoe got really, really, really boring. All they do is study and act lovey dovey all the time.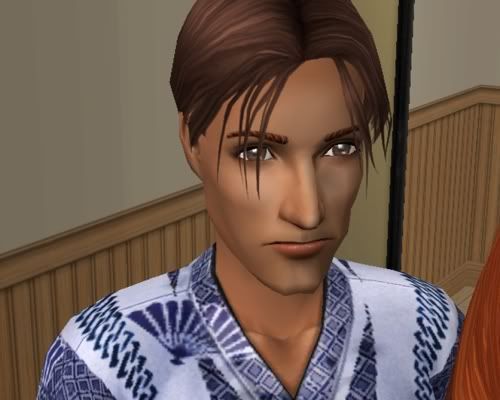 So I called the matchmaker to hook Meredith up with someone. I guess we're still in good from all the times that Darcy called her up back in Generation Two, because she sent us this gem from Takemizu Village.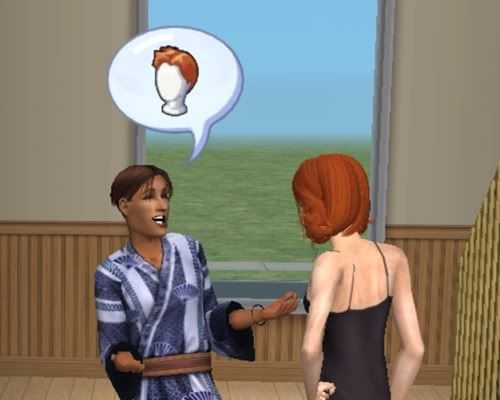 Meredith: *wibbles* What if he doesn't like me? I'm wearing chap-stick again and the last time that I did, Keith wound up dumping me! *worries*
Corbin: Wooooiee! It must be because you're a redhead, but you're hot, hot, hot!

Somehow, I don't think that a little lip gloss is going to turn this guy away. His full name is Corbin Grey, which worried me a bit, because Grandpa Damian's last name before he married in was Grey too.

Meredith: Hopefully, it's just a common last name.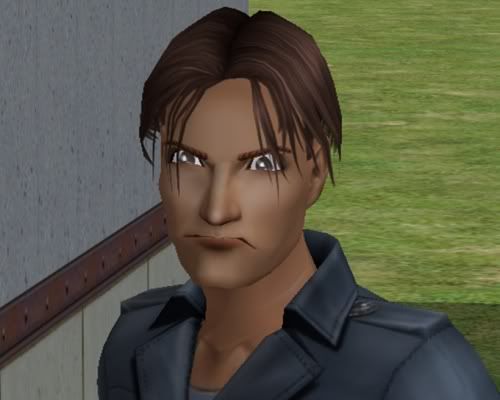 He is a lot more animated than Zoe, I'll give him that. Rhys wanted to bond with his sister's potential boyfriend, but Corbin didn't appreciate the football to the face.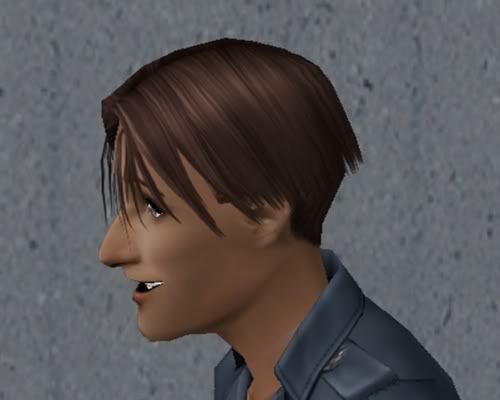 Kinda worried about introducing another Nose into the family, but at least it's nothing like Juan's Nose of Epic Porportions.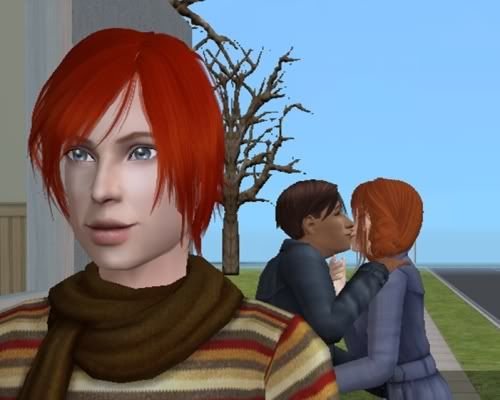 Meredith: Did my brother hit you in the face with the football? Here, I'll kiss it all better.
Corbin: Well, he hit me a whole bunch of times with the football. Better kiss me some more, just to make sure that you get them all.
Rhys: Sheesh, get a room, you two.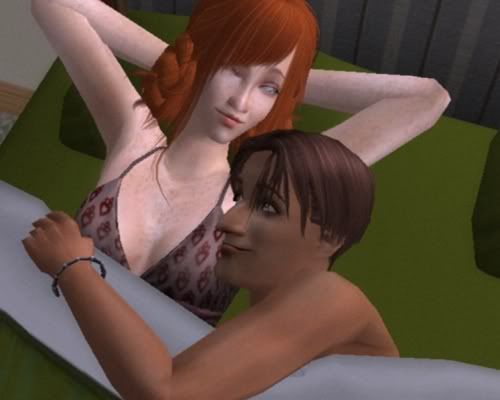 And so they did.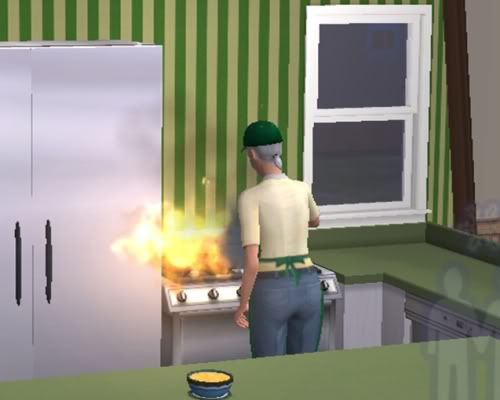 FIRST FIRE OF THE LEGACY! And it wasn't even one of the Novels that did it! Damn, we just broke our five-generation flame-free streak. :(

And now the dormies are going to play a little game of musical bedrooms.




Dormie #1's room: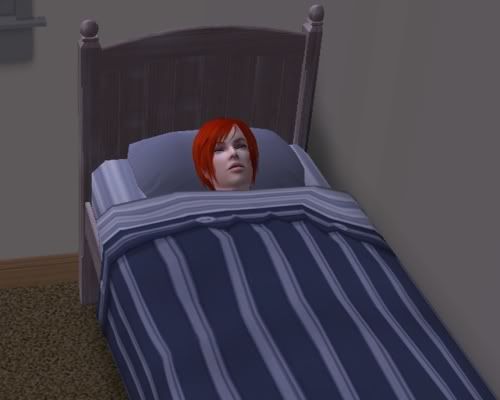 With Rhys in the bed.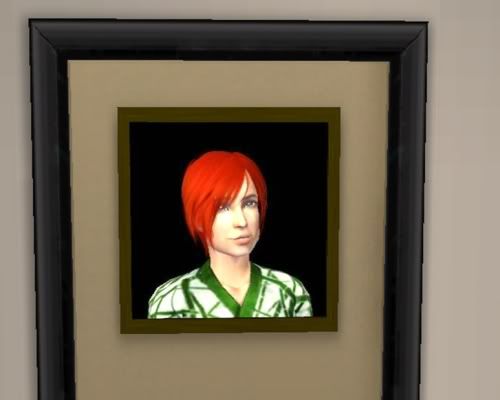 Rhys' bedroom: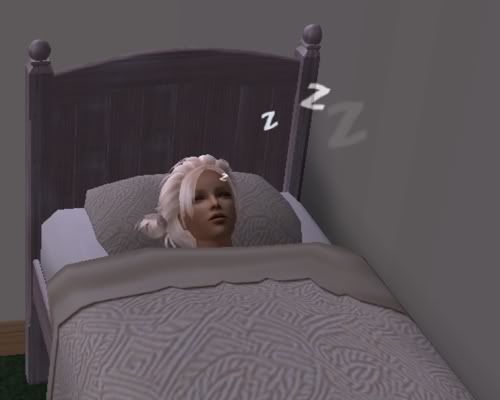 With Zoe in the bed (she steals his bed all the time, BTW)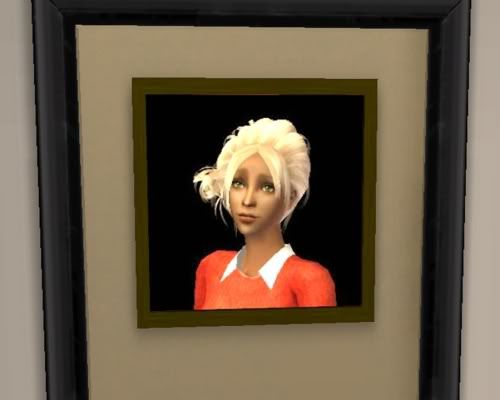 Zoe's bedroom: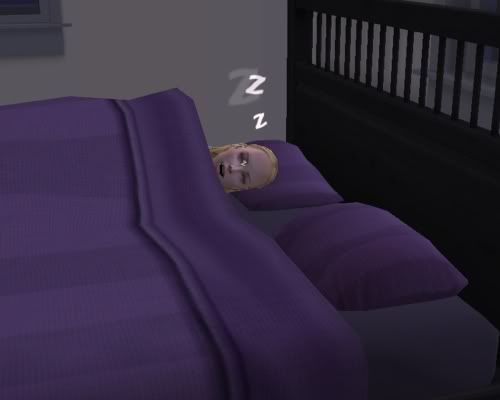 With Dormie #1 in the bed.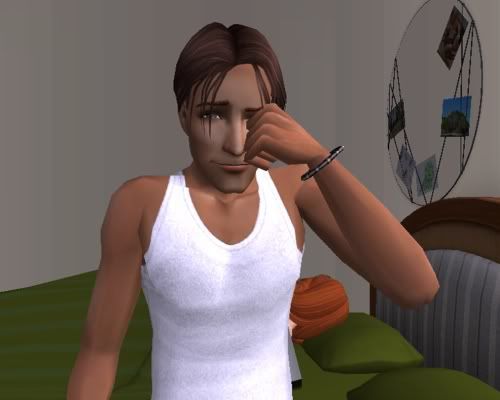 What's wrong, Corbin?

Corbin: That damn llama keeps on cheering and waking me up!
Me: Well, that's what he does.
Corbin: It's two in the morning!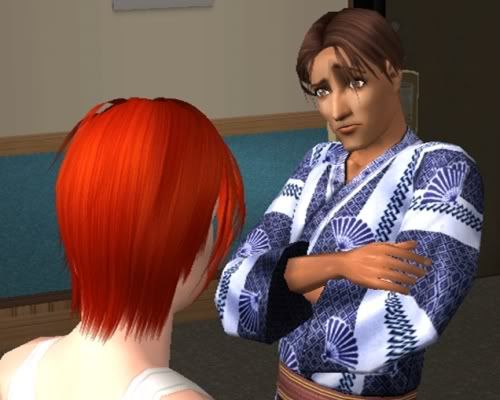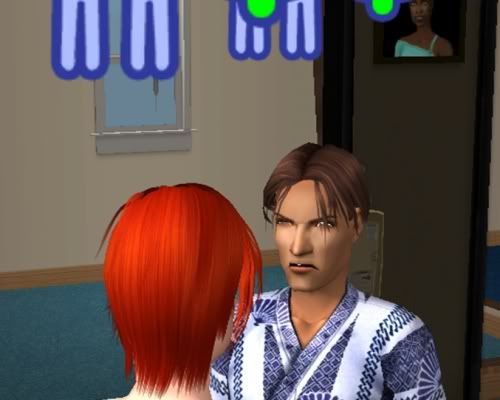 Did I mention how much more animated he is than Zoe? Corbin decided to hang around the dorm while Meredith went to class. Dormie #1 saw that he was alone and decided to pounce.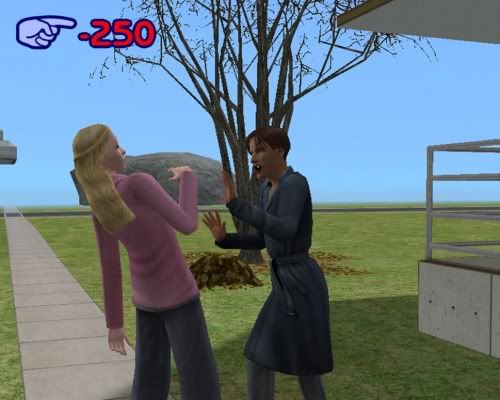 Dormie #1: Hey baby, you are lookin -
Corbin: BACK OFF! I'm in a commited relationship!
Dormie #1: But...
Corbin: DO NOT WANT.

Yeah, that pretty much cemented it there. With a future spouse like him, Meredith is totally heir.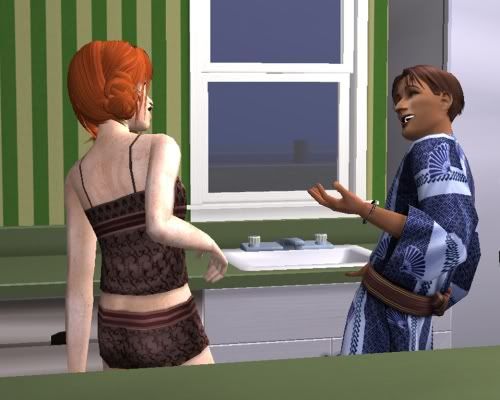 Meredith: Hey baby, you are lookin -
Corbin: COME HERE YOU! *proceeds to noisily make out with Meredith*

Oh that Corbin. He's a one woman kind of man. ♥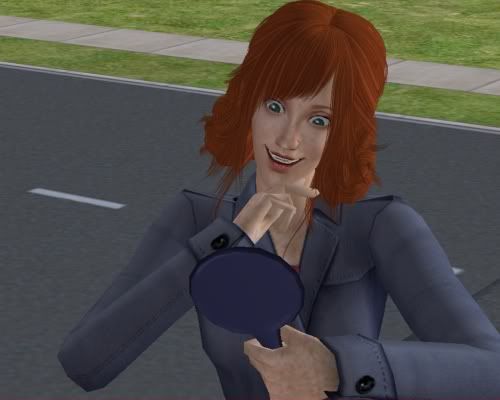 Meredith: Mirror mirror on the wall, who gets to be heir again?
Me: That didn't rhyme.
Meredith: I'm an Economics major, not an English one.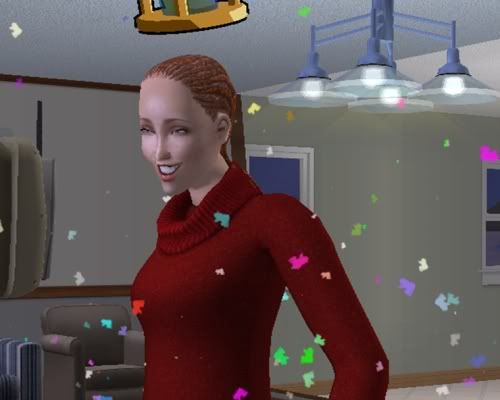 We'll skip ahead in the college routine to spare everyone the boredom that was their education. I kept Meredith on a few campus lots longer than her brother, so she wound up graduating before him. Off to the Main House!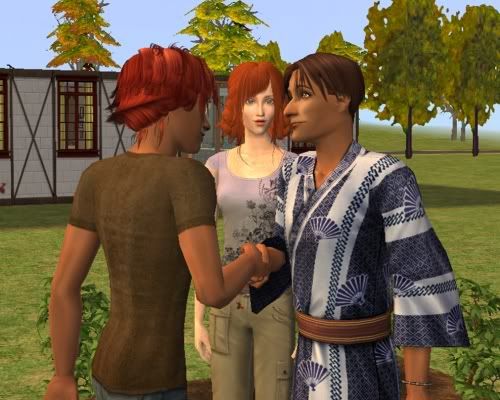 Step One in getting the man of your dreams: Introduce him to the family.

Meredith: Grandpa, this is the love of my life. Please tell me that the two of you aren't related.
Damian: Nope, completely different Grey family.
Corbin: Pleased to meet you.
Meredith and I: *sigh of relief*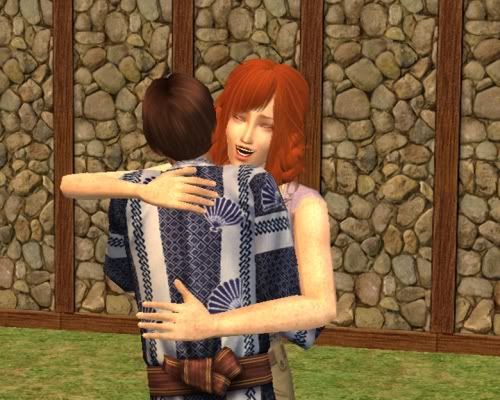 Step Two in getting the man of your dreams: Have him move in with you. He brought in 4,000 dollars, but this late in the game, that's pretty much pocket change to the Novels.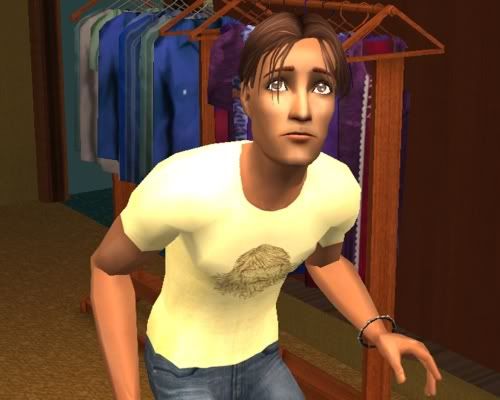 Step Three in getting the man of your dreams: Buy him a new wardrobe. Have I mentioned how much I like his facial expressions?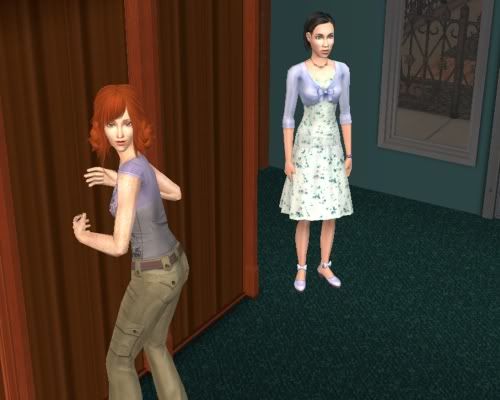 Step Four in getting the man of your dreams: sneak into his changing booth while he's trying on new undies.

Meredith: Hum de hum dum. The coast is clear!
Teen: What are you doing?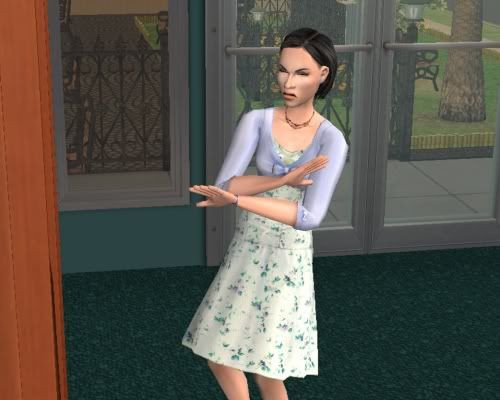 Step Five in getting the man of your dreams: proceed to rock his world. Preferrably without an audience, but sometimes you've got to take what you can get.

Teen: I CAN'T UNSEE WHAT I JUST SAW!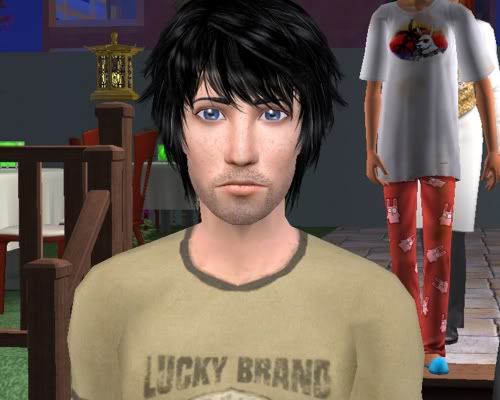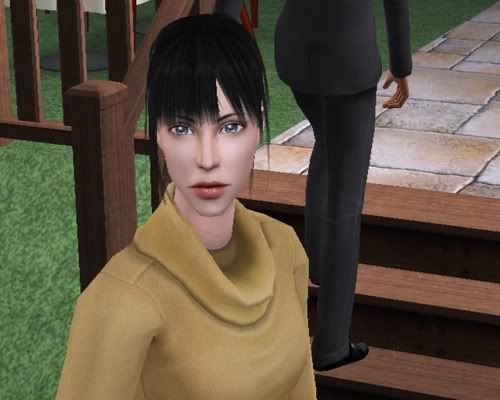 We couldn't move to Step Six, mostly because the hostess seated Meredith and Corbin at two different tables. But we bring you relative cameos! Hey Darcy and Liant!

Liant: Hey. Have you seen Jessie anywhere? I've looked but I can't find him at all!
Me: Probably because I haven't had a chance to build him and Beru's studio/apartment and they've been hanging out in the Sim Bin. I'm sure the both of them are pretty happy to be where you can't stalk them.
Liant: What was that?
Me: Nothing. No, I haven't seen him. You might want to check at another lot.

Darcy: Hey, Narrator Lady?
Me: Yes?
Darcy: Can you zap the girl that's following me in her PJs? I think that I dated her a while back and she won't leave me alone!
Me: Sorry, hon. No can do. I've got to pay attention to Meredith and Corbin now.
Darcy: But I thought I was your favorite! *sulks*




Back home, we get to Step Six in getting the man of your dreams: propose marriage.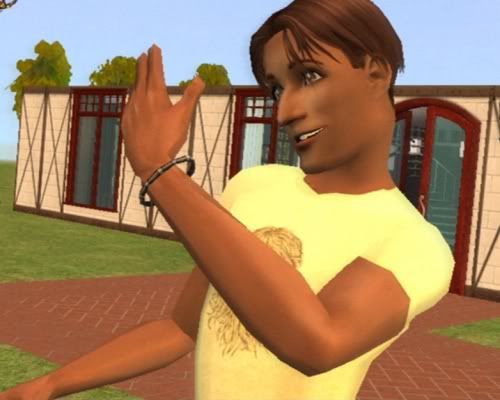 Corbin: SHINY!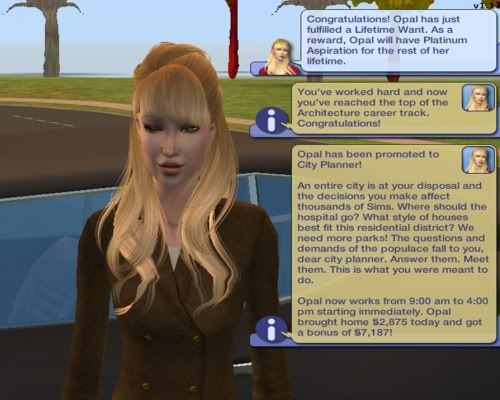 Opal makes her LTW. Ignore the twitchy eye; she hasn't had a lot of sleep lately, what with the ghosts waking her up almost every night.

Opal: It's that damned Jane! I swear, I'm going to hire an exorcist one of these days!

[wedding spam]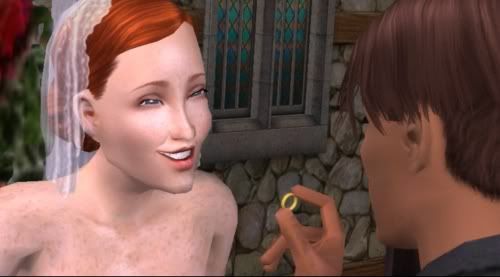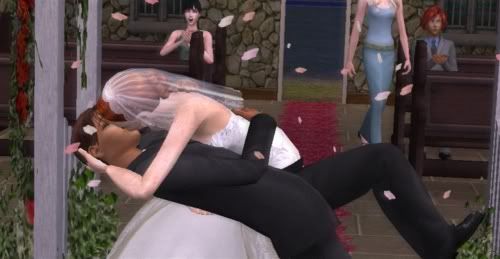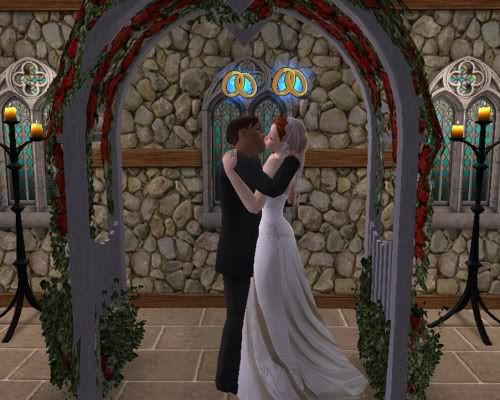 [/wedding spam]

They ran upstairs and consummated the marriage. Baby jingles on the first try!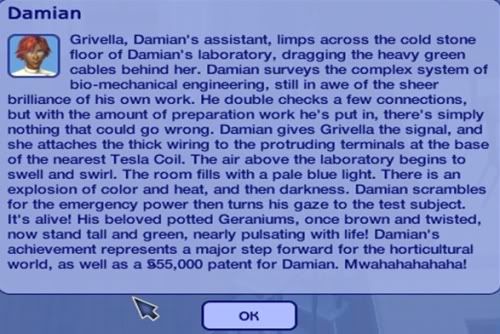 Meanwhile, Damian shows that he's still the awesome Mad Scientist that he is.

Damian: It's alive! IT'S ALIVE! BWAHAHAHAHA!

Though I'd be much more impressed if he had brought something else besides geraniums back to life.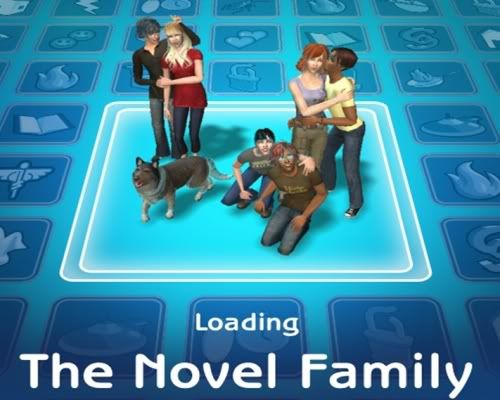 Quick shot of the family as of now. I think Chiyo and Damian are the cutest of the poses.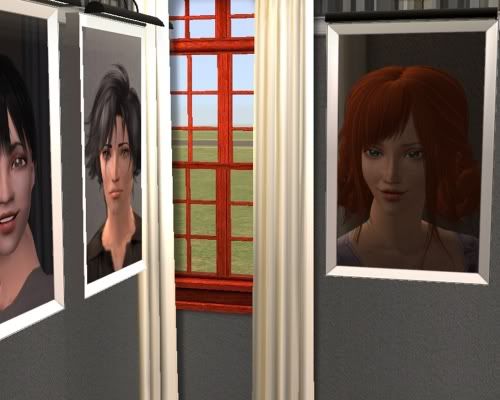 And the Heir Wall rounds a corner. The remaining four portraits (is that all that's left?) will go up on the wall next to the original five portraits.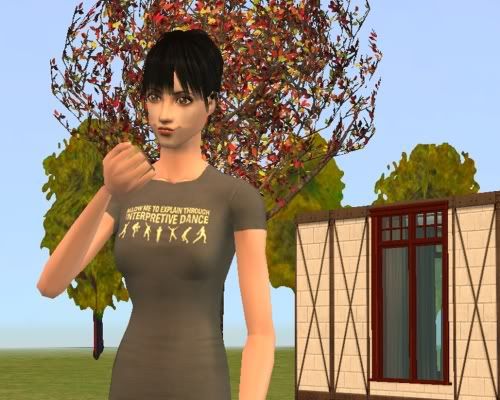 Chiyo, you dug that out of the trash. You'd better not be thinking of doing what I think you're thinking of doing.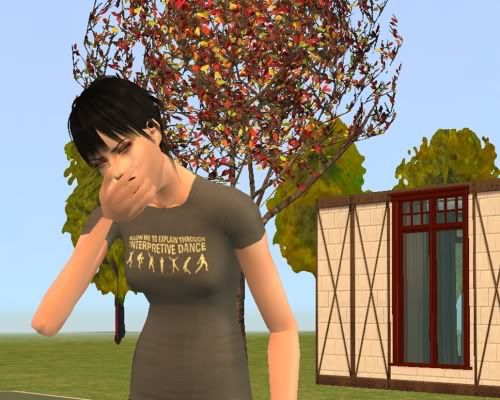 YUCK! Way to remind me that you have one neat point.

Chiyo: Yum, TASTY leftovers!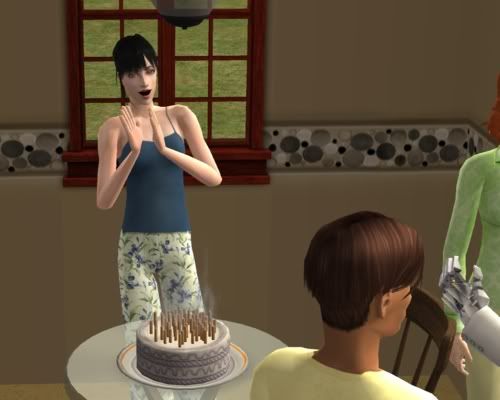 And with the dumpster diving behind her, it's time for Chiyo's birthday. Note the metal claw in the background where Damian hasn't changed out of his work suit and the fact that Meredith is wearing maternity clothes.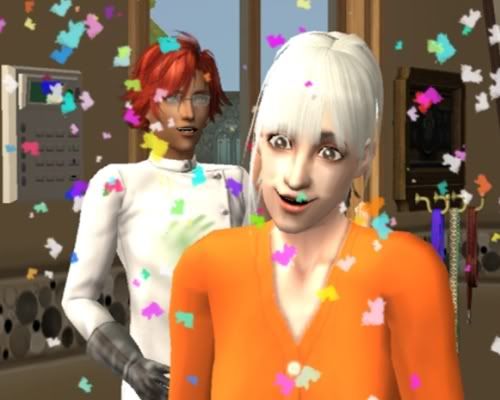 Elder!Chiyo.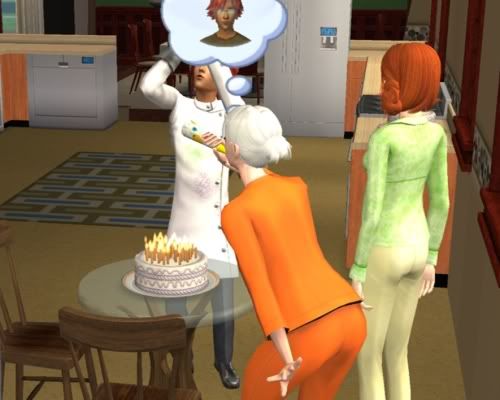 It's also Damian's birthday today.

Chiyo: My husband's going to be gorgeous no matter how old he gets!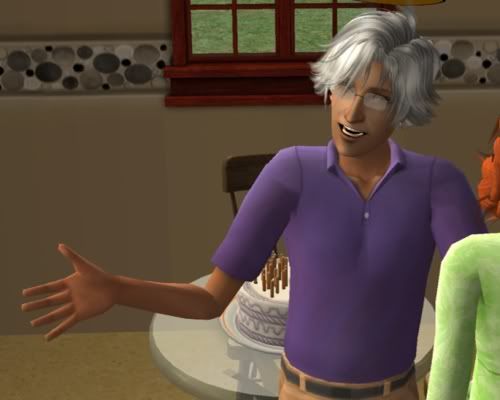 Meh, not hot per se, but he can manage to pull off cute.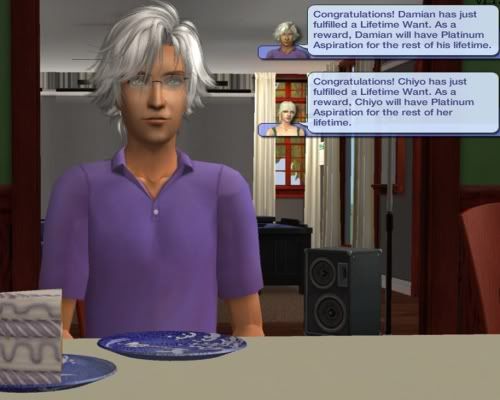 And since they both have "Reach Golden Anniversary" as their LTW, I threw them a party. Easiest double permaplat that I've had in this legacy.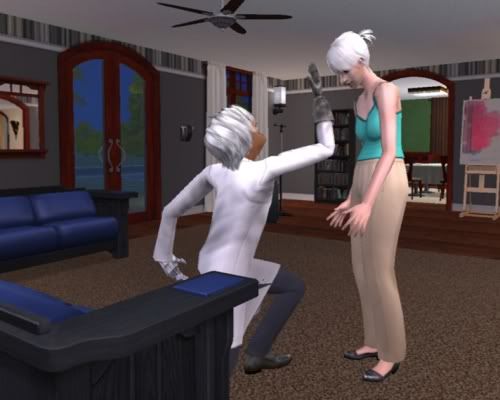 Damian: ♫ Oh I'm so into you
But I'm way too smart for you
Even my henchmen think I'm crazy
I'm not surprised that you agree
If you could find some way to be
A little bit less afraid of me
You'll see the voices that control me from inside my head
Say I shouldn't kill you yet ♫

Chiyo: *swoons* ♥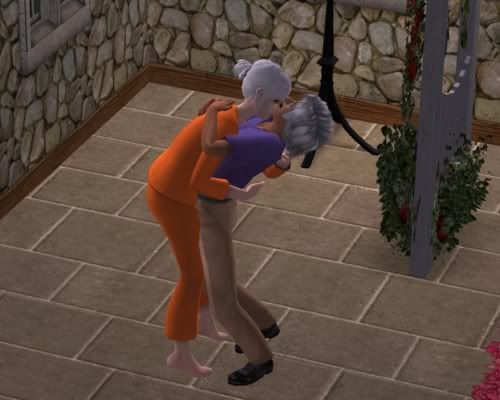 Ever since they had their anniversary party, they've been hanging out near the chapel at night. Maybe they're trying to recreate their wedding?

Chiyo: More like our honeymoon. This is the only place in the house where we can get some privacy. Not even the ghosts come in here.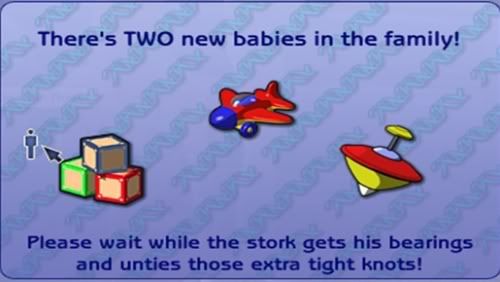 Meredith goes into labor. Random pick says twins, but we'll see.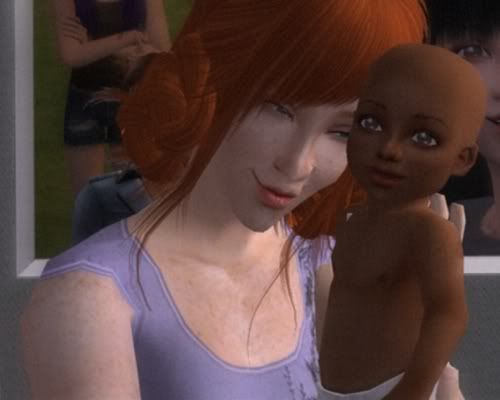 And it was twins! I didn't get a good shot of her brother Eric, but here's baby Sam. All kids in Generation Seven will be named after characters from William Golding's Lord of the Flies.

Previous Chapters:
1.0 | 1.1 | 1.2 | 1.3
2.0 | 2.1 | 2.2 | 2.3 | 2.4 | Spare Update
3.0 | 3.1 | 3.2 | 3.3 | Spare Update
4.0 | 4.1 | 4.2 | 4.3
5.0 | 5.1 | 5.2 | 5.3

Novel Family Tree