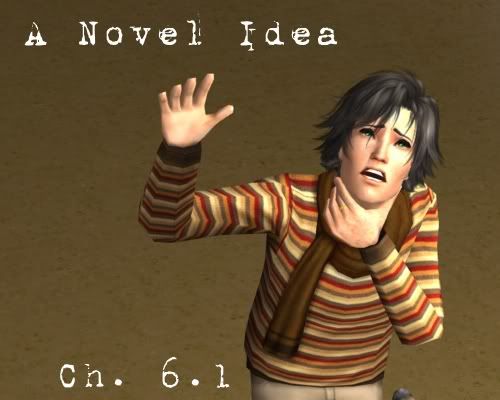 So, after a four month break…hey, pay attention!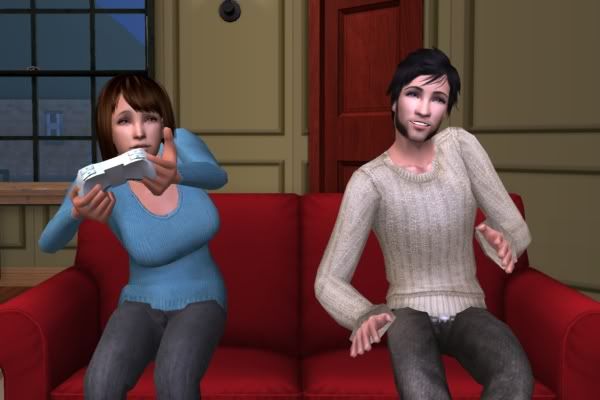 Self!Sim: What? I'm busy saving the world from a Blight, here.
Jamie!Muse: Don't look at me; she's been playing Dragon Age since January. I think the sofa cushion is permanently contoured to her butt now.

Anyway, there's the explanation for why the Novels have been on hiatus. Thankfully, we've beaten the game…

Jamie!Muse: Several times.

Yes, several times, and we're ready to get back to finishing up the legacy. So, without further ado, let's get back to Generation Six.

Previously, Rhys, Meredith, and Rhys' girlfriend Zoe were sent off to college. Rhys and Zoe were in the top spot to become the next heir couple, but then they got all boring with the constant cuddling and such. Meredith hustled her fellow classmates out of hundreds of dollars to use for the matchmaker, who has decided that all the business Darcy drummed up for her back in Generation Two has earned the Novels good date karma for the rest of the legacy. Meredith was paired up with a Corbin Grey, who while sharing the same last name as Grandpa Damian, is in no way related, much to Meredith's relief.

Back at the main house, Chiyo became obsessed with Tai Chi, Damian decided to attempt becoming a plant sim, Shane insisted on rocking out to classical music in the front yard in his pajamas, and Jane continued to haunt her great-granddaughter-in-law, causing Opal to lose sleep on a nightly basis.

Corbin won the future legacy spouse contest by turning down Miss Flirty Dormie, proving that he only had eyes for Meredith. His nose has me wondering if I'll be introducing another Juan into the family, but he's so cute that I'll risk it. After graduation, Meredith moved back into the main house, did a bit of remodeling, and then moved in and married Corbin. They then became the proud parents of twins Sam and Eric, who will be starting off Generation Seven's naming theme from Lord of the Flies.

Self!Sim: Could you recap things a little quieter? I can't hear what Alistair is saying in this cutscene.

Fine, fine. Moving away from the gaming fangirl so she can have some peace and quiet.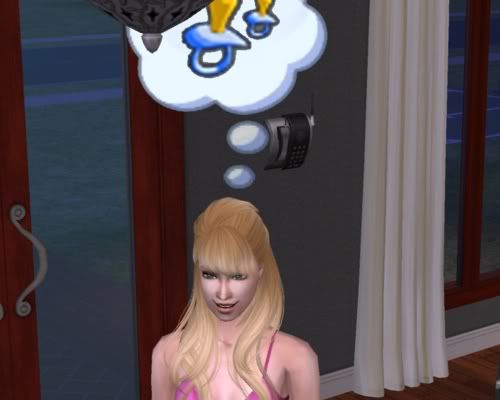 Opal: Grandbabies. I'm a grandma.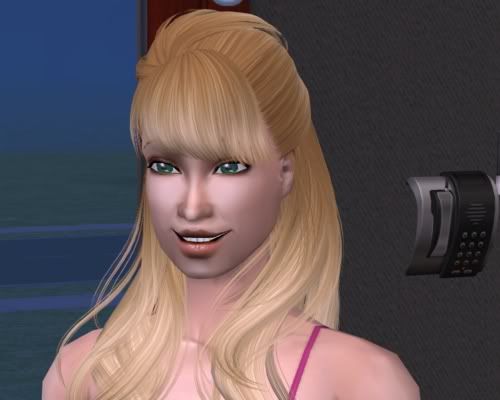 You don't seem so thrilled at the prospect, hon.

Opal: No, it's just that they cry at night and with Jane waking me up every five minutes to scare me… *sigh* I'm never going to sleep.

Well, your worries are over. We're dealing with the ghosts once and for all.

Opal: We're getting rid of them?!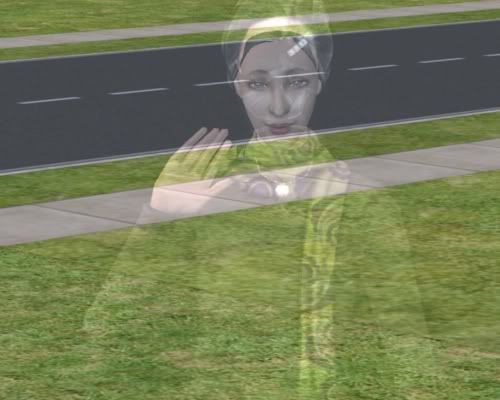 Yep. Jane, Author (sniff!) and the rest of the ghostly Novels have been moved off to Veronaville's newest cemetary, where they won't bog the main house lot and cause everyone to pee their pants. The only reason Jane's smiling here is because I promised her that I would let her have free reign of the new place, leaving her free to scare the heck out of teenagers and everyone else stupid enough to hang out after dark.

Opal is pleased with the latest news, but what about the rest of the family?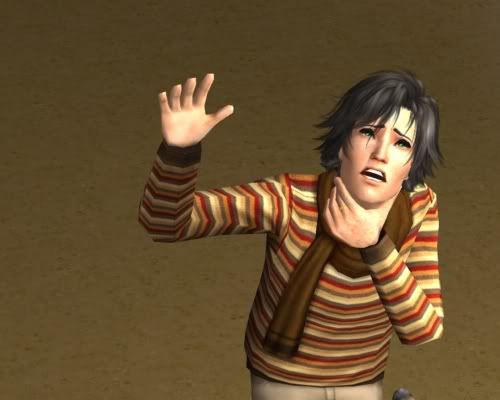 Shane: *dies*

Um, Shane?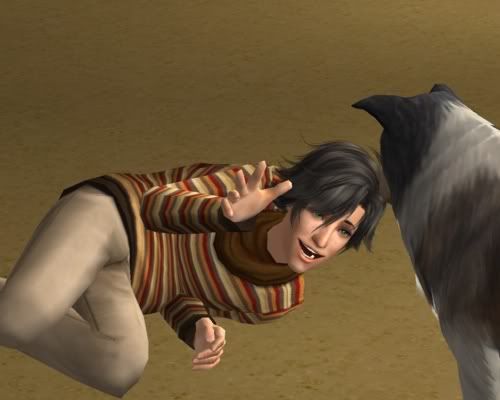 Shane: See, Maxx? That's the way to do a stage death! If you need any more references, just check out almost every single movie Alan Rickman's been in.

Maxx: I don't know, I especially liked that one scene in the 1991 version of Robin Hood where Robin and Sir Miles...

Shane: Um, Maxx? Since when have you talked?

Maxx: Oh. Er. Woof.

As you can see, no one really missed the ghosts.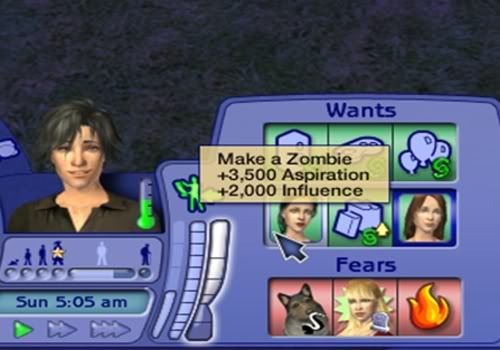 Though Shane did want to make his great grandma and his great aunt into zombies. I blame his father.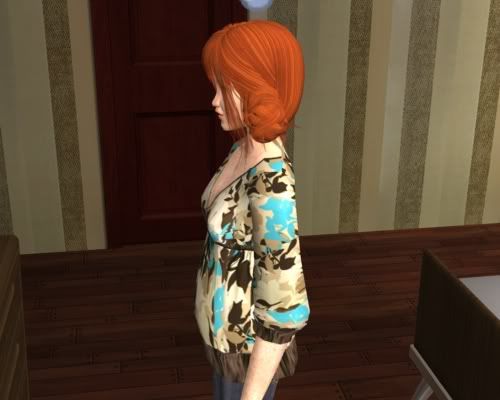 And here's where the pictures get a little bit spaced out. Meredith is once again pregnant.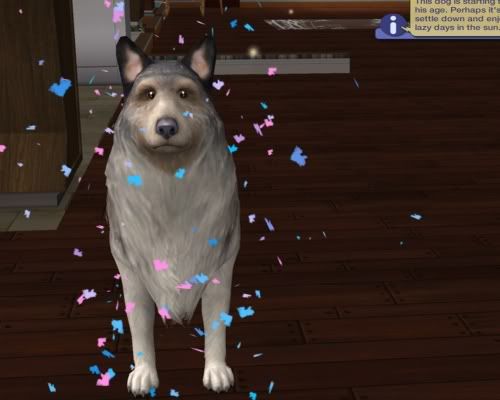 Maxx got old.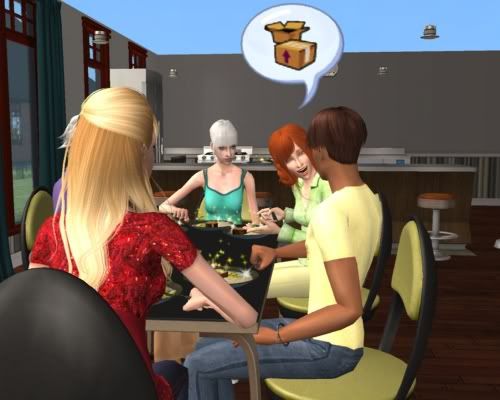 And the lot got so messed up that we just packed up and moved. The Main House is now right next door to the Spare Lots; the main house is on the corner and they have Generation 2 for neighbors. So far, Darcy (whom I have yet to make into a downtownie, because I keep on forgetting) Georgiana, Lizzie, and Griff have not shown up to say hello. :(

Meredith: I'm so glad we moved closer to the family!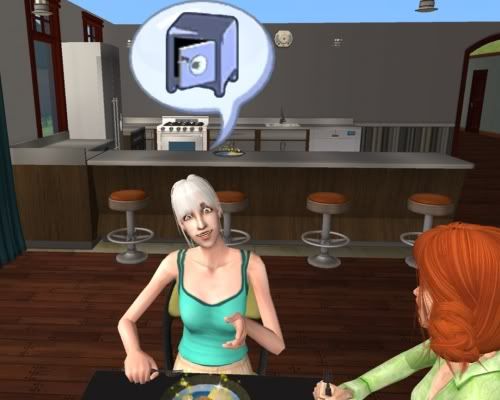 Chiyo: But is it safe to have ceilings like this? I mean, the light fixtures could fall at any minute!

There was an issue with putting in ceilings, so let's just say that Grandpa Damian cooked up some sort of scientific spray in his lab that turned the popcorn ceilings invisible, okay?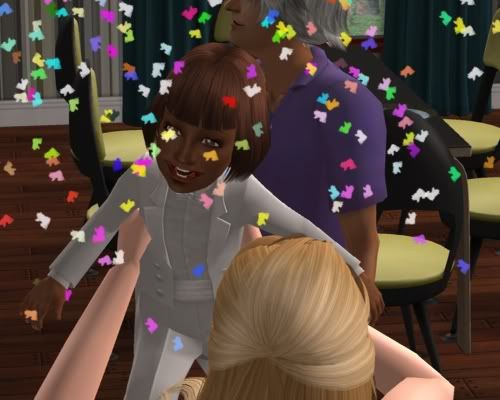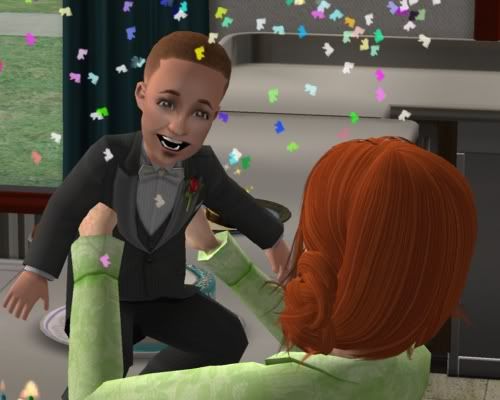 Sam and Eric turned into toddlers...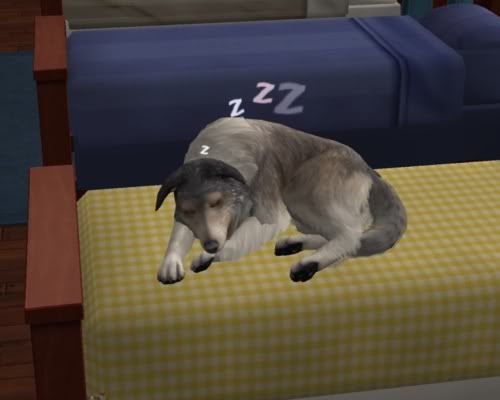 Maxx decided that he'd use the kids' beds instead of his own in his old age...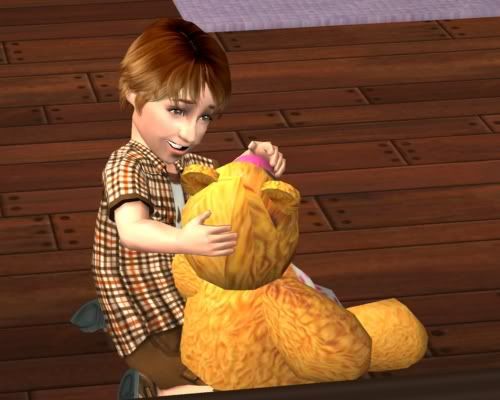 And I made over the kiddos.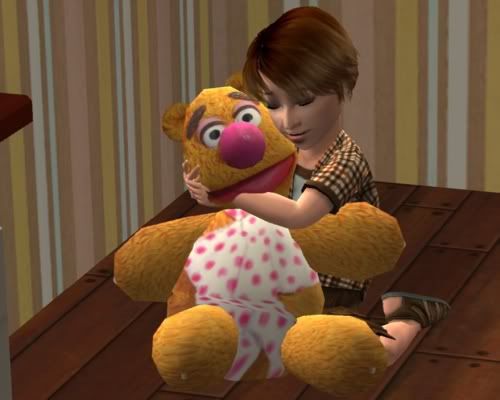 Eric definitely got his daddy's nose.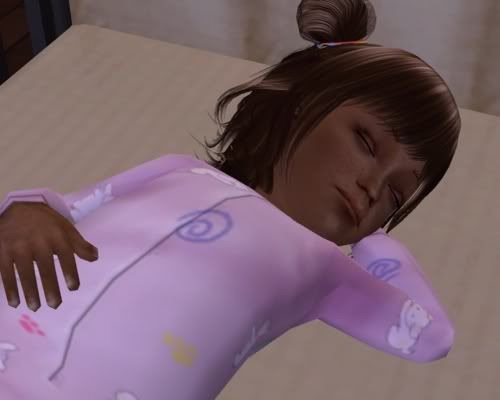 I'm not too sure about Sam though. She did inherit the Novel freckles.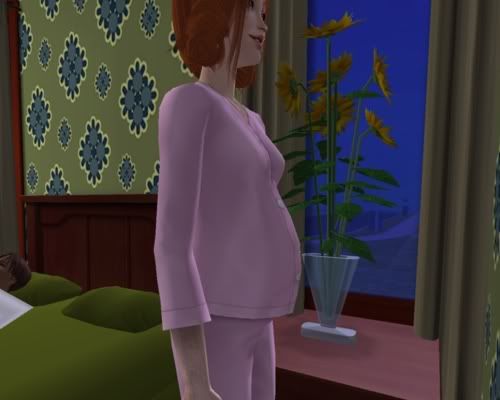 Meredith after a second shower of pink dust. She managed to not only feed herself, but put herself to bed when she got tired. If I were running this as an ISBI right now, it would be dreadfully boring.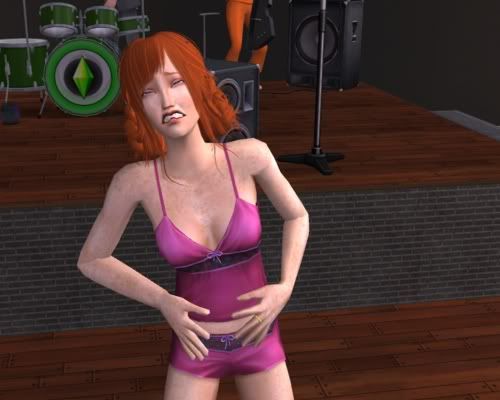 Fast forward to the birth. Breathe, Meredith!

Meredith: You try giving birth standing up and then you can give out advice!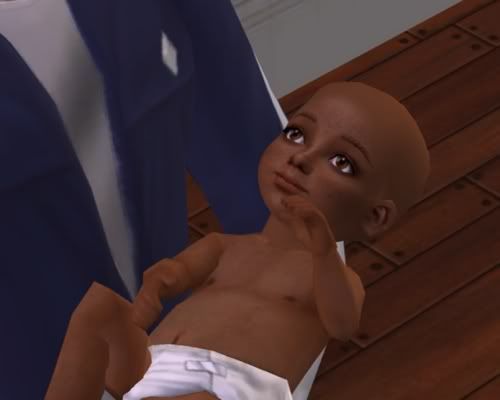 Twins again. This is Jack.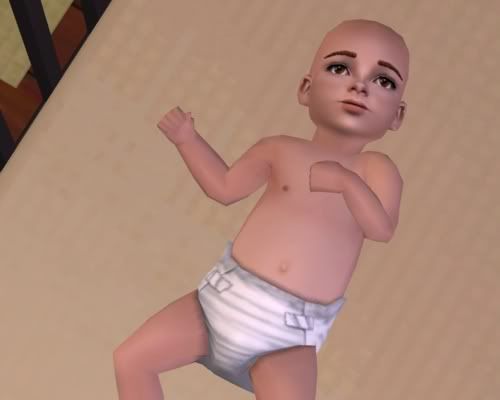 And this is his brother Ralph.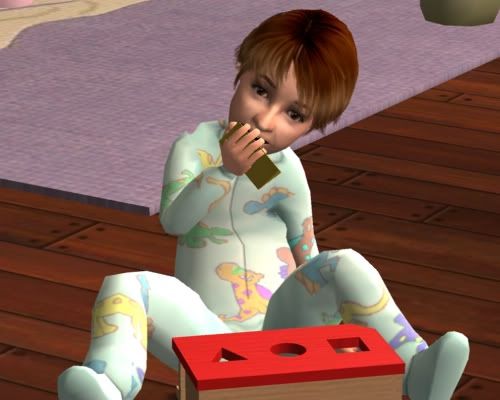 Sam and Eric are trouble-free for the most part. They're perfectly happy to sit in the nursery and entertain themselves. Eric went straight for the logic toys, and Sam plunked herself in front of the xylophone, even though I have a bunch of other toddler friendly things for them to play with.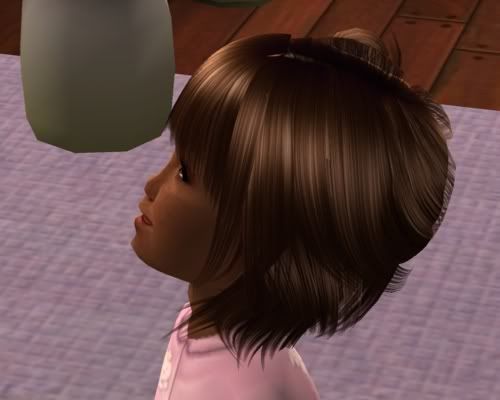 I have no idea what happened to her nose. I don't think I've had anyone in the family with that profile before.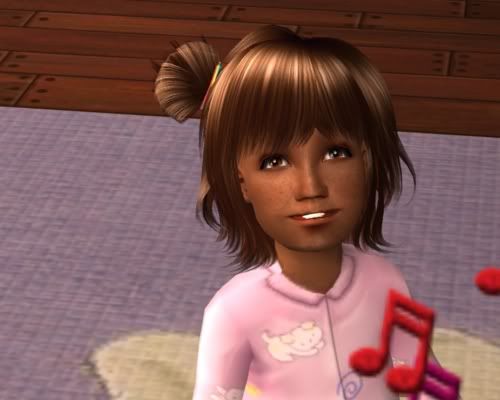 Hopefully, she'll grow into her face once she gets older.

Sam: TOYS MAKE NOISE! *laughs*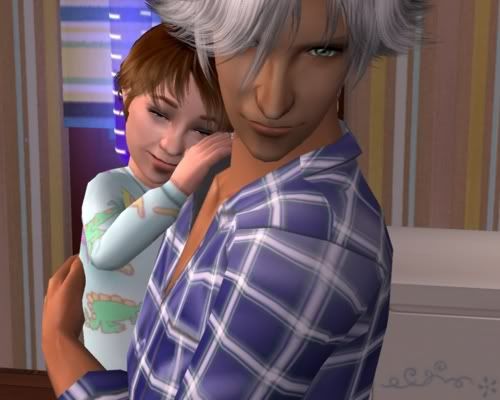 Great-grandpa Damian doesn't play favorites, does he? *rolls eyes* In all seriousness, I think he's filled in the parenting shoes that Author left behind. He lives to teach toddler skills.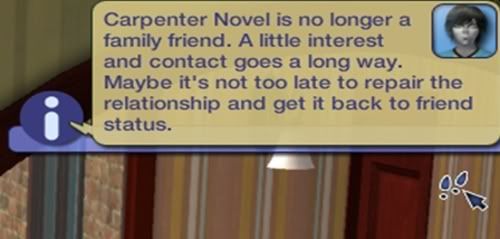 Except he fails when it comes to his own kid. Carpenter is no longer a family friend. Did anyone actually like him? I would have, but he turned out to be a major jerk.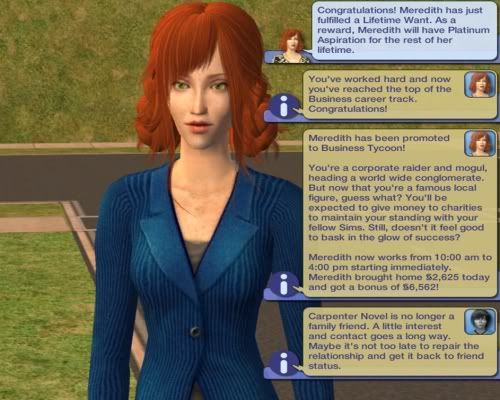 Permaplat! And thus starts the beginning of a very busy evening.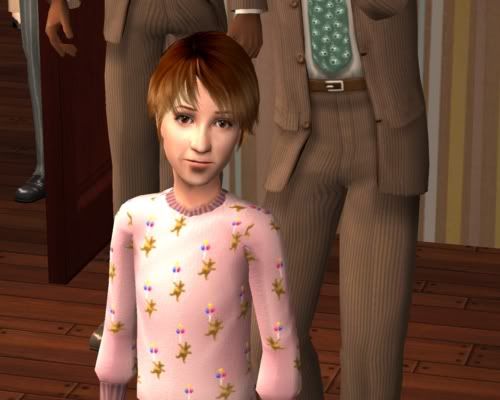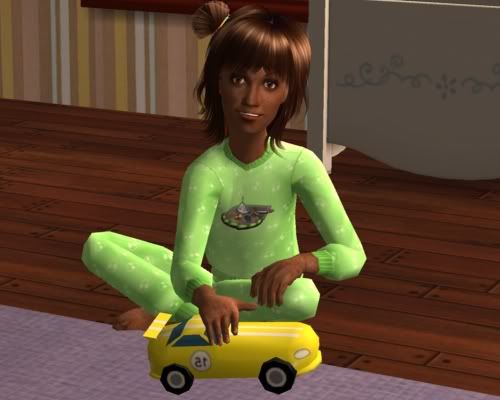 The twins grow up to be children.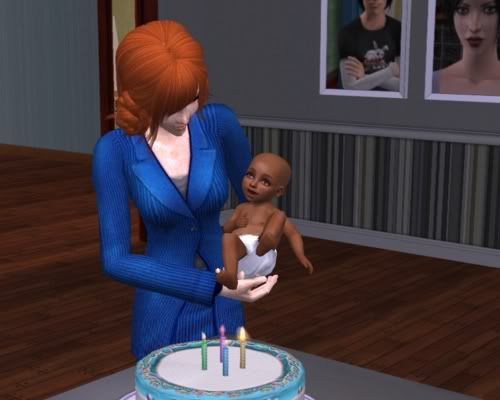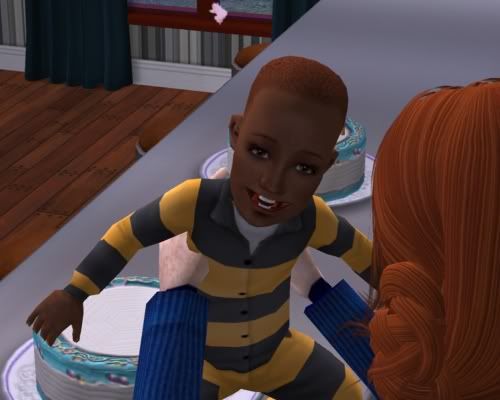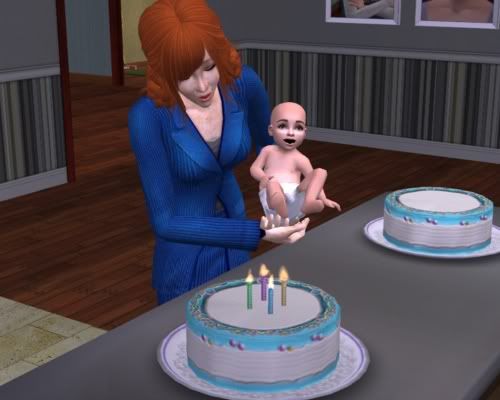 The other twins grow up to be toddlers. See, there's Jack and...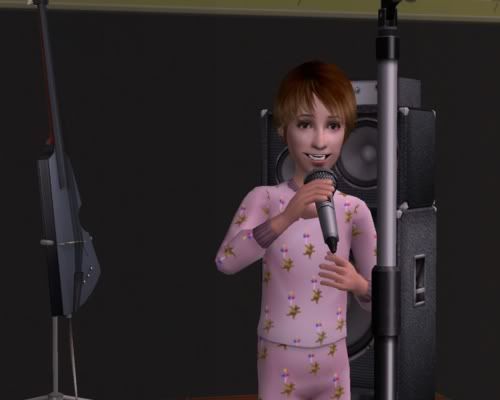 Eric: Tell me if you heard this one before. A duck walks into a pharmacy and...

Are you intentionally pulling the reader's attention away from your little brother?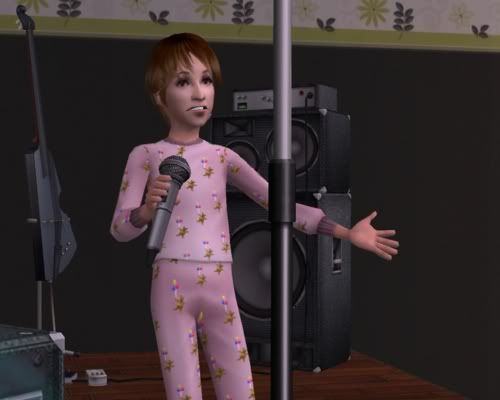 Eric: So he says, 'Put it on my bill.' Bill, get it? I crack myself up!

You are trying to take the spotlight away from Ralph. We missed a toddler shot because of your standup comedian act.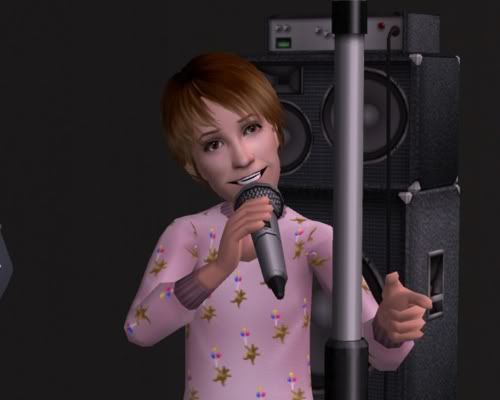 Eric: Thank you, I'll be here all night! And remember, chose Eric Novel for heir! Who needs stinky babies?

Well, at least he's on the ball with trying to win heir points, I'll give him that.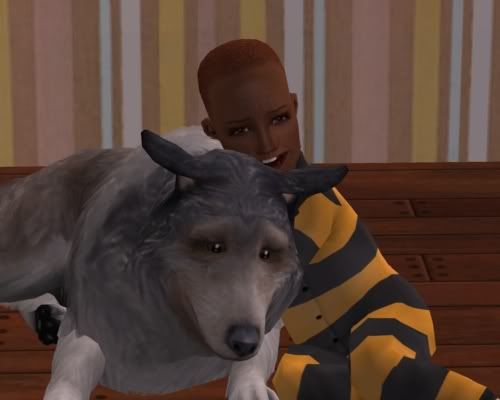 Jack: Come here, you flea bitten mongerel!
Maxx: Shane! Help!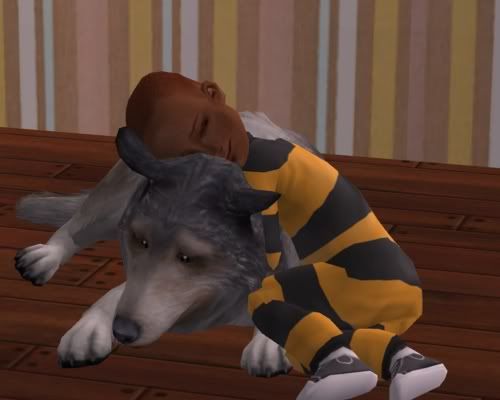 Jack: Yes, I shall wrestle you into submission and you shall be my first minion! Well, second minion. The woman known as "Mommy" is my first. But I shall train you and you shall aid me in my quest for world domination!

Maxx: Oh, the humanity. Hey, narrator lady? Can you get this thing to stop drooling on my fur?

Sorry, Maxx. No can do.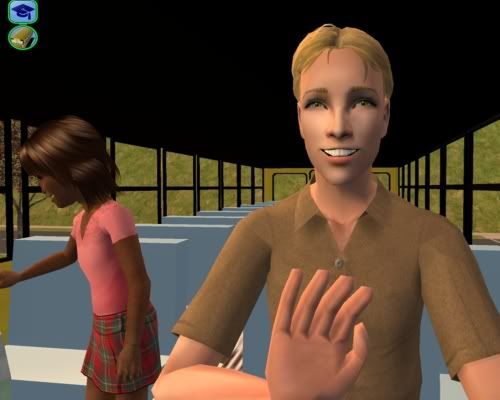 Speaking of minions, what is great-great grandma Trista's doing driving the school bus?

Minion: When is there going to be a Novel super villain? After Smaug died, we haven't had a job! Look what I've been forced to do just to keep the lights on at the super secret evil headquarters!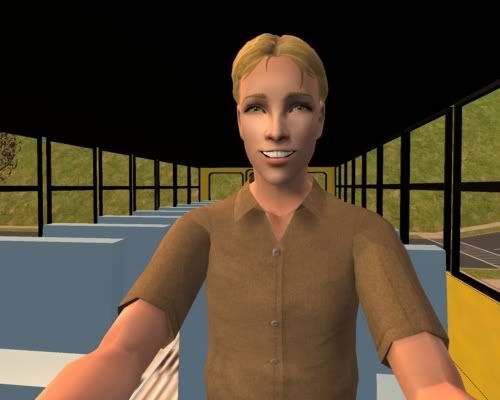 Minion: I smile so I don't accidentally kill small children after one too many spitwads thrown at the back of my head.

I thought you'd like killing small children. You are evil, after all.

Minion: It doesn't count if I snap and do it on accident. It goes against the Evil Overlord Handbook: the Minion Edition.

Oh. Well, rest assured that there'll be another evil overlord from the Novels pretty soon. Corbin's LTW is to be a Criminal Mastermind.

Minion: Oooh! I'll go clean out the secret hideout and dust off the death ray!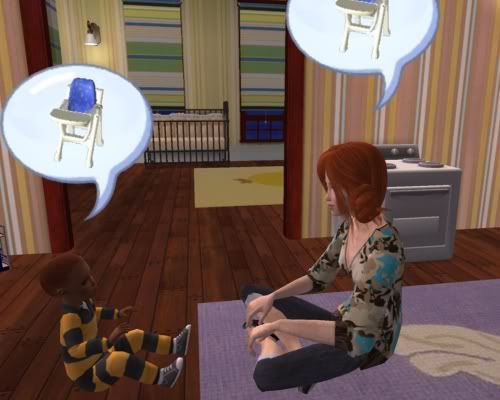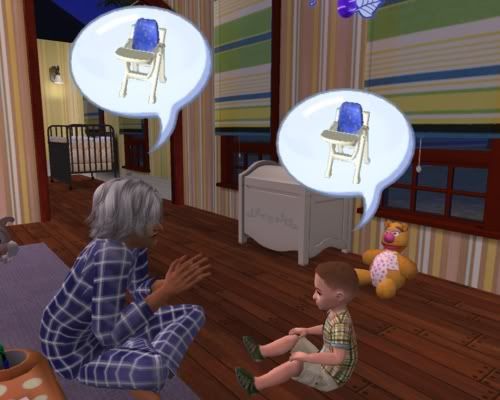 Proof that Jack and Ralph have not been ignored.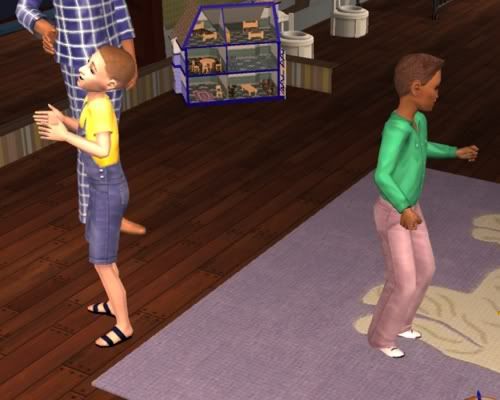 Just that there wasn't a lot that was interesting happening between birthdays.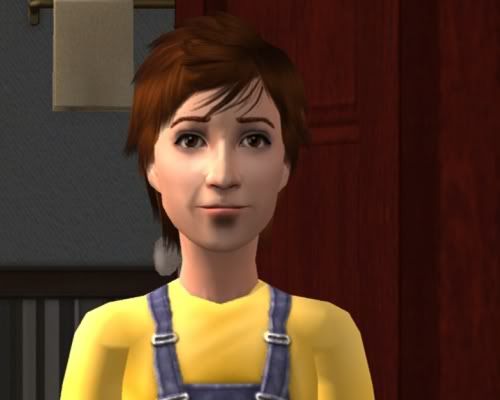 Ralph, whom we finally get a decent shot of.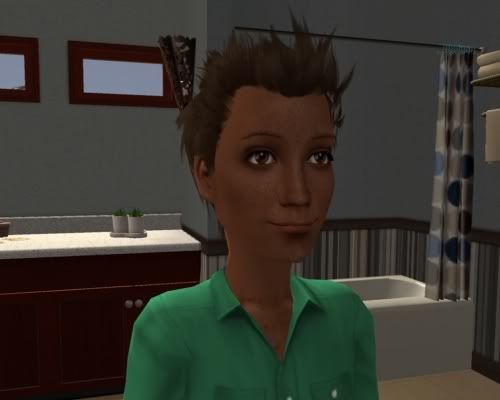 And Jack, whom I have a feeling will be this generation's bad apple.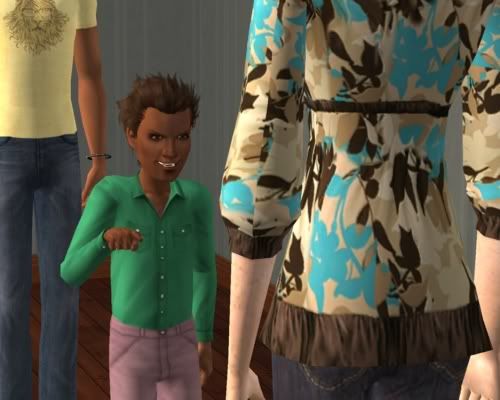 See? What did I tell you? Evil face!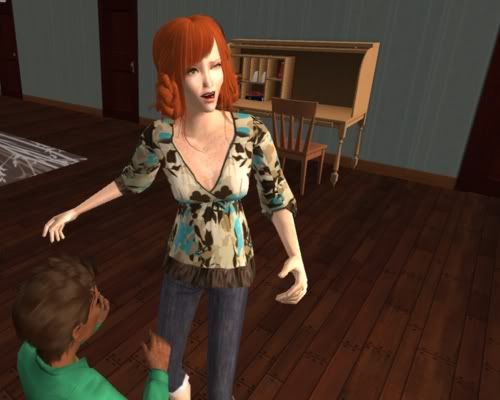 Jack: I AM THE KING OF STATIC ELECTRICITY!

You'd better be grateful Meredith found that shock funny, you little snot.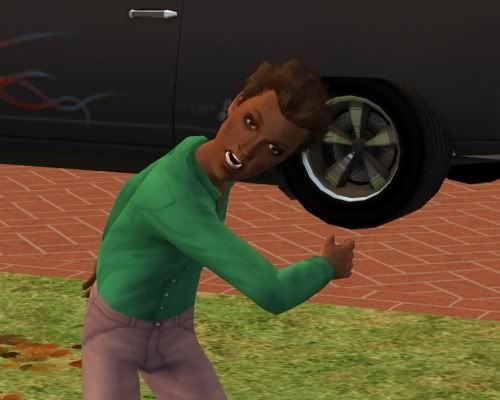 And Jack passes our family litmus test for evil: he chucked a baseball at his mother's head during a game of catch.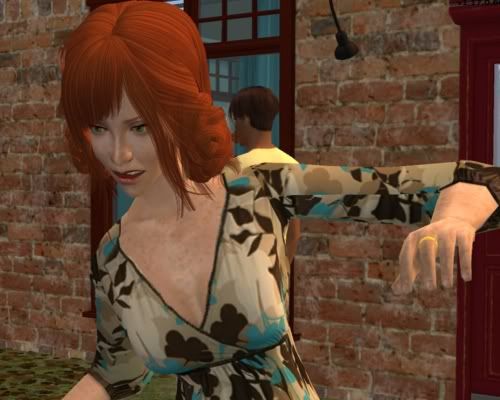 I might be wrong, but little Jack might have mother issues.




Meredith does not approve.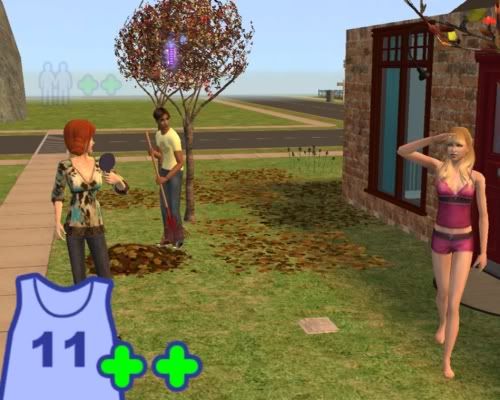 But apparently she approves of her husband checking out her mother. Opal has a thing for wandering the house in her nightgown. Then again, so does Shane.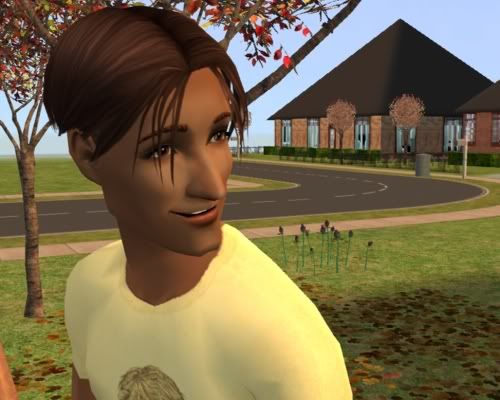 I see where your eyes are. You'd better get back to pulling up those weeds.

Corbin: What was that?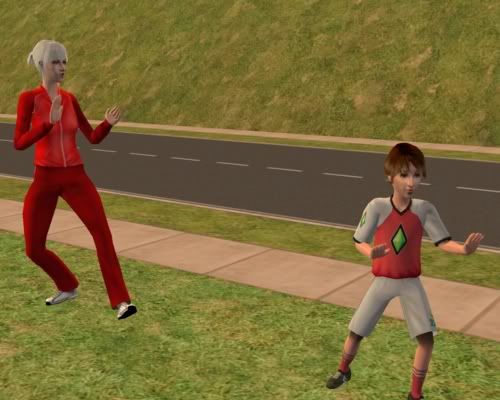 On a more wholesome note, Chiyo has recruited Eric to be her fitness partner. The two of them do pretty much everything together.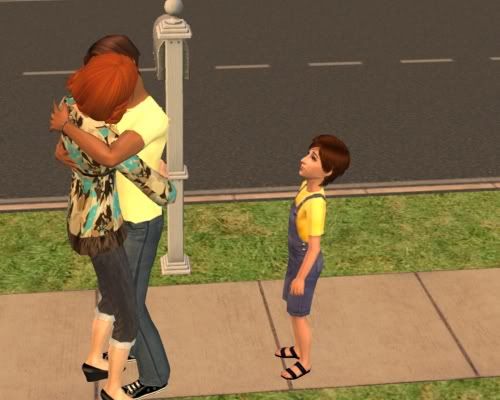 Ralph? Might not be the best of times to bother your parents.

Ralph: Dad? Dad?
Corbin: Not right now, son. Mom and Dad are busy. (to Meredith) Hon, why don't you wear your nightie outside? That way I wouldn't be tempted to look at your mother.
Ralph: Dad?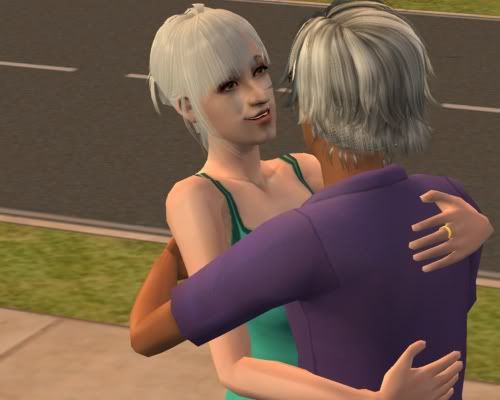 Chiyo must know that both her and Damian's life bars are getting full. She's done nothing but snuggle with Damian for half the day.

Chiyo: Well, I don't want him finding another floozy on the other side while he waits for me to kick the bucket. Gotta remind him of what he'll be waiting for, you know?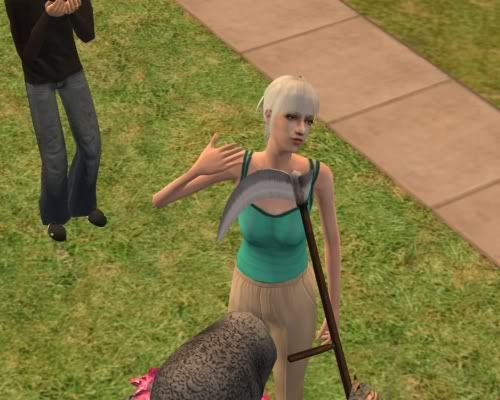 Somehow, Chiyo, I don't think Damian's going first.

Chiyo: Hum hum. Hey Death. Long time, no see. Which of my relatives are you here for this time?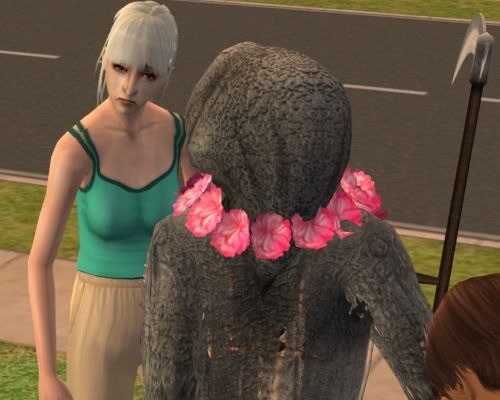 Chiyo: But...but, I'm too young to die! I don't want to!
Death: Why is it that this entire family is so damn stubborn about going towards the light? Look, we have free booze.
Chiyo: Screw the booze! I want to live!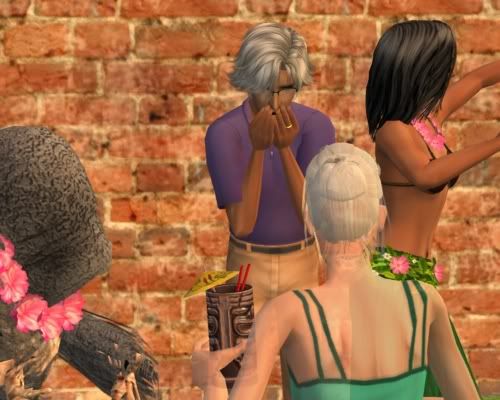 Death: Look, just take the mai tai and we'll be on our way. Otherwise, I'll leave my zombie hula dancers here to seduce your husband.
Chiyo: Fine, fine. I'm going. Bye dear! I'll save you a lounge chair in the afterlife!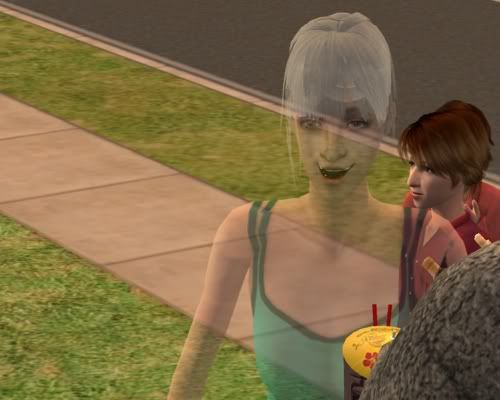 And thus passes Chiyo Novel. She was the nicest mean sim I've ever had. *sniff*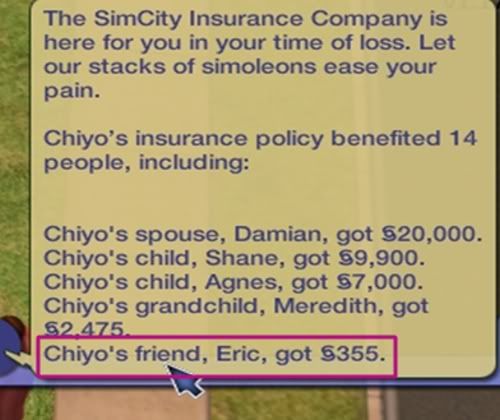 Poor Eric isn't even listed as a relative in her will; he's just a friend.

Eric: That's because great-grandma was my only friend in the whole wide world! And now she's gone! *cries*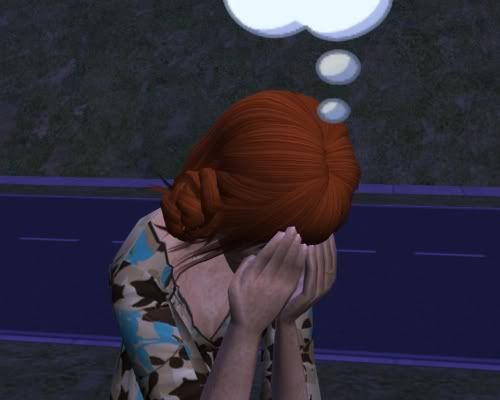 Meredith: Grandma! Now who am I going to get to babysit my kids? *cries*

Yeah, way to be all broken up about her death there.




Eric: This dog dish is as empty as my life is! *cries some more*

And on that note, we'll end this update.

Next time: Will Damian join his wife in the afterlife? Will the kids all survive childhood minus a visit from the social worker because Sam can't stop jumping on her bed? Will Meredith ever find another babysitter as good as Chiyo?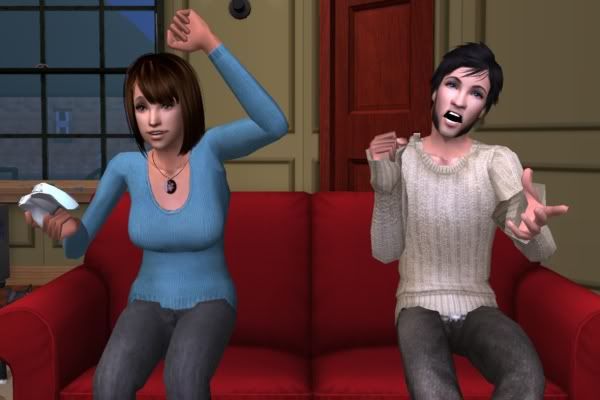 Self!Sim: Will you stop narrating long enough for us to beat Dragon Age: Awakening for a second time?
Jamie!Muse: Nope. We're cutting you off.
Self!Sim: But I have another female Cousland character I wanna import! She's at level 25 even!

No.

Jamie!Muse: No.
Self!Sim: But she's perfect for Nathaniel!
Jamie!Muse: That's it. Give me the controller.

Previous Chapters:
1.0 | 1.1 | 1.2 | 1.3
2.0 | 2.1 | 2.2 | 2.3 | 2.4 | Spare Update
3.0 | 3.1 | 3.2 | 3.3 | Spare Update
4.0 | 4.1 | 4.2 | 4.3
5.0 | 5.1 | 5.2 | 5.3
6.0

Novel Family Tree